30 Ways To Make The Most Out Of Your Studio Apartment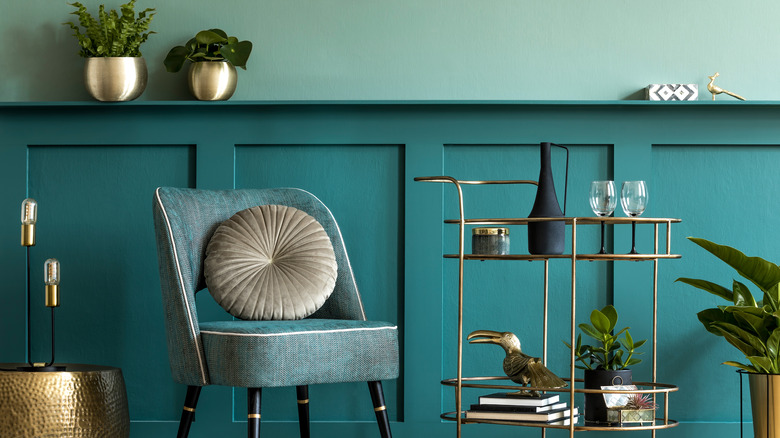 Followtheflow/Shutterstock
If you live in a large city, like New York City or Los Angeles, chances are you've taken up residence in a studio apartment. And while space may be an issue, style doesn't have to be. Interior decorator Stephanie Purcell, owner of Redesigned Classics, told Apartment Therapy to look at how practical your space is and create a functioning yet stylish layout that works for you. For example, Purcell explained to the outlet that you should consider plenty of seating options if you plan to entertain your friends or family often.
At the same time, if you want to host dinner parties, think about creating a beautiful dining scenario; or if you want your home to be a relaxing retreat, consider making a focal point in the bedroom area of your space. MyDomaine suggests taking stock of what you own and becoming an editor for your space, only keeping what you need. Here are 30 ways to get your studio apartment to shine and make the best use of the area.
1. Have ample shelving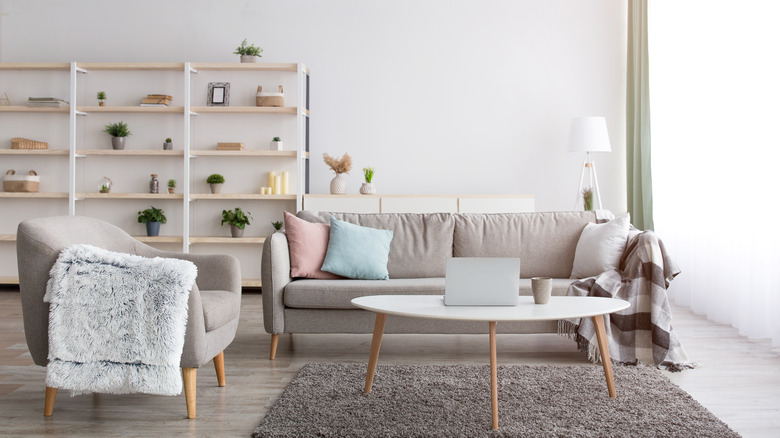 Prostock-studio/Shutterstock
A studio apartment can stay clutter-free by having lots of storage shelf options to display all of your favorite things.
2. Work within reach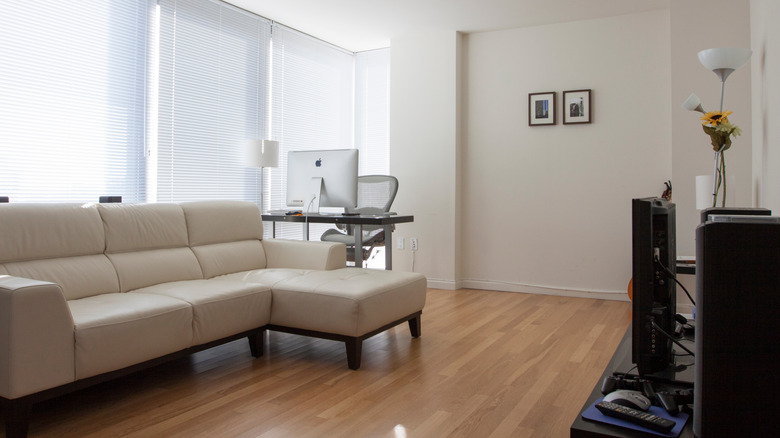 gary yim/Shutterstock
Your comfy couch can be within arm's reach of your workstation; midday afternoon naps couldn't be easier. Our only tip is to keep your desk tidy to keep the space looking good!
3. A sophisticated dining area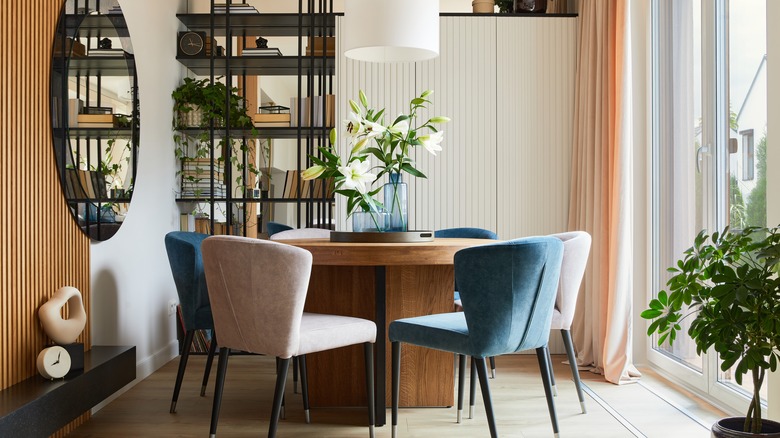 Followtheflow/Shutterstock
Even if you have only one room to work with, creating a designated dining space with unique velvet mixed matched seating can really make a room pop.
4. A chic screen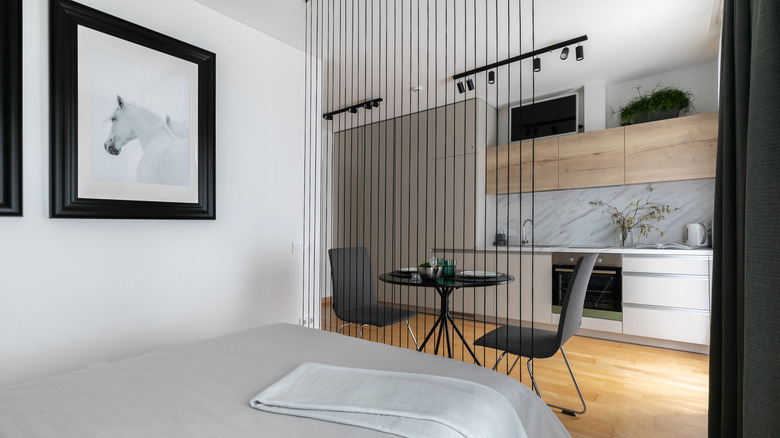 Enrika Samulionyte/Shutterstock
For studio apartment dwellers, finding a unique way to have a bedroom and a living room can be hard, but we love this chic rope screen that defines the space.
5. A chic situation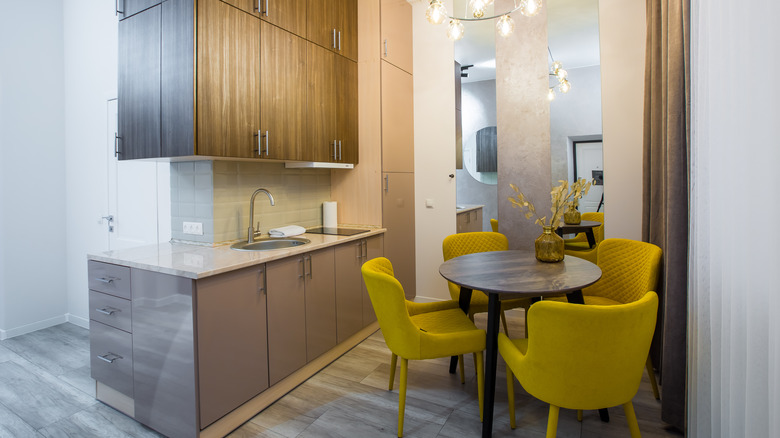 voronaman/Shutterstock
Consider adding a dining area near your kitchen even in the tightest of quarters. We can't get enough of these mustard yellow chairs that make this space stand out.
6. A modern oasis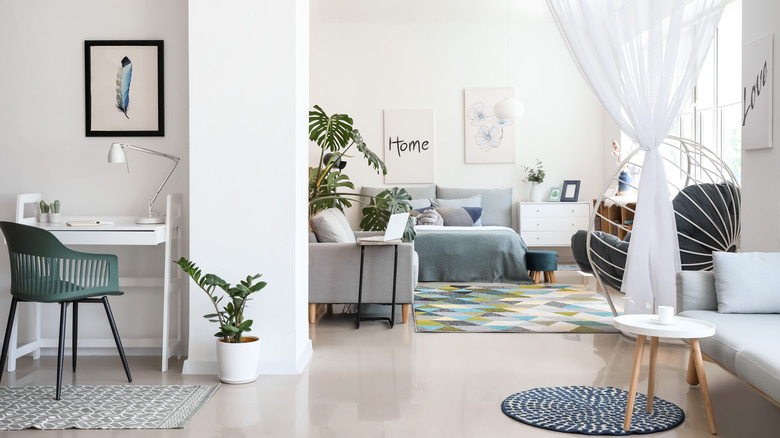 Pixel-Shot/Shutterstock
This stylish studio appears so spacious and mixes ethereal white with green, and we love how they create a divided workspace to separate the spaces by a wall.
7. Add luxe lighting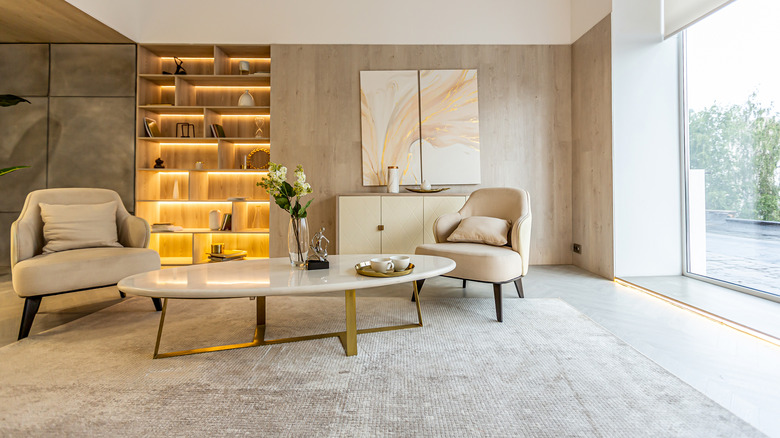 PinkyWinky/Shutterstock
Create interest in a place by adding a display case with rich, warm lighting and creating an airy feel with light beige colors, as seen in this space.
8. All black everything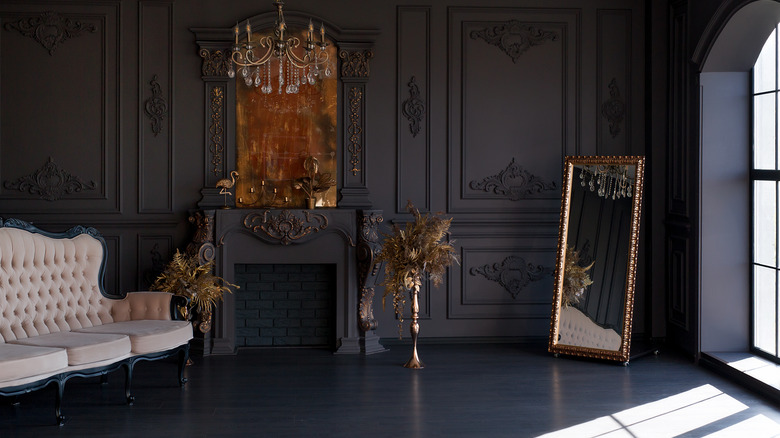 sergiophoto/Shutterstock
This studio apartment is so luxurious with the distinctive black paint on walls, opulent chandelier, and gilded mirror that make an elegant living space awe-inspiring.
9. Bright and airy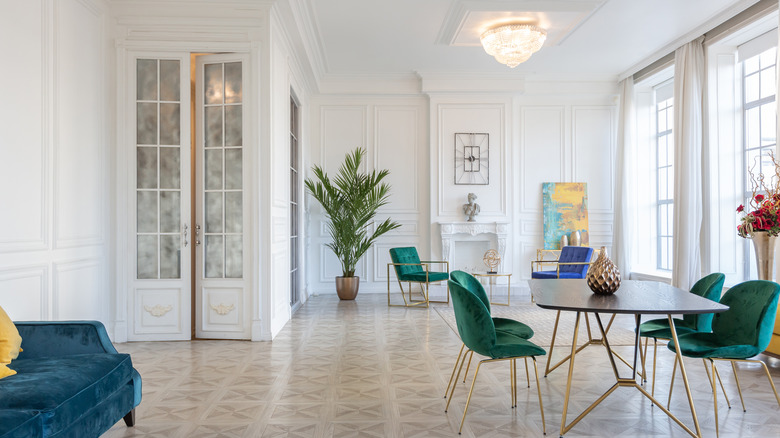 PinkyWinky/Shutterstock
This gorgeous airy home has floor-to-ceiling windows that give it an open feel and separate dining and seating areas.
10. A navy dream world
marina_eno1/Shutterstock
This rich, elegant residence with navy walls has an old-world mantel, making this small space a dreamy place.
11. A wicker retreat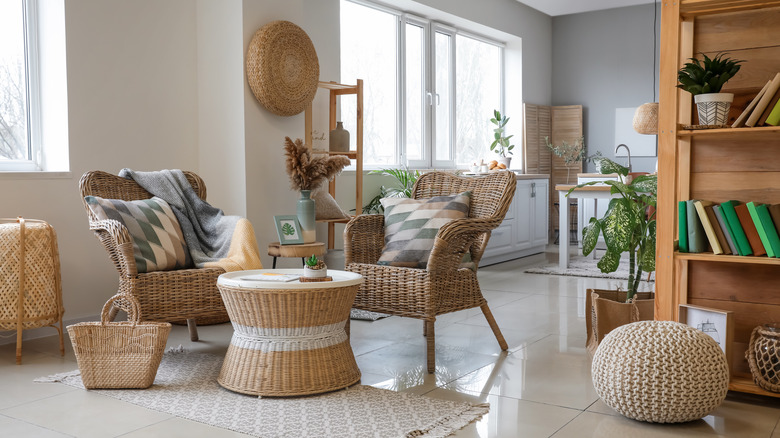 Pixel-Shot/Shutterstock
The epitome of relaxation, this place packs a multitude of wicker furniture that makes us feel like we are on vacation.
12. Natural vibes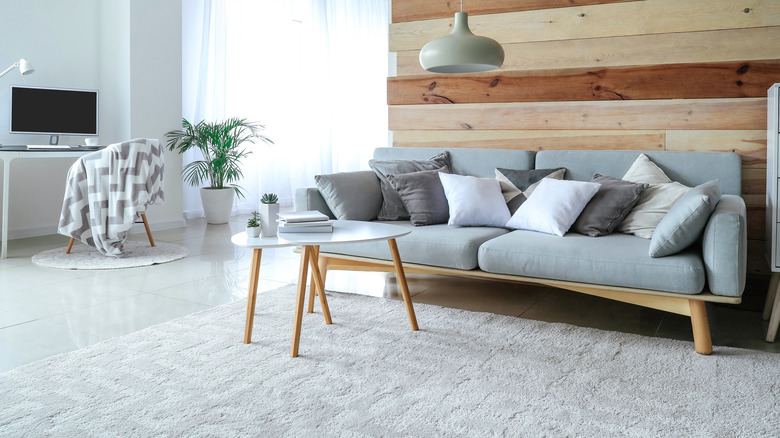 Pixel-Shot/Shutterstock
If you want to give your apartment some natural elements, go for a natural wood accent wall; it can tie a one-room space together.
13. Crimson stunner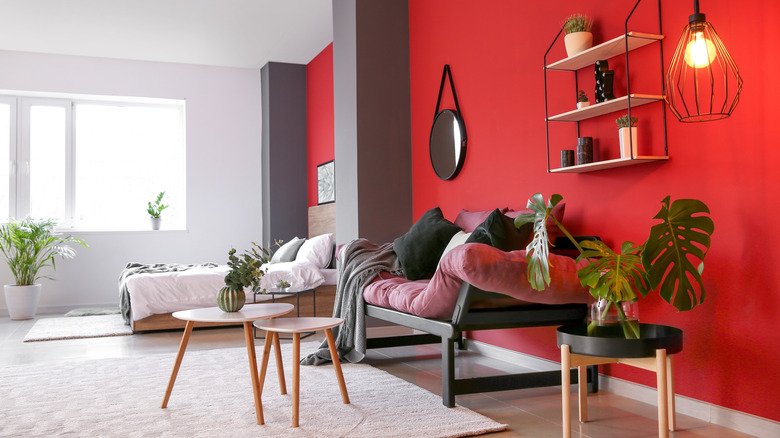 Pixel-Shot/Shutterstock
This studio apartment features the bedroom and couch area but looks put together since the wall is doused in a bright red hue.
14. A spacious classic apartment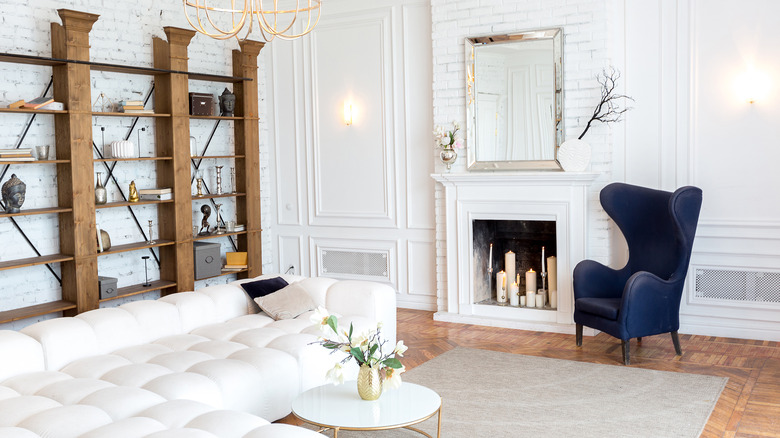 PinkyWinky/Shutterstock
You can retain the classic style and still use your space to the maximum by featuring a white tufted couch, plenty of candles, and gorgeous custom wood shelving to display your favorite items.
15. Create an illusion of separate rooms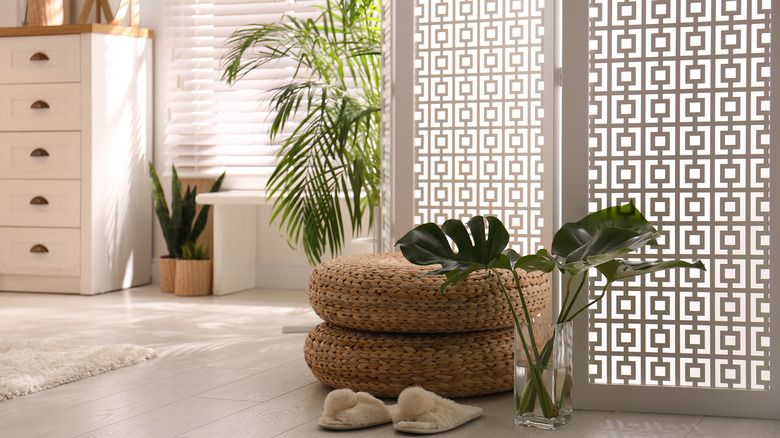 New Africa/Shutterstock
Want to be an illusionist? Separate the rooms in your studio space with a unique screen with a patterned design.
16. Neutral tones and a pop of color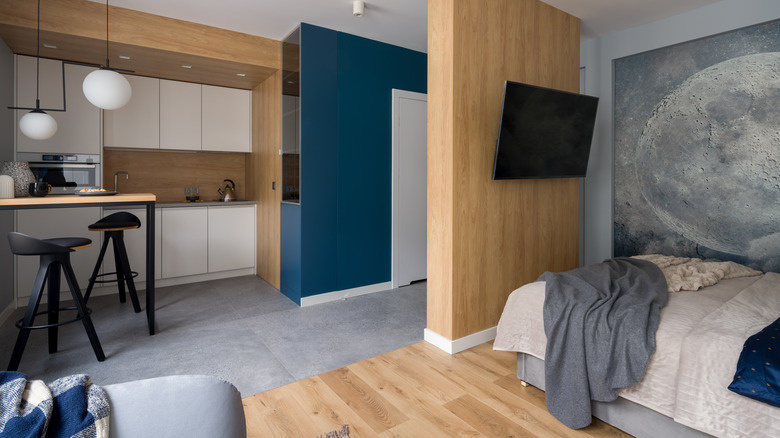 Dariusz Jarzabek/Shutterstock
We love these wood tones and how the accent wall conceals the bed slightly from the kitchen area; we can't get enough of that soothing blue accent wall!
17. A sage green haven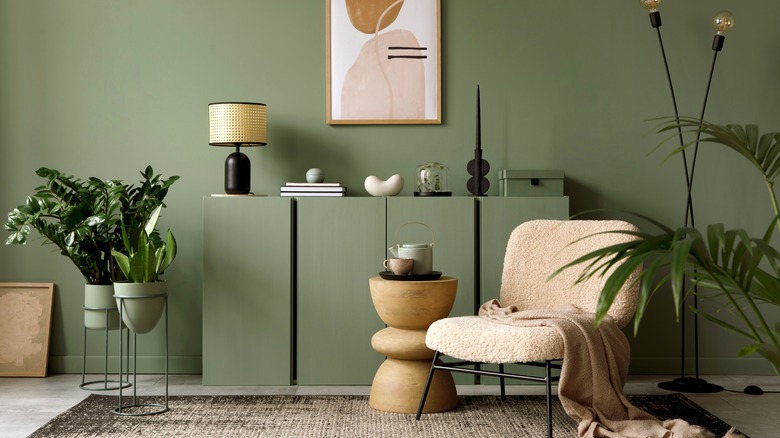 Followtheflow/Shutterstock
This one-room stunning abode is high on style with soothing sage green painted walls, chic lighting, and a boho-style macrame wall hanging.
18. A gorgeous concrete studio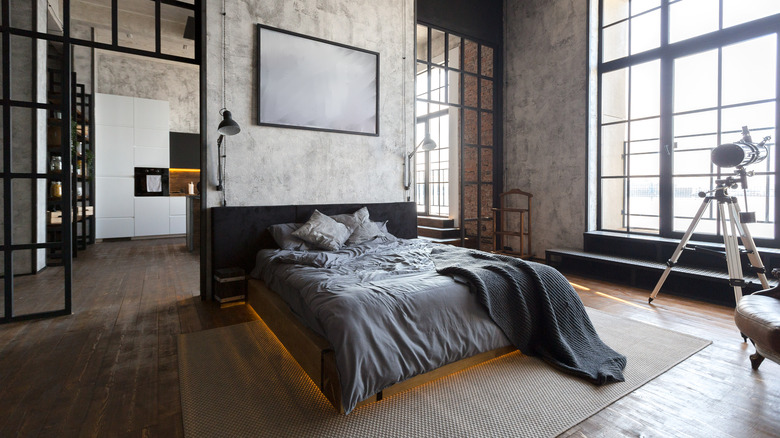 PinkyWinky/Shutterstock
This beautiful city loft-style studio has the bedroom as the focal point layered in luxurious gray bedding. It's ideal for those looking to create a relaxing yet stylish space.
19. A split decision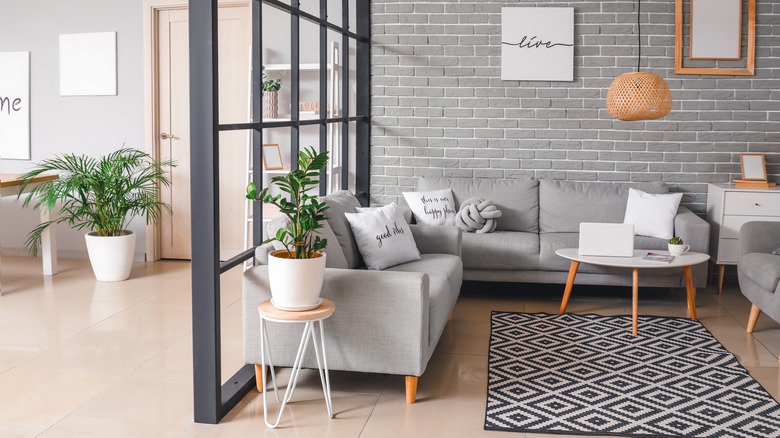 Pixel-Shot/Shutterstock
We love this window room divider that brings lots of natural light to this studio apartment. Plus, a gray brick accent wall adds plenty of uniqueness to the space.
20. Luxury beckons you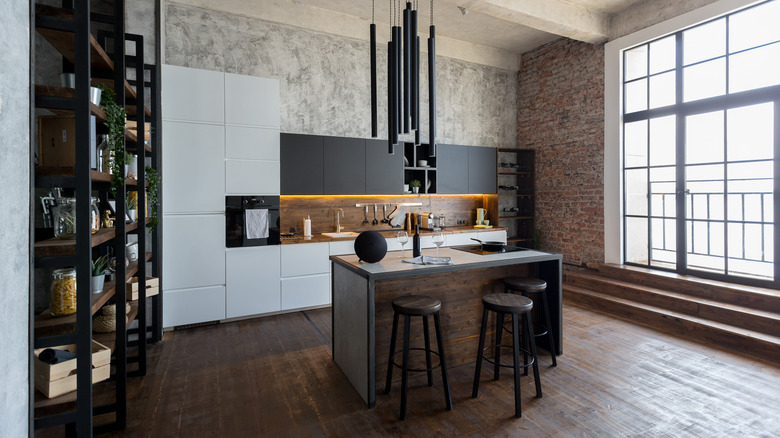 PinkyWinky/Shutterstock
This luxury loft-style apartment is all about high style with gorgeous floor-to-ceiling windows, wood floors, and unique lighting.
21. All eyes on the kitchen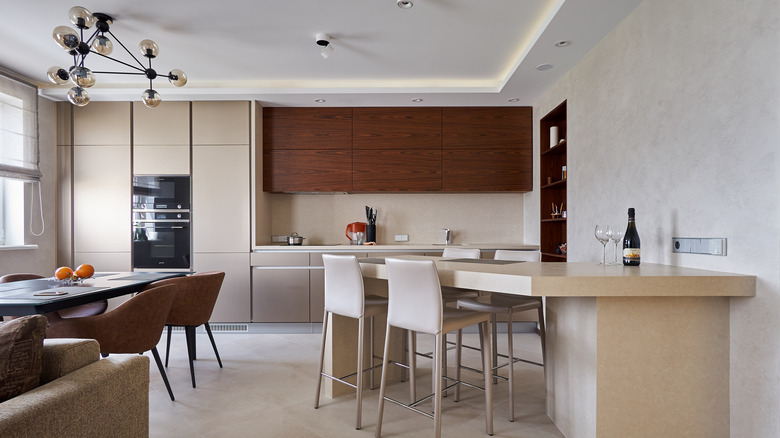 Iglenas/Shutterstock
This apartment's kitchen is the highlight, featuring creamy hues throughout the dining area and living room.
22. A marble universe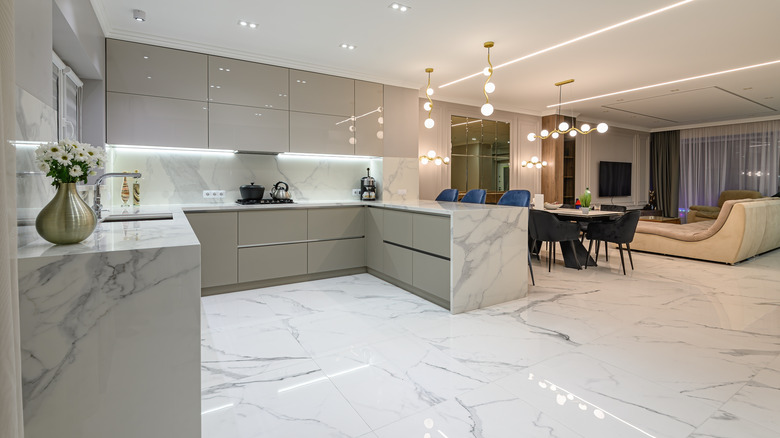 Serghei Starus/Shutterstock
It's a marble world in this chic space with marble floors and countertops that take our breath away. Luxury at its finest!
23. An awe-inspiring beige apartment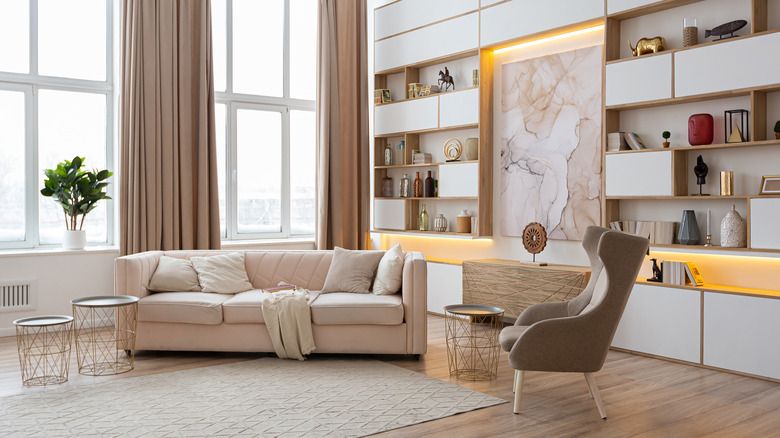 PinkyWinky/Shutterstock
Beige colors look divine in this modern yet upscale apartment designed in a Scandinavian style; it is perfect for minimalist hearts.
24. Bright orange beauty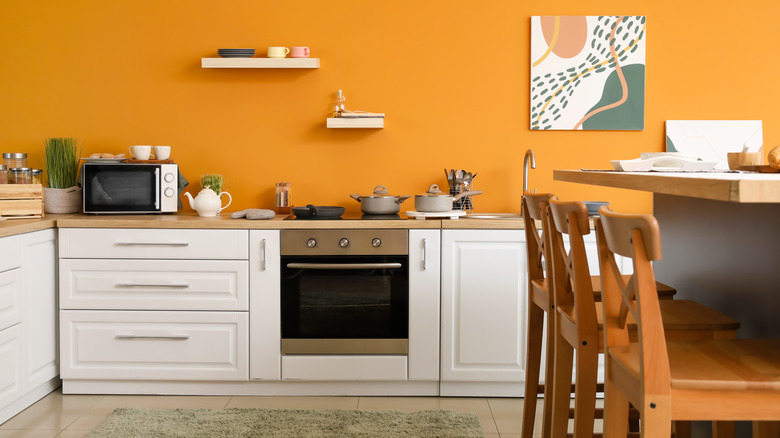 Pixel-Shot/Shutterstock
This eye-popping residence is doused in the most beautiful shades of orange, which definitely brings plenty of excitement to the place.
25. Style for days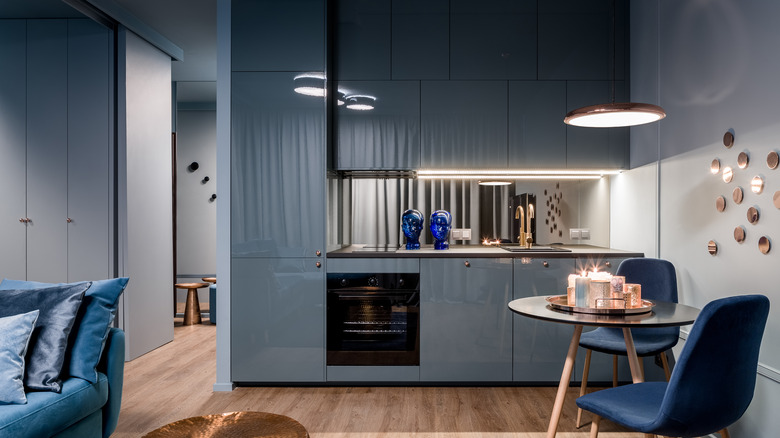 Dariusz Jarzabek/Shutterstock
This stylish space features the most beautiful calming shade of greenish blues throughout the area, inspiring relaxation.
26. Sea green stunner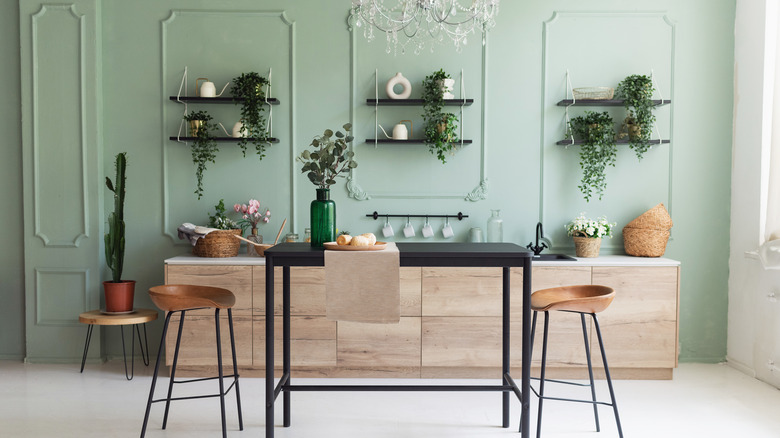 Lysikova Irina/Shutterstock
A studio apartment this beautiful is something to be celebrated. The sea-green hues on the walls and the gorgeous chandelier are something to marvel at.
27. Beige beauty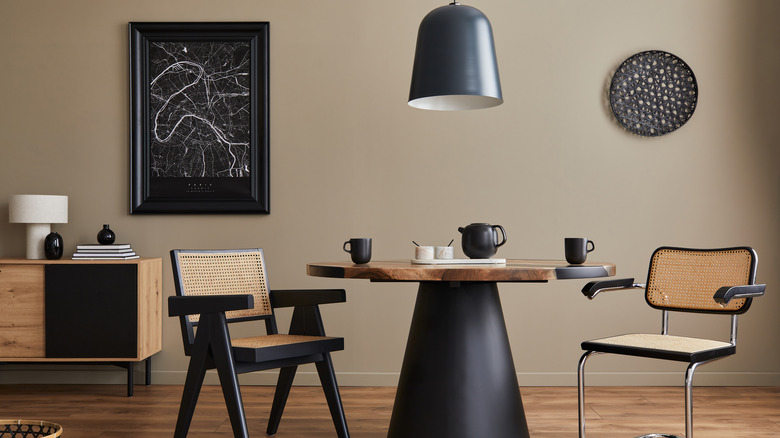 Followtheflow/Shutterstock
We love these beige walls and luxury furniture with black accents, which look absolutely incredible in this space.
28. Concrete goals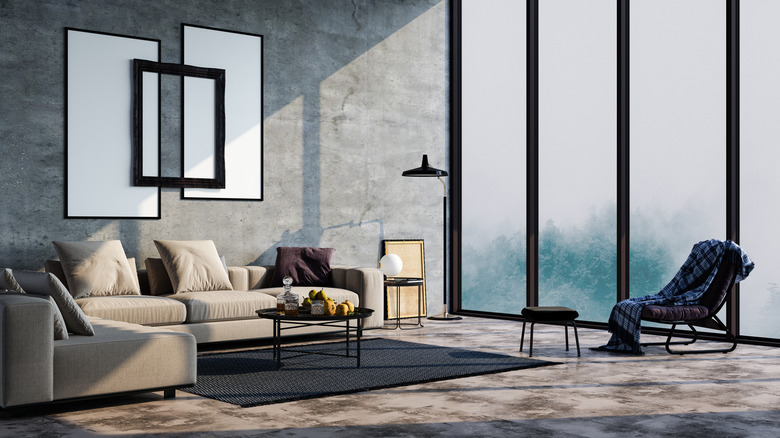 mixphotos/Shutterstock
This gorgeous studio features concrete floors, walls, and incredible floor-to-ceiling windows, making it feel more spacious and lighter.
29. A studio full of character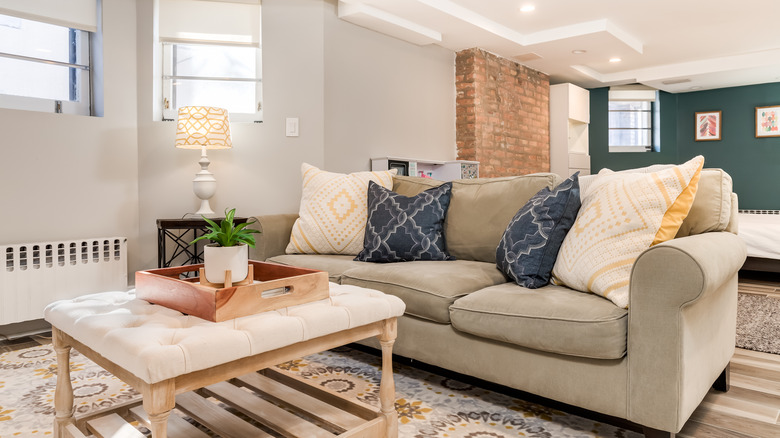 Hendrickson Photography/Shutterstock
If you're into a lot of character for an apartment, brick accents and exquisite ceiling detail will do it.
30. Gorgeous views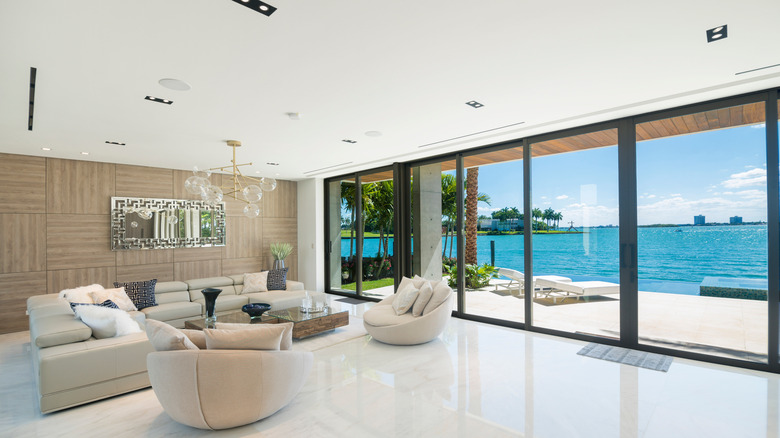 MDV Edwards/Shutterstock
A luxe studio apartment with beautiful ocean views is a dream come true, and we can only imagine those incredible nightly sunsets.