What Are Zombie Properties, And How Can You Use Them To Your Advantage?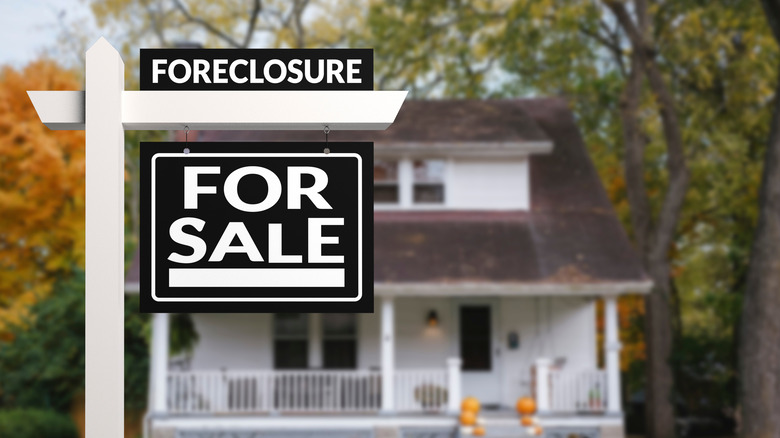 MDV Edwards/Shutterstock
As the prices for almost everything, such as food items, gas, and cars, are on the rise, the housing market has been added to that list seeing as though it's become a struggle to purchase a budget-friendly home. The average listing price for a home has reached $392,000, according to Realtor.com. Luckily, there is a way around buying an expensive property by looking into zombie properties. They're homes that never finished the foreclosure process once a homeowner vacated the property, per Realtor.com. The home stays under the owner instead of being picked up by the bank or lender, but it gets forgotten because the owners don't receive a notice that the process was never completed.
Since the beginning of the pandemic, most homeowners and renters were able to apply for rent relief that helped them pay their rent or utilities, according to ca.gov, or in some cases, their rent would be reduced in order for them to afford to pay it. The economy is being rebuilt, which means rent prices are spiking up along with prices for homes. Folks who want to purchase a home can investigate different zombie properties that are more affordable and can be fixed up depending on the state of the house.
Advantages for zombie property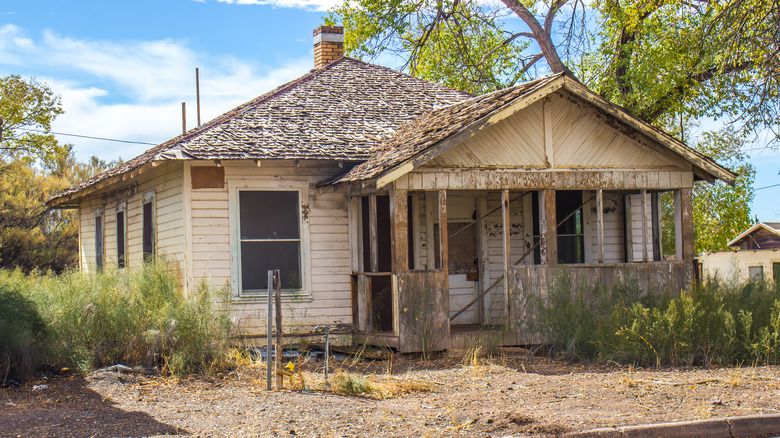 ThomasPhoto/Shutterstock
Because most of the zombie properties are left forgotten, they can be in pretty bad shape after a few years without being tended to. There can be damage from vandals or squatters if the home has been abandoned for too long, according to Rocket Mortgage. Even though the house may need to be fully renovated, it can be an engaging project and is almost guaranteed to cost lower than the market value, according to Realtor.com. This can also be a great investment opportunity if the new owners decide to sell it at some point.
Zombie properties are normally bought to be flipped and resold. Since they're affordable, repairing zombie properties and designing them to be completely transformed from what they originally looked like can give them a high spot on the market. It's a time-consuming process, but it can potentially pay for itself in the long haul.
How to buy a zombie property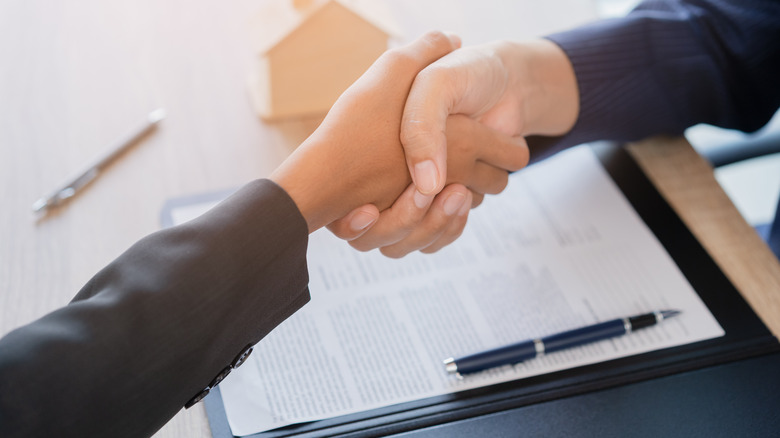 Backgroundy/Shutterstock
Although investing in zombie properties right now can seem like the right move since there's a chance you won't have to pay near the market value price, it can be a difficult process to actually buy a zombie property. Since they're in a state of floating around, it can be a long process to find and obtain. Realtor.com suggests working with a real estate attorney to deal with legal matters easier.
Locating zombie properties is the easiest part, you can look into banks, mortgage brokers, or title companies to get a list of zombie properties in your area. Through these sources, you can potentially figure out who owns the home in order to reach out to them to start the buying process. This is where your FBI skills will come in handy because you'll need to do a lot of research and phone calls, according to Rocket Mortgage. To make sure it all goes smoothly, you'll need a lawyer or work with a title officer who can give you information on whether there are other people interested in the property or if there are any liens. There is always help at hand to help you succeed.