How Much Will This Home Renovated By The Property Brothers Sell For?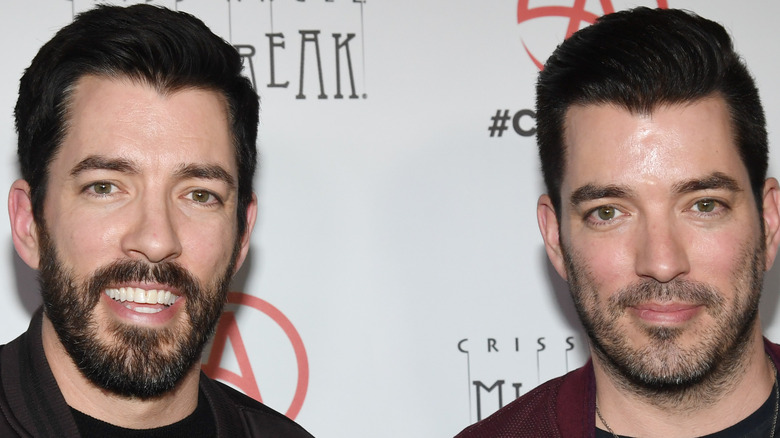 Ethan Miller/Getty Images
A property transformed on HGTV's popular "Property Brothers" is under contract just 10 days after hitting the market. The house, located in Conyers, Georgia, was renovated in 2014 during the show's sixth season. Realtor notes that the house was purchased for $375,000, and Drew and Jonathan Scott together with owners Edith and Fred Wallace put $80,000 into the renovation. They ended up spending a total of $437,000. The selling price is listed at $730,000, which will give the Wallaces an attractive $293,000 profit.
The house is listed by Edith, who is a real estate agent. The Realtor posting lists the house as having six bedrooms, 4.5 bathrooms, a home office, fireplaces, double ovens, gym room, pool and pool house, jet tubs in the master bath, and theater/media room. The foyer has an 18-foot vaulted, rounded ceiling, and the dining room features a leaded glass window wall. The house is around 7,500 square feet, and sits on 1.68 acres.
The Property Brothers Georgia success
The first glance of the house's exterior stuns with a grand driveway up to the entry, as well a dense thicket of privacy trees bordering the property line. The foyer is gorgeous with its raised ceiling, friezes, and multiple windows, giving the room a spacious feel. Additionally, the residence is lined with cherry hardwood flooring, the bathrooms feature classic, luxurious corner square tiles, and the gym is equipped with permanent rubber flooring. The laundry room brings in a taste of the nearby Atlanta trendiness with its vertically-striped black and white wallpaper. The pool house is complete with a full bathroom and mini kitchen, as well as a pool table.
The Wallaces told People they are selling due to their grandkids not living in Georgia anymore, leading to the space not being fully utilized. Of their time working with "Property Brothers" Jonathan and Drew Scott and HGTV, they say it "was the best experience ever ... The brothers and the crew were fun and made us feel so comfortable. We really miss them!" They added that they were happy with the workmanship and the dramatic transformation.