15 Creative Ways To Use Your Unfinished Basement
An unfinished basement may not seem like the ideal spot for many activities, but if space or budget (or you) are stretched, it's a gem in the rough. A little polishing, a change in perspective, and some light can make a huge difference. If being used for storage alone, there is untapped potential and square footage, which are very close to the same thing regarding function in a home. Making room for an important hobby can be a lifeline. Creating organized supply stations can feel like a measure of control. Going to the gym might no longer be such an exercise in willpower.
Whether you're handy or not, some major changes can be effected without a high skill level. After a clean-out — which let's admit, it probably needs anyway — and a good vacuum, Bob Vila recommends sealing unfinished concrete floors to mitigate dust and taking steps to ensure waterproofing. Beyond that, they suggest that some hardware staples can bring your basement to a whole new level: interlocking foam mats or indoor/outdoor carpeting, shelving, and a couple of coats of paint. We share 15 basement ideas that require neither a large budget (excepting the cost of the hobbyist's equipment) nor time commitment and are an excellent return on investment.
Indoor nursery
Create space for seedlings and plants with an indoor gardening system. Grow kits are available in the form of lit-tiered carts and shelving — or you can construct your own. For the advanced gardener, there are many gear options: tents lined in reflective material, humidifiers, heaters, fans, and different grow lights for specified plant types.
Out-of-season closet
Build a closet for out-of-season or occasional clothing. Purchase organizers, covered hanging racks, sealable see-through containers, or shelving. Wash or dry-clean garments before storing them for extended periods, and include lavender and cedar sachets to keep pests at bay. Consider adding light for visibility, and for a less industrial feel, get some pretty curtains and a carpet.
Darkroom
Basements often have a utility sink and are out of the way, so they're a logical darkroom location. Already with space to spread out, a work table and shelving for chemicals and trays are a plus. Dust is a nemesis of the negative — consider stapling plastic sheeting to the ceiling, and don't ignore proper ventilation.
Movie room
Watching movies in the dark is awesome — a movie room in a dim basement takes advantage of an ordinarily undesirable trait. Paint a wall white or install a smart projector. Add a rug and some comfy seating; divide the space from the rest of the basement with drapery to warm it up and underscore a theatre vibe.
Wine cellar
Ideally, wine is stored in an environment with controlled temperatures and humidity, kept out of direct sunlight, and in conditions that remain constant. Of course, one can spend thousands or hundreds of dollars for a custom wine cellar, but even passive storage in the basement, as opposed to on the main floors, ticks the above boxes more effectively.
DIY shop
Having the right tool for the right job is important, and so is being able to find it — a basement shop helps keeping everything in its place. Hang pegboard and trace around hammers and saws, etc. (just like in Julia Child's kitchen). Line workbenches and tool chests along the wall. A humidifier will prevent rusting metal and wood swelling.
Kid zone
All the train tracks, car tracks, bicycles, doll strollers, in-line skaters, and mini-creators can head down to the basement and have the best time! With some child-proofing, the basement can be a great play area. So make the most of its dimness: Stage a cozy corner with fairy lights, a rug, and a kids' tent.
Art studio
Artists need to be able to make a mess and leave ongoing projects and paintings out for access and drying. So a basement can be a decent home studio, albeit for the lighting situation; add high power, daylight bulbs in a neutral color. An easel or large table, cabinets, shelves, and metal file drawers are almost non-negotiable.
Home gym
You can't dispute the convenience of a home gym, but no one wants to look at the equipment every day. The basement's a solid place for this. Utilize interlocking foam mats, hang a large mirror, and install pull-up bars or a resistance training system from the ceiling. Throw dirty towels in the basement washer after a workout.
WFH office
A downside to working from home is the number of distractions there. However, the isolated nature of the basement can help maintain a flow. Good internet and lighting are key, and a carpet is easy to vacuum but aesthetically pleasing. Try diffusing essential oils and playing classical music at a low volume; both are reported to boost concentration.
Pantry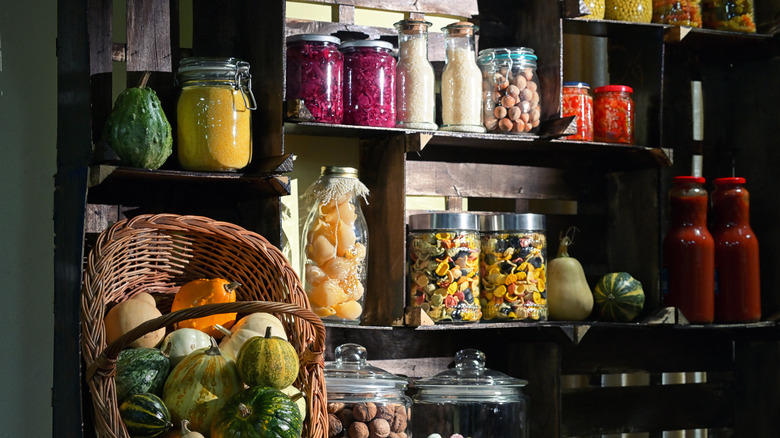 mady70/Shutterstock
Add cupboard and counter space to your kitchen by moving items to a basement pantry. Anything sealed, canned, and jarred, and nonperishables like paper products, are perfect candidates for storage. Further, insulate bagged and boxed food inside clear and airtight plastic bins and regularly check expiration dates. Finally, mount a whiteboard nearby for help with shopping lists and organization.
Sewing and craft space
As utilitarian or decorated as desired, a tucked-away craft space with room for notions and supplies is nirvana to the craftsperson. An old dresser, shelving, a folding table, and some bright lighting are about all that's required. The fabric should be stored in closed bins to keep out moths and mice.
Recording studio
Private space for practicing and recording is a must, whether it's music, a podcast, or a vlog. Noise-proofing acoustic panels and foam floor tiles install easily. Decent lighting and a strong internet signal are also important. Purchase a large tabletop or desk for computers and gadgets; second-hand is fine as long as it's stable.
Laundry room
Check resale centers and classified websites for kitchen cabinets, and top them with inexpensive countertops to create an organized laundry center. Use rolling, divided hampers and run a clothesline for air-dry garments. The space can be freshened with a light paint color and lavender laundry mist; an area rug will also make it more appealing without attracting dust.
Yoga and meditation space
The womb-like atmosphere of a basement is very aligned with the acts of meditation and yoga; sounds and outside distractions are muffled. Cork floor tiles are a natural alternative to foam and provide comfort and shock absorbance. Candles add scent and ambiance, and a curtain far from the candles will soften the space.