Jimmy Fallon's Former Home Has One Weird Feature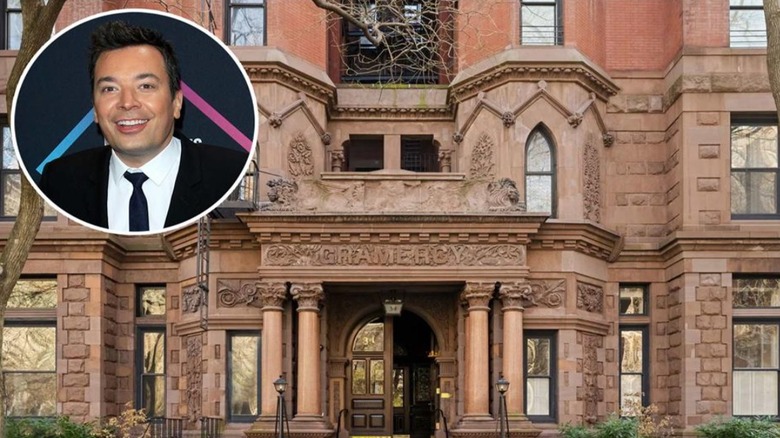 Kathy Hutchins/Shutterstock
Colorful, imaginative, vintage, stylish. There are many words to describe television host, comedian, and actor Jimmy Fallon's former New York City home. With approximately 4,950 square feet, the historic Queen-Anne-style building is located at 34 Gramercy Park East in Manhattan, only two miles from Rockefeller Center. NBC's "The Tonight Show Starring Jimmy Fallon" host, along with his film producer wife, Nancy Juvonen, occupied the home for approximately 20 years before putting it on the real estate market in early 2021 for $15 million, per Love Property. Over time, the famous couple purchased four individual apartments on three different floors, including the top floor, and combined them all into one large penthouse. Represented by Sotheby's International Realty, the exclusive Gramercy Park property may either be presently sold or off the market.
Highly eclectic, the home reflects Fallon and Juvonen's fun personalities throughout. With six bedrooms and five full bathrooms, every section of the house emanates a special motif. Like a scene from a Tim Burton film, the most unusual feature is hidden in the bookshelf located under the custom-built staircase, which doubles as a secret door that leads to a charming little playroom. As if you were following the White Rabbit, one side of the shelving opens to an alcove furnished with a chalkboard, monkey bars, a toy kitchen, a jailhouse-style intercom that communicates with the playroom, and clandestine hatches. According to the Los Angeles Times, there's a secret passageway located in the pantry that also leads to the whimsical space.
Inside Jimmy Fallon's Gramercy Park "penthouse masterpiece"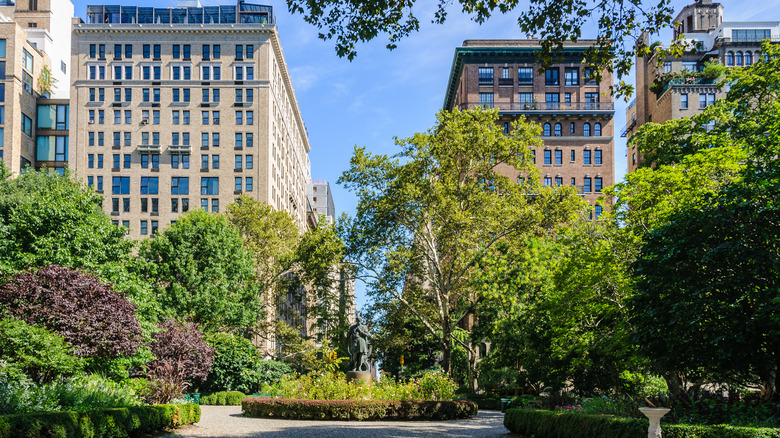 Gabor Kovacs Photography/Shutterstock
Old New York meets young New York. Not only is Jimmy Fallon a successful actor and comedian, but the former SNL star has a knack for home renovations. Fallon, 47, purchased a one-bedroom unit for $850,000 as a bachelor in 2002. From there, it became an investment, purchasing a few more units every few years for a total of four by 2014, per New York Post. The building itself was erected in 1883 and is recognized as New York City's first "white-glove" cooperative, per House Beautiful. Classic actors like James Cagney and Margaret Hamilton also resided within the building. 
From the peculiar décor to the vintage wallpaper, Fallon and his wife spent at least a decade reinventing every detail to complete the triplex home. The entrance to the home is on the seventh floor, where the foyer leads to a vibrant living area. An enormous bright blue custom-made sofa engulfs the room and contrasts with the wacky 1940s wallpaper on one wall and slanted wood-plank design by Bednark on the other. The walk-in pantry is a dream, apparently used as a former sound studio, a likely place for the "late-night" munchies. The never boring home consists of other fascinating rooms like the cozy "saloon room" that overlooks the park and features a retro hunting lodge atmosphere with a bar and stone (gas) fireplace, per 6sqft. With such ingenious style, the home is certainly as entertaining as the host of Late Night.