Here's Where You Can Visit The House From 10 Things I Hate About You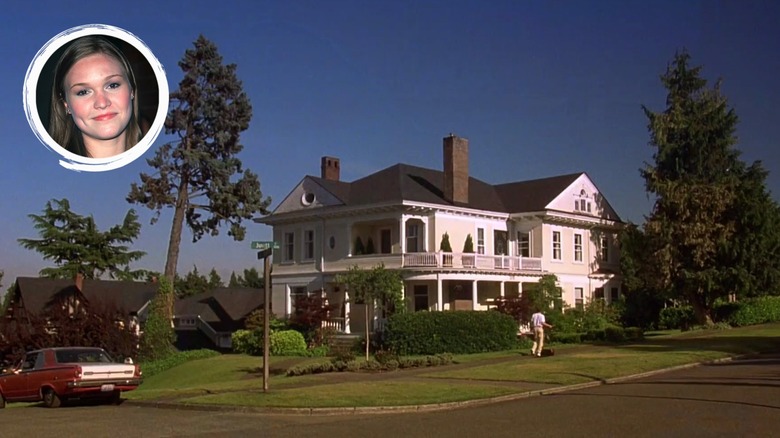 Evan Agostini/Getty/Static Media/YouTube
While movies can be filmed just about anywhere, for movie fans, the filming sites of their favorite movies can mean a lot. And when fans are given the opportunity to visit those locations, like the ones featured on House Beautiful's list of movie homes and apartments, the experience can be nostalgic and thrilling. To that end, for the fans of "10 Things I Hate About You," that opportunity is a possibility.
Starring Julia Stiles, Joseph Gordon-Levitt, and Heath Ledger, the romantic comedy has continued to find success and has been listed as one of the top rom-coms in ​​Vogue's "The 76 Best Romantic Comedies of All Time." Completely transforming Shakespeare's "The Taming of the Shrew," "10 Things I Hate About You" follows Cameron James as he navigates young love after falling for the popular Bianca Stratford. Cameron, with a bit of help, devises a plan to win over Bianca and her ill-tempered sister Kat, but drama unfortunately unfolds, secrets are revealed, and hearts and noses are broken in the process. 
And although multiple locations were featured throughout the movie, the most prominent places include the fictional Padua High School, named after the Italian city referenced in Shakespeare's play, and the house where Bianca and Kat lived. With bits and pieces of the house shown over the course of the movie, it's no wonder that fans want to see the stunning home in person. And although the house is currently residential, you can stop by and pay the house a visit.
The Location of Kat and Bianca's House
While a majority of "10 Things I Hate About You" was set and filmed in the metropolitan area of Seattle, Washington, fans can find Bianca and Kat's house in the North End neighborhood of nearby Tacoma. Roughly a 30-minute drive from Seattle, the artsy port city of Tacoma overlooks Commencement Bay and Mount Rainier and is home to a nationally recognized culinary scene and a number of world renowned museums.
When it came to finding the perfect house for the movie, producers scouted the neighborhoods near Stadium High School. The almost 4,000-square-foot home, shown in this YouTube video, was found in North Tacoma at 2715 N Junett Street on the corner of North 28th Street, minutes from the school. Built in 1907 for the president of a candy company, the five-bedroom Victorian showcases original woodwork, custom hardwood flooring, stained glass windows, and two wrap-around porches with a view of the bay. 
The previous homeowners, who owned the house while "10 Things I Hate About You" was being filmed, revealed that the filming crew spent six weeks at the house and removed a window for a shot of Julia Stiles reading in the front room. According to Harper's Bazaar, the homeowners later listed the house for $1.6 million in 2018 and the property sold for $1.54 million after a month on the market.