Trellis Ideas To Maximize Your Outdoor Space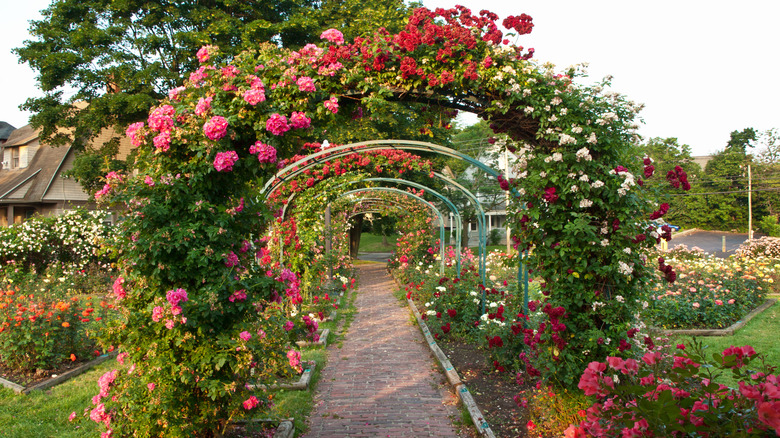 Wirestock Creators/Shutterstock
Your home might be your castle, but not everyone can boast about the privacy that comes with moats and turrets. For the rest of us — urban, suburban, or small town — trellises make the most of your outdoor space in ways that reflect your style, support your plants, and add function and curb appeal.
Think of a trellis as a backbone for plants that need support. Described by The Spruce as vertical and typically somewhat flat, a trellis can take on many shapes, be fashioned from many materials, and encompass sizes from mini to maxi. In most situations, you'll need to be sure the trellis is well-made and solid. Depending on what it needs to support, it should be anchored firmly, with no possibility of toppling.
Incorporating a trellis (or two) into your yard design plans can maximize a variety of aspects of your yard. It always provides a vertical growth area, which increases your planting space. A trellis also provides flexibility by allowing you to situate it wherever you need it most. Finally, a trellis provides beauty with some designs showing off as true works of art. Read on for more about using trellises to maximize your outdoor spaces.
1. Make the most of small spaces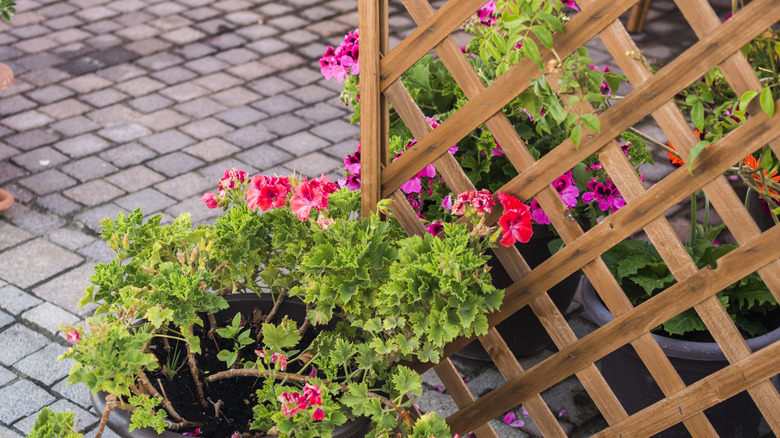 Sun Shock/Shutterstock
On a small patio or deck, a trellis can anchor a railing or pop out of a flower pot. Climbing plants complete the look, offering natural sound and privacy barriers.
2. Maximize outdoor living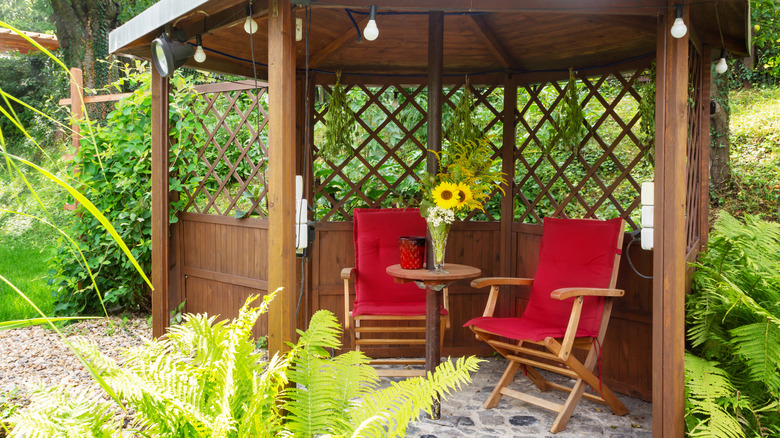 fotoknips/Shutterstock
Use trellises to form an open-air living space. The trellis style makes it easy to personalize according to preference, such as wood for a traditional look or metal for an industrial vibe.
3. Trellises that turn the corner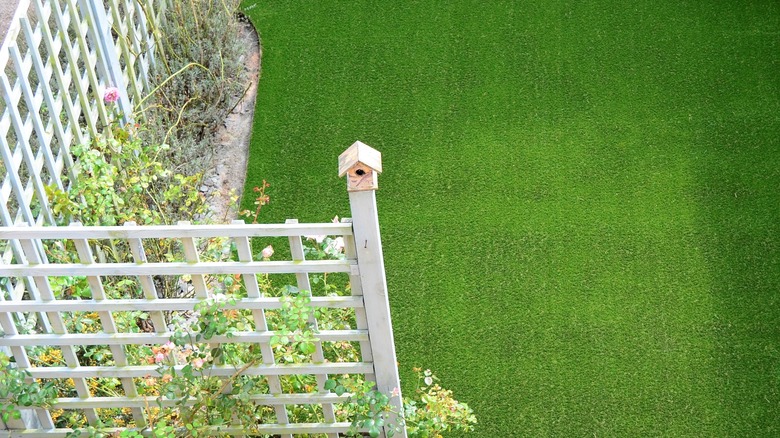 Gerry Burrows/Shutterstock
If an entire room framed by trellises is too much for your yard, let a partial version generate a visual nook that catches the eye. Put up two perpendicular trellises and add a profusion of climbing plants to form an interesting nook in an area of your garden that cries out for attention.
4. Sculptural trellis design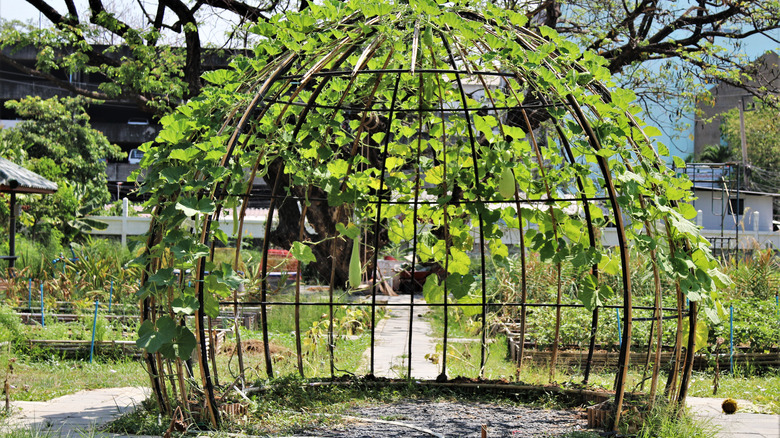 Arunee Rodloy/Shutterstock
Not every trellis is about function. A trellis can maximize your outside space by beautifying it and enhancing the architecture of your home or garden. A dome-shaped trellis creates a completely unexpected type of visual interest. In gardens that normally have straight edges and angles, a sphere really pops.
5. Function becomes art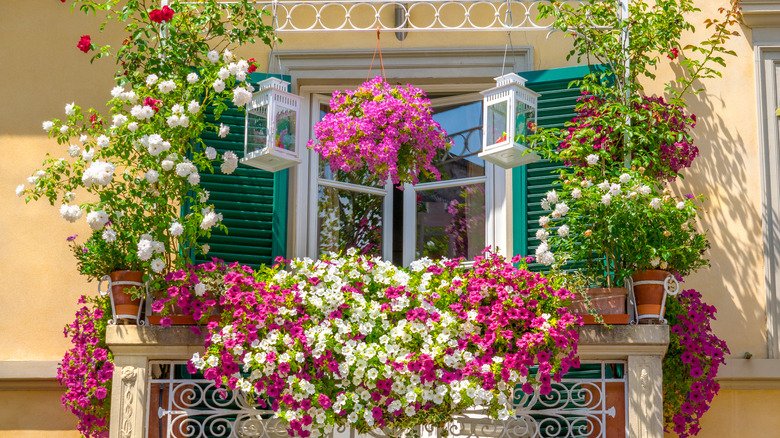 Leigh Trail/Shutterstock
A scrollwork trellis forming the horizontal railing of a balcony makes a striking artistic statement. Echoing a balcony on the French Riviera, flowers and vines tumble over and through the lattice. Taller plants on the sides and added scrollwork across the top amp up the artistry, while lanterns, birdhouses, or wind chimes complete the look.
6. Entrance accented by trellis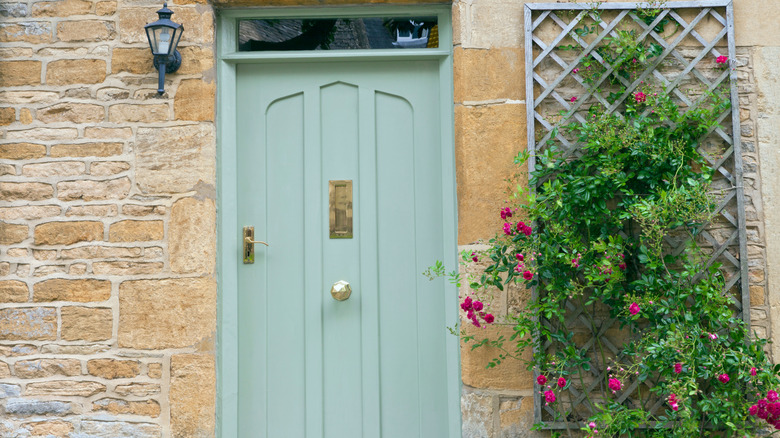 Yolanta/Shutterstock
For a warm, welcoming entrance, install a trellis near a door. Experiment with color combinations and materials to find one where form and function marry well with art and accents. Whether your home is large or small, trellises near a door offer a focal point.
7. Trellis connects windows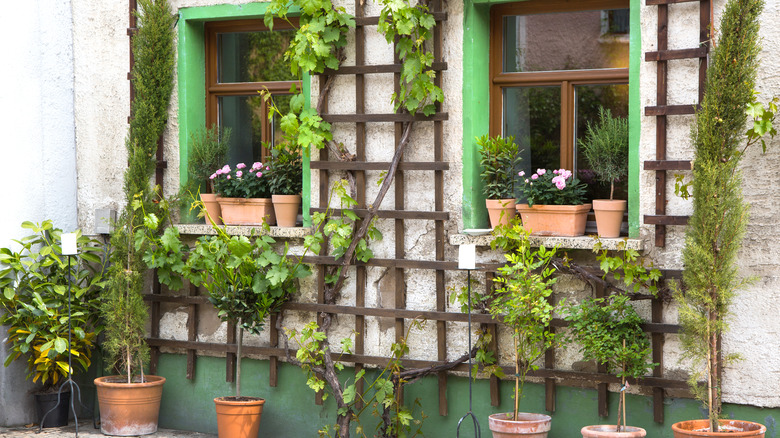 Jeanette Dietl/Shutterstock
A trellis can maximize even the tiniest of gardens by simply placing it against a wall. In doing so, you'll create a spot for something to grow, freeing up space for other plant groupings elsewhere in your yard. Consider placing a trellis between or around windows, to visually connect them.
8. Flower-strewn tradition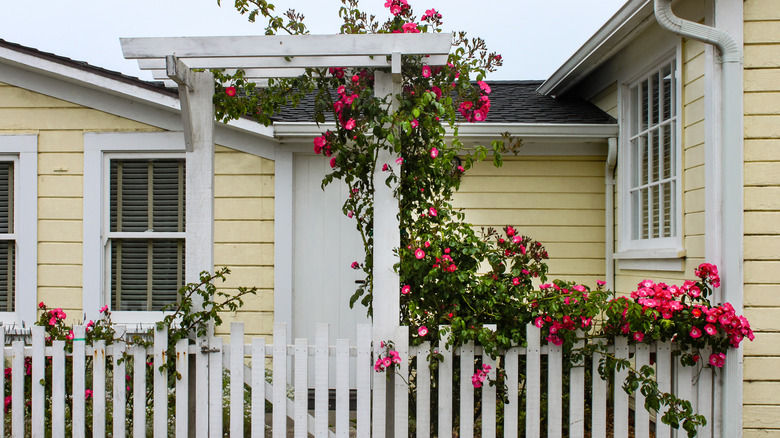 Vineyard Perspective/Shutterstock
Put out the welcome mat with a pretty entrance to a traditional home, one that sports a white-painted fence and a trellis over the gate. Reminiscent of a white picket fence, a trellis rising above the classic slats creates height while brightly-colored vines climbing the trellis generate dimension.
9. Anything but white pickets
Klem Mitch/Shutterstock
Say the word trellis, and most people picture a white painted wooden frame with symmetrical latticework. If that style is anathema to you, opt for a metal trellis with scroll or non-linear designs, which are enhanced by a simple green climber that becomes your garden's focal point.
10. Vines upon the trellis
Sunday House Creative/Shutterstock
Typically, we think of trellises as yard and garden accents that prominently feature a favorite climbing flower variety. Don't avoid the calming influence of a green, leafy trellis, either. Dotted with a few delicate flowers, a vine with teeming with verdant leaves will maximize the impact of your garden.
11. Flowers climbing a trellis add space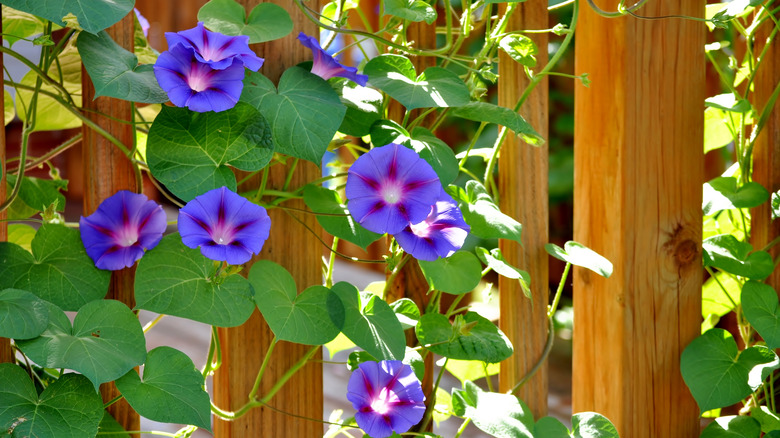 Malgorzata WI/Shutterstock
An old '60s song croons "flowers in her hair, flowers everywhere." You can have flowers everywhere, too, thanks to a trellis that can be placed where the conditions are ideal. If you want a profusion of blue morning glories, for example, construct a trellis in an area that basks in full sun.
12. Trellis to decorate a wall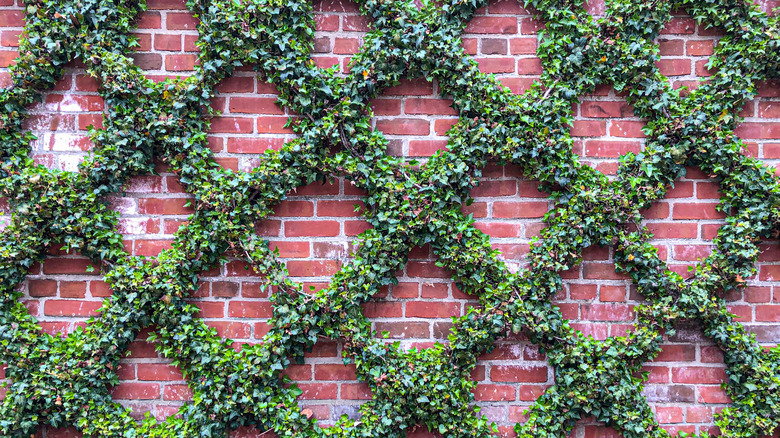 Evgenia Parajanian/Shutterstock
If you need to dress up an outdoor wall, look no further than a trellis. First choose a shape you like in a size that spans a significant portion of the boring, unadorned wall. Assess the location's light, drainage, and soil then train a plant (ivy, perhaps) to grow on the wall trellis.
13. Using a trellis for an espalier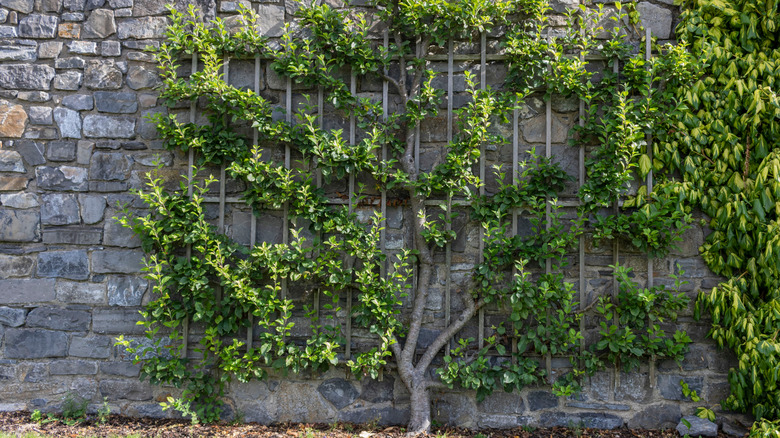 Irenestev/Shutterstock
Unique and eye-catching, an espalier is a head-turner. The process involves pruning and tying tree branches to a form such as a trellis affixed to a wall, in order to create what looks like a flat tree with sprawling branches. The space-saving result is both functional (as fruit trees prove) and artistic.
14. Natural privacy barriers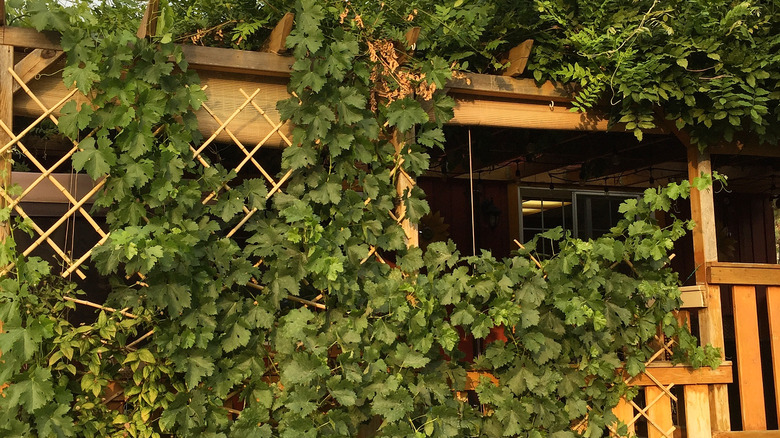 JoanneVincent/Shutterstock
Some people prefer a lush abundance of growth along a trellis instead of orderly, meticulously pruned branches. A trellis that is thickly covered with leaves provides a natural privacy and sound barrier, increasing the freedom you enjoy in your outdoor space. Karaoke, anyone?
15. Create a shady respite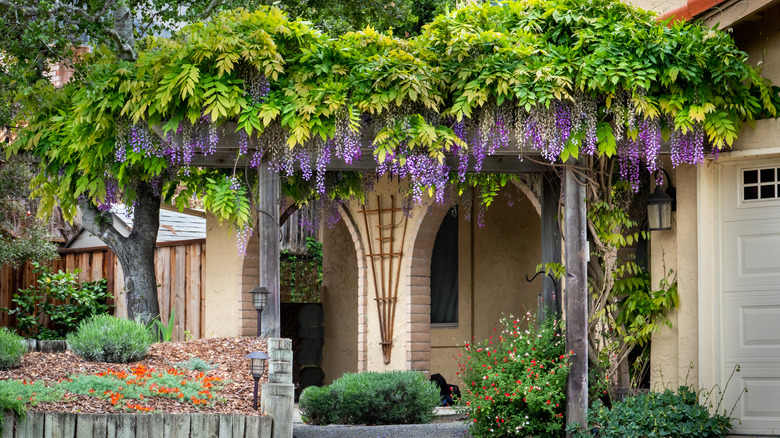 David A Litman/Shutterstock
What is an arbor but a trellis hanging overhead? The same rules -– or lack thereof -– apply to a trellis that's parallel to the ground as to one that's perpendicular to it. In southern climates, wisteria maximizes the beauty of the trellis while providing generous shade.
16. Trellises for great grapes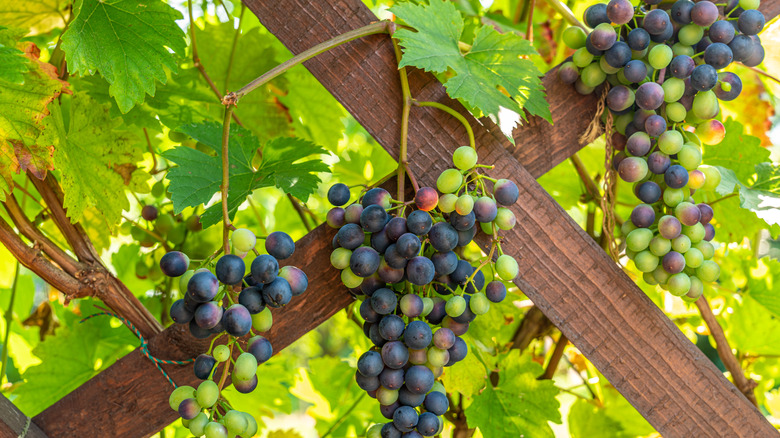 Jens Rother/Shutterstock
The iconic look of a vineyard is what it is because of the trellises that support the grapevines. Throughout the world, in every culture, grapes are trained to grow along fence-like trellises. In a backyard, grapes on a trellis can provide beautiful fencing and delicious grapes. Raise a glass and toast the useful trellis!
17. Veggies love trellises
Many plants not only thrive when affixed to a trellis, but they actually require one to stave off damage. Peas and cucumbers throw out tendrils that will grab onto whatever they can. Tomato plants will need your help, requiring you to tie the plant to the trellis then probably tie it again as it grows.
18. Maximizing the gardening space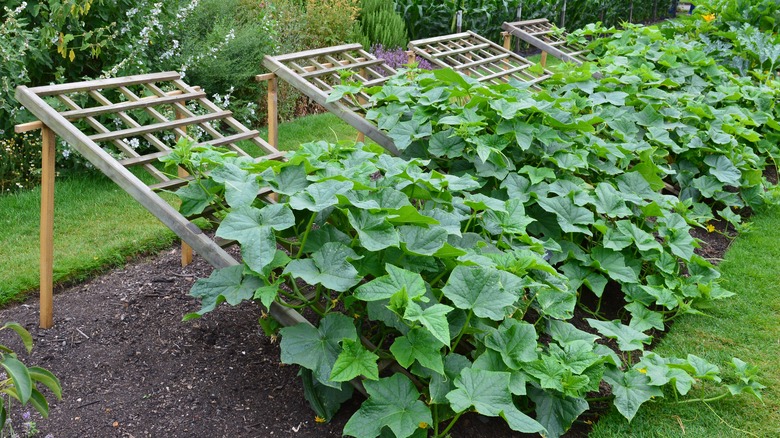 Joe Kuis/Shutterstock
Clever gardeners make the most of available space by offering plants such as cucumbers a trellis mounted at a 45- or 50-degree angle to encourage healthy cucumber plants (the vegetable grows without resting in the dirt). This offers a lightly shaded area beneath to use for plants needing less light.
19. Framing a small plot of land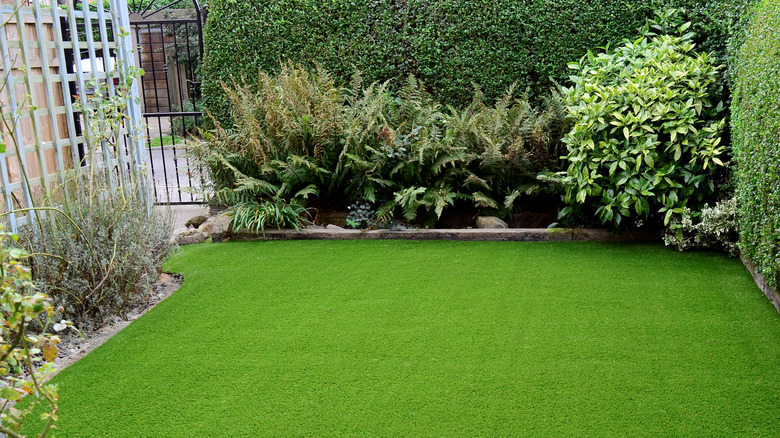 Gerry Burrows/Shutterstock
Give a big boost to a garden that has a little profile. A trellis, whether located along a gate, against a wall, forming a fence, or freestanding in your yard, can make your space seem bigger just by the placement. The trellis maximizes the appearance of the space by increasing the sense of depth.
20. Maximum impact with recycled trellises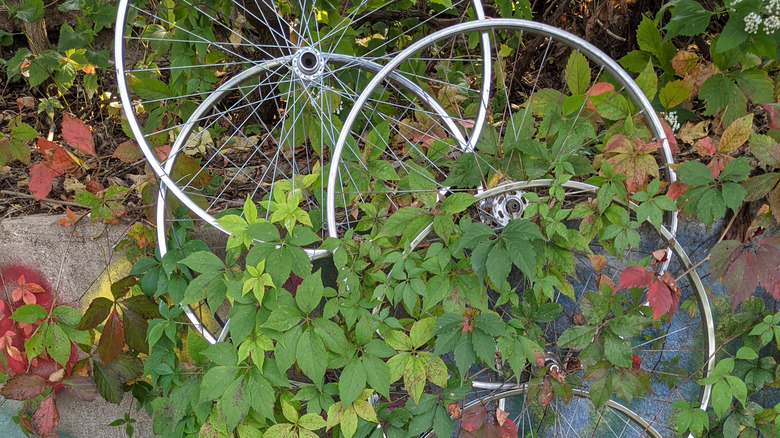 MeghaDrive/Shutterstock
The concepts of reusing and recycling work well with trellises. You can make your own trellis with materials you already have, such as scrap wood, metal, bamboo, or young twigs. Get extra creative and use items such as clothes hangers, old filing cabinet drawer frames, or bicycle wheels to make a truly one-of-a-kind trellis.
21. Trellis versatility and timeless style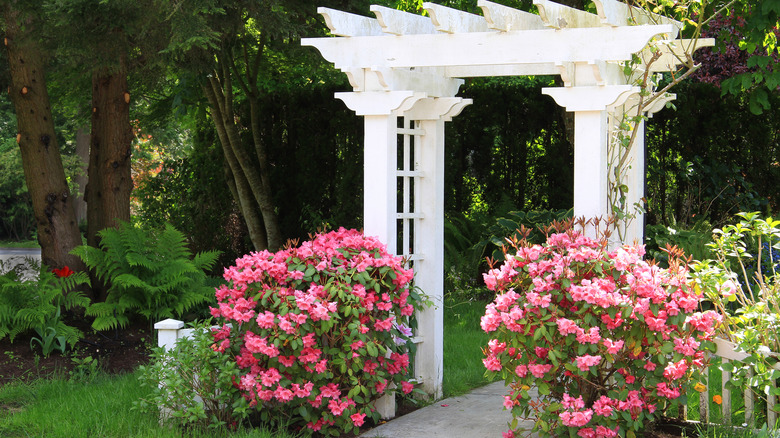 Hannamariah/Shutterstock
Trellises can be versatile. They might sport a tighter weave that provides a barrier to prying eyes or a more open and modern design that uses the exposed pattern to let light or scenery through. A trellis can invite guests in or provide intimate seclusion.