This Retired Couple Is Living On Cruise Ships For Less Than $90 A Day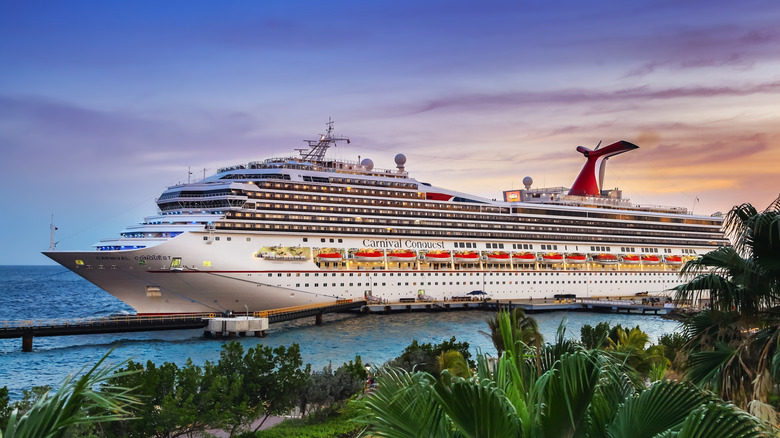 NAN728/Shutterstock
For many, cruise ships are the perfect solution to take a relaxing vacation and get away from their everyday life. From the endless view of the ocean, the many activities the ship provides, and the variety of food types, it's clear as to why many people enjoy taking cruises. However, some people tend to take cruises more than others. Per Wind Rose Network, around 80% of cruise takers typically travel with their spouse or significant other. Additionally, around 50% of customers take cruises on a yearly basis. However, could you imagine primarily living on a cruise ship?
According to New York Post, retirees Angelyn Burk and her husband Richard plan to spend 86 days of 2022 onboard a cruise ship. Between Carnival cruises and Holland America, it's safe to say these two won't see much of the mainland. Angelyn sent an email to CNN stating that she tries to plan their cruises on a single ship for as long a stay as possible, rather than moving from ship to ship. The couple sees this as a moving resort where they can relax and visit multiple countries. The couple also states that they plan to live on cruise ships for most of their retirement years.
The cost of cruise living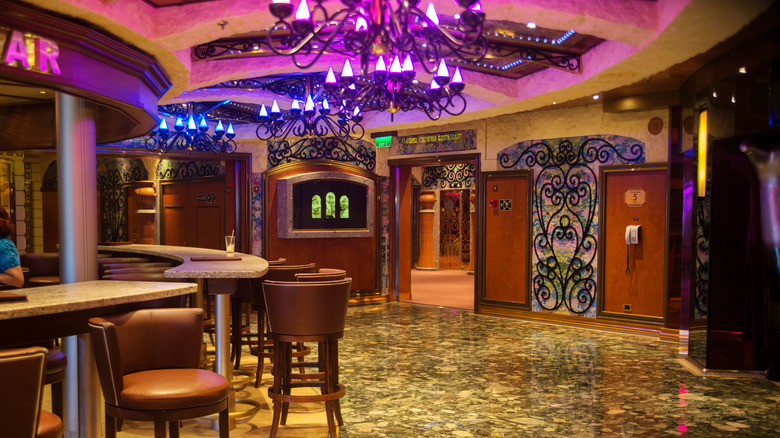 Turn_Mug/Shutterstock
So, exactly how much does it cost to live primarily on a cruise ship? According to her email to CNN, the couple is planning to spend at least 86 days on cruises, averaging a cost of $89 per day. The cost includes not only the room but also food, transportation, entertainment, transportation, and other fees. Adding that this is well within her and her husband's retirement budget, they also receive several discounts. Through loyalty programs, the Burk's are able get reduced prices on room and board due to their frequent cruises.
While this may seem like a unique idea for retirement, they are not the only ones taking advantage of low-cost cruises. Colleen McDaniel from Cruise Critics told CNN that they constantly hear from cruisers that retiring on a cruise ship is something they'd considered being a part of. While it's an adventure in itself, McDaniel states that the convenience of it is the most appealing to cruise takers. Being able to explore the world, amenities such as laundry, having every meal taken care of, and the community that cruise ships offer are just a few more of the many perks McDaniels says retirees and cruise takers consider.