Here's Where You Can Visit Carrie's Apartment Building From Sex And The City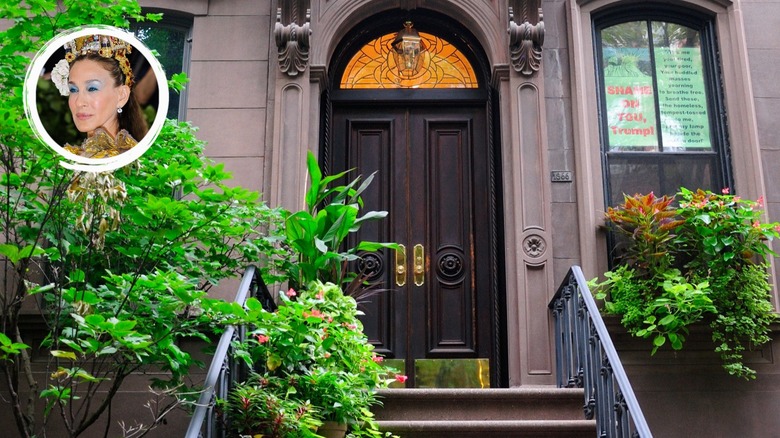 Nina Alizada & Sky Cinema/Shutterstock/Static Media
Most "Sex and the City" fans have had that moment when watching the show of trying to figure out which character they relate to the most — or inspired them to be. For many, it was always Carrie Bradshaw. She was funny, witty, outgoing, vulnerable, and a writer. For many, late nights consisted of watching replays of all the episodes and obsessing not only over Bradshaw's life but also her apartment.
Parade says audiences were led to believe that Bradshaw lived on 245 E. 73rd St. in the Upper Eastside of New York City. However, the apartment location was actually at 64 Perry St. in the West Village before later moving to 66 Perry St. after a few seasons. One of the reasons for making this move was to include the staircase that they considered to be more "glamours," according to Fancy Pants Homes. This building is no stranger to celebrities and film; Tim Gunn from "Project Runway" lived on the fifth floor for 16 years, and the building was also used as a set for parts of the 1990 film "Alice." For those planning on visiting like the hundreds of other fans, tourists have been asked to respect the property.
Viewing Carrie Bradshaw's apartment
Although the exterior shots were at 66 Perry St. (in downtown rather than uptown as initially perceived), the interior was filmed on a soundstage by Jeremy Conway, says Scene Therapy. However, tourists can still see the front of the building and its iconic staircase but are also asked not to walk up the steps, according to Fancy Pants Homes. On your walk up to the building, you'll have great views of the Empire State Building and the Statue of Liberty.
Last year, some lucky fans had the opportunity to stay in an Airbnb that was quite similar to that of Carrie Bradshaw's apartment in NYC, according to House Beautiful. Although not in the same building, the design made residents feel as though they were actually in Bradshaw's apartment. For only $23 a night, guests had the pleasure of receiving a virtual welcome from Sarah Jessica Parker (who was also the Airbnb host), among other things; sips of Bradshaw's favorite Cosmopolitans, brunch in Chelsea where Bradshaw and her friends would regularly meet, and a chance to wear Bradshaw's clothes and have a photo shoot.
Whether you're a regular NYC tourist or a die-hard "Sex and the City" fan, visiting this location is sure to be magical.