10 Ways To Incorporate Textile Art In Your Home
Textile art uses a variety of materials with the intention of creating artistic items. It can be styled in your home in many different forms. The most common way to incorporate textile art in any given space is by hanging it up as wall art, according to Ellecor Design. It can be hung right on the wall or framed first depending on how you want to preserve it. If you aren't looking to preserve the textile in its original form, you can transform it into something new. Your textile can become pillows, a floor pouf, or curtains.
Another easy way to incorporate textile art into a space is by styling it as a blanket. It can be draped across a bed or a couch, or even hung on the side of a basket or on a popular blanket ladder. Depending on the type of textile you have, it could even be used as a rug. The possibilities are up to you and your decor style.
1. Blankets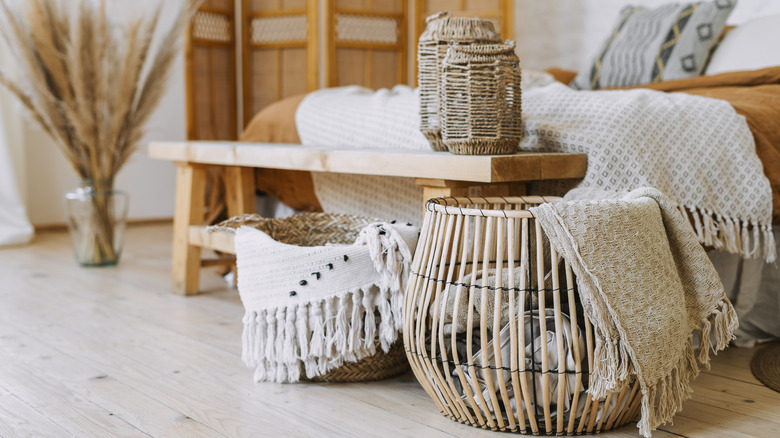 brizmaker/Shutterstock
Placing your textile art in a basket is a trendy way to style it. The basket can be placed by a bed or beside a couch in a living room. The trick when styling textiles in a basket is to let a corner hang out to reveal the textile's design. 
2. Pillows
If you're not scared about cutting your textile art, transforming it into pillows is a great idea. Then it can be styled on a couch and used in your everyday life. 
3. Macrame planter
Macrame is a type of textile art that uses knotted cords instead of weaving yarn. Here a macrame plant hanger is styled in a room that incorporates neutral colors. 
4. Wall decor
Here, we see macrame used in a different way as wall decor. It is styled simply, hung on a wall in a room with similar colors. 
5. Floor cushion
Turning your textile art into a floor cushion is similar to turning it into pillows. The difference is that your textile art needs to be big enough to spread across a larger surface area.
6. Carpet
Using your textile art as a carpet can tie a room together while putting the art on display. However, it needs to be durable enough to withstand people walking on it, so placing it in high traffic areas isn't a good idea. 
7. Curtains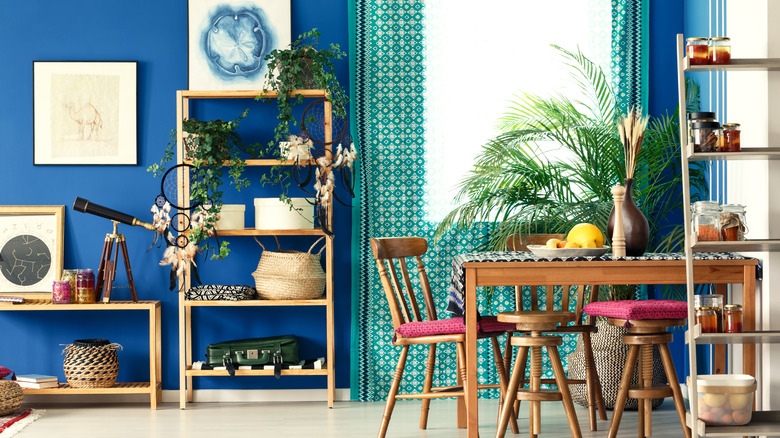 Photographee.eu/Shutterstock
If you have large pieces of textiles, turning them into curtains can look beautiful in your home. It puts the art on display in a creative way. 
8. Framed
Framing textile art is the best way to preserve it. After being placed behind glass, the only thing that can damage it is the sun. To that end, make sure you don't place the art in direct sunlight, which can cause discoloration. 
9. Laid across a bed
Laying your textile art across a bed is another way to display it while making it a part of your everyday life. This way, you can see its beautiful patterns every day. Another variation of this is laying it across a couch. 
10. Wallpaper
Using your textile art like wallpaper is another variation of hanging it on a wall. To do this, you will need a large piece of textile that you love looking at. Here, the textile is pinned at the corners and styled as an accent wall.