Here's Where You Can Visit The Exterior Of Monica's Apartment In Friends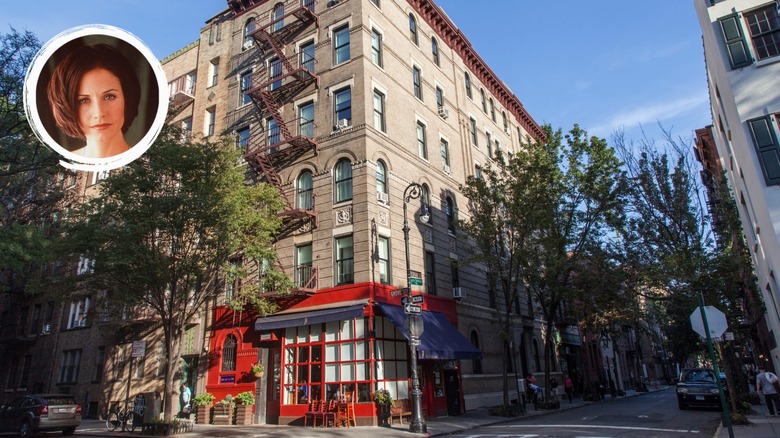 Getty Images/Getty & Raquel Rodr/Static Media/Shutterstock
There is something so nostalgic about a '90s sitcom. The early technology and the iconic fashion and hairstyles (who didn't want "The Rachel" cut?) can easily leave us wistfully reminiscent of the good old days. To that end, "Friends" showcased the hilarious realities of a closely-bonded group of New York City 20-somethings trying to find their way in life, all while navigating their blossoming careers and struggling to find romance amid countless bad dates. The show was an instant hit after its September 22, 1994 debut on NBC, with 21.5 million people tuning into the first episode, according to CNBC. "Friends" averaged more than 24 million viewers per episode over its 10-season, 236-episode television stint before going off the air in 2004. Its honest glimpse into the often confusing and overwhelming realities of young adulthood still resonates with millions, which is why Vulture says Netflix paid a reported $118 million for the rights to stream re-runs in 2014.
Adding to the relatable charm of "Friends" was the fantasy of living in New York City and being able to afford a Manhattan apartment big enough for all your friends to comfortably hang out in (in the pricey West Village, no less). Monica and Rachel's two-bedroom apartment, later becoming Monica and Chandler's apartment, became a popular hangout spot for the group (when they weren't at Central Perk, of course), and both the inside and outside of the iconic apartment are instantly recognizable among fans.
TV magic in the idyllic West Village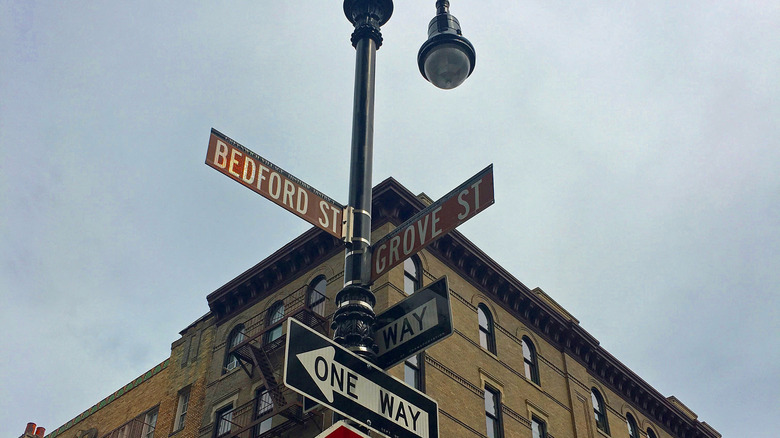 Sara Kendall/Shutterstock
Though the scenes inside Monica and Rachel's apartment on "Friends" were shot on set at a Warner Brothers studio in Burbank, California, per CNBC, the exterior shots of their apartment were filmed at a real NYC apartment building, located at 90 Bedford Street on the corner of Bedford and Grove in Greenwich Village. The exact location of the famed apartment building was largely a secret, until a neighbor of the building revealed its location to The New York Times in 1997. Since then, the show has incorporated the Bedford and Grove cross street signs in front of the apartment into transitional shots between scenes, adding to the allure of the real building location among fans.
This six-story residential building was built between 1898 and 1899 by the architecture firm Schneider & Herter, according to records from the New York City's Landmarks Preservation Commission (via The New Yorker). It also houses a Mediterranean restaurant called Little Owl on the ground floor with a red façade and blue awnings.
The real cost of West Village living
Considering Rachel worked as a coffee shop waitress during the first two seasons of "Friends" and Monica found herself without a job at one point after being fired, fans often wonder, "how do they afford that huge NYC apartment?" Though the series explains that Monica was lucky enough to nab her grandmother's West Village apartment thanks to rent control, consider them to have struck real estate gold (and remind yourself that it's a fictional sitcom), because the reality is that most Big Apple residents aren't that lucky, thanks to rising prices and a lack of available housing.
According to Scotty Elyanow, a real estate broker who lives and works in the West Village (per CNBC), an apartment of the same size in the same location today would actually cost between $7,000 and $8,000 per month — far more than the $200 per month that Monica and Rachel were paying in rent, even with the increased cost of living since the show's original airing.
Since an apartment in the real building doesn't actually look like the set used for the interior of Monica and Rachel's apartment, renting a unit in the real building instead costs about $3,495 per month, according to The New Yorker. That's far above Rent.com's estimate of a $2,050 monthly national average, but actually slightly less than the median price of for a two-bedroom apartment in the West Village, which a spokesperson for Trulia estimates to be about $4,500.