How Much Does It Cost To Install A Sliding Door?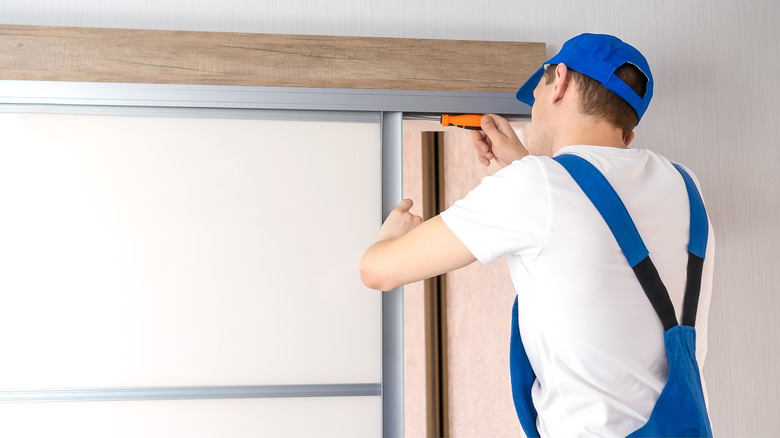 Yaraslau Mikheyeu/Shutterstock
A sliding glass door is one way of giving your house a simple yet aesthetically-pleasing upgrade. These doors let in a lot of natural light, provide beautiful outdoor views, and give easy access to the patio, backyard, or pool outside. Today, there are plenty of reasons why you should consider installing a sliding door in your home. They are a great option for those who want to have a bright and open feel in their space. In addition, they can cut lighting costs, improve your home value and curb appeal, and also save space when compared to a classic hinged door.
According to Fixr, the national average cost of installing a sliding door is $2,756, but ranges from $2,000 to $4,000 depending on a few different factors. Below we'll discuss the costs that come with installing a glass door, and provide some additional information that will help you decide if installing a glass door is right for you.
Factors for cost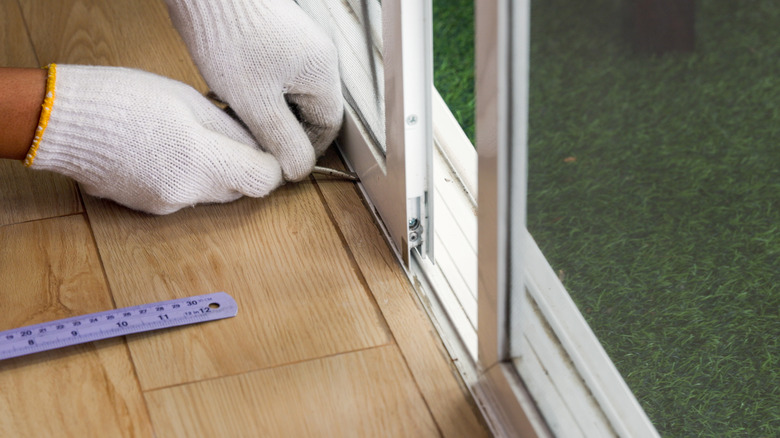 Toa55/Shutterstock
As stated earlier, there are several factors that are going to influence how much you will end up paying for the installation of a sliding door. It is important for you to be aware of these factors so that you budget accordingly. Kukun details some of the most important factors for cost when installing a sliding door.
The door frame material
There are three popular door frame materials that homeowners can choose from. Each one of these materials vary in cost and will the influence the price of your installation.
Wood is a great option for those looking for aesthetics and top-tier insulation. You can match the wood color to the interior décor of your room. However, it is important to mention that wooden frames need to be treated to keep the rot and insects away. According to Fixr, the average price of installing a sliding door with a wooden frame is about $500 to $1,500 exclusive of the installation labor cost.
Vinyl is a popular option for most homeowners because it is easy to maintain, durable, and less expensive. The only problem with vinyl is that it is not as airtight as other frame materials. The buying price of a sliding vinyl door ranges between $300 and $700.
Aluminum frames are another popular option because they are strong and lightweight. The cost of an aluminum sliding door is approximately $600 to $1,000. Aluminum as a material is subject to heat loss, so it is best for homes in regions with more mild temperatures.
The number of panels
On top of choosing frame material, you must also choose the number of panels for your sliding door. The number of glass panels will determine the overall scope of work and the amount of material needed.
Fixr explains that there are five common options that homeowners have when deciding the number of panels: two-panel, three-panel, four-panel, five-panel, and six-panel doors. The two-panel option is the least expensive and most common. Depending on the number of panels you want, it will cost you between $400-$6,500.
Model and manufacturer
Manufacturers price their products differently depending on the method of production and the materials used. So, it goes without saying that the company you buy from will determine how much you end up paying for the door. You should also realize that a sliding door should be a long-term investment, and a replacement in the event of damage can be quite costly. It is vital that you choose a manufacturer with good warranty terms. A proper warranty should cover the door for 10 to 20 years. Remember, despite new technology, glass is still glass, and it's prone to scratches or even cracks. Because of this, it is best to consider getting a door that has some sort of warranty.
Labor fees
The amount of work necessary for every installation or replacement is different; simpler installations will cost you less than the complex ones that require more hours and equipment. Nonetheless, the average cost of installation is between $65 to $85 per hour. You may have to pay an extra $100 to $150 for the removal and disposal of the old door if it is a replacement.
Additional costs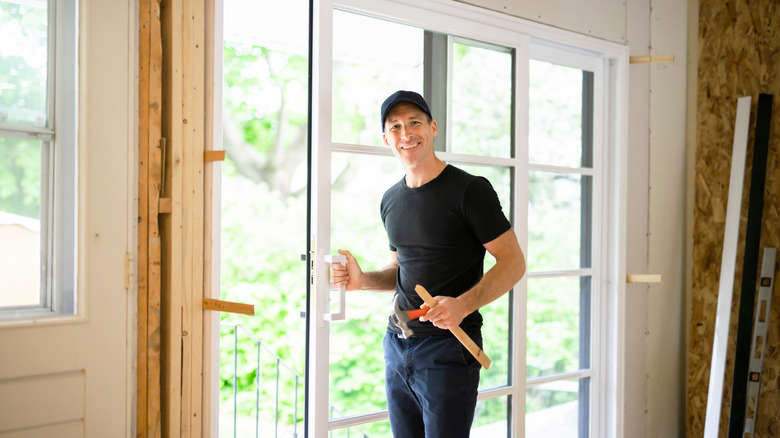 Lopolo/Shutterstock
It doesn't matter how meticulous your budgeting is — there are always additional costs that can come your way along the process. Fixr has a detailed rundown on some of these costs. Let's discuss.
Inspections
In the event of a replacement, an inspection of the structure of the sliding door is necessary. This is done to identify damage to the door so that repairs can be done beforehand. You will be given the quote for the necessary repairs. For instance, the removal of molds and other fixes necessary to make the new installation fit into the pre-existing door structure.
Permit
Other than inspection charges, permit fees also apply in major projects since the process of installation involves altering the house structure. Be sure to factor in the necessary permit fees depending on your jurisdiction. However, it is also possible for the contractor to cover the cost of the permit fees.
Other repair tasks
During the installation of a new sliding door, it is recommended to repair any other surrounding parts that will contribute to the aesthetics of the finished product. A good example of such fixes includes the repair of floors, door trims, and house siding. The cost of such unexpected repairs will be determined by the extent of damage or by the square footage of that particular space. To put everything into perspective, floor repairs range between $200-$3,500, the door trim is about $140-$250, and fixing the siding will cost you approximately $600-$1,200.
Special hardware
Other complementary fixes that you might need to do is switching the handles and frames of the sliding door to match the rest of the house décor. Also, changing your door locks to a stronger alternative is possible at an extra cost, per Houzz.
Types of sliding doors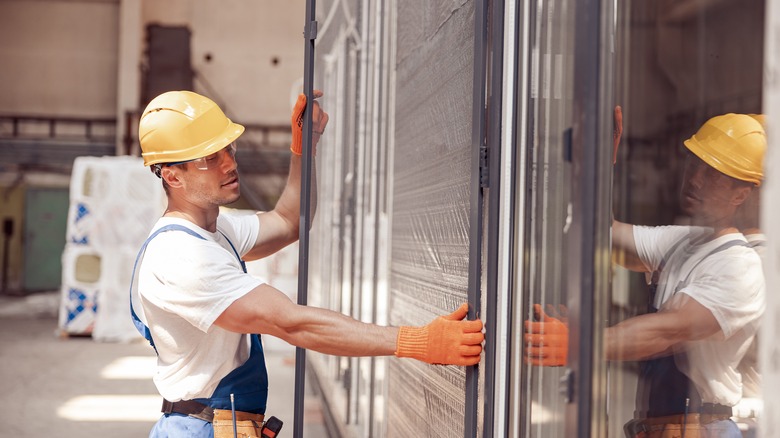 Friends Stock/Shutterstock
While a sliding door can immediately improve the visual appeal of your house, getting the wrong design for your house will do the exact opposite. Sliding doors come in different shapes and designs, each serving a different purpose. Home Statosphere lists the several different types of sliding doors. Here is a rundown of a few of the different types:
Bypass sliding door
This type of sliding door is one of the easiest to install. The door panels are fixed, and a visible track is mounted at the top and bottom of the door frame. Opening or closing the door is done by simply sliding the panel in one direction. One advantage of this type of sliding door is that it is easy to remove the door whenever necessary. On the flip side, however, they are not as airtight as other sliding door types.
Pocket sliding doors
This type of sliding door has no hinges and only one panel. The panel slides right into a wall pocket when opening. The pocket sliding door requires a wider wall with enough space to accommodate the entire panel when the door is fully open. It is easier to install this type of sliding door during the construction phase than it is later on. The pocket sliding door is ideal if you want to save space because it simply slides into the wall. The major disadvantage, however, is that it doesn't always form a good seal.
Bi-folding doors
Most bi-fold doors are also sliding doors. They are made of several panels that easily fold into each other. The panels fold and compact and slide to one side when opening. Compared to the pocket sliding door, this one requires more room and is not ideal when trying to save space. Also, because of the many panels required, it can be quite expensive to purchase and install.
Patio doors
This is a common sliding door that is installed in spaces that lead to the patio. They give way to a lot of natural light and also serve as a huge seamless window for looking directly at the patio or backyard. These doors are made to keep you safe from the different weather elements and have quite a good seal. This allows the HVAC system in your home to work at optimum efficiency. They are quite popular since they can be both ornate and extremely strong at the same time.
Why you need a sliding door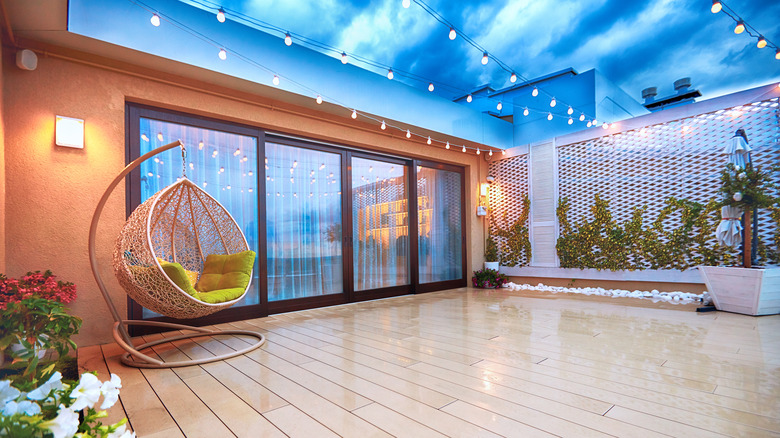 Olesia Bilkei/Shutterstock
Sliding doors can serve as more than just a door — they have a unique and classy feel to them and will also increase the functionality of your rooms. Bella Vista Windows & Doors gives some reasons why you need a sliding door in your home.
Improve your home value
If you are considering selling your home, installing sliding doors is a good way to improve the property value. They add to the existing curb appeal of your home. You will be surprised how many people love the sleek and ultra-modern appearance that is associated with sliding doors.
Make good use of space
Homes with limited space can really benefit from sliding doors. They do not take up as much room as their hinged counterpart and leave space for furniture or decorations around the house. Natural light also has a way of making rooms look bigger than they really are!
Benefits of sliding doors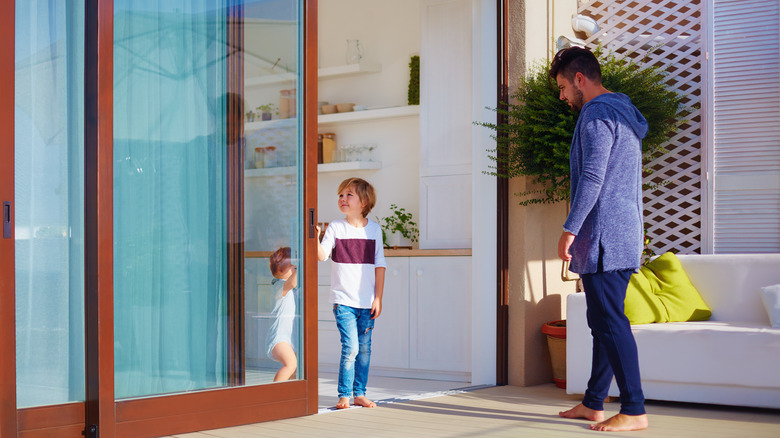 Olesia Bilkei/Shutterstock
Sliding doors are increasingly becoming popular among homeowners because of the many benefits they bring. Here are some benefits that you should know about, according to Murray Glass.
Energy efficiency
Sliding doors with a good seal will help keep your house warm during the winter season and cool during summers. If you want to take energy efficiency in your home up a notch, then you have the option of fitting your sliding doors with gaskets for additional thermal insulation that also doubles up as a noise barrier, according to Trademark Hardware. Since sliding doors allow natural light into the house, you can save big on electricity bills.
Better outdoor views
Large sliding doors, such as the patio sliding door, give you access to all the beautiful scenery outside right from your living room. Enjoying the outside world right from the comfort of your air-conditioned living room can be the highlight of your mornings during the winter season.
Enough natural light
You cannot compare the amount of light a sliding door will allow in your living room with what ordinary windows and doors will bring. These beautiful modern doors give you the luxury of morning sunshine views right from your house. Remember, sufficient exposure to the sun can boost your mood and also give you a better night's rest per Healthline.