20 Ideas For Decorating Your Kid's Bedroom With A Pirate Theme
If you want to give your little one's room a makeover, then you might also want to take their interests into consideration. By letting their favorite things inspire you, it's possible to come up with the perfect theme. For instance, kids who dream of growing up to be an astronaut may adore a space-themed bedroom while a child who loves fairytales might dream of a princess-themed bedroom. On the other hand, you might have a little one who's seriously into pirates.
There's no doubt that swashbucklers — at least the kind that we see in Hollywood shows and movies — are incredibly popular. Thanks to the action they see on the high seas and the sword fights that break out on a regular basis, fictional pirates always seem to pique the interest of eager audiences. That's surely why "The Pirates of the Caribbean" film franchise is among the most successful of all time, according to CNBC. That also might be why your child wants their own bedroom to look like a place where you might find a pirate, which the following decorating ideas will certainly accomplish.
1. Put up boat art
You surely can't have a pirate-themed bedroom without boat art on the walls. Whether it's larger prints of massive ships or smaller photographs of humble rowboats, they can all help to create a seaworthy — or, at least, sea-inspired — space for your child to spend their free time.
2. Add some sea animal art
Boats aren't the only thing that can be the subject of art that works in a pirate-themed room. You could also incorporate art that depicts sea animals, such as whales, fish, dolphins, or starfish. Again, they can be as realistic or as cartoonish as your kiddo desires.
3. Create an ocean mural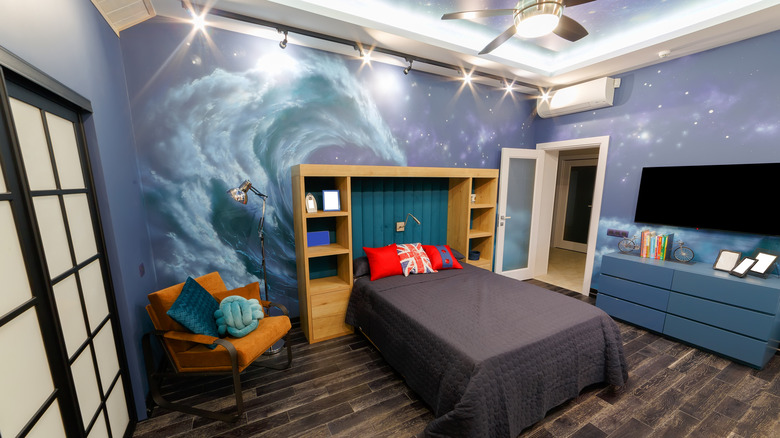 Vrn36/Shutterstock
Art doesn't have to be confined to a frame. Be bold when it comes to both the size and the subject matter of the art you and your little one choose by creating — or having a professional create — a mural on the wall of your child's bedroom. Imagine images of giant waves or the sparkling sea.
4. Get a globe of the Earth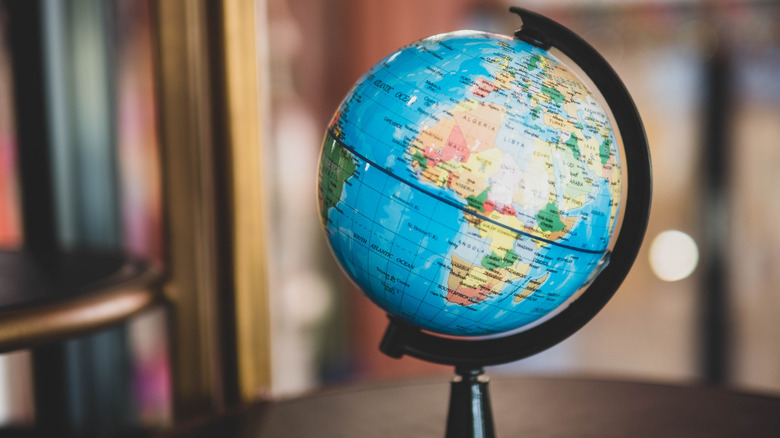 Nan_Got/Shutterstock
Adding a globe of the Earth to your child's pirate-themed bedroom is a great way to help them come up with real locations where their imaginary adventures might take them. Bonus points for the educational value as your kiddo picks up some geographical knowledge.
5. Pop up a map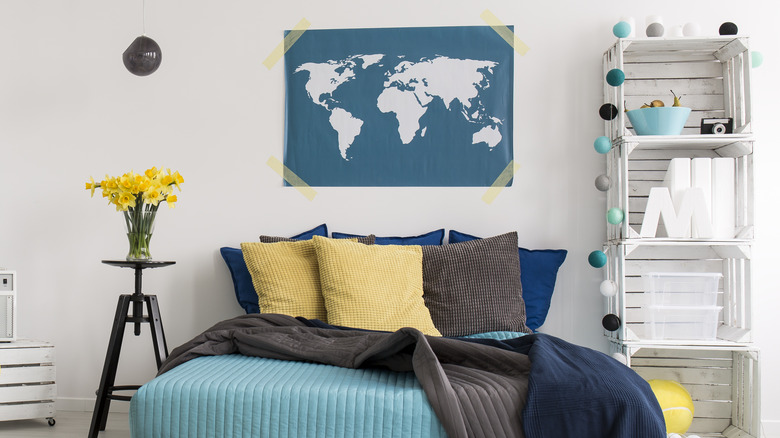 Photographee.eu/Shutterstock
Putting up a map instead of or along with a globe is another great way to both spark your pirate-loving child's imagination as well as allow them to soak up the knowledge of places both near and far. It might even inspire real-life future travels when they are old enough to explore the world.
6. Hang up real netting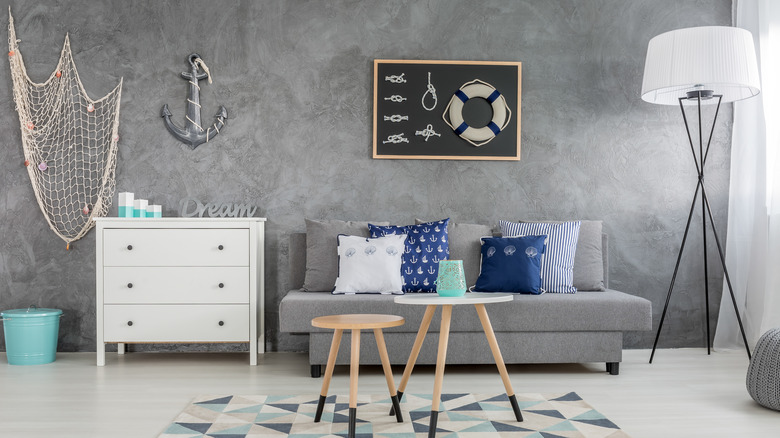 Photographee.eu/Shutterstock
Netting is something that's often found on ships, which is why it would make a fabulous accent to your child's pirate-themed bedroom. Just be sure that it's relatively clean if it happens to be used and definitely be sure that it's out of reach of any younger children so that it's not a danger.
7. Use seashells as accents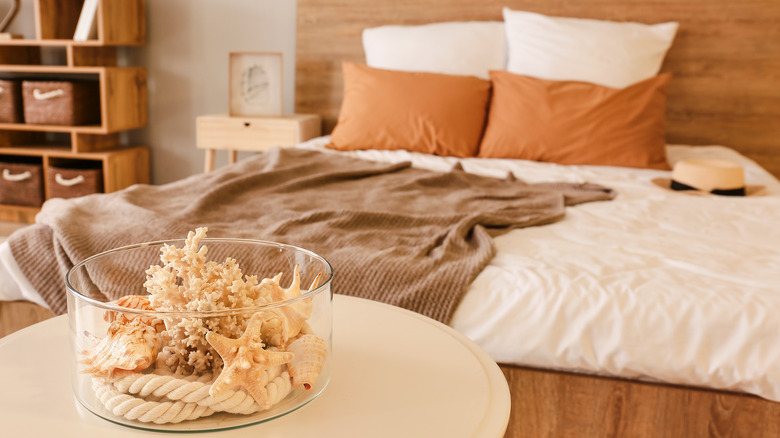 Pixel-Shot/Shutterstock
Shells come in so many shapes and sizes while each perfectly captures the essence of the sea where it came from. That's why they make such attractive accents to any home and definitely suit a pirate-themed child's room. Try popping some in a bowl to put them on display.
8. Set up some stars
Star-shaped stickers for the walls, mobiles for the ceiling above, or lights on either as well as around certain elevated spots can make it look like your little one is staring up at the sky each night from their boat on the water. Opt for glittering star-shaped lights to add to the dreamy effect.
9. Wood floors and walls
haveseen/Shutterstock
There are plenty of reasons to adore wood floors. However, in this case, they would be an awesome option in your child's pirate-themed bedroom thanks to the fact that they make it look like the inside of a ship. You can even add wood panels to the walls to complete the look.
10. Add a porthole-shaped window or mirror
If you've been on a ship, then you know that they tend to have porthole windows. If you're able to swap out square windows and pop in portholes, then that would definitely make your child's room seem like a pirate ship. If that's too much, you could always put up a porthole-shaped mirror.
11. Track down a treasure chest
Adding a treasure chest to your child's bedroom can help them feel like they've gone on a hunt for riches. All you need is a wooden box, fake gold coins, and perhaps a few pieces of costume jewelry. You may have just as much fun as your little one while tracking the treasures for this item.
12. Don't forget toy swords
A pirate would surely never head out on a treasure hunting adventure without a sword at their side! Of course, you'll want to grab your child a harmless toy sword or maybe even two or three for their bedroom so that they can act out pretend duals with their friends or siblings.
13. Opt for an octopus-shaped stuffed animal
If your child is on the younger side — or just loves adorable and cuddly items — then they might want to get a stuffed animal for their room that's in the shape of an octopus. If your pirate-loving child isn't into this eight-legged sea creature, then perhaps they would prefer a stuffed fish or whale.
14. Set up a telescope
When a pirate is out at sea, they need a telescope to help them spot what might be off in the distance — or so the movies say. That's why a telescope is another pirate-like object that would be perfect for your little one's room while also allowing them to gaze at the stars.
15. Add an anchor
An anchor is one more item that pirates surely need while out on the water. While you might not want an old rusty anchor in your child's bedroom, there are plenty of newer decorative items that are shaped like anchors that would definitely do the trick.
16. Grab some palm plants
During a pirate's treasure hunting adventures, they might have found themselves on a deserted island burying their riches in the sand under large palm trees. Capture this kind of vibe by adding palm plants in your child's bedroom that are as large as the space allows.
17. Use nautical hooks
Nautical hooks sound like something that might be used to catch a fish. However, in this case, we're referring to hooks to hang up clothes, towels, or bags that happen to be decorated with nautical images, such as a boat, classic lifesaver floatation device, and anchor. These hooks can be both practical and attractive.
18. Incorporate sea-inspired accents
When you think of heading to the sea, you might envision things like a lighthouse or seagulls. That's why sculptures, statues, and figurines inspired by such things are the perfect way to accent your little one's pirate-themed bedroom. They can also be as mature, as artistic, as playful, or as wonderfully quirky as your child wants.
19. Set up a fish tank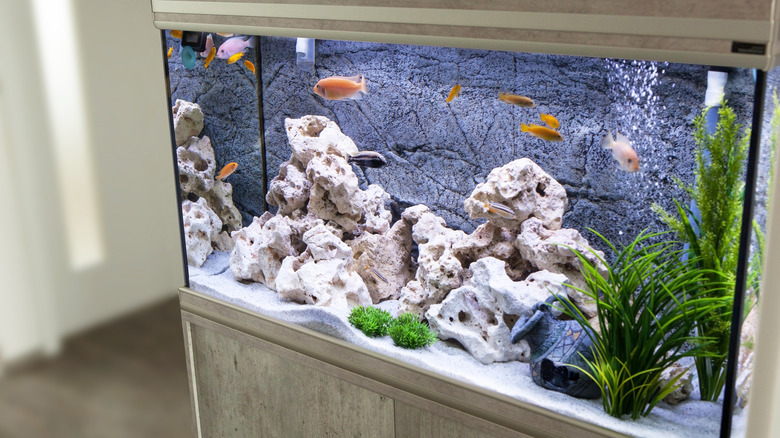 Frantisek Czanner/Shutterstock
If your child is old enough to take care of their own pets or you're willing to do the work for them, then you might want to set up a fish tank in their bedroom. It can even be decorated with reef-like rocks that make it look like a scene from the deep sea.
20. A pirate ship bed would be perfect
A bed that's shaped and decorated like a ship would certainly top off a pirate-themed room. It would also offer your little one the perfect place to play during the daytime as well as the ideal spot to have all kinds of adventurous dreams while they sleep each night.