This TikTok User May Have Discovered That Lowe's Is Selling Invasive Insects
PJiiiJane/Shutterstock
TikTok can be a fantastic way to spend time looking at quick, hilarious cat videos, keeping up on the latest dance trends, or even showcasing extremely helpful cleaning hacks. But sometimes, it can also lead to some in-depth educational discoveries. TikTok users such as the "Blackforager," Alexis Nikole (@alexisnikole), will take you on adventures through the forests of Ohio and educate her nearly four million followers on the delightfully delicious natural snacks you can find in your own backyard.
In the situation of one plant-loving TikTok user, a comment from a follower may lead to finding out whether or not a major retailer is selling invasive insects to the public. Although the selling of insects is not uncommon among major box stores — in some cases, this comes in the form of crickets or worms that you can feed your pet fish, snakes, or lizards — they should be careful not to introduce creatures that could cause more harm than good. The U.S Department of the Interior even has an Invasive Species Advisory Committee that focuses on invasive species and their sale through e-commerce channels. However, some building supply stores today — such as Home Depot and Lowe's — may be selling certain insects that are meant to ward off garden pests but could be resulting in more problems.
What type of invasive insect is Lowe's allegedly selling?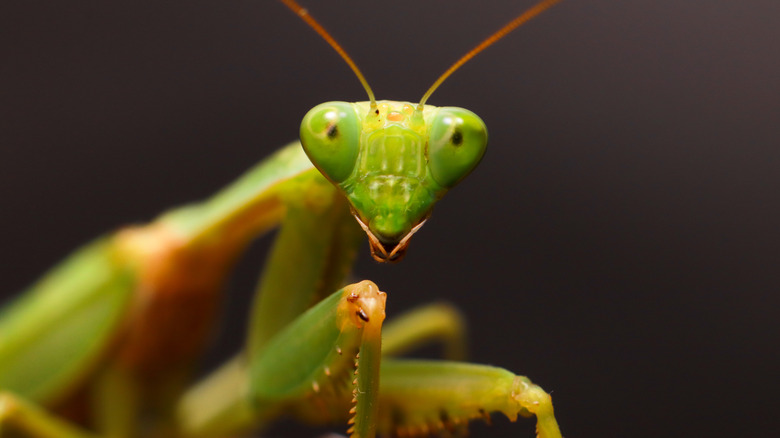 Valentin Baciu/Shutterstock
In a video created by TikTok user @plantershina, she purchased a container from a Lowe's garden center in San Francisco that contained two praying mantis egg cases. This is just what the TikTok user was hoping for, as the predatory praying mantis can be beneficial to devouring pests that tend to ruin plants, according to Garden Myths. The description on the container says that when the mantis egg case hatch, it could spawn as many as 200 praying mantis in about two to six weeks. With this new fleet of predators, Planter Shina is hoping that they can get rid of the teeny spider mites that are plaguing her plants.
However, when one of her followers pointed out that the egg case looked very similar to that of a species of invasive Chinese praying mantis, this led the TikTok user to investigate further. In a separate video, she approached a Lowe's location to get more information, however, the store could not tell for certain exactly what type of mantis they had in store. Although praying mantis can be handy to feed on insects that may cause plantlife trouble, the problem is that they aren't picky predators, according to Inside Science. This means that they can also feed on honeybees and other pollinators that are more beneficial to an overall ecosystem. In the case of invasive praying mantis, they could also feed off of the natural mantis, which could cause problems as well.