Inside The Most Expensive Home For Sale In Colorado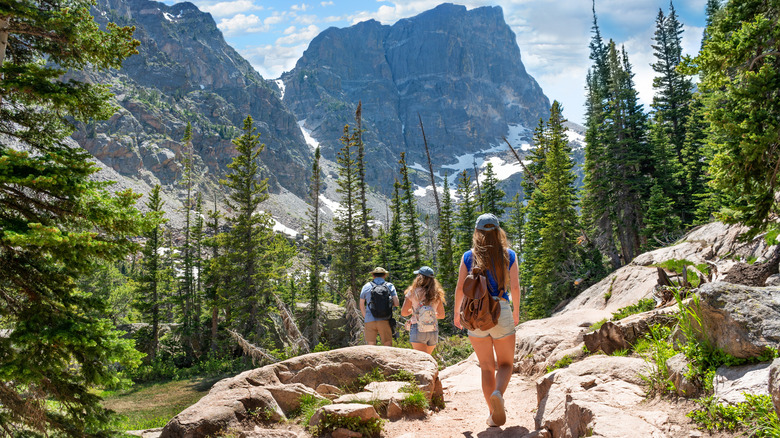 Margaret.Wiktor/Shutterstock
Nicknamed Colorful Colorado, the state boasts a variety of landscapes, including mountain ranges, grassy plains, and sand dunes. With a number of National Parks, hot springs, and rivers that are perfect for white water rafting, the Centennial State is a frequent destination for fans of the outdoors. But no matter how beautiful the state is, when it comes to the current housing market in Colorado, things have become very competitive and expensive over the last few years.
Since 2020, the housing market has been on a steady rise, with the price of single-family homes increasing around 20% in 2021 and 2022. Denver Business Journal has additionally reported that the average sales price for a single-family home hit a new record this year as homes are now being listed at just over $747K statewide, while homes in the Denver metro area are being listed even higher, closing in on $800K. Despite the hike in sales prices, the new average price pales in comparison to Colorado's most expensive listing.
Listed at $51 million according to Realtor, the Aspen residence is currently pending after almost a year on the market. And although it isn't the most expensive home in Colorado, the title of which belongs to a $72.5 million property in Red Mountain, homes in Aspen now have a median listing price of $2.1 million, exceeding the state's overall median listing price of $600K for 2022. 
Top of the line and the market
Just a ten-minute drive from the center of Aspen, the home is a frequent winter hotspot for A-list celebrities, according to Realtor, and offers 15,000 square feet of living space with five bedrooms and 10 bathrooms, six of which are full bathrooms. Designed by Charles Cunniffe Architects and built in 2015 by Hansen Construction with the help of award-winning interior designer Donna Guerra, the three-story property brings together art deco and contemporary design and highlights the nearby mountains and surrounding woods.
Set on 5.6 acres of land with its own personal lake, the national forest flanked property not only has breathtaking views of the scenery but is also a state-of-the-art, environmentally sensitive structure with smart home features, solar panels, and geothermal heating (via Aspen Glenwood MLS). Verified by the Green Business Certification Inc., the home has been certified as a LEED Silver rated property and adheres to sustainable practices that improve the home's energy efficiency, lowers carbon emissions, and provides a healthier interior living environment for residents.
Along with floor-to-ceiling picture windows and multiple custom stone finishes, the cozy wood-lined mountain residence includes a home theater with three rows of seating, a lounge space with a wine cellar and a bar, and a glass elevator. There is also a multitude of modern fireplaces that can be found in at least three of the bedrooms, as well as the master bathroom and the spacious office.