How To Repurpose A Closet Into A DIY Vanity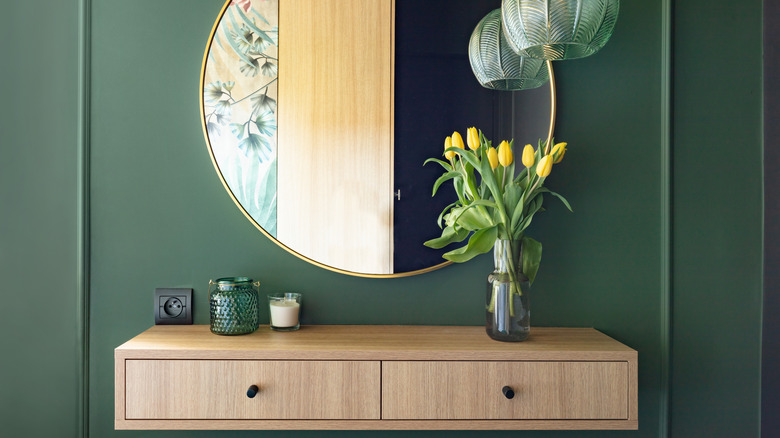 PHOTOCREO Michal Bednarek/Shutterstock
A closet can be a great space for a vanity. Closets serve an essential purpose in many homes, being mainly used for storage and wardrobe organization. Likewise, vanities function as a place for makeup, hair styling, and other personal care rituals. Homeowners and renters are discovering that closets, like many spaces, can serve multiple purposes. So, the next step involves looking into home renovation projects.
When considering home renovations, there are plenty of benefits. According to a survey by NARI, 71% of home owners have a greater desire to be in their own home following a renovation project. 55% feel happy in general, while 38% feel satisfied following their completed project. Most homeowners also reported completing the projects themselves at 36% compared to the 35% who hired contractors.
How you choose to repurpose your closet ultimately depends on the size of your space, your vision, and how much time you have to invest in the project.
How to Repurpose a Closet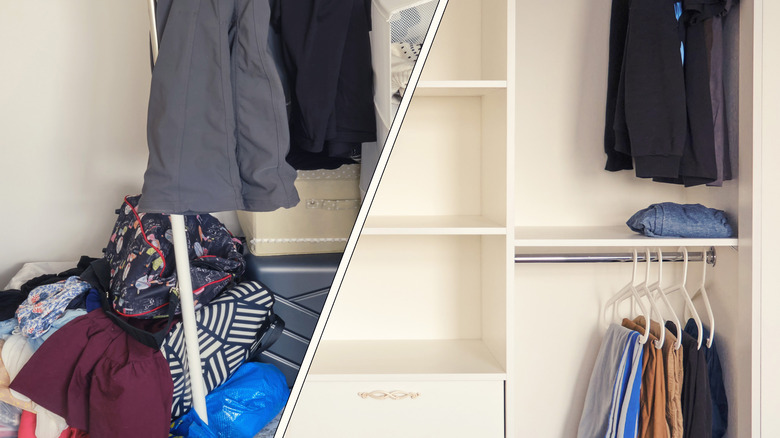 Zhuravlev Andrey/Shutterstock
Closets often get overlooked concerning home renovations, especially since they mainly function as a storage unit. Luckily, there are many ways to repurpose a closet into a vanity. It can be as simple as placing a mirror on top of a book case to removing shelving, hanging rods, and other built-in structures.
If you're going the bookshelf route, you can simply find 2 bookshelves that are the same size and place on in front of the other one so that they create an L shape when viewed from the side. Then, you can place the mirror between them to create your vanity. From there, you can let your imagination run wild by adding decorative items. These can include flowers, candles, mini storage for makeup, and more.
Regarding lighting, to get a cozy aesthetic and atmosphere, natural lighting works best (via The Style Du Jour). It's important to consider how the new space will make you feel in addition to its visual appeal.
How to Keep Costs Down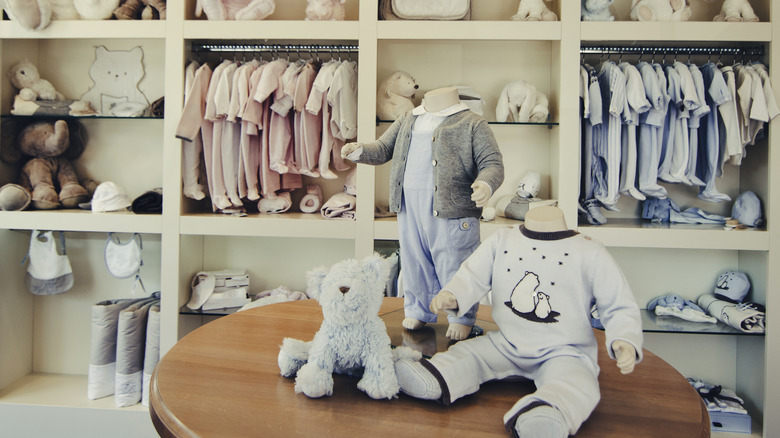 Creative Lab/Shutterstock
Combining your closet and vanity is already saving tons of money concerning home renovation. However, there are still plenty of ways to save money on your DIY project. The cheapest way to get started is to simply clean out and get rid of anything in your closet that you don't need. You'll also want to take as many measurements as you can before purchasing or repurposing any existing furniture, shelving, or closet organizers.
Another easy method involves simply turning your hangers in opposite directions (via Family Handyman). By doing this, you'll be saving space and can also recognize certain items of clothing you tend to not wear and can toss out. If you have bifold doors, they can be pesky to deal with at times. So, it doesn't hurt to consider removing them, which can allow more natural light into the space.
Other methods include vacuum storage bags and closet organization systems. Vacuum-stored items can be moved to other locations in the home, such as outside storage units or attics. Closet organizers come in different styles, so you can easily find one that suits your needs and budget.