The Best Sales At Lowe's And When To Shop Them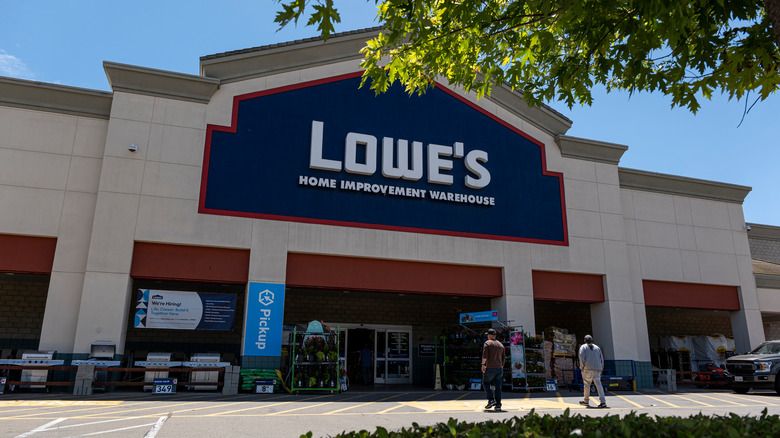 Bloomberg/Getty Images
Lowe's is one of the largest home improvement chains in the United States. Founded in 1921, the retail giant went from marketing to contractors to marketing to consumers in 1978 when Robert Strickland became its CEO, according to North Carolina History. This change saw Lowe's transform into a company that provided retail support for homeowners looking to tackle home improvement on their own. Less than a decade later, the firm was tailored primarily to retail customers rather than professional ones.
Today, Lowe's is the second largest home improvement store in the United States and across the globe (via Lowe's). With this massive size comes the opportunity for consumers to take advantage of great sale pricing throughout the year. From seasonal sales to big spending holidays (like Black Friday and Father's Day), Lowe's runs a full calendar of price reductions on the things homeowners need to keep a home running smoothly.
The first half of the year sees major discounts on appliances and grilling equipment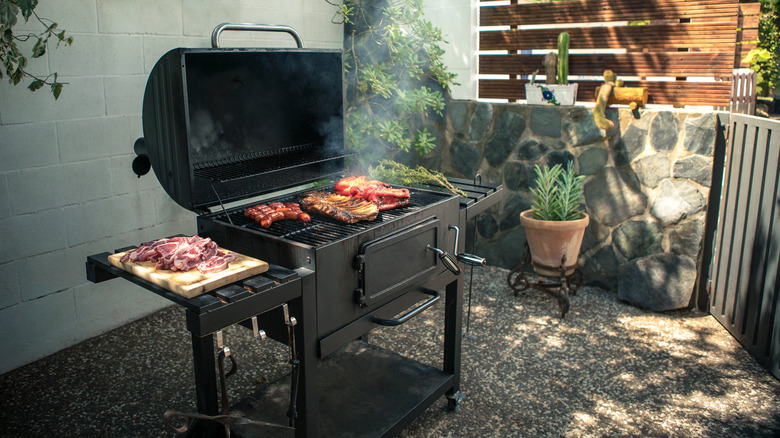 REC Stock Footage/Shutterstock
Homeowners looking for a bargain earlier in the year should take advantage of appliance price cuts with the President's Day Sale. President's Day is celebrated annually on the third Monday of February, and Lowe's has commemorated the holiday with price cuts coming a week or two before the date since 2019. Typical savings range between 35% and 50% on appliances like dishwashers and dryers. According to The Krazy Coupon Lady, this is about double the savings reported on similar items from the 2021 Black Friday sale. If you're on the market for new appliances, February is probably the best time to look.
The Krazy Coupon Lady reports that the Memorial Day grill sale offers a 33% reduction from typical list prices. Much of the U.S. sees a surge in warm weather days by the time May rolls around, so for a homeowner in the market for a new grill, this is the perfect time to buy. In addition to grills, many of the other outdoor products stocked by Lowe's (charcoal, soil, and plants, for instance) can be added to your shopping cart at a discounted price during this seasonal sale period.
The Father's Day sale begins shortly after Memorial Day, with tools and essentials like drill bits, cutting blades, screwdriver sets, and ladders at discounted prices. You can often find power tools at 45% or more off the listed retail price. 
The year's fourth quarter sees Black Friday and after-Christmas sales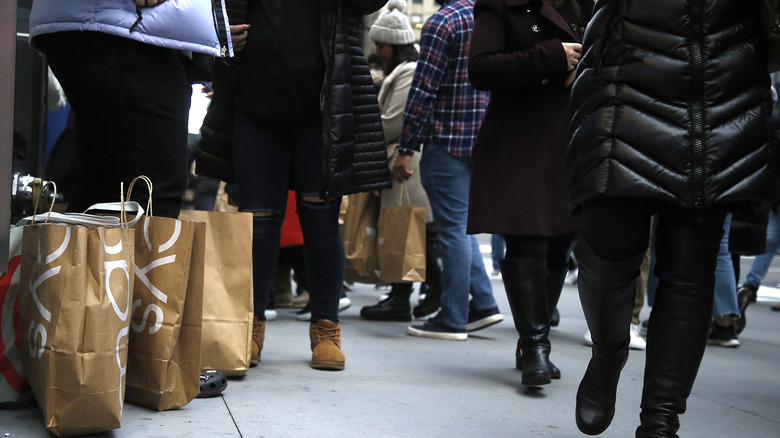 John Lamparski/Getty Images
Black Friday is a cultural phenomenon in the U.S., and Lowe's brings back some of the best deals of the year during the shopping holiday — as well as select price cuts throughout the month of November.
According to The Krazy Coupon Lady, Lowe's best bargains during this time are listed as "doorbuster deals." Smaller items are often priced at 50% off or more, and larger purchases can also be found at a significant discount.
While Black Friday is an excellent time to pick up items that you'll need throughout the year, the best opportunity for savings on seasonal items is during the Christmas clearance sale. During this time, clearance decorations can be picked up for staggering discounts — as much as 75% off if you're willing to wait until the week after Christmas has passed (via The Krazy Coupon Lady). This is great for homeowners who are looking to spruce up their decoration game but are willing to store their new additions until the next year.