What It Means When Lumber Is Marked Purple At Home Depot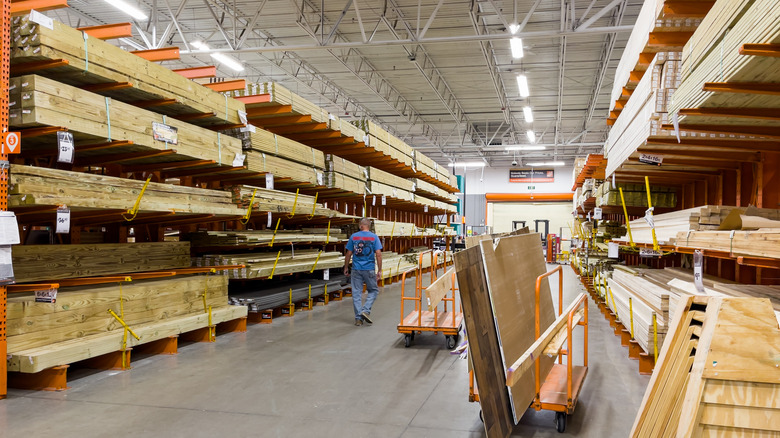 The Toidi/Shutterstock
Home Depot is known as a fantastic source of home improvement equipment, materials, and more. The outlet is one of the best-known brands in the United States and it's the highest-grossing home improvement retailer (via Fortune).
The Krazy Coupon Lady offers a variety of essential tips to make the most of any trip to Home Depot, but one of the best for DIYers is actually kept pretty quiet. Home Depot culls lumber after it has been sitting on the shelves for a while. Likewise, cuts that aren't quite placed straight or have gnarly wood grain trails that make them undesirable — in the same way that ugly fruits are separated out in many grocery stores — are often marked down.
Certain marking practices are well-documented at Home Depot, with clearance tag numbering signaling when an item is going to be reduced even further, for example. Yet the purple-painted lumber that lies in the back of the store is often overlooked by those on a mission to reimagine the function and features of their home. With clearance lumber, you can reduce the cost of any home improvement project by a significant margin and perhaps even expand your designs to tackle an even greater array of opportunities that will enhance the comfort of your home without ballooning the budget.
Clearance lumber can be purchased at a 70% discount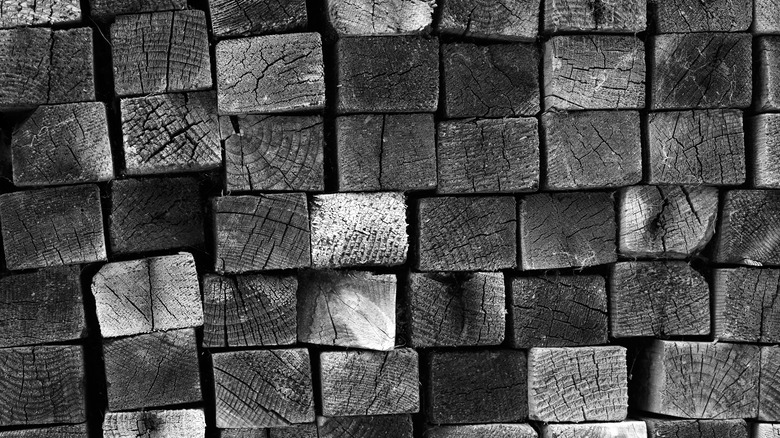 nadia_if/Shutterstock
At Home Depot, lumber marked with purple paint means it's on sale. This happens when the lumber yard team culls old, ugly, or otherwise unwanted products from the floor. These wood products are just as structurally useful as the lumber remaining on the floor, yet the massive scale of wood stocks means that unsold units end up commanding a large portion of shelf space if left unchecked.
The Krazy Coupon Lady reports on the value that clearance lumber can provide, listing this feature of the Home Depot sales floor as one of the most important cost-saving opportunities out there. Typically, lumber that has been painted with a purple spot or slash is marked down by 70%, but Masshole Mommy reports that some locations reduce these items by as much as 80%. Either way, it's certainly possible to haggle your way to an even better bargain on products (via Architectural Digest), especially on bulky lumber that is often strewn about in a back corner of the store.
Shopping for clearance sales offers steep price reductions on many of the items you may be in the market for, and lumber is no different. In fact, Reddit users have even reported that Home Depot employees have given them sections of purple-marked lumber for free (with one post including a picture of what is termed a junk pile sitting in the middle of a lumber aisle).