30 Princess Bedrooms That Are Fit For Royalty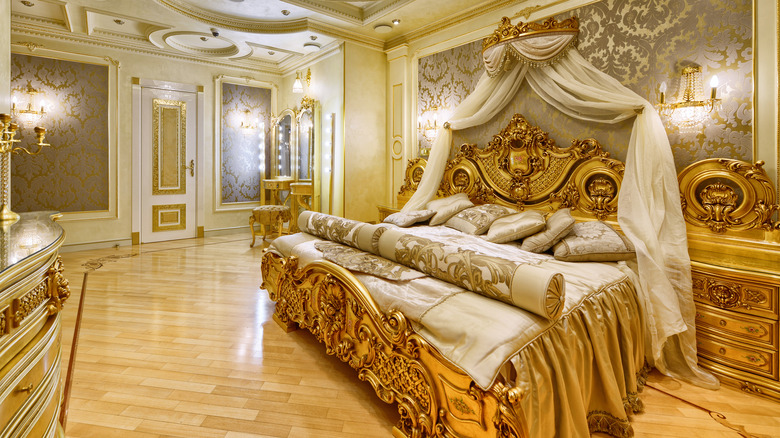 Vadim Ovchinnikov/Shutterstock
Creating the perfect room for your child may take a little thought to find a theme they love. While some kids may love a dinosaur or space theme, others may have a more, shall we say, refined taste toward all things royal. If you have a little princess in your life, get ready to make a room that caters to their every royal whim.
From touches of gold to a room splashed in pink hues, there are several different directions you could go in to make the perfect princess retreat for your little one. HGTV agrees, pointing out several styles that work well, including stenciling a royal backdrop on the wall with an exquisite mural and using a modern color scheme like gray and pink.
Of course, you could go all out with the theme, as YouTuber Kelsey Michelle showcased to House Beautiful. The influencer has over 10 Disney princess-themed rooms in her home! A few items we recommend adding to your decor are oversized crystal chandeliers, gorgeous royal-themed wallpaper, and crown accessories. Keep scrolling to see 30 bedrooms inspired by royalty.
1. Canopy dreams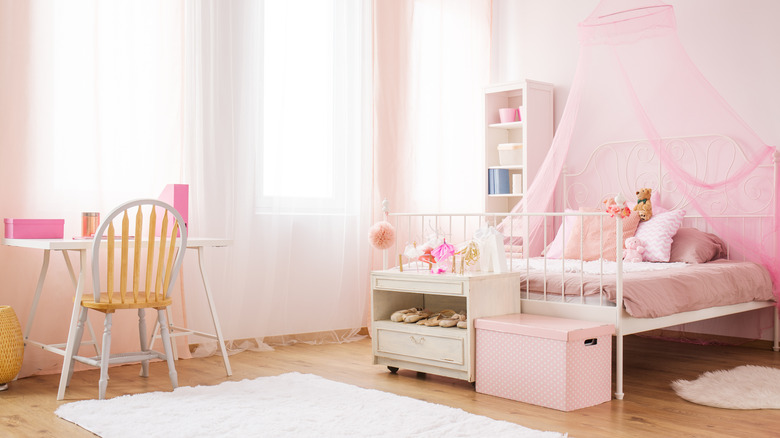 Photographee.eu/Shutterstock
A princess-inspired room isn't complete without a canopy, which you could buy in any color imaginable, although we are partial to this light pink version that drapes so elegantly over the bed. A vertical bookshelf can stock your child's favorite princess books or accessories, and a workstation is an excellent idea for your little one to do their homework.
2. A castle for your little queen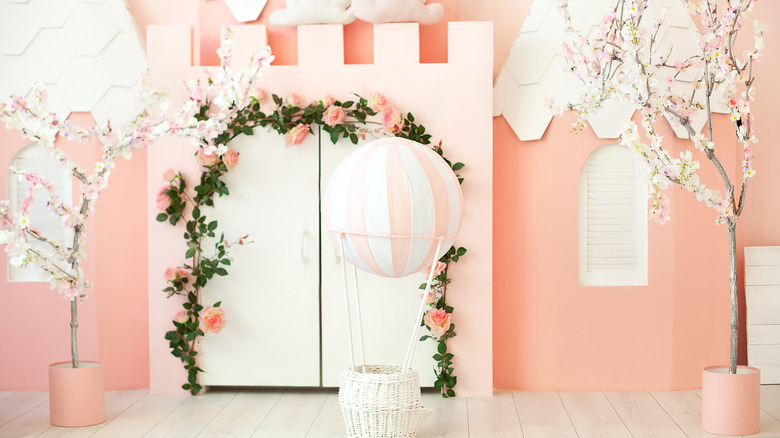 stock_studio/Shutterstock
This room's main focal point is the castle, which could be an easy weekend DIY project and make a world of difference in creating a mystical haven for the princess in your world. Paint the walls a pretty pink or peachy hue and dress up the castle with cascading flowers for a look that wows.
3. Flowers everywhere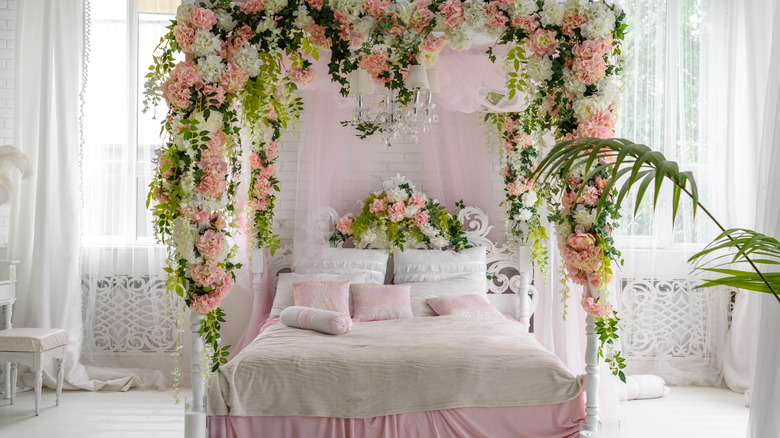 Mirage_studio/Shutterstock
A little princess deserves flowers every day, so why not adorn the bed with pretty blooms that decorate the posts in various colors, including pink and green, which would be a great way to greet the day and bring life to the room. Finish off the regal look with pale pink bedding, plush pillows, and a beautiful chandelier.
4. A tufted headboard fit for a queen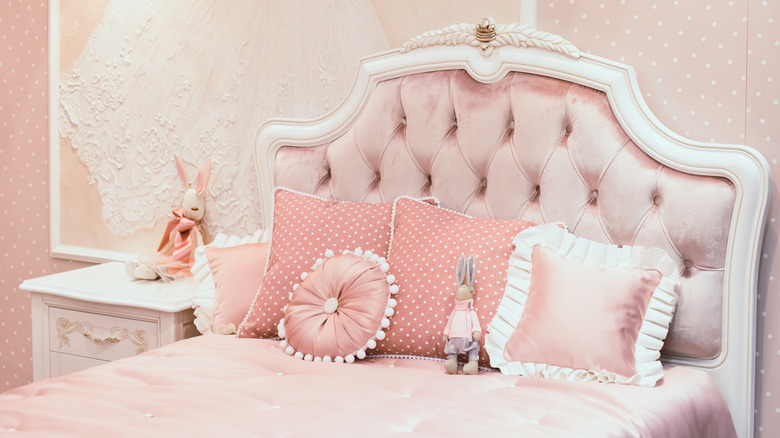 Little honey/Shutterstock
This pale pink tufted headboard is a dramatic upgrade to any basic one you could buy at a local retailer and really would give the room the opulence it deserves. Decorative pillows in different shades of light pink make this room a dream come true, and you can mix different textures, from satin to cotton, to add visual interest.
5. A serene space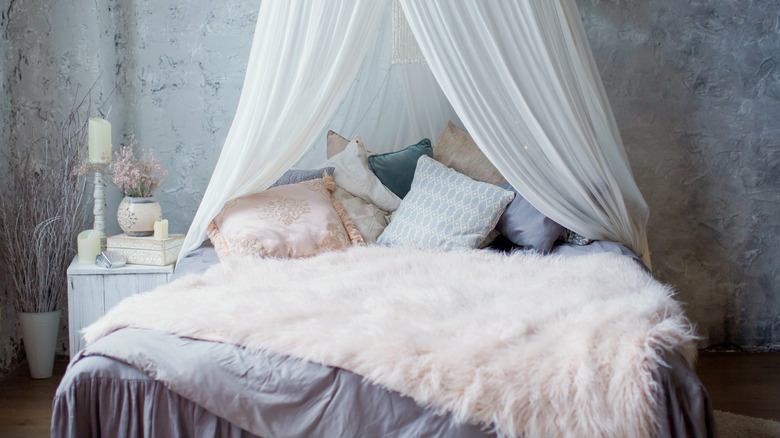 aprilante/Shutterstock
This luscious bedroom features an ethereal white canopy that makes it feel dreamy, an assortment of pillows in several light colors, and a faux fur blanket so soft that your little princess may have difficulty getting out of bed to start the day! The side table has candles, but we suggest getting flameless candles for safety purposes.
6. Make a throne the focal point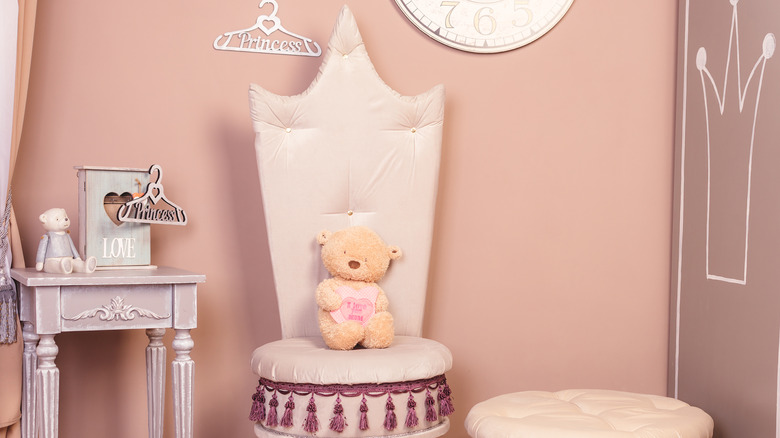 GeniusKp/Shutterstock
If your little one wants to feel like a royal, consider incorporating a throne into the room — it doubles as a conversation starter when guests come over. A large ottoman is an excellent addition to provide seating for friends, whether it be for a tea party or playing dress-up.
7. Go overboard with pillows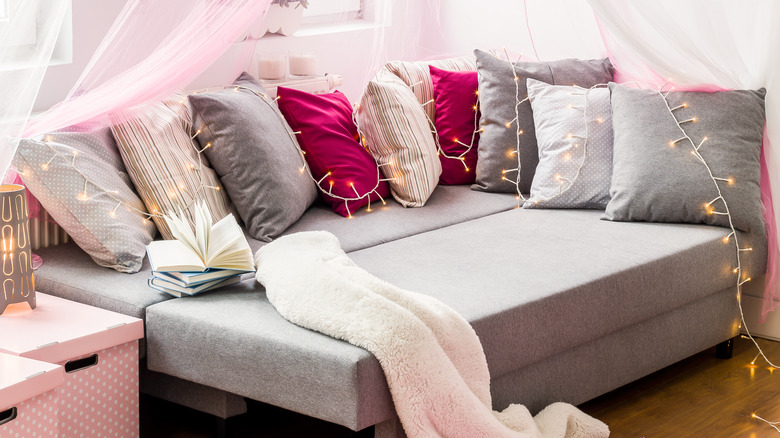 Photographee.eu/Shutterstock
If you have a daybed that is perfect for lounging like this gorgeous gray one, consider getting lots of aesthetically beautiful pillows and making this seating area the most comfortable place to lounge in at your home. The homeowner also added a light pink canopy and string lights to the space for a retreat fit for a princess.
8. Soft clouds hung from the ceiling
MonoLiza/Shutterstock
Create a dreamy atmosphere in a corner of your child's room with fluffy clouds, which would be a comfortable spot for your princess to rest her weary feet after a long day at school. This could be a fun DIY project that the family could do together, too! Consider adding plush seating for a spot to relax.
9. A royal vanity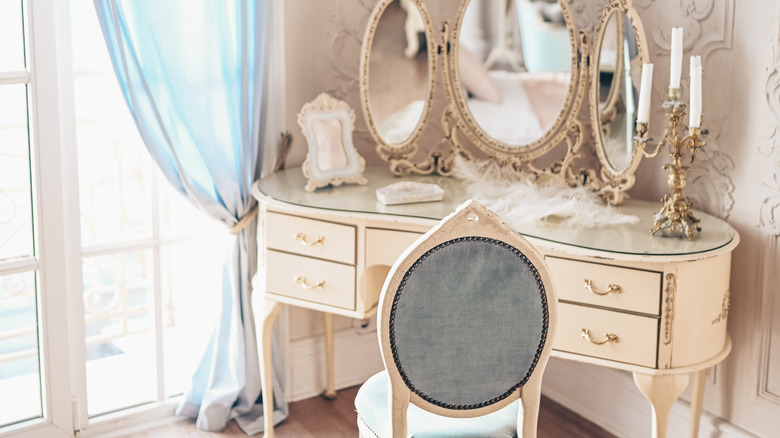 Alina Troeva/Shutterstock
After you've painted your child's room in the perfect royal hue and added exquisite detailing on the walls, consider getting a vanity for your child to get ready at or even a chic spot for doing homework after school. The ornate, gilded mirrors and candelabra finish off this regal look.
10. Touches of pink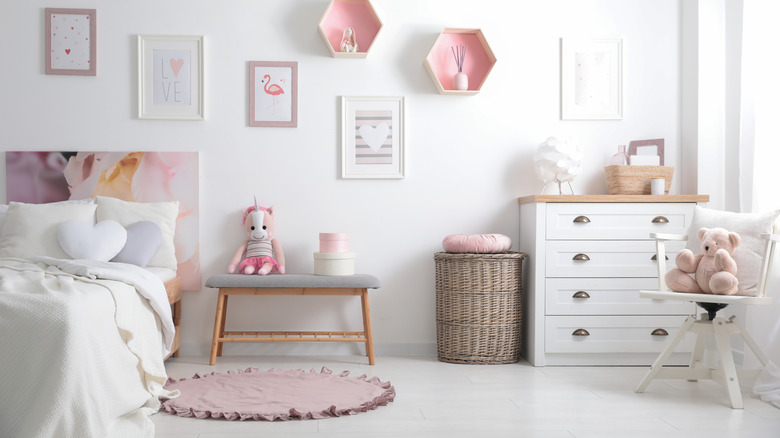 New Africa/Shutterstock
This large bedroom features crisp white walls, a dresser, and bedding but has touches of pink in the accessories, from the two octagon wall shelves that are ideal for putting queen-like pieces (how about a chic gold crown?) to the headboard and rug. To continue with the royal theme, consider adding princess-inspired artwork to the walls, too!
11. Everything in its place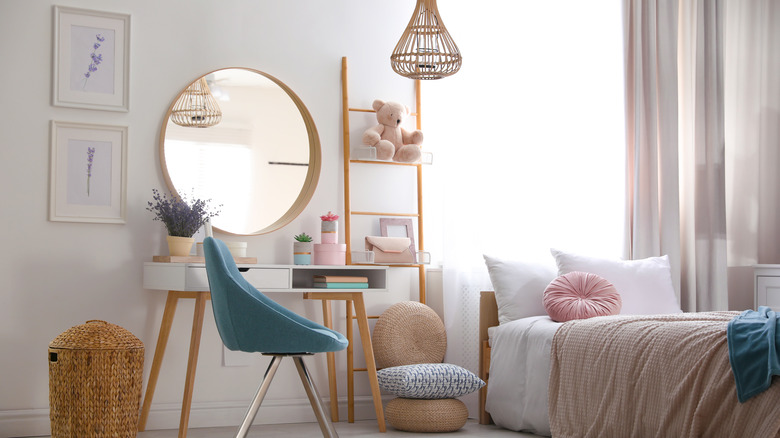 New Africa/Shutterstock
This dreamy room uses a muted color palette that any princess-in-the-making would appreciate. Its relaxed colors are seen throughout the bedroom in the bedding, drapery, lighting, and accessories. Plus, we love how organized this room is. Everything has a place, which would make your little princess feel like they have it all together. We suggest placing a slew of royal-inspired accessories, from small castles to crowns, on the ladder shelf near the desk to showcase the theme.
12. Beautiful blue hues
Pinkystock/Shutterstock
This regal bedroom is bathed in the most beautiful shades of blue, seen on the walls, the bedding, and the opulent baby blue chair. A gorgeous golden mirror above the bed, a large chandelier dripping with crystals, and a gold accent table also give major regal vibes. It just goes to show you that blue can look just as regal for your child's room as any other color.
13. Over-the-top opulence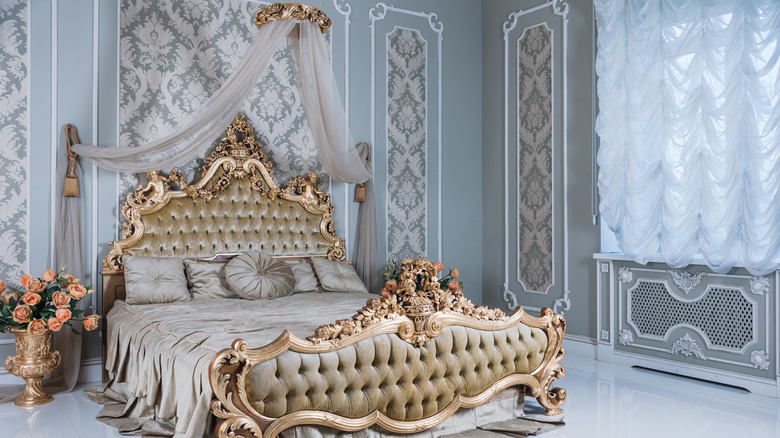 IMG Stock Studio/Shutterstock
How could you not be impressed by this exquisite, over-the-top bed your mini-queen would adore? Fit for a princess, this tufted bed features a headboard and footboard with elaborate gold detailing that looks like it may have once belonged to the 18th-century queen, Marie Antoinette. 
14. Add doses of luxury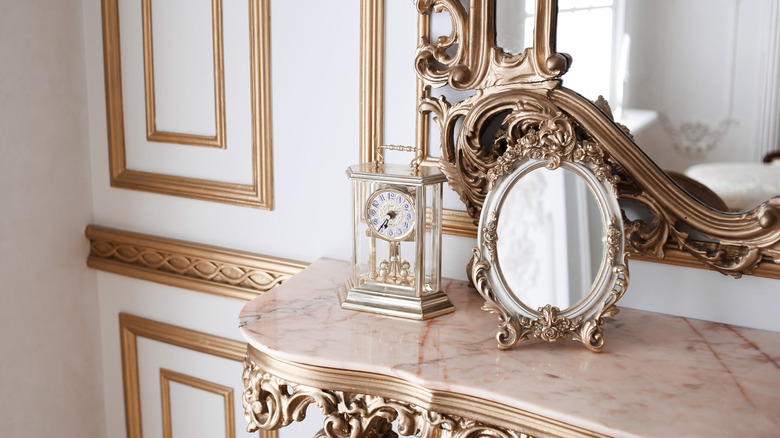 Nelia L/Shutterstock
It's all in the details when it comes to creating unique spaces, and we love this marble table that features a gilded mirror and an old-school mechanical clock, which, in our opinion, can inspire your child to appreciate vintage pieces. We also love the gold trim added to the walls, which makes this royal room come alive.
15. French country baroque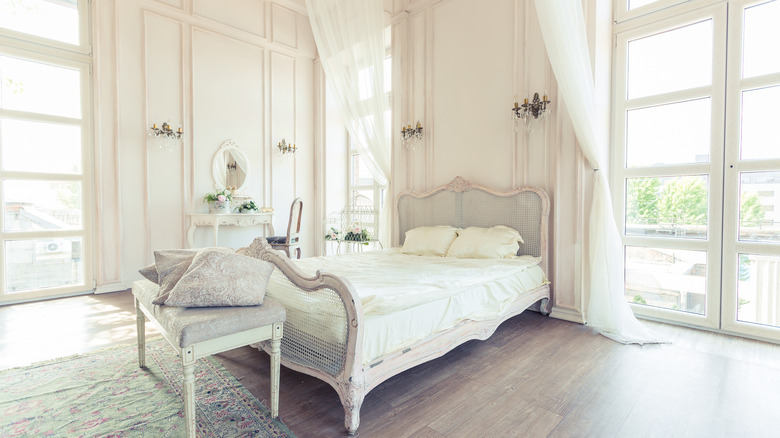 Pinkystock/Shutterstock
This low-key French country mixed with baroque style couldn't be more stunning! The walls are beige with detailing to draw the eye while ethereal drapery and beautiful furniture set this room's tone. The floor-to-ceiling windows bring in a ton of natural light, so we imagine your child wanting to spend plenty of time in their room!
16. Pastel for the princess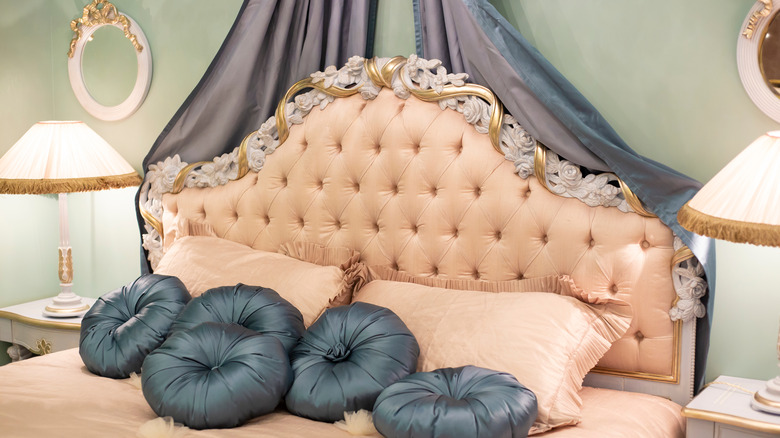 Little honey/Shutterstock
Peach-pink hues on the headboard and bedding, mixed with a rich satin draped canopy above the bed and the round pillows make for an iconic combination. Pick up some circular mirrors accented with a gold trim to finish the look! Even the light green walls make this a truly colorful oasis.
17. A floral retreat for a princess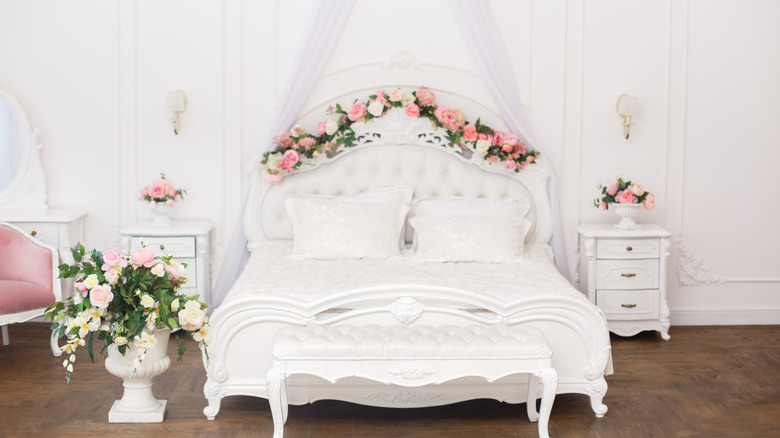 JasminkaM/Shutterstock
This gorgeous room had to be designed with a princess in mind. In other words, we are guessing that it just may be the most elegant room in the house! There are many ways to add regal touches to any room, but one way would be to use white as the primary color on the walls, furniture, and bedding and then incorporating beautiful flowers around the room.
18. Turquoise dreams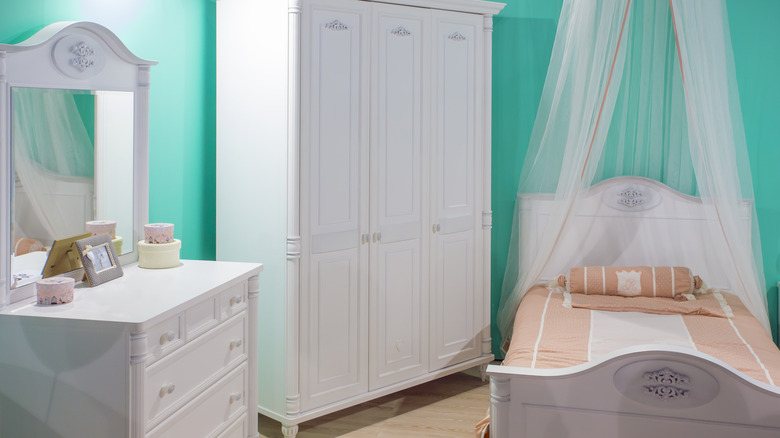 Little honey/Shutterstock
If you are looking to install a sense of calm in your life, consider painting your little princess's room a gorgeous teal color. Kate Guinness, the founder of Kate Guinness Design, explains to Homes & Gardens that this color is an iconic symbol of natural tones, so we think it's an excellent choice if you want to do something different from the classic pinks and purples.
19. What a beige beauty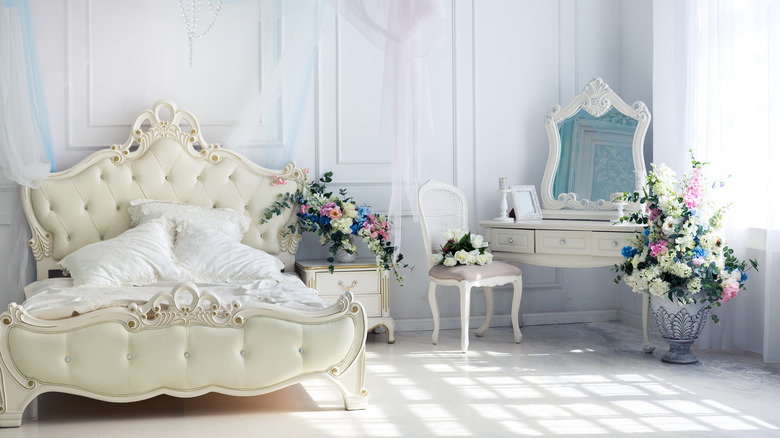 Pinkystock/Shutterstock
This gorgeous bedroom features an oversized tufted beige bed and an elegant vanity with an ornate mirror for your child to spend hours playing dress-up — although it could be an excellent spot to finish homework as well. This bright interior space is made even more beautiful with several vases of colorful flowers to punch it up, including pinks, blues, and white blooms.
20. Dress up the dressing table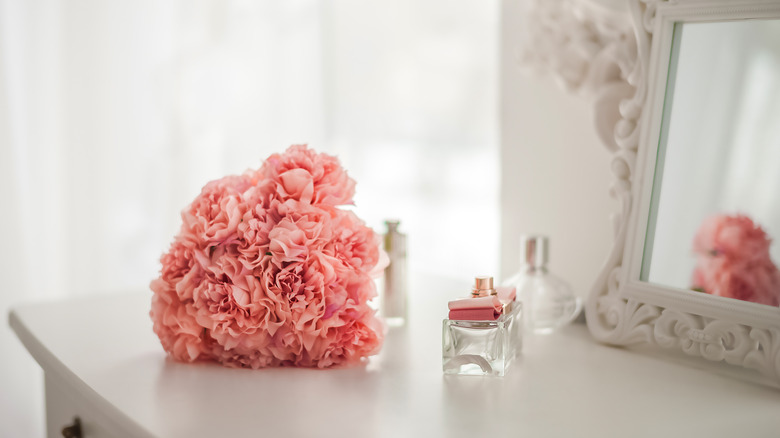 SoNelly/Shutterstock
Small details can really add up when it comes to redecorating a bedroom, and we love the idea of either fresh or faux blooms sitting on your child's dressing table in their favorite color! Flowers can bring instant smiles, so we know this would brighten anyone's day while adding a dose of color to the vanity.
21. A mauve stunner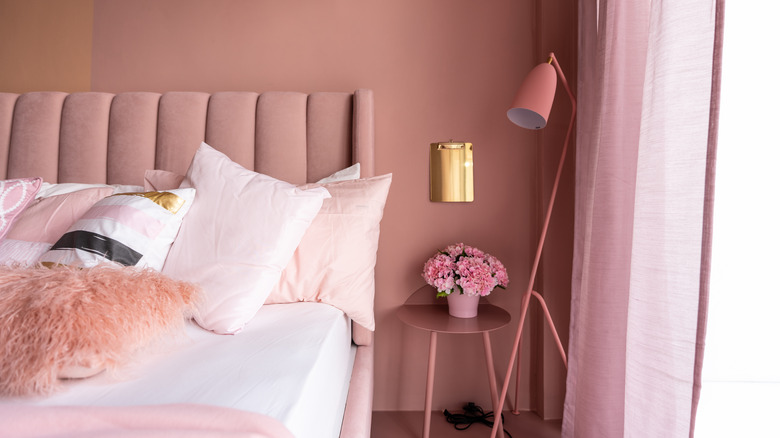 NMC2S/Shutterstock
This mauve bedroom can be an easy way to renovate your child's bedroom, especially if you're on a budget. First, paint your walls in the enticing shade, and then bring in different textures like faux fur pillows and throws, various shades of pink, and fresh flowers. While it looks pricey, paint is one of the fastest and cheapest ways to update any room.
22. A built-in to impress your little princess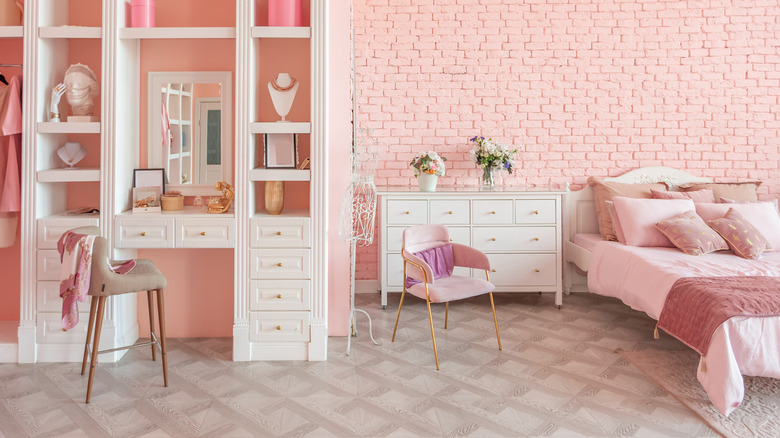 Pinkystock/Shutterstock
This large bedroom is quite perfect, yet made even better with a massive white built-in with a pink background that has a workstation for your little one for getting ready or doing homework. We can't get over the enclosed shelving for the ideal spot to display your child's favorite royal things, jewelry, and more!
23. An explosion of pink
New Africa/Shutterstock
What princess-in-the-making wouldn't love a room with lots of pink touches? From comfortable blankets to pretty pillows, changing the bedding is an effortless way to upgrade a bedroom's look and feel. Even the side table and vases are painted pink, which would be an easy weekend DIY project that you could do with your child.
24. Use a chair as a side table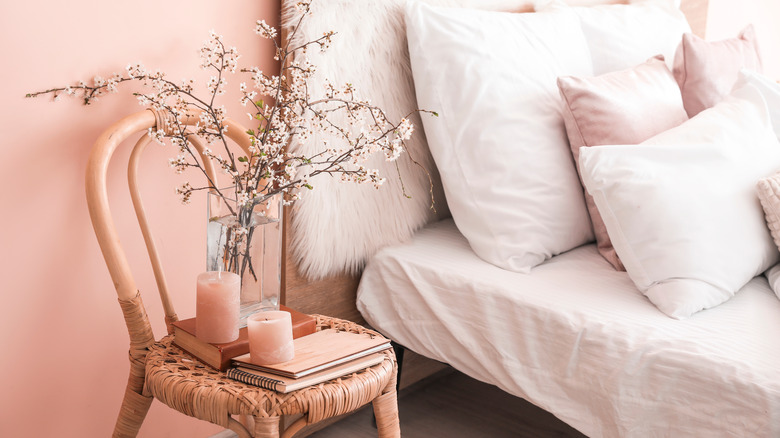 Pixel-Shot/Shutterstock
Get creative with your furniture options as this homeowner did. They used a wicker chair as a side table, which is a brilliant idea and shows that furniture can function in many ways. You can put some flowers, books, and notebooks on the chair so your child can easily access their favorite things.
25. Blooms galore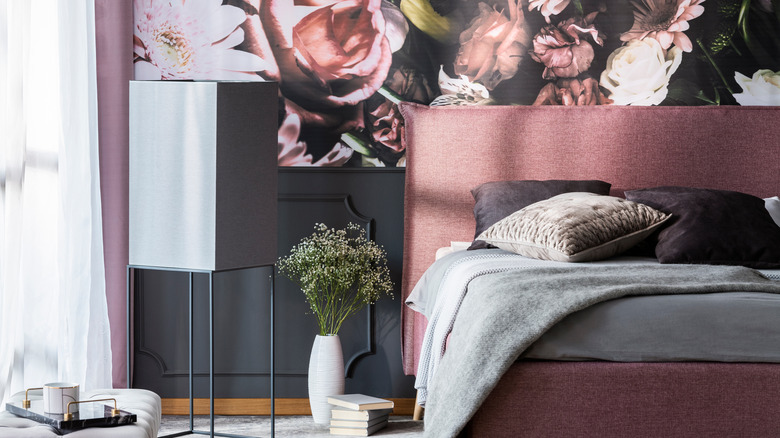 Photographee.eu/Shutterstock
We've seen how adding fresh blooms to a room makes it even more beautiful, so why not add something a bit more permanent to the space? Consider floral wallpaper that showcases your child's favorite blooms. If you paint your room a darker gray, then floral wallpaper with pink and white flowers would really pop off the wall!
26. Illuminate the room with purple lighting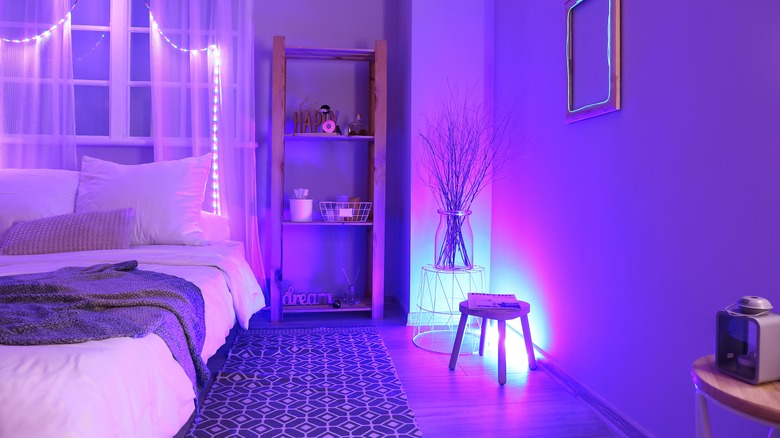 Pixel-Shot/Shutterstock
Bringing unique elements to a room is always a good idea, and we love how this room is illuminated with gorgeous purple LED lighting. You could use any color your child loves to set an overall mood, and, perhaps, even incorporate a spotlight to show off some royal accessories.
27. Dress up a basic dresser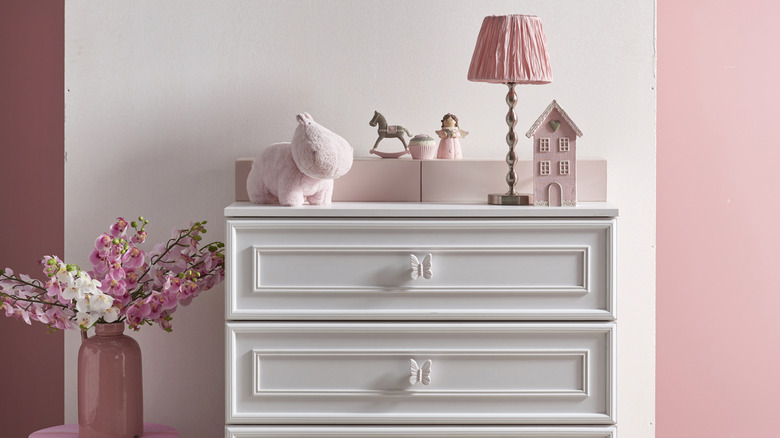 united photo studio/Shutterstock
A basic white dresser can become more elegant by changing the knobs to something more sophisticated, like snazzy white butterflies. Then, you can showcase different items that your child loves on top of the dresser and change them out often!
28. Pretty in purple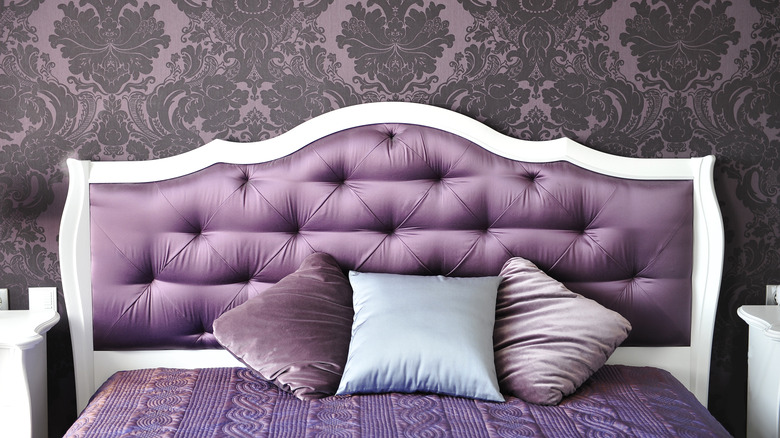 gornostay/Shutterstock
A dark purple tufted headboard would be a gorgeous upgrade in any room, but it looks extra stunning against the ornate purple and gray wallpaper. Throughout history, purple was actually a color that was often used for royal families. As Livingetc points out, it was a difficult color to create unless you were wealthy. How fitting to carry on the tradition and use this royal color for a princess-inspired bedroom.
29. An ornate gold mirror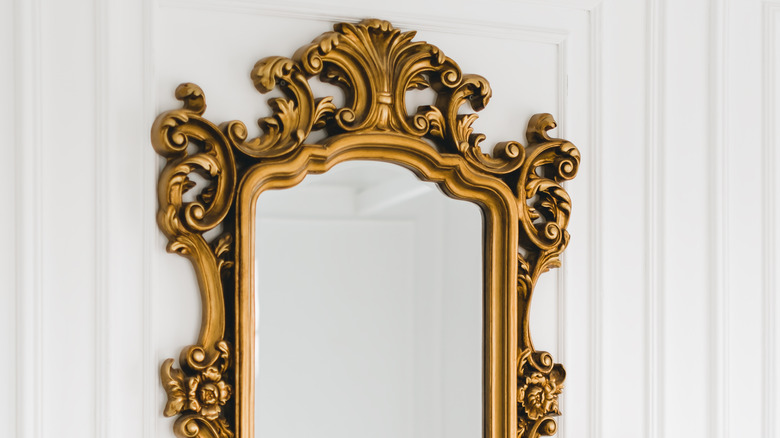 nikkimeel/Shutterstock
A vintage mirror as opulent as this is a brilliant idea for a royal bedroom. It can be placed over a mantel or hung above a dresser or other piece of furniture. If the trim on the mirror isn't originally gold, you can pick up some spray paint and transform it in just a few minutes.
30. A queen's court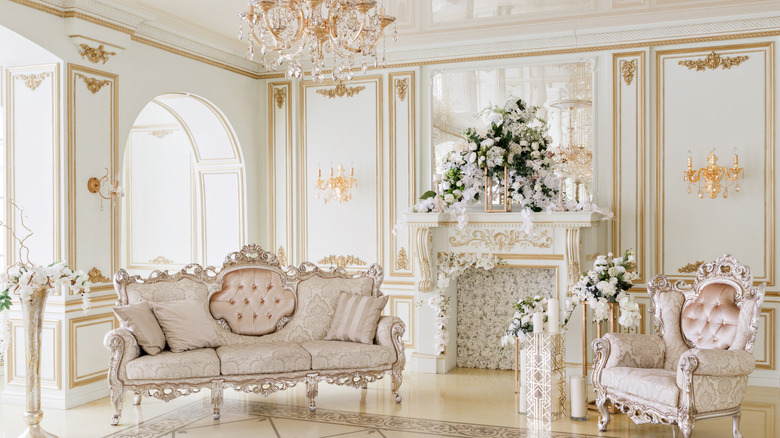 Fusionstudio/Shutterstock
If your child's bedroom is large enough, consider adding a sitting area for your little princess. The ornate aristocratic-style sofa and chair in a pretty pale pink is the perfect spot to spend the day relaxing or hanging with friends. Gilded wall sconces and gold trim make this room a total standout.