The Best Sales At Crate And Barrel And When To Shop Them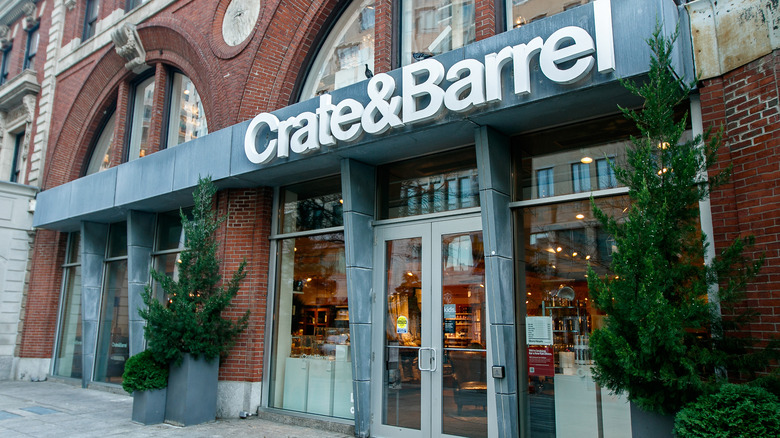 Roman Tiraspolsky/Shutterstock
Crate and Barrel is a fixture of the home furnishings industry. Founded after their European honeymoon by Gordon and Carole Segal in 1962, the store has transformed the marketplace and homes across the United States ever since, explains Crate and Barrel.
Stories of a House reports that Crate and Barrel was one of the first brands in the U.S. to link American consumers with affordable and tasteful European home décor styles. The results are evident, with the brand's popularity skyrocketing to average over 100 million digital visitors each year alongside the 22 million customers that visit the brick and mortar locations that span across 89 storefronts and eight outlets. One of the things that make Crate and Barrel special is the routine sale events that the brand rolls out throughout the year. The annual outdoor sale and the biannual wine and dine sale both happen on a regular basis, but many other flash sales and ones surrounding important or exciting social events add to the savings that you can expect from the store.
Yearly and biannual sales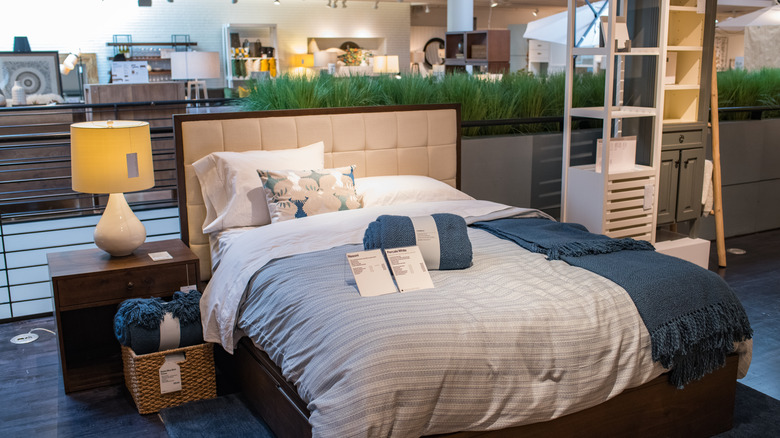 Michael Gordon/Shutterstock
Crate and Barrel's routine sales are heavily promoted and are a reoccurring staple of their identity. The biannual wine and dine sales are scheduled once for the lead-up to Christmas and again in the early spring. These events offer 20% off dinnerware, glasses, and everything else you might need to host an elegant dinner party. However, as Stories of a House notes, this sale excludes other household decorations and furniture pieces, as well as any clearance items.
The annual outdoor sale is another great event with lots of bargains to be found. At the end of each February, the shop looks to shift much of its outdoor stock to make room for new additions. Cushions, umbrella stands, and many other items that make for comfortable outdoor living are priced at 20% off during this sale period. Additionally, the store's annual upholstery sale coincides with the back-to-school period (from early August through to mid-September). A 20% discount on chairs, couches, ottomans, and other indoor upholstery items help shoppers save while bringing some redecorating spirit to the home.
Routine discounts and special events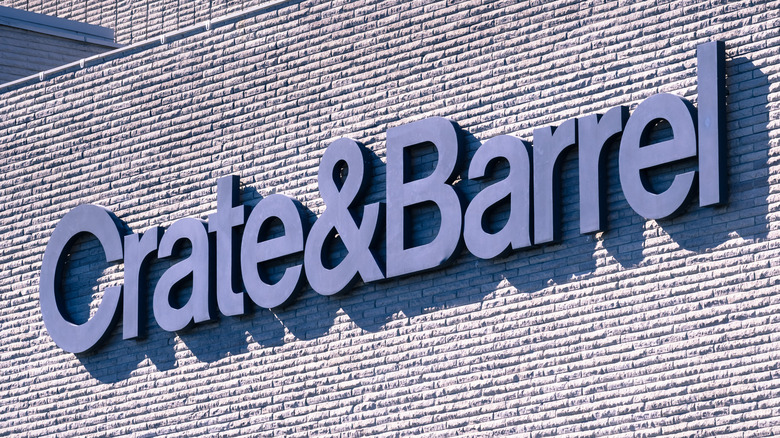 Sundry Photography/Shutterstock
Crate and Barrel regularly have clearance items that are reduced by up to 60% off the list price. Likewise, for those getting married soon, Stories of a House recommends signing up for the wedding gift registry, whereby newlyweds can receive a 15% discount on all purchases for three months after the special day. Real Simple reports that seasonal changes bring special saving events at the store, too. For instance, a 20% discount is sometimes offered to support spring cleaning, and the store's webpage places the deal front and center on its homepage. Checking the Crate and Barrel website regularly to scope out current and future savings opportunities is, therefore, always a great way to lock in low prices on the items you have your eye on for the home.
Stories of a House also reports that after the Super Bowl or other important sporting events, Crate and Barrel will reduce the cost of entertainment centers, televisions, and other tech gear that's always in high demand around these times. One final tip is to sign up for the Crate and Barrel credit card and rewards program, which will give you an additional 10% kickback on all store purchases as well as 2% on any grocery store purchases, (via Real Simple).