The Home Depot Service That Will Help You Design The Perfect Bathroom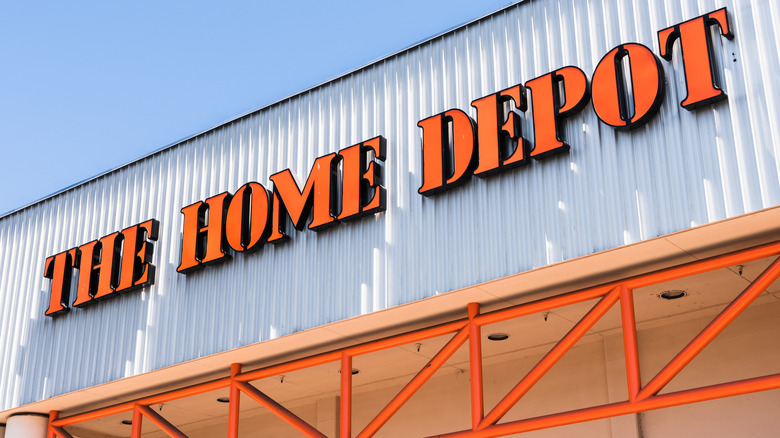 Sundry Photography/Shutterstock
You've scoured the internet and Pinterest for inspiration on remodeling or designing a new bathroom. Maybe you have an idea in your head as far as what you want, perhaps the ideas aren't quite coming together, or you really don't know what would work in the space you have. Whatever scenario you find yourself in, a little assistance never hurts.
Designing a bathroom that fits your needs can be a challenging task. According to Houzz, storage, details, and functionality are crucial. Not only do you need to think about decor, paint colors, and aesthetics, but you also need to consider the plumbing and electrical that can make a difference between a functional bathroom and one that, well, isn't.
We've got some insight on a service that will help you design that perfect bathroom. Read on to find out how Home Depot can be the fairy godmother that knows a thing or two about home design. We'll touch on the service and some tips to get the most bang for your buck.
The Consultation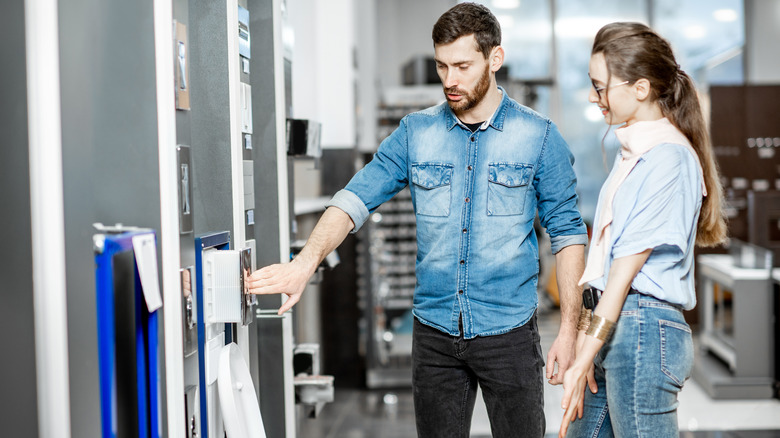 RossHelen/Shutterstock
So let's talk about this uber-awesome service that Home Depot offers to customers. According to their website, the process is simple. Enter in your information for a free in-home consultation, review the quote, and then have them complete a full installation. The in-home consultation is key as there is nothing like having a designer walk through the space and imagine the possibilities. A phone or tablet screen can only do so much.
There is a cost guide to figure out what works for your budget and design ideas for all bathrooms, including ones on the smaller side which can sometimes be challenging. The consultation is obviously the most fun, where you and the designer can really discuss small renovations or an entire overhaul of the bathroom. 
Don't be afraid of the cost while working with Home Depot. It's a good idea to have a budget set that has limited wiggle room so you can decide how much you'd like to spend and what your priorities are. According to Modern Bathroom, it can be very tempting to want everything after seeing the design of the perfect bathroom. Remember that you set the budget for a reason.
Installation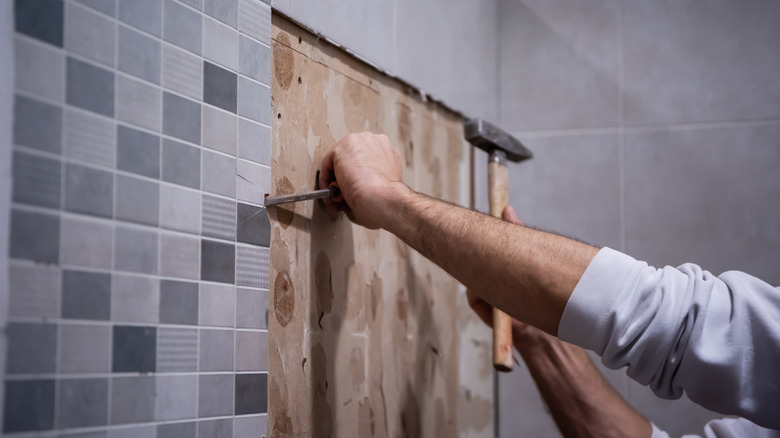 dotshock/Shutterstock
The last step of the process is the actual installation. According to Home Depot, a full installation can take anywhere between six and eight weeks, so be sure to plan for that. If you have just one bathroom, for example, plan out some alternatives for when you need to use the room to shower or otherwise.
According to Kitchen and Bath Shop, there are several factors that affect the process. These include demolition, plumbing, electrical, and then any details like paint and tile. It also depends on the size of the bathroom and what the scope of work looks like.
In the end, a bathroom design, whether remodel or built from scratch, is a good investment. Not only does it help with home resale value with a new, updated bathroom with new fixtures, but it can also become a space to relax and recharge. If you are into feng shui, the water element is in the bathroom and is a great place to foster good energy. If you are interested in doing a remodel, consider looking into Home Depot to make that happen.