Can You Rent Tools From Lowe's?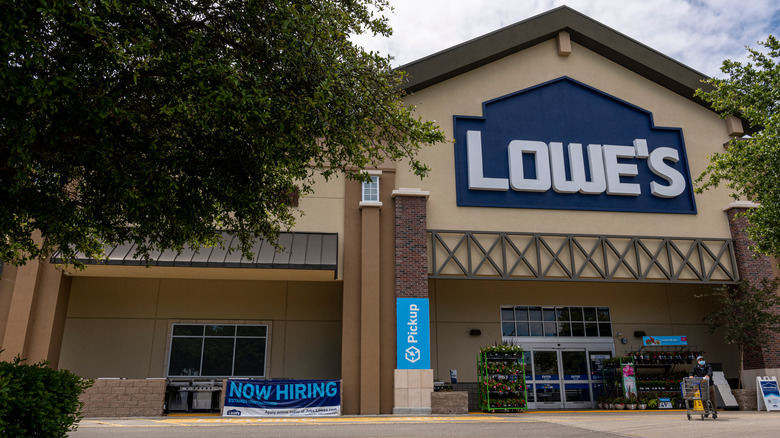 Bloomberg/Getty Images
Tool rental was once harder to come by in the home improvement marketplace. For a while, Home Depot was the only retail giant in the game. But with increasing numbers of people taking on DIY projects, Lowe's decided to join the tool rental space in 2020, according to USA Today. Since then, they've been offering nationwide rental options for homeowners seeking to roll up their sleeves and get to work.
Founded in 1921, Lowe's has been around for just over a century (via Lowe's). A transformation took place a few decades ago with the introduction of consumer-focused home improvement equipment. Over the years, Lowe's has blossomed as a mainstay in the home improvement industry and is the second largest global retailer in the category, behind only Home Depot. Until recently, though, tool rental hasn't been an option at Lowe's stores. With Lowe's joining this segment, the competition for tool rental (and resulting cost savings) will continue to grow so you can get more done at home without having to buy each tool that a new job requires.
Basic tools rental is great for everyday DIY projects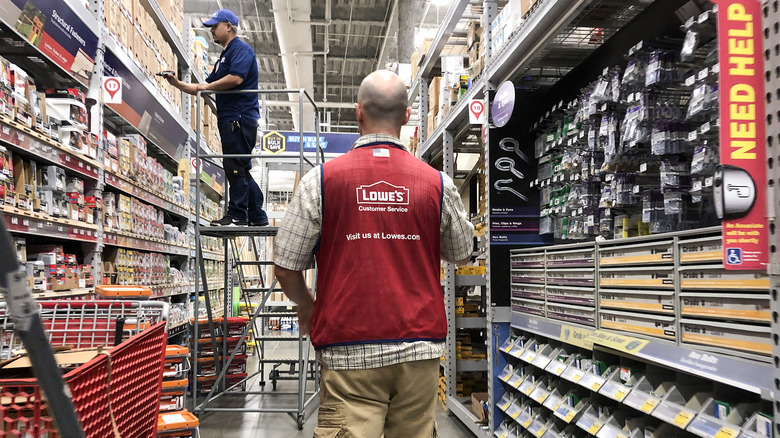 Mario Tama/Getty Images
Apartment renters are usually limited in storage space, so many home improvement staples like miter saws, sawhorses, and even some smaller power tools (an angle grinder, electric sander, or jigsaw, for instance) remain unfeasible purchases for many.
The ability to rent tools rather than have to buy and store them in the home can change the way you approach home improvement and customization projects for the better. Whether you are a renter or own your own home, lacking one or two essential tools to complete a project is a common problem faced in any setting. 
In addition, Foundry Planet reports that forming tools (clamps, hammers, garden trowels, etc.) have risen in cost over the last few years, and other tool segments are performing similarly as a result of inflation. Renting an item for the day is far more cost-effective for a home improvement project in which you'll need tools that you won't reuse.
Lowe's also offers heavy machinery and specialized tools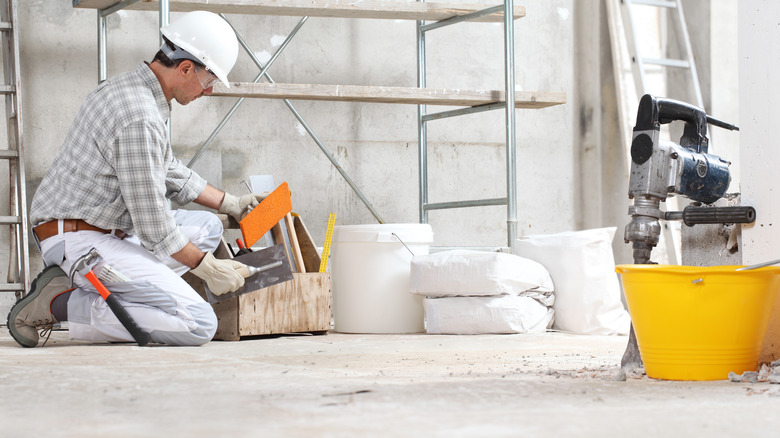 amedeoemaja/Shutterstock
On top of the standard drills, cutting tools, and other options for rent at local Lowe's stores across the country, the brand also offers heavier pieces of machinery that are essential to completing more hardcore home improvement projects (via Lowe's). They carry a range of concrete tools, earth movers, welding equipment, and lift and scaffolding solutions.
These tools are typically hard to find and can be incredibly expensive in the retail marketplace, not to mention that many of the pieces are very large. All this makes it difficult for the casual DIYer to take on projects like laying down a new deck in your back yard, pressure washing the driveway for a clean finish, or repairing an overhanging window in a custom renovated attic.
The expanded list of available rental options makes the Lowe's brand a fantastic choice for any home improvement project. And with hard-to-find pieces or tools that would be too expensive for single use (such as a CAT track loader), you'll be able to reduce costs and take on projects that may have seemed impossible before.