Why You Should Be Buying Wood Flooring At Home Depot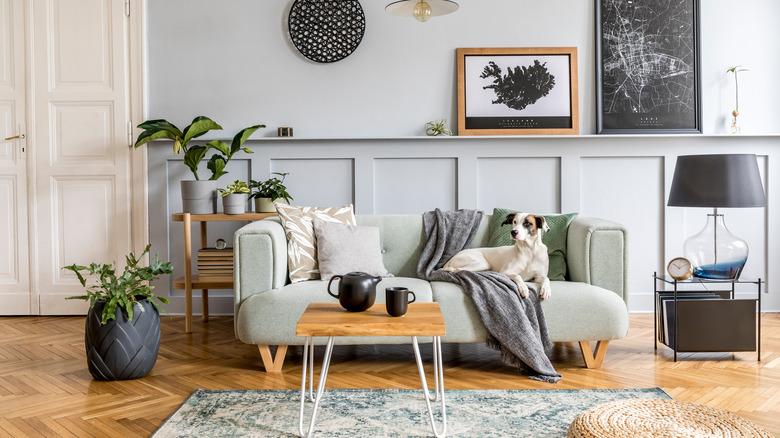 Followtheflow/Shutterstock
According to The National Association of Home Builders, hardwood flooring ranks among the top ten design features that buyers seek when they enter the market to purchase a new property.
But hardwood floors come in lots of different varieties. From solid hardwood planks to engineered boards that can save on the overall cost, the world of hardwood flooring installation is complex and full of choices. Making the right decision is crucial because it is an investment that will be a part of your home for years. This means that sometimes, getting professional assistance in the selection process is the way to go.
Home Depot might not be your first thought when approaching this installation, but the home improvement giant offers information and a huge selection of products that rival local showrooms. With additional discount offers running throughout the year on all kinds of merchandise, finding bargains on new hardwood flooring is a real possibility. This makes Home Depot a first-rate choice for purchasing nearly any home improvement materials, including hardwood floors.
A huge selection makes the Home Depot sales floor a fantastic showroom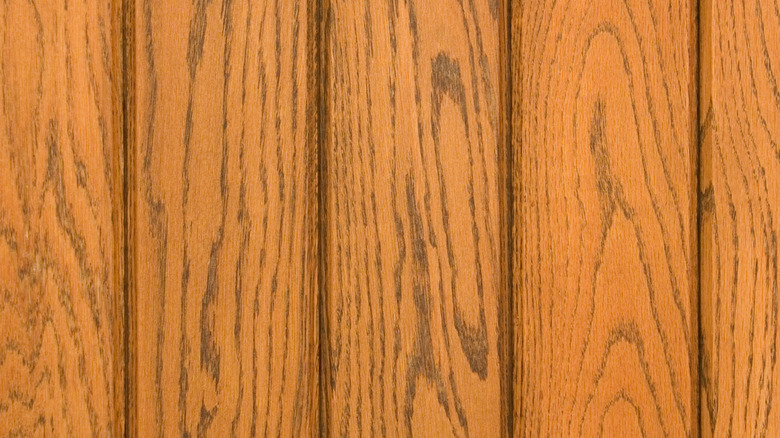 Ethan boisvert/Shutterstock
Home Depot's selection is second to none in many categories of the home improvement space, and this trend holds up when it comes to flooring. The first choice that homeowners seeking a change to hardwood flooring must make, according to Good Housekeeping, is whether to use solid hardwood planking or an engineered hardwood option. Engineered hardwood uses a top layer of the target material with under layers of plywood, reducing the cost and making for a faster installation. However, solid hardwood flooring allows for sanding and refinishing, unlike an engineered selection, and as a result, can promote much greater longevity in the flooring surface.
With vast stocks on both of these options, Home Depot provides a great value for shoppers who haven't yet decided on the construction type or style. Their knowledgeable staff can help you determine the type of wood, colors, and finish that will be the best fit for you.
Low prices give shoppers a chance to save money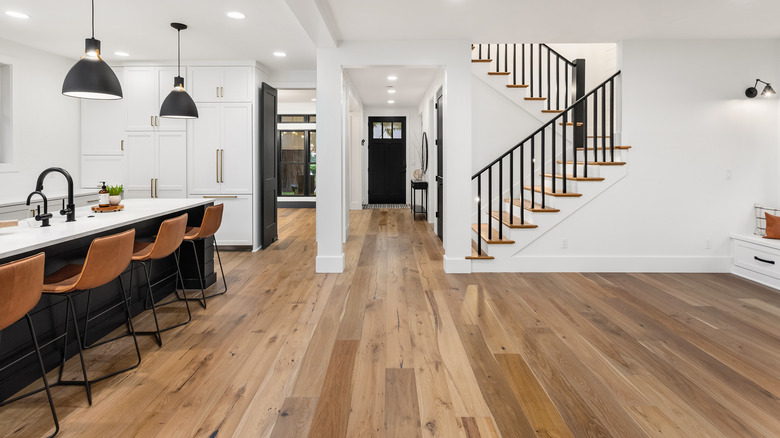 Breadmaker/Shutterstock
Not only is Home Depot great in terms of selection and information, but the retailer is also known for great pricing. They consistently offer rebate programs for buyers who shop in-store, according to Home Depot and Danny the Deal Guru, making purchasing new hardwood floors more affordable than you might have imagined. 
In addition, many homeowners want to do much of the home improvement work on their property on their own these days. According to NPR, the desire to engage in home improvement DIY is at an all-time high. Yet, hardwood flooring installation is time-consuming and physically demanding, no matter what style of floorboard you select. Home Depot provides installation services as well as materials, so whether you plan to take on the project yourself or decide to seek assistance, you'll be on a smooth path to a beautiful new space.