How To Repurpose A Closet Into A DIY Diaper Changing Station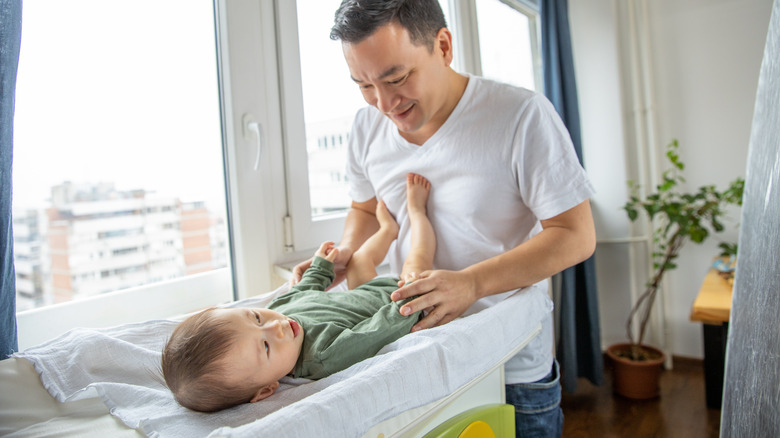 Edvard Nalbantjan/Shutterstock
Designing a baby room can be such an exciting activity. You get to pick out paint colors, wallpaper, carpet, furniture, and decor, all before your child becomes a teenager and harnesses their own style. However, sometimes it can be difficult if you don't have a large enough space for everything you'd like to include. Data collected for 2020 showed that 7.3 million families in the U.S. live in poverty, according to Statista. So, a DIY option can be an affordable way to find functionality in every space of your child's bedroom to provide everything they may need.
Everyone needs a diaper changing station system. But, depending on the size of your room, you may be spending time deciding whether you'd rather want a rocking chair instead. However, you may not have to choose and could have both by creating a DIY diaper changing station in the closet of your child's room. There are certain steps you can follow to be successful in creating your dream baby room.
Creating a multi purpose space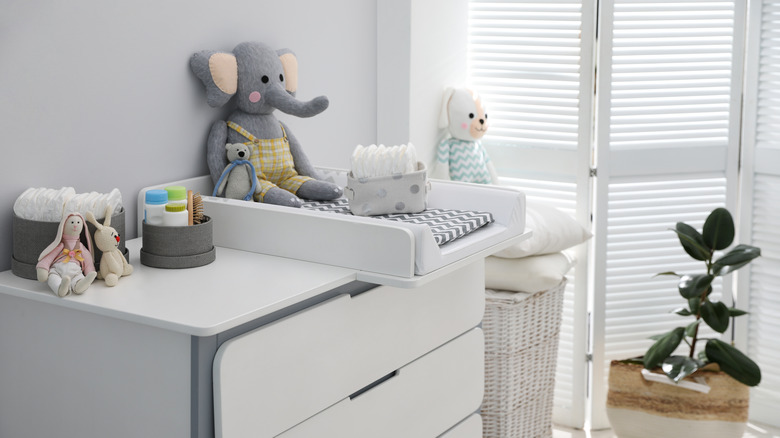 New Africa/Shutterstock
When doing a DIY project, it'd be a good idea to make sure you get multiple purposes out of it. If you plan to create a diaper changing station in your closet, Small Stuff Counts says to enlarge your space by removing the closet doors. It's typically an easy procedure as most closet doors can be taken down by using a screwdriver. You'll then hang your baby clothes from a single rod to ensure you have plenty of space below.
Now, if you already have a baby dresser, you don't have to buy any other large pieces of furniture. If you don't have one, you may be able to find one at a repurpose store. After ensuring the dresser is an appropriate size for your closet, place it inside and use that as the changing station. The dresser will have two purposes; storage for diapers, wipes, or additional clothing and diaper changing. Now, add a few accessories like a small changing bed and a garbage can next to it, and voila — a functional diaper changing station to maximize space in your baby's room to include everything you may need.