These Are The Plants The Queen Uses The Most In Her 6 Private Gardens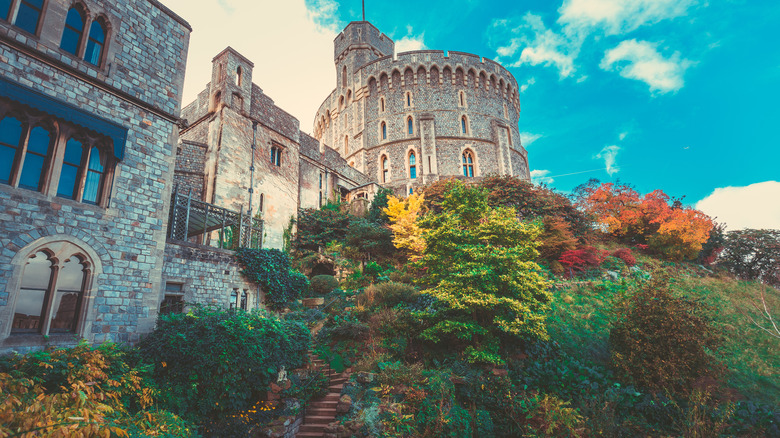 YIUCHEUNG/Shutterstock
The Platinum Jubilee is right around the corner, and people are preparing to celebrate Queen Elizabeth's 70 years of service to the United Kingdom, according to The Royal Household. Starting June 2, 2022, the celebration will begin with a parade; then, a Service of Thanksgiving will be held at St Paul's Cathedral the following day. On June 4, 2022, BBC One will air the Platinum Party at the palace live; June 5, 2022, will see 60,000 people attending the Big Jubilee Lunch, which includes street parties and BBQs set in gardens. 
If you're hosting a garden BBQ, impressing your guests may be important to you, and what better way than to prepare a garden that resembles any of the Queen's six private gardens. This may sound easier said than done — but greenery lovers and fans of the Queen are sure to pull it off — you just need to use the right flowers. Let us take a look at what plants are seen throughout her majesty's private gardens.
Roses, daffodils, and clematis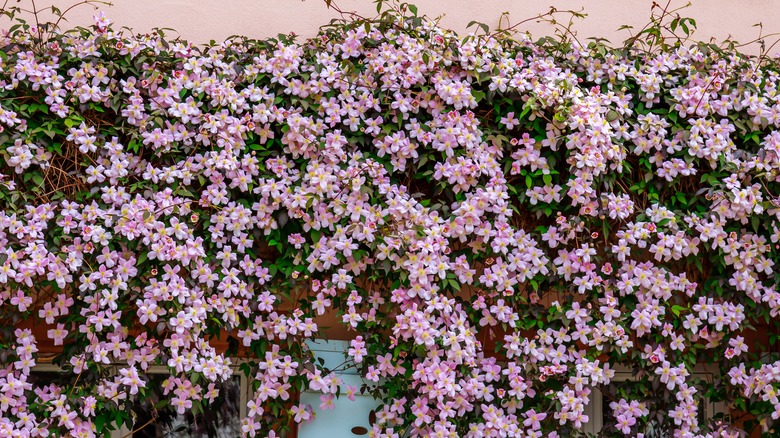 nnattalli/Shutterstock
Everything about the Queen's six gardens screams elegance. A flower you will see throughout all of them is clematis, according to MyLondon. They are a beautiful purple variety known as the queen of climbers, maybe because they are commonly hung on a trellis. Thankfully you don't have to grow them from scratch, as they can be bought fully grown at a nearby garden store as a stunning addition to your garden.
Daffodils are also commonly seen throughout all of the Queen's gardens. These bright, yellow beauties will spruce up anyone's garden with their cheery appearance. What's interesting about Queen Elizabeth's garden is that these daffodils are a hybrid creation called the Narcissus Diamond Jubilee, which was made for the Queen's Diamond Jubilee in 2012. The Queen also loves pink and red roses, as she has 3,500 rose bushes at the Windsor Castle, strategically planted to resemble a geometric pattern.
Create balance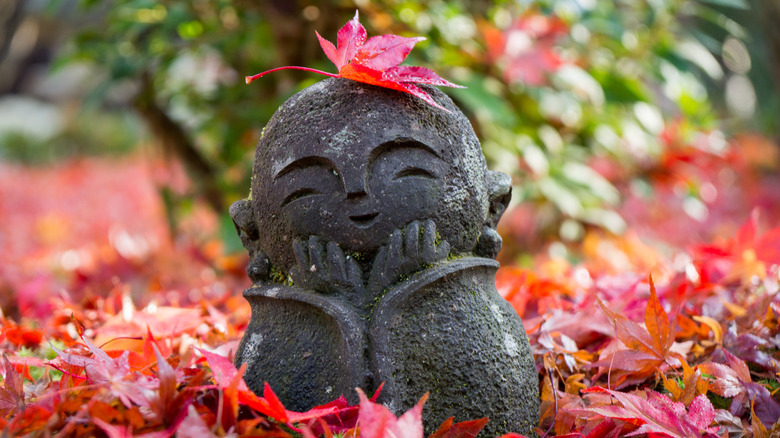 Pongsakorn Teeraparpwong/Shutterstock
A perfect garden isn't just full of beautiful and colorful flowers but also other muted plants and objects for the colors to contrast and complement. Hedges are seen at the Sandringham House and at the Hillsborough Castle, where the Walled Garden resides, according to Hello! Luckily, hedges are pretty standard, so you likely already have a few on your lawn. The innkeeper of this garden stated he designed a symmetrical structure for the hedges to create excitement.
Now, this isn't a plant, but it seems crucial when mimicking a royal garden. There are many statues seen throughout the royal gardens, some dating as far back as the 15th century. There are different sculptures, from painted terracotta and marble busts to bronze statuettes. You may not be able to copy these exactly, but instead, you can find mini statues and other affordable decorative pieces at your nearby garden supply store.