This Lowe's Service Will Help You Design The Kitchen Of Your Dreams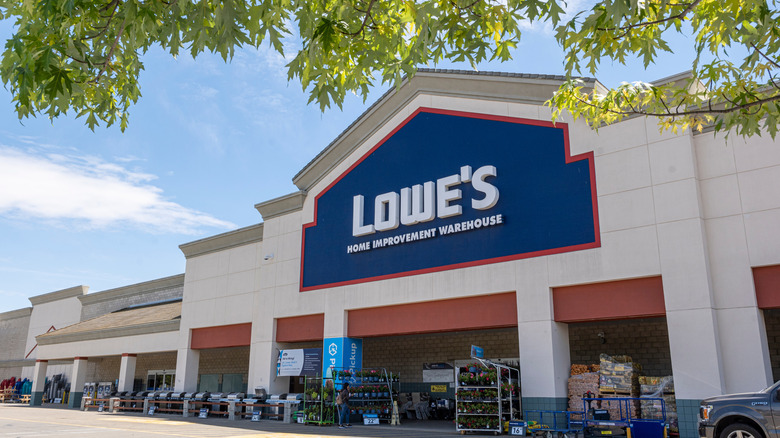 Bloomberg/Getty Images
If you've ever tried to tackle the task of designing a kitchen, you know that it is not always as easy as picking out a new color for your cabinets. Lots of work goes into the planning, demolition, and installation of kitchen features and appliances. When you don't have the right amount of experience in these areas, remodeling your kitchen may become a daunting, expensive, and time-consuming endeavor.
Lucky for us, Lowe's makes it easy to design, prepare, and install the kitchen that you have been dreaming of with several of their services. From conception to installation, they have your back. You can explore all the newest flooring, cabinetry, paints, backsplashes, countertops, and more. With their in-home consultation, preparation services, and installation services, as detailed on the Kitchen Remodeling Services page by Lowe's, all you have to do is decide what designs you like best. Renovating your kitchen can be simple. Keep in mind that you can pick and choose which services you want to be performed. If you think you can do parts of your kitchen remodel on your own, Lowe's can still help with their many informative guides.
Lowe's kitchen consultations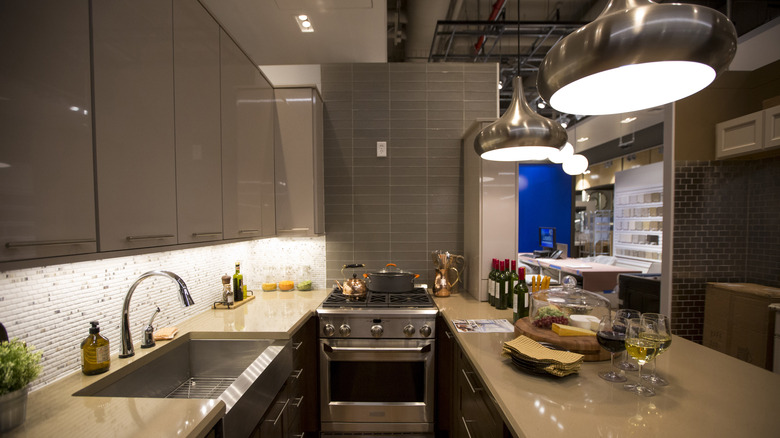 Bloomberg/Getty Images
You can start your kitchen consultation at your local Lowe's or in your own home. Likely, you are familiar with Lowe's mock-kitchens in-store that show some of the best combinations of countertops, cabinetry, and appliances. But did you know that a professional design can bring all that right to your front door?
When you schedule an in-home visit with a consultant, they can take measurements of your kitchen and help you find the best products for your layout for free, according to Lowe's. However, if you want to take on this project yourself, the home improvement retail chain makes that easy for you too. They offer three different virtual planners to help in the processes of designing your kitchen layout, trying new counters, and visualizing your prospective cabinetry.
If you're still unsure which direction you would like to go in, a guide posted by Lowe's can give you some inspiration based on their kitchen remodeling ideas. They go over each area of your kitchen that you'll need to consider before you start your remodel. From appliances to storage solutions, reading up on their expert opinions can help in making sure that not even one detail is missed.
Removal, preparation, and installation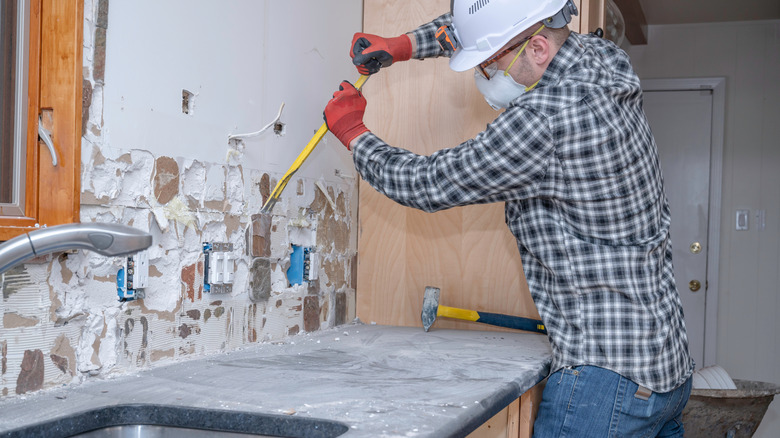 David Spates/Shutterstock
When it comes to the removal of outdated furnishings and preparation for installation, hiring a Lowe's professional installation team to help is the easiest route. As told by Lowe's, their licensed, insured, and background-checked contractors have experience in remodeling a range of kitchens. However, some people prefer to take on the task of demolition and preparation themselves. If you are a DIY-lover, Lowe's can still help with their guide on preparing your kitchen for a remodel. The guide provided by Lowe's suggests 10 separate steps for demolition and clean-up as well as a note on preparation. As you read on about their pro tips for getting your kitchen ready for a remodel, you'll be able to save yourself a little money while also receiving the satisfaction of beginning a productive DIY adventure.
Of course, the help from Lowe's doesn't stop there. Their professional teams will take on the work of installing your new products and finish up the process of building your kitchen. According to Lowe's, their professional installers can be in and out of your home in just a few days, leaving you with the kitchen you first saw in your dreams. Remember, all their work is backed by a one-year labor warranty, so you don't have to stress.