The One Color You Should Never Paint Your Bathroom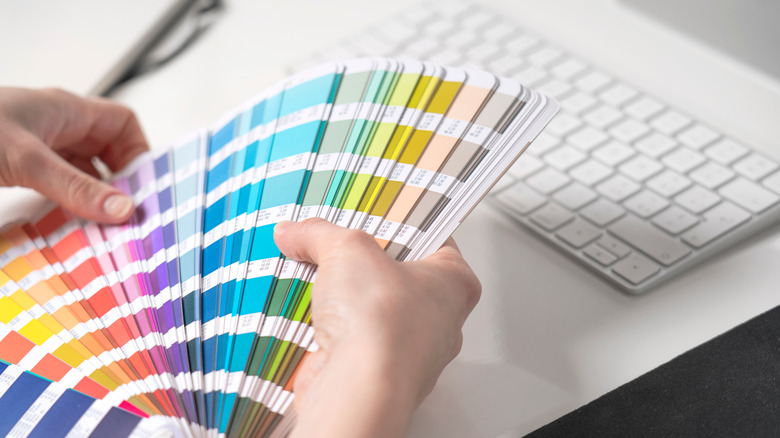 CreateLab/Shutterstock
You may be tempted to change up your bathroom with a new color — it may be your favorite color or a color you just think is pretty, but it could have a devastating impact on your overall bathroom design. Designing your bathroom is never easy because what you choose depends on the size of your bathroom as well as the design of the rest of your home. You don't want the design to stray from the rest of your interior, but you also don't want your bathroom to be boring either. There are so many options to choose from, it could make anyone's head spin.
However, there are also colors you shouldn't choose for your bathroom. Apartment Therapy says red is the color you should avoid. This may confuse some as red can be a deep, romantic, and alluring color. For a lot of people, roses are the first thing that comes to mind when thinking of red. However, while this color may work in other rooms, you'll definitely want to keep it out of the bathroom.
Avoid red at all costs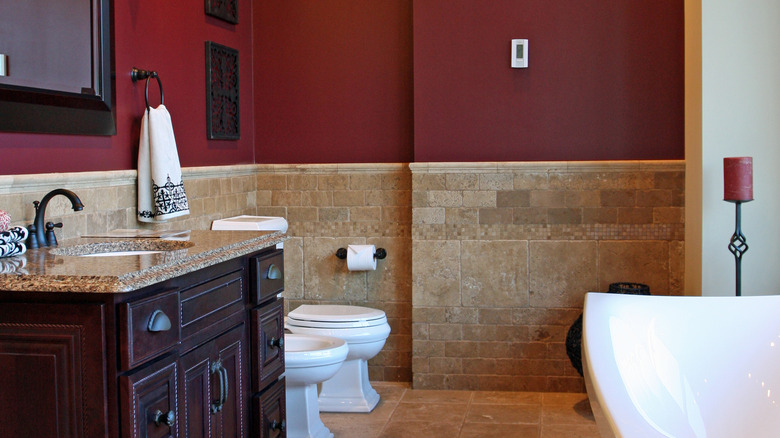 Lisa Turay/Shutterstock
Apartment Therapy provides several reasons why homeowners shouldn't paint their bathroom walls red. Apparently, the deep and dark color can make your bathroom appear smaller. So, if you already have a small bathroom, painting the walls red would be a major design flaw. Those who are looking to update their home before selling should also avoid the flaming color. Apparently, real estate agents find it difficult to handle homes with dark-colored bathrooms because of the difficulty to make them look good in photos.
Luckily, there are plenty of other colors that would look great in your bathroom instead. Elle Decor asked several designers what their favorite bathroom colors were, the first one being Sweater Weather from Sherwin Williams. It's a perfectly balanced gray with both warm and cool tones that works well with many designs. If you would like to stay in the red family, designers also suggest Cinder Rose by Farrow & Ball. This color is a blush, rosy pink that will make your bathroom shine and stand out.