10 Ways To Turn Your Backyard Into Your Very Own Beer Garden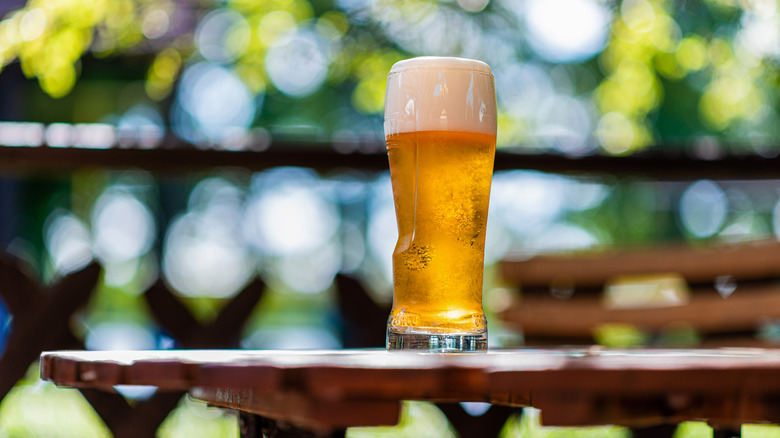 terazitu/Shutterstock
If you love a good beer festival but would rather celebrate within the comfort of your own home with the people whose company you enjoy, then how about giving your backyard a beer garden makeover? If you've never experienced a beer garden before, it is a large community event that actually dates back to 16th-century Germany.
Back then, there was a beer regulation that prohibited the brewing of beer during the summer months for fear that the process would set alight the easy flammable wooden European structures of the time, according to The Atlantic. Also, since ales required high-temperature fermentation whereas the more desirable lagers could be brewed at lower temperatures, the brewing process was kept to the winter months. That meant that brewers had to increase production to make sure that there was enough beer to last the whole year. Since this beer needed to stay as cool as possible, it was kept about 40 feet underground covered in ice. Large trees were then planted above the area to ensure that the ground stayed cool and shaded. Breweries began putting out large tables among these spots and, soon, it became a popular drinking area during the dry summer months. Thus, the beer garden was born. People of the community would bring food to the local breweries and drink and socialize. 
Luckily, now you don't need to travel to Munich to bring the same spirit to your own backyard. Here's how you can turn your own backyard into the perfect beer garden.
1. Install a backyard bar top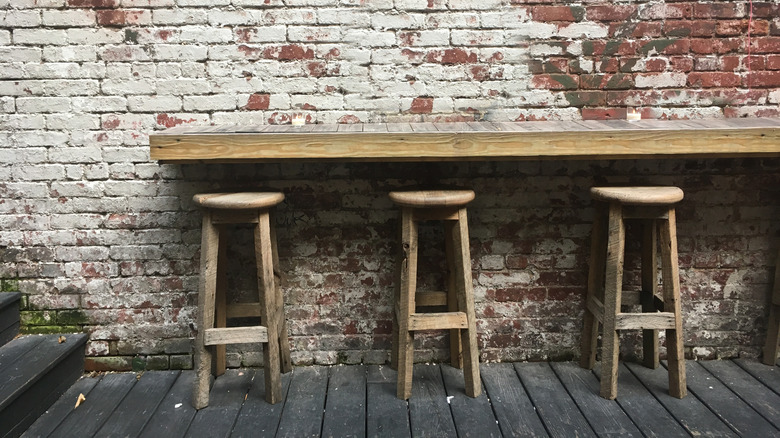 Heather Shimmin/Shutterstock
Although the thought of building your own bar may seem a little daunting, it can all depend on how detailed you want it to be. There is plenty of DIY backyard bar builds that you can follow in order to create the ideal area to sling your drinks. To save some money you can also build a decent bar out of old wood pallets. Make sure to pick the right location that is nearest to a power source. Whatever design you choose, a good bar will be the heart of any backyard beer garden.
2. Add mood lighting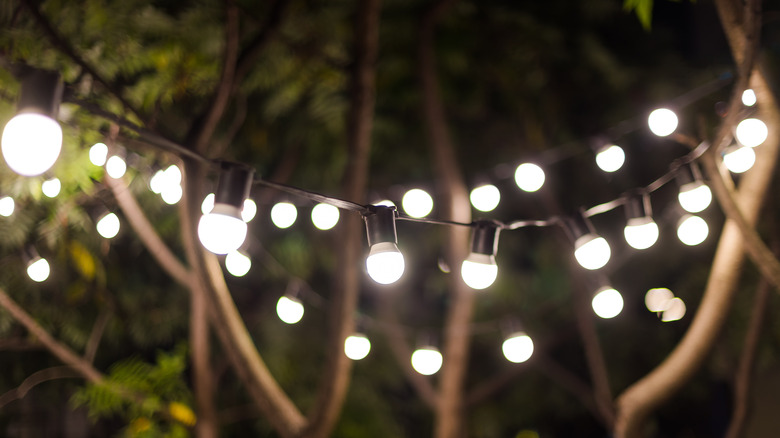 IMG Stock Studio/Shutterstock
Now that your bar is set up, it's time to set the mood. There's nothing better than a well-placed set of lights to make the perfect environment. String lights can be extremely affordable and versatile, and they come in various sizes, shapes, and colors in order to fit the theme of your beer garden. Keep it classy with a length of clear LED lights wrapped effortlessly around your more traditional bar setting, or take your Tiki beer garden to the next level by illuminating your terrace with a colorful arrangement to keep the party going all night.
3. Create more privacy in your backyard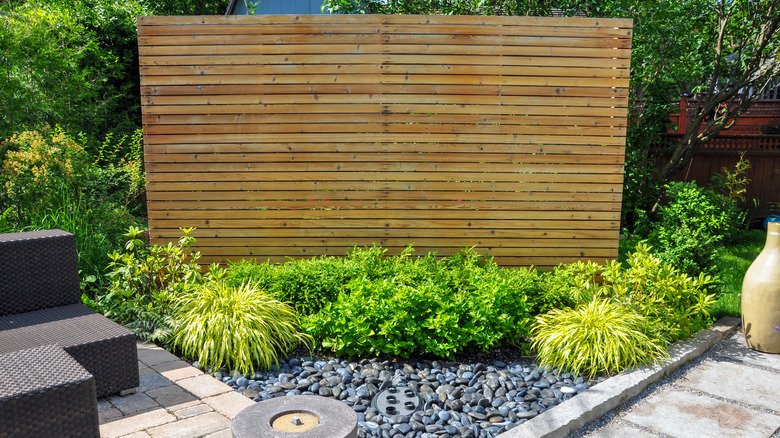 Joanne Dale/Shutterstock
When you're entertaining in your backyard beer garden, you want to make sure that the atmosphere is kept cozy and private. Setting up your own privacy screen can ensure that your backyard get-togethers don't disturb the neighbors as well as help you and your guests enjoy your surroundings without feeling like you are being watched. From simple lattice screens to more elaborate stained wood designs, installing a privacy screen can be easy, cost-effective, and rewarding as you will be sure to notice the benefits of having a more secluded space.
4. Decorate with bar-themed decor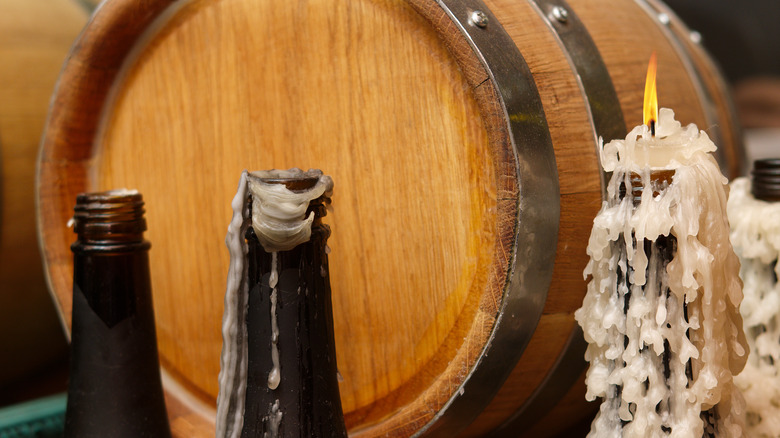 Aleksei Isachenko/Shutterstock
Pull together the rest of your beer garden by adding bar-themed touches. Save empty wine and beer bottles and reuse them to make perfect flower vases that look sharp at the end of your table. Or better yet, take those empty bottles and pop a candle in them to create ideal candle holders. Let the wax run and build up around the bottle in order to really add to the aesthetic. If you can get your hands on vintage rum barrels, they would make great vintage accents around your bar or even quirky table bases.
5. Add plants around your beer garden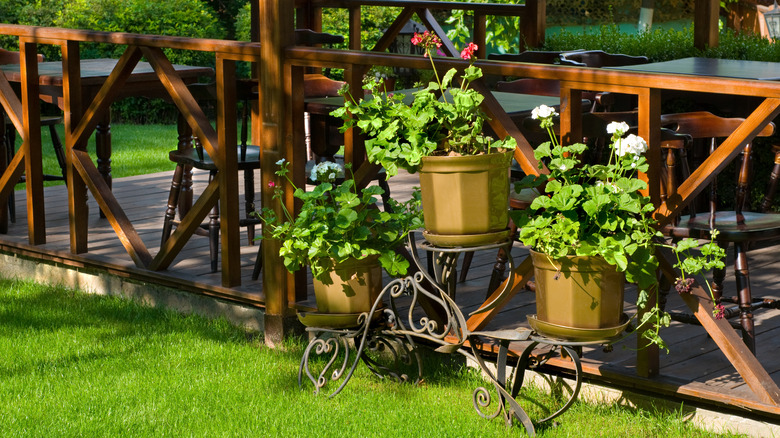 Serghei Starus/Shutterstock
Put the garden back into your beer garden by adding potted plants around your outdoor space. Plants can not only be fantastic ways to add live decor around your beer garden, but they can also help to create a more relaxed atmosphere. To stay on the bar theme, you could try growing your own hop plants. Hops are used in the beer-making process and are a viny plant that can reach up to 14 feet in height. Having a wall of fresh hops could be the quintessential touch of greenery in your beer garden.
6. Provide plenty of communal seating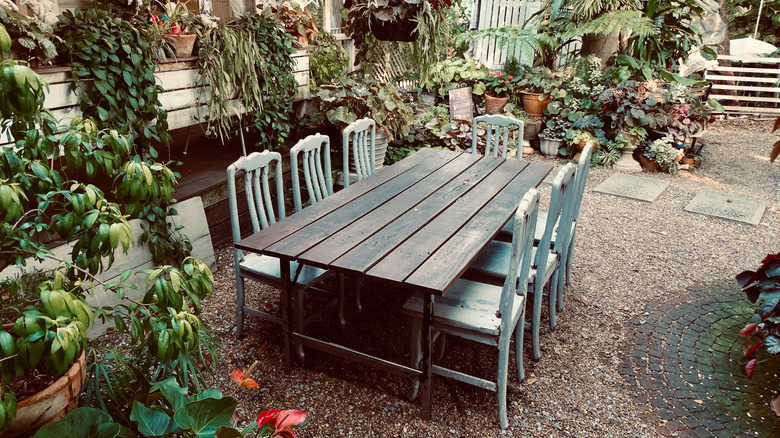 suchai.guai/Shutterstock
To get that true beer garden feel, it's all about the communal seating. Having a long table where your guests can sit, drink, laugh, and be social will truly add to the spirit of the event. Luckily, you won't have to break the bank to build or buy the perfect table. Building your own picnic table can be affordable and fun, plus the bench-style seats make for plenty of room for your guests. To create family-style seating, you could simply place two or even three picnic tables in a row for the ideal communal beer garden arrangement.
7. Install some beer taps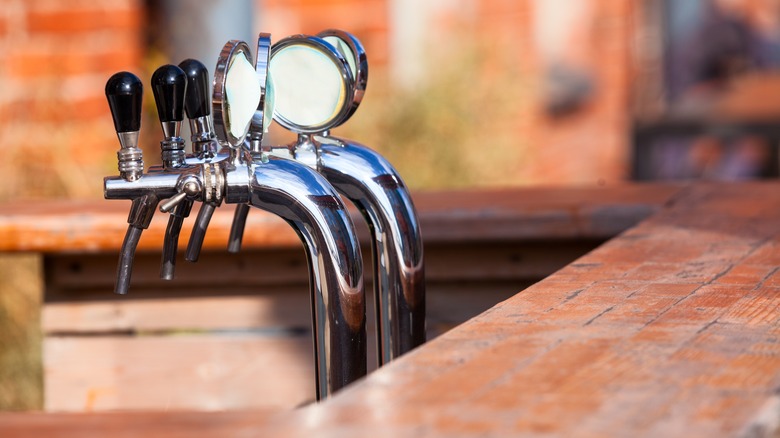 Kekyalyaynen/Shutterstock
Your bar is complete, guests are seated, and the atmosphere is perfect. Now it's time to pour the brews. Although it's perfectly acceptable to have a big cooler of your favorite local craft beers set on ice or a backyard fridge full of imported delights, having your own draught taps may take your beer garden to a whole other level. There's no need for a complicated 20-tap system, sometimes just a two-tap kegerator will do the trick, and it can be relatively simple to install. The hardest part will be choosing which beer to tap first.
8. Proper glassware is a must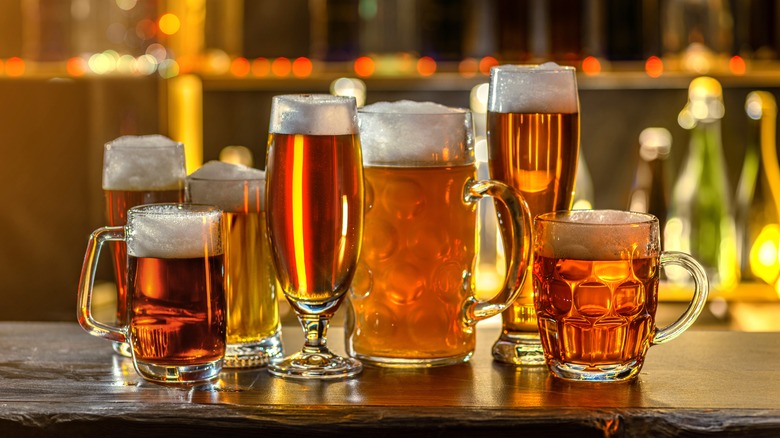 TSViPhoto/Shutterstock
From the domestic beer novice to the craft brew enthusiast, having the right type of glassware could enhance the drinking experience. According to the Homebrew Academy, there are many different glasses that match the type of beer you're serving. Standard 16 to 20-ounce pint glasses are a staple among beer drinkers; however, you might want to keep some thick glass-handled mugs for durability during those many cheers moments. Shorter Tulip glasses pair perfectly with Saisons or Belgian beers whereas those with thrills for the Pils need a narrow Pilsner glass to show off its golden hues.
9. Don't forget the snacks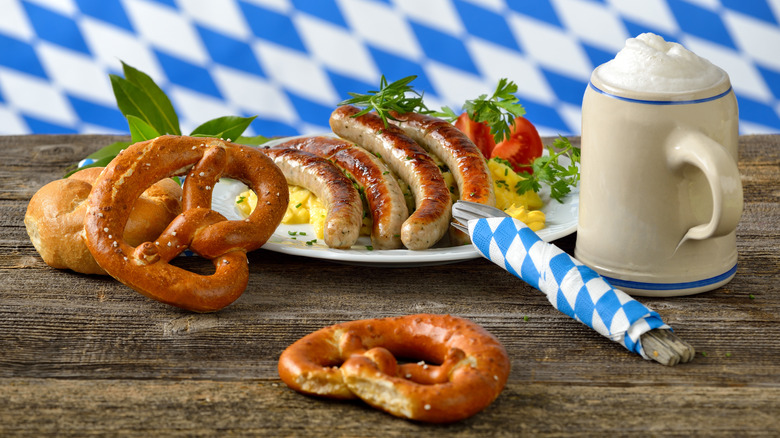 Karl Allgaeuer/Shutterstock
The beer is flowing and conversation is at an all-time high — now it's time to roll out the snacks. Having an array of food available for your beer garden guests is important as it adds to the communal sharing aspect of the shindig, but also helps to soak up the alcohol to ensure people aren't over partying. A snacky spread of soft pretzels, sliced meats, fruits, mixed nuts, and a variety of cheeses can be both delicious and pair well with the different selection of beers that you are serving.
10. Backyard entertainment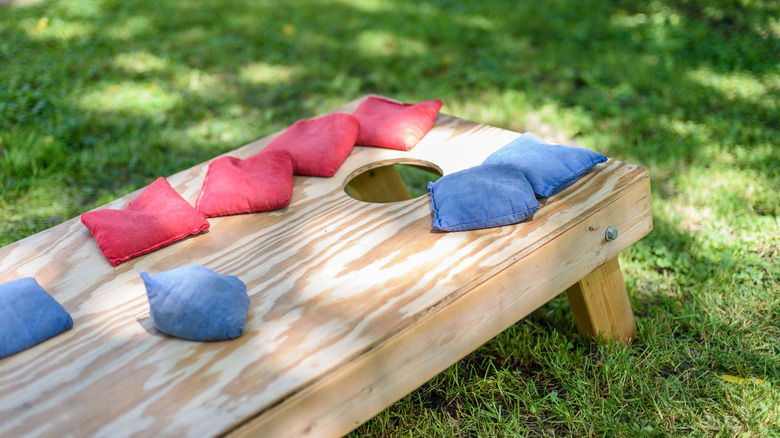 David Prahl/Shutterstock
Let the games begin. Although having a big-screen television in your beer garden could be a nice way to entertain your crew, there's nothing like a few backyard games to get your guests up and mingling with others. Because the beer is flowing, you might want to select from more low-impact games so as to keep everyone safe. Although darts and ax-throwing make for a great time, these games might not be suitable for your backyard. However, games like bocce ball, giant checkers, or cornhole could be the perfect way to have fun and keep the party going.