Why DIY'ers Are All Buying This Item At Bed Bath And Beyond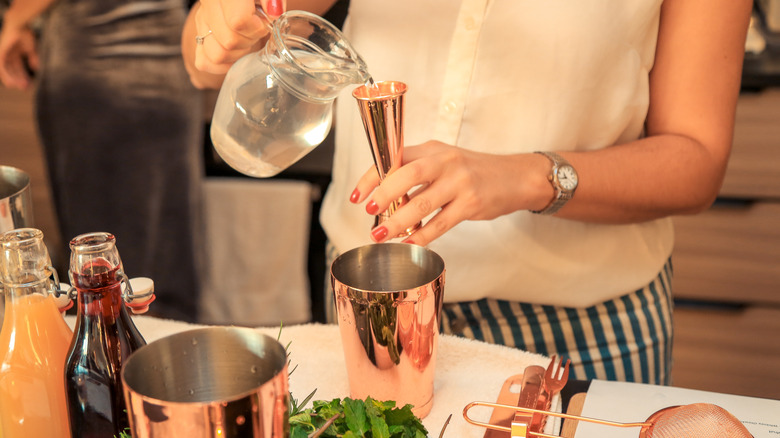 Athena Nadi/Shutterstock
The stunning statement pieces in luxury furniture catalogs can get pricey, but that doesn't mean we wouldn't love them in our homes. Thankfully, there is a way to DIY such pieces. According to My Domaine, transforming a console table or cabinet is excellent if you need to store lots of bar tools in a small space. Bar consoles and cabinets can be a step up from bar carts because they appear as permanent fixtures.
Here is a DIY for you if you've loved those bar cabinets that can cost up to $2,000, per HomeAdvisor, but don't want to shell out that much money. The HOMCOM Freestanding Storage Organizer is the perfect dupe for these expensive bar cabinets. It also provides the ideal base to DIY some customization to make this piece perfect for your space.
This cabinet utilizes vertical space, and the narrow width makes it perfect for tight areas like small kitchens, living rooms, and apartments. It's sturdy and can be fixed to the wall to keep it tipping over. Designed well, it can be maintained as a bar cabinet, or you can add a few aesthetic and functional customizations. With the HOMCOM Freestanding Storage Organizer, you can get the luxury furniture look for less.
The space-saving cabinet
Cocktail making can be a hobby that quickly takes up all of your space. After collecting barware tools, various glasses, and bottles of spirits and liquors, you may find your kitchen quickly cluttered. A home bar can be the storage solution to save your kitchen from being overrun. However, a home bar can take up space elsewhere in your home, primarily if you use an oversized or bulky piece of furniture like many bar counters or large cabinets tend to be. You can use a bar cart, but these often don't provide enough storage for all the necessities, and they don't have cabinets to stow away items.
The HOMCOM Freestanding Storage Organizer sold at Bed Bath and Beyond solves both issues. The narrow design allows you to save floor space since it measures just under two feet. This cabinet is also the perfect storage solution for small kitchens, living rooms, or apartments, and it can easily slide into tight spaces that other bar furniture cannot.
As for storage, it features three shelves where you can keep your barware tools, glasses, and accessories. You can use the bottom shelf as a drink-making station. Family Handyman suggests utilizing vertical space by adding a bottle or wine glass rack underneath one of the shelves to add even more storage. Behind the cabinet doors is another shelf so you can store cocktail napkins, drink tags, or skewers. Add a lock, and you can even hide away liquor to keep kids out.
It's an affordable luxury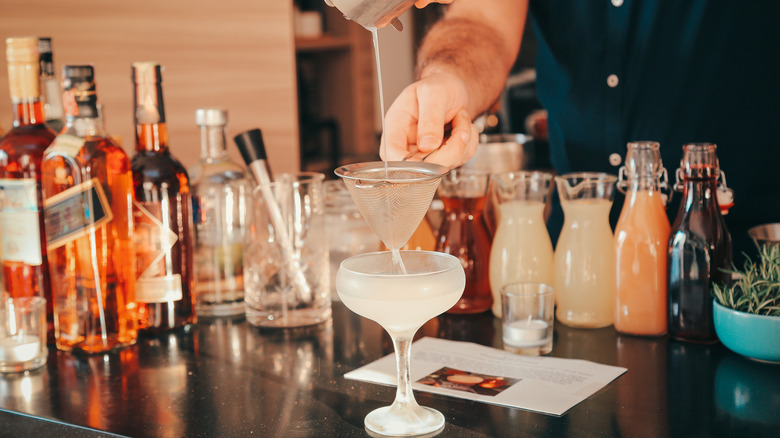 Athena Nadi/Shutterstock
Luxury furniture is out of budget for many, but that doesn't mean that the affordable pieces can't mimic the look of furniture from high-end stores. An important part of DIY furniture is finding pieces to flip that will last.
DIYers love the HOMCOM Freestanding Storage Organizer from Bed Bath and Beyond because it's a sturdy and quality piece of furniture, making it a great base to transform. According to HomeAdvisor, many bar consoles and cabinets cost a minimum of $500, and some pieces from luxury brands can max a budget at $2,300. These are incredibly expensive compared to the HOMCOM Freestanding Storage Organizer.
The price tag of the HOMCOM Freestanding Storage Organizer gives you some room for an inexpensive DIY. Furniture flippers and DIYers appreciate the blank canvas that the HomCom cabinet provides. You can customize this cabinet with cheap materials and make it look like a high-price item. According to Insider, you can pick up dowels from the dollar store and transform your HomCom cabinet into a stylish home bar on a budget. It'll be a dupe for expensive, luxury furniture and on a more affordable budget.