30 Minimalist Living Rooms To Simplify Your Life
brizmaker/Shutterstock
A minimal living room scheme is not confined solely to small spaces. A minimal approach focuses on reducing the clutter of modern consumerism by
 including only the essential items in your living room. Minimalists subscribe to the mentality of less is more, where every item in your living room has a clear purpose. This design ideology is also rooted in wanting a cleaner and more sustainable way of living. There are plenty of perks that are associated with the minimalistic kind of approach, both for your living room and your life in general. 
Having only a few essential items is good for your wallet and allows you to focus on the most important things in your life. While a minimalist design can be applied to every room in your house, The Spruce mentions that the living room area should come first because it is the easiest to modify and is also a common gathering space that should be high up on the priority list. Here are 30 minimal living room designs that should help inspire you to pursue simple living.
Monochromatic magic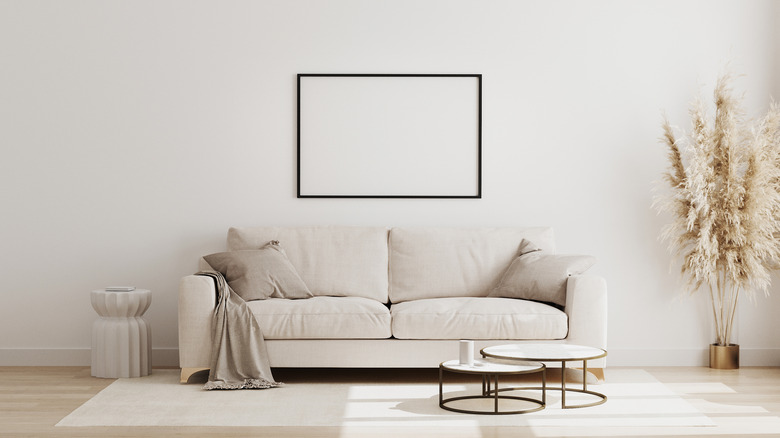 Shcherban Oleksandr/Shutterstock
One classic minimal strategy is to stick with a lighter color choice and apply it all throughout. In this room, the couch almost blends into the background wall color. With a matching rug and similar-tone accents, you can clearly see the intention is to make this living room into a sanctuary for you to unwind after the chaos of a long work day. 
Modern sophistication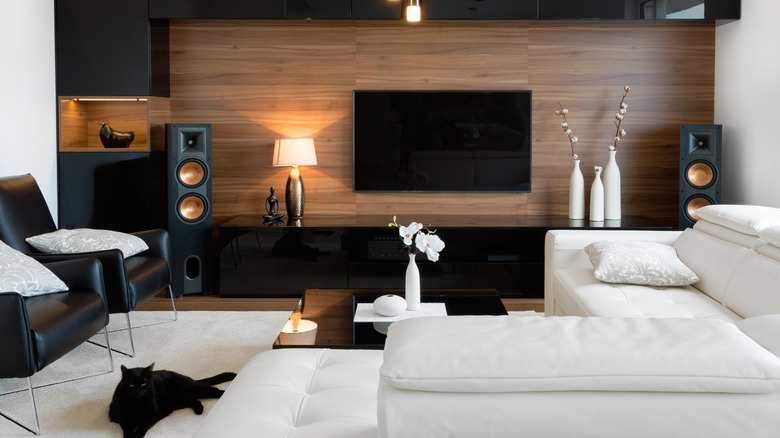 JRP Studio/Shutterstock
This ultra-modern living room achieves the perfect balance between contrasting black and white elements, for a bold statement that still meets the requirements for minimalism. The strategically placed coffee table is functional but still limits visual clutter. The natural wood accent wall that seamlessly matches the floor and natural lighting provide additional definition and some much-needed warmth to the space. 
Open plan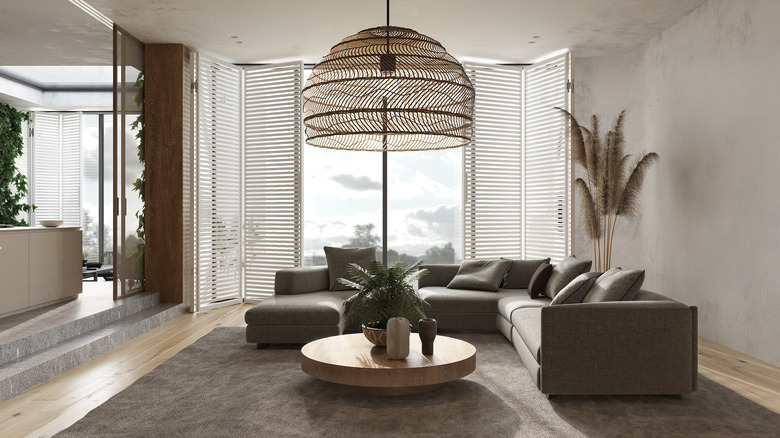 V1ktoria/Shutterstock
In an open-plan living space, simplicity is key to keeping a space from feeling overwhelming. The subdued color palette of the most prominent features provides a subtle backdrop for visitors to enjoy the view, the openness of the space, and the company of one another. A minimal coffee table with intentional accents discourages clutter and helps tie the room together. 
Statement furniture
Strategically placed along a dark accent wall is a rich brown leather couch. While including colorful furniture in a minimalistic living room can be a risk, this brown couch brings the much-needed warmth and softness to an otherwise sleek space. It's quite impressive how the remaining furniture blends into the gray wall, allowing the couch to stand out. 
Add an accent wall
If you're hesitant to embrace color, try starting with an accent wall rather than committing to an entire space. It can break up the monotony of a monochrome scheme, or bring attention to any area you'd like to highlight for visitors to focus on. In a minimalistic setup, you have to be thoughtful about adding accessories without making the room appear cluttered. Try just a few floating shelves for the essential ornamental pieces.
Keep wall art to a minimum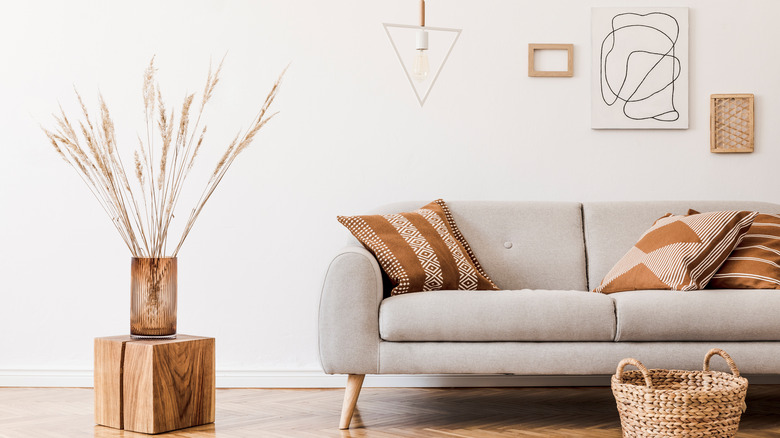 Followtheflow/Shutterstock
Even if you subscribe to the "less is more" idealogy, you won't want to leave your walls completely bare. Even a minimal space can accommodate a few pieces of wall art to give your space a personal and unique feeling. With strategic planning, art can enhance a minimal space without making too bold a statement. In this space, the deliberate effort of matching the wall art to the décor in the rest of the space helps maintain simplicity and cohesion.
Rustic touches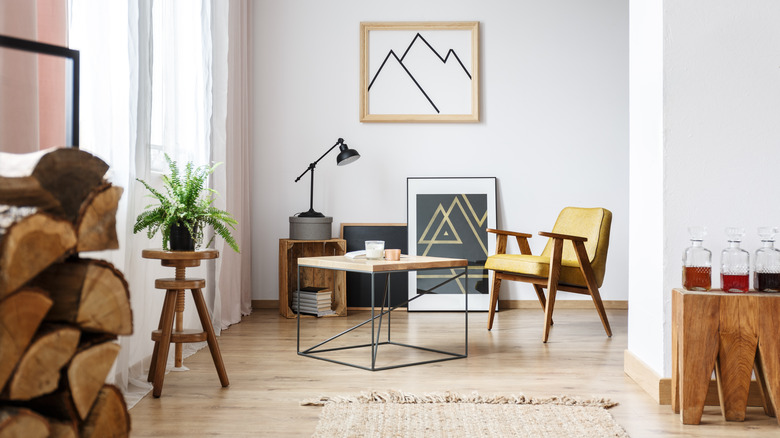 Photographee.eu/Shutterstock
Break away from the sterile style typically seen in minimal design by incorporating some rustic features into your living room. The golden rule of creating a minimal living room is to keep things functional, yet simple. Warm wood and natural materials will add some character and personality to your room, proving that elements from nature can be tamed within an uncomplicated space. 
Refresh with a rug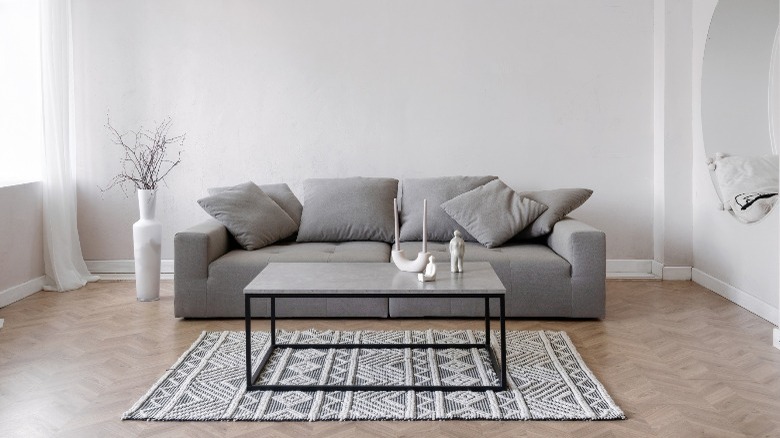 brizmaker/Shutterstock
A patterned rug is a great way to subtly incorporate color or interesting patterns into your space, without becoming the focus of the entire room. Alternatively, you can go for a plain swath of plush material that will give your floor a softer pad. Matching the rug colors to the overall color palette of the living room will undoubtedly help you achieve your desired minimalist look.
Highlight impressive architecture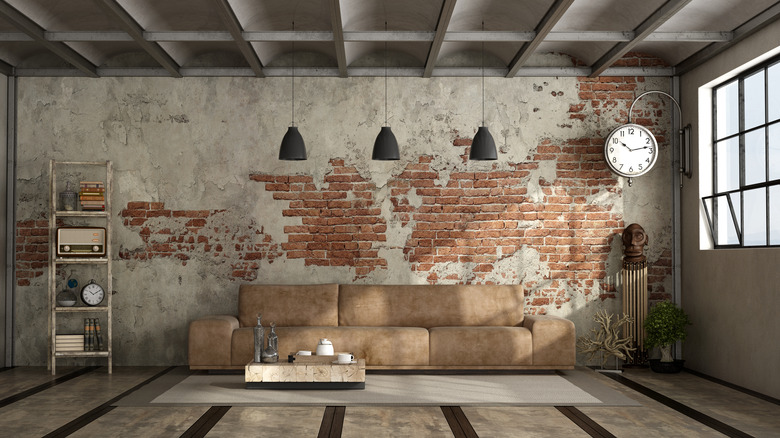 archideaphoto/Shutterstock
Your living room doesn't need to be a sterile white box in order to be considered minimal. Use the approach to highlight the most unique features already in your home that add character and personality. In this case, the unfinished brick wall serves as the perfect understated accent wall that brings extra style to the space. The carefully curated accessories placed at the corners of the room and the hanging lights match and enhance the existing vibe to maintain a cohesive overall effect. 
Go for larger accents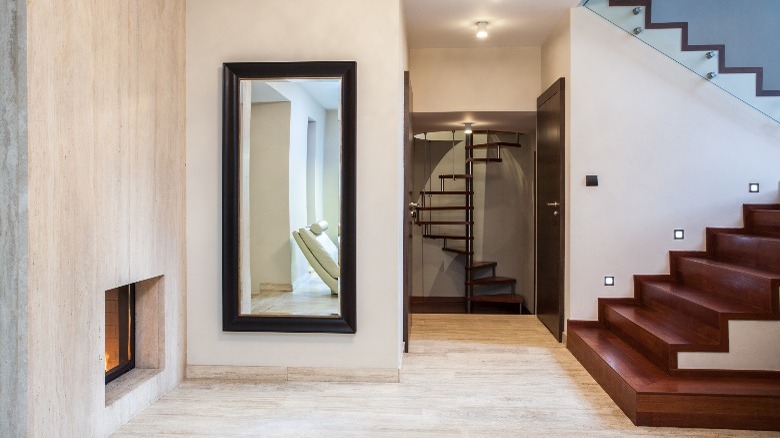 Photographee.eu/Shutterstock
The ultimate goal for a minimalistic living room is to keep it as simple and clutter-free as possible. In this regard, you should be selective of the type and number of accents that you choose to keep. Since less is more, consider going for larger pieces instead of multiple smaller ones that might make your wall appear busy. A larger piece of art or mirror in exactly the right size will look intentional and keep the room more open.
Shapes, pattern, and color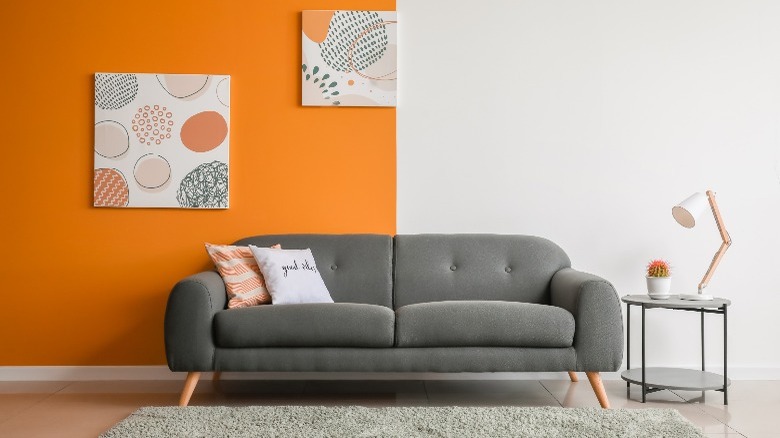 Pixel-Shot/Shutterstock
A minimalist approach to living might not be what you are used to. In fact, you'd likely have to adjust your habits as well as your décor. Nevertheless, this is no excuse for making your living room unappealing to the eye. While clutter is meant to be eliminated, you can still incorporate color and pattern, so long as you are thoughtful about it. Go ahead and create a bright accent wall, and add patterned art and throw pillows as demonstrated here — things can stay cohesive and simple all the same. 
Eliminate electronics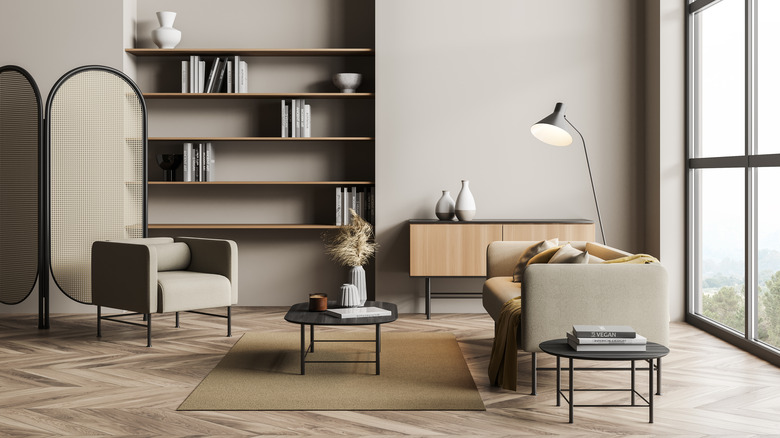 ImageFlow/Shutterstock
While it is common for living rooms to include various devices such as a television and gaming consoles, consider how your space might function without them. Leaving out the electronics and similar complications will leave you with a tranquil space that encourages reflection and peace of mind in line with a minimalistic type of living. Even better, you'll have all the space you need to hold your book collection, as seen in this example.
Find a unifying factor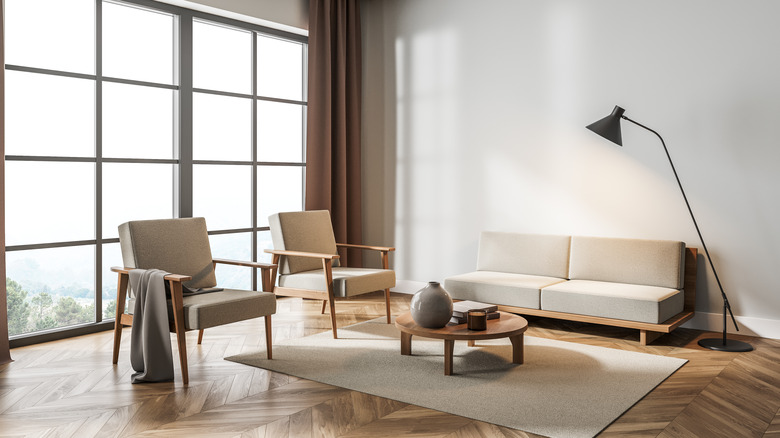 ImageFlow/Shutterstock
It goes without saying that most minimalistic living rooms have a limited number of items and thus, fewer ways to tie everything together. One way to establish cohesion is in your materials and color palette, for instance, using the same fabric texture all throughout the space for a unifying effect. This particular design achieves this with matching wood tones for all of the furniture in the living space.
Don't cower from color
Finding the right balance in a minimal design is easier said than done. In fact, many homeowners mistake this aesthetic for one entirely lacking color. This design demystifies this misconception, as it shows how you can incorporate color and still achieve a simple space. The green from the plant, bold purple rug, and multicolored wall art adds details and personality to your living room so you always feel right at home. 
Maintain a magnificent view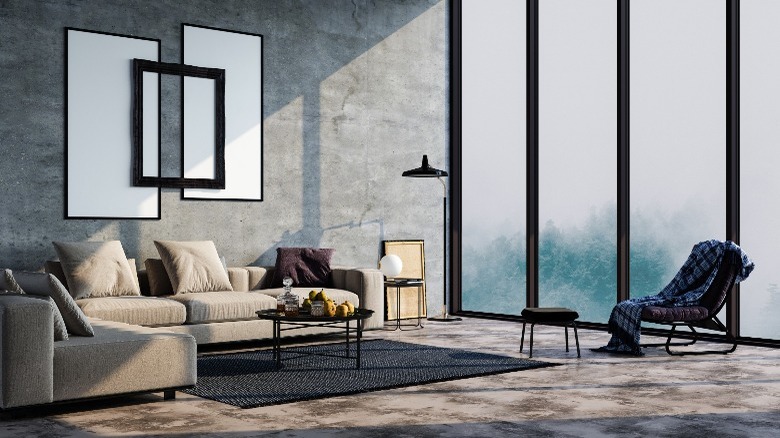 mixphotos/Shutterstock
If you are lucky enough to have a beautiful view from the windows of your living room, it is only fair to make good of it. Too much clutter in your living room will take away the attention from the greatest asset in your living room which is the view. In such a scenario, be sure to balance the interior with minimal pieces of art and other accessories that maintain harmony. Let the beautiful backdrop from your window stand out and be the center of attraction.
Light it up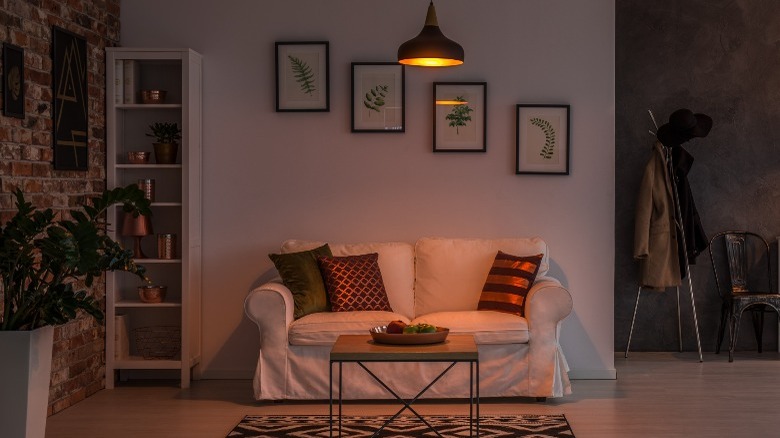 Photographee.eu/Shutterstock
You would be surprised how important lighting is to a minimalistic space. Right after sunset, a white, well-lit living room can feel cold and uninviting without the effect of natural light. It's important to make sure your home has ample lighting so it feels lively and inviting around the clock. This particular design features a statement pendant lamp that hangs right at the center of the living room to make the couch seem extra cozy and warm the entire space.
Feature your beautiful floor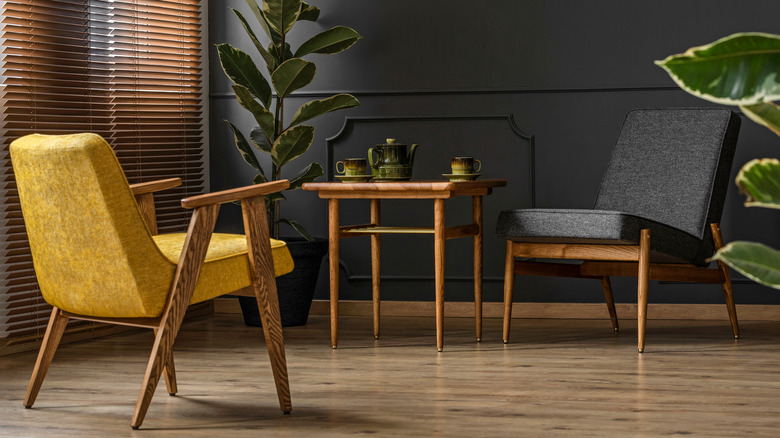 Photographee.eu/Shutterstock
Even if you don't have a particularly bright floor, highlighting it can help make your living room appear more open. Go ahead and incorporate raised furniture to achieve this look. Furniture pieces raised higher above the floor provide a much better view of the surface they're set on, regardless of the material. This is also especially helpful in maintaining a lighter atmosphere in otherwise dark spaces, as is demonstrated here. 
Curate a thoughtful display
Followtheflow/Shutterstock
Just because a minimal design discourages clutter doesn't mean you have to miss out on displaying your favorite ornamental pieces. The key is to make everything look intentional. Carefully handpick your most prized accessories and arrange them on an open shelving structure in your living room. As can be seen here, the décor on the open shelving matches the rest of the room and is neatly arranged so that the space does not feel crowded. 
Natural light is powerful
Take advantage of the huge windows in your living room to allow in as much natural light as possible and breathe some life into the space. You can avoid drapes altogether, or opt for sheer curtains to maintain some degree of privacy. Smaller living rooms require ample lighting to make them appear airy and spacious. This design demonstrates exactly how a smaller living room can benefit from this strategy. 
Have a focal point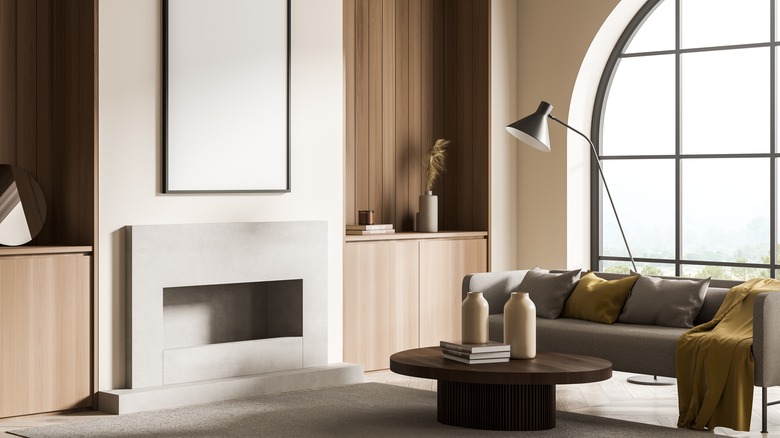 ImageFlow/Shutterstock
In a minimalistic space with limited accessories, a focal point can help direct the eye to the most important features. There are no rules determining what you should use — anything from an odd piece you discovered at a thrift store, a passed-down family heirloom, to a unique architectural element can be your point of focus. In this case, a beautifully sleek stone fireplace serves as the focal point, rallying friends and family to gather around its warmth. 
Make use of modest furniture
You don't need particularly bold or expensive pieces in order to make a statement with a minimal design. Simple, clean lines and a cohesive color palette can be more than enough to create an impactful atmosphere as soon as you step foot in the room. Here, the furniture is unremarkable, but the contrast between the white and the natural wood adds visual interest and provides a neat backdrop for relaxation. 
Experiment with darker tones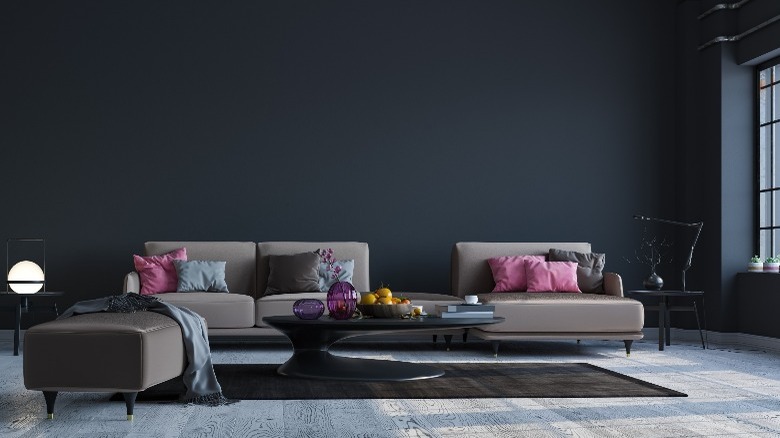 mixphotos/Shutterstock
While lighter color palettes are most common in most minimalist designs, there is no rule barring you from experimenting with darker color tones. A darker palette sets a deep mood that you would not be able to achieve with a lighter scheme. In this particular example, this living room features dark walls, a rug, and furniture. The lighter color of the couch helps it stand out, and touches of pink provide a necessary uplift from what may otherwise feel gloomy. A bright table lamp gives off glowing contrast as well. 
Liven up with greenery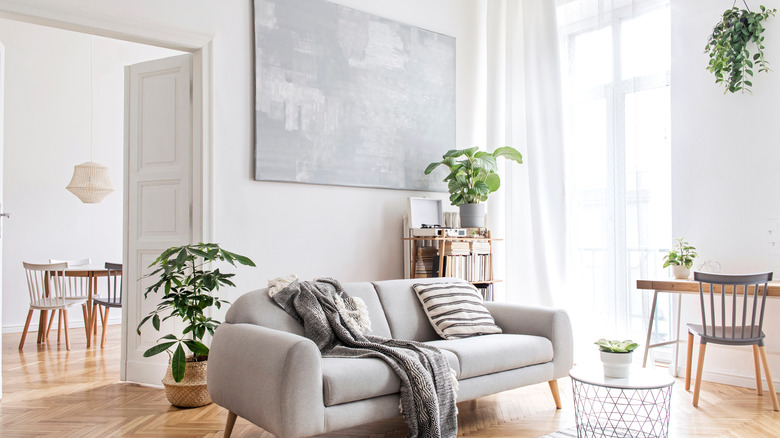 Followtheflow/Shutterstock
An all-white color palette can feel sterile, especially with limited furniture and accessories. However, one brilliant way of adding some color and life to your space is including houseplants as part of the décor — it is called a "living" room after all. The lush greenery will stand out against a white background, and including them in your living room is a brilliant way to showcase and surround yourself with things you love.
Feature your favorite accessory
Some owners may mistakenly believe that minimalist design means you have to get rid of every accessory you love and only stick with the essentials.  Thankfully, we are here to clarify that this cannot be any further from the truth, and you can find a way of incorporating your favorite throw pillow, or even a more unique piece such as a swinging chair. Keep in mind, however, that a minimal living room approach should still accommodate your functional needs above everything else.
Establish symmetry
Maintaining a minimalist design means arranging things with intentionality and order. One brilliant and easy way to achieve this is by implementing a strong sense of symmetry. This particular design features two identical couches placed opposite one another, separated by a coffee table. The two couches flank the central fireplace structure, giving the room an obvious organized flow. Twin pieces of wall art fill the remaining wall space to further the symmetrical arrangement and establish balance.
Modern organic textures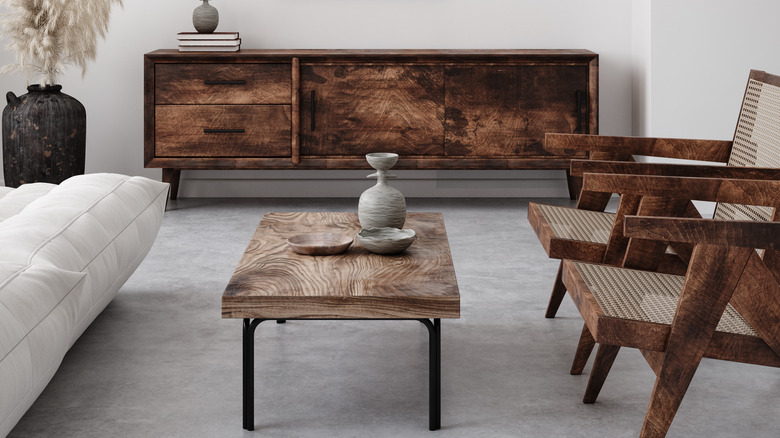 jafara/Shutterstock
There is something special about rich natural wood tones in an otherwise minimal space. The texture of the wood grain stands out against the uniformity of the white background, perfectly demonstrating how less can be more. Any additional décor in the space complements rather than competes with the already existing beauty.
Invest in quality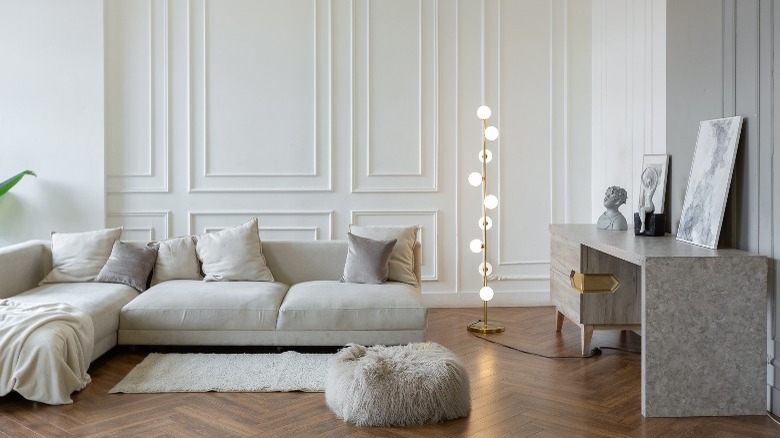 Pinkystock/Shutterstock
Having fewer pieces of furniture in a space provides an opportunity to invest in higher-quality elements. The items that do make the cut should stand out not just for their decorative qualities, but also for their elegant functionality. It's also important to consider that in a room with a limited number of items, any flaw will stick out like a sore thumb without much else to distract the eye.
Urban and sleek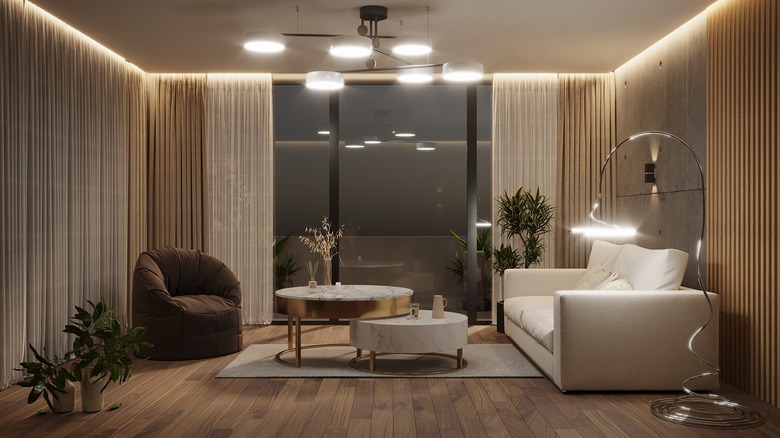 Mr Boiko Oleg/Shutterstock
This modern living room features luxurious materials but avoids feeling overdone or excessive. The accessories are few, limited to a couple of house plants and a stylish floor lamp. The neutral color scheme of browns and grays also keeps things simple despite the mix of varying materials throughout the space. The glow of stunning light features lends a sleek, urban feel that keeps things fresh. 
Neutral and neat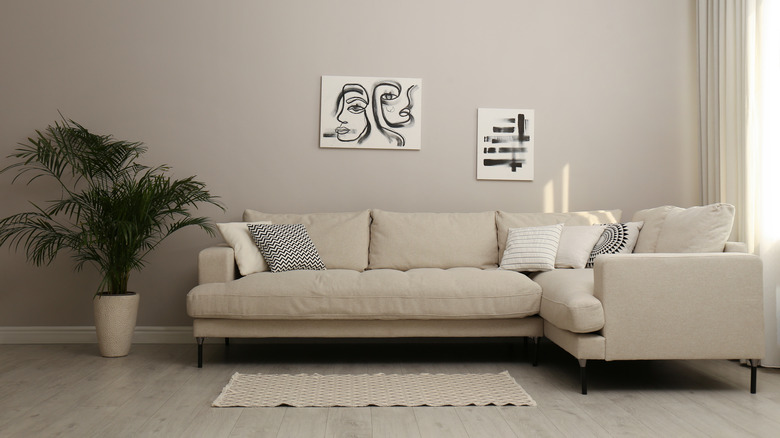 New Africa/Shutterstock
Can't decide between a light or dark scheme? You can never go wrong by going with gray. Not so overwhelming to make the room appear smaller, but not too bright to make your living room feel sterile, gray is an excellent compromise. Be sure to pick a warm shade that is appropriate for the amount of natural light in the space, and try incorporating houseplants to add life and warmth. 
Be selective with storage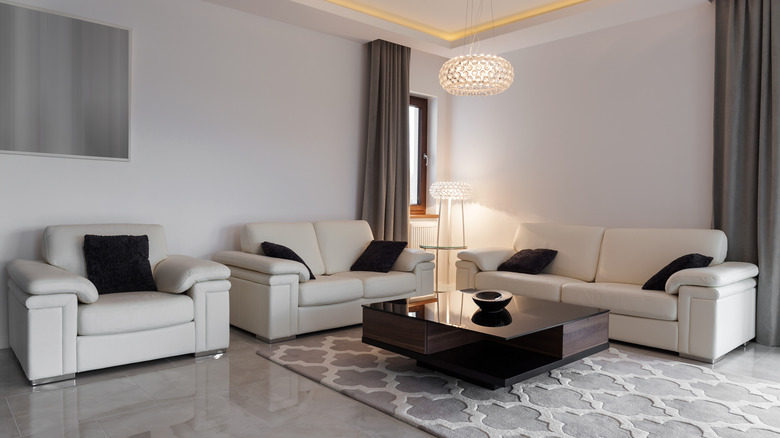 Photographee.eu/Shutterstock
In order to pare things down as much as possible, try to incorporate pieces of furniture that have multiple functions. This design features a multifunctional coffee table that also doubles as extra storage whenever necessary. The open shelving on the side gives you extra space to hold remotes and magazines or display your unique antiques and knick-knacks without cluttering up your living room.