Why DIYers Are All Buying This Item At West Elm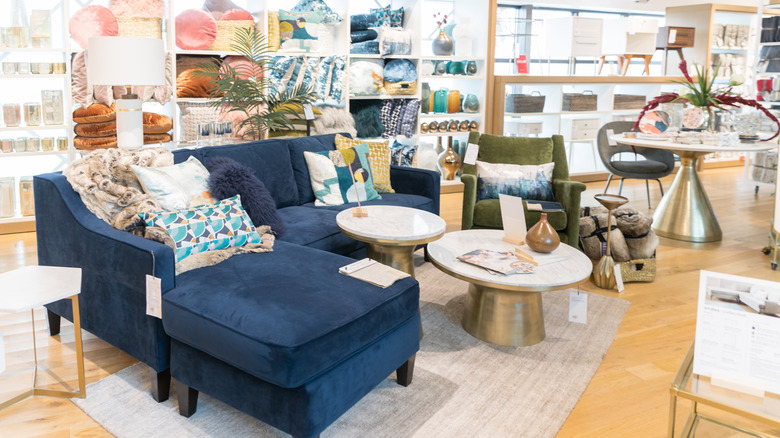 Helen89/Shutterstock
With $1,323,300 generated in sales in the United States alone and a rank of #17 in the US furniture and appliances market, West Elm has become the leading one-stop shopping space for thousands of home furnishing buyers hobbyists, and DIYers around the world, as noted by ecommerceDB. The Williams Sonoma-born retail chain that got launched in 2002 is loved by many for its earth-conscious approach to every item in its catalog, which includes art and craft decor, bathroom features, kitchen and dining, and more.
Products listed on West Elm are allegedly rated and certified non-toxic, handcrafted, sustainably sourced, and of premium quality, according to the company's official website. So, it's a no-brainer that almost everyone wants to have their fingers on the pulse of the store's latest lines and hottest releases. To that end, if you happen to be an all-time West Elm shopper or you've just been initiated into buying from the chain, we have just discovered an item on West Elm that every DIYer is buying right now. Check it out below.
Mid-century pop-up coffee table
This item appeared sixth on the Forbes list of the 13 best furniture, and home decor finds on West Elm, where it was recommended as a multipurpose pick for small space dwellers. NBCNews also reviewed this mid-century pop-up coffee table on their list of best 10 coffee tables, recommending it to bigger families and those who need hideout spots for their personal items in the most obvious place –– a coffee table.
Well, we at House Digest have taken a closer look at the item, and here's what we discovered. The mid-century pop-up coffee table is made with sustainably-sourced, FSC-certified kiln-dried solid wood and covered in a water-based walnut finish. As found on the listing page, this item features a truly pop-up top that opens to hidden compartments where DIYers and hobbyists can store small and medium tools or turn it into a hiding place for their cats. Though fashionable enough to be used as a center table in a lounge, the 48"w x 24"d x 17.4"h sized table will fit into a small DIYer workshop where its versatile storage spaces can be used to their full potential.