This Unexpected Item Has The Worst Reviews From Bed Bath And Beyond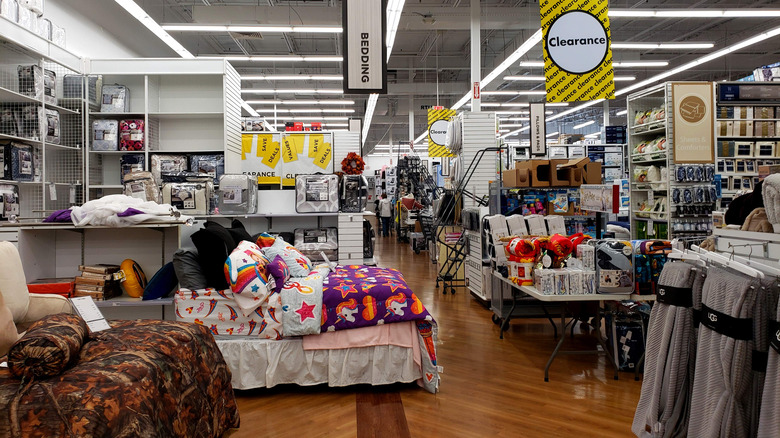 Retail Photographer/Shutterstock
Bed Bath & Beyond has been around for over 20 years, and it's been a staple business for folks to go to for home décor when they're moving into a new home or just looking to redecorate. You can find something for every room in your home, such as the kitchen, bedrooms, bathrooms, and living room, via their website, but it does have its downfalls.
While it's exciting to decorate your space and go furniture shopping, it can sometimes be a hit or miss, especially if you have to assemble the piece yourself. Going in person to look at the options and picking something out is easier than looking online and hoping the one you chose matches what you saw on the website. Sometimes when items get delivered, they're not what you expect, or they get delivered damaged, so you have to go through the process of sending it back. This is why reading the reviews on every item you're thinking about purchasing is a must. Like every other store, Bed Bath & Beyond has had its fair share of low product reviews, but here's one of the worst ones.
Stool sold separately
When you think of replacing your new vanity or looking into buying one for the first time, it's crucial to read the product description, especially on the Bed Bath & Beyond website. The Modern Marketing Vista Vanity and Mirror got a two-star rating because customers were unhappy to get their package without the stool that was shown in the photo of the product. While the product description doesn't mention anything about the vanity, including a stool, the picture shows one. One customer claimed their order didn't even arrive with the mirror, just the counter, drawers, and legs. Another customer was so disappointed with the lack of stool, asking if his wife is to "squat and use it," according to the reviews.
While the stool was a disappointment for most of the consumers, a few customers claimed their vanity's arrived damaged with broken drawers stating one was "crushed and unusable," per the website. They would contact the manufacturer and Bed Bath & Beyond since they weren't able to return it in the store, but they wouldn't receive a response. It's a long process to get something fixed through multiple people, especially if you waited a few weeks for your product to arrive. To prevent this from happening to you, read the product description and the reviews to save your money and time.