35 Backyard Sheds To Inspire A Quiet Escape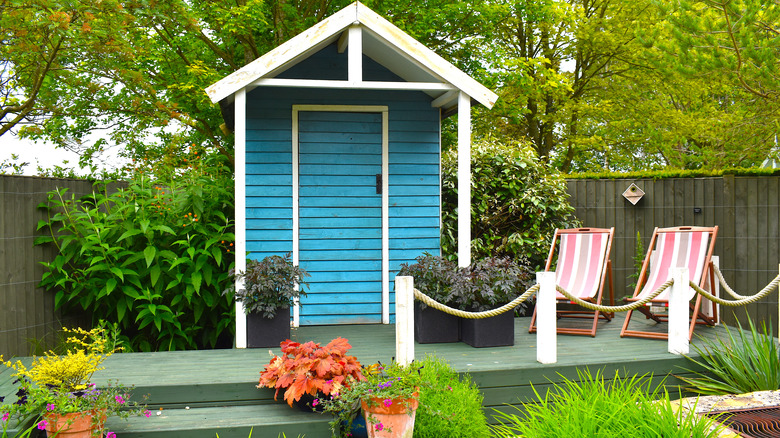 Rusana Krasteva/Shutterstock
You may have noticed that backyard sheds haven't always been as chic as the current choices. Stoltzfus Structures notes that sheds are an excellent idea if you lack garage space or need extra room to store everything from bikes to lawn tools. In recent years, homeowners have been creating interesting escapes dubbed 'she sheds' that can be used as an office or as a refuge away from your housemates for a couple of hours. Who doesn't need a quiet escape sometimes? 
She Shed Living has a few tips for creating your very own whimsical 'she shed' hideout. The blog suggests first figuring out where your she-shed will go, whether you decide to declutter an existing structure, plan to build new, or purchase a pre-fabricated shed kit. Next, determine its use, whether to work on an existing hobby or embark on an entirely new venture. To finish things off, narrow down your style options and browse antique shops to pick up gorgeous items to dress it up with, such as chandeliers or other unique vintage furnishings. If you need some inspiration for a backyard shed, keep scrolling to see a few of our favorites. Whether you fancy a modern retreat or something cozy and cabin-like, there's truly something for everyone.

1. A country retreat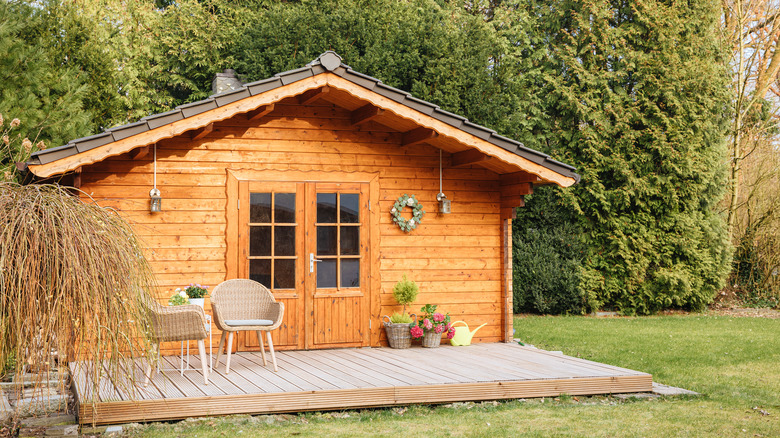 M Gl/Shutterstock
This haven in the country looks like the perfect escape for a little R&R time alone. The wooden garden shed has a beautiful natural aesthetic. Plus, we love that the homeowner decided to make a small porch, perfect for relaxing in the comfortable seating area and with enough space to show off some pretty potted plants, too.
2. A crimson dream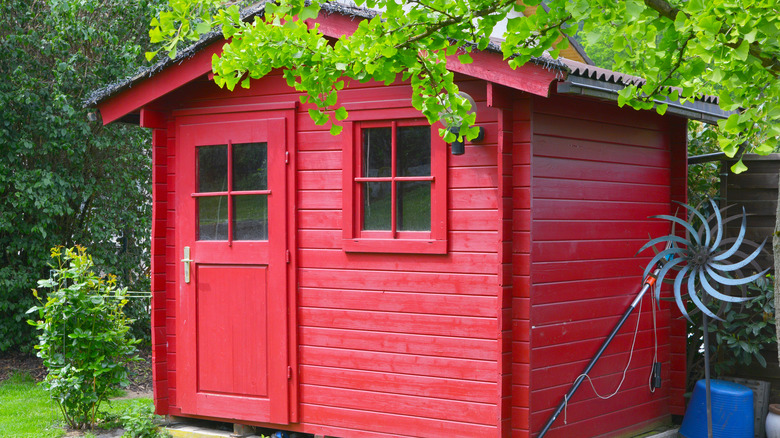 klikkipetra/Shutterstock
If you want to do something bold, how about this unique monochromatic option in a bright red hue? This humble shed is awash in a gorgeous crimson color, including the exterior walls, trim, framing, and even the door. This is the perfect tone if you are looking to make a major style statement in your backyard.
3. Steel stunner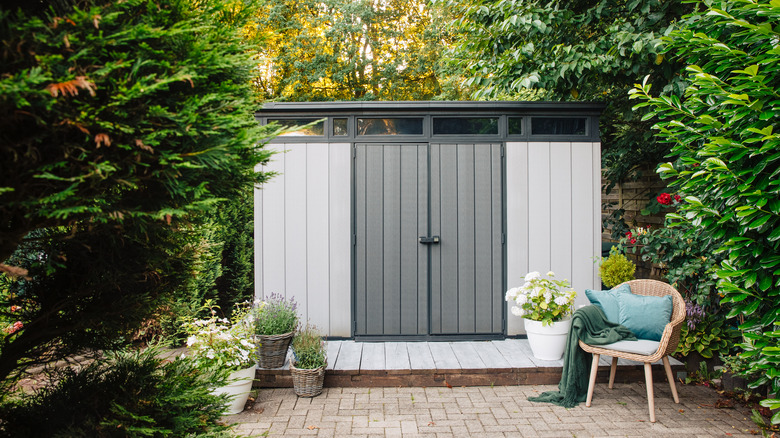 M Gl/Shutterstock
This white-and-gray steel shed is relatively basic but definitely chic, and we love how unique those tiny upper windows are. Consider combining it with brick pavers to add a classic texture and provide a space to sit and comfortably enjoy the beauty of the surrounding potted plants. 
4. Tiny, yet tough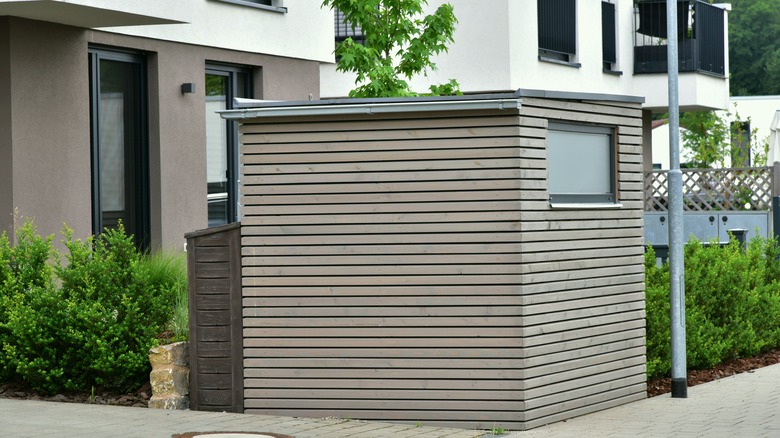 klikkipetra/Shutterstock
This small, steel-framed garden shed is made of durable materials that can house all your backyard essentials and keep them safe from harsh elements. From gardening and lawn tools to bikes and boxes of keepsakes, it can handle it all. The weathered gray wood cladding blends into its surroundings and matches the house for an overall chicness.
5. Open oasis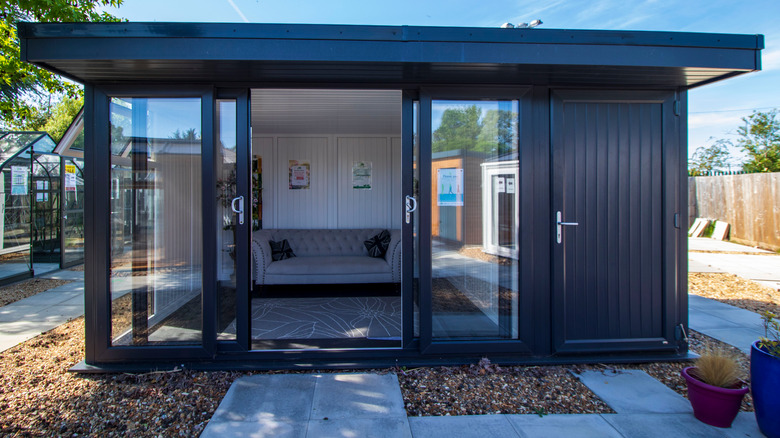 malgosia janicka/Shutterstock
Floor-to-ceiling windows let in an abundance of natural light and make this small space absolutely stunning. A tufted, gray couch, stylish rug, and fun artwork make this a spot where we would want to hang out all day long, curled up with a good book. It's also an ideal spot to spend the day with friends!
6. Basic and boxy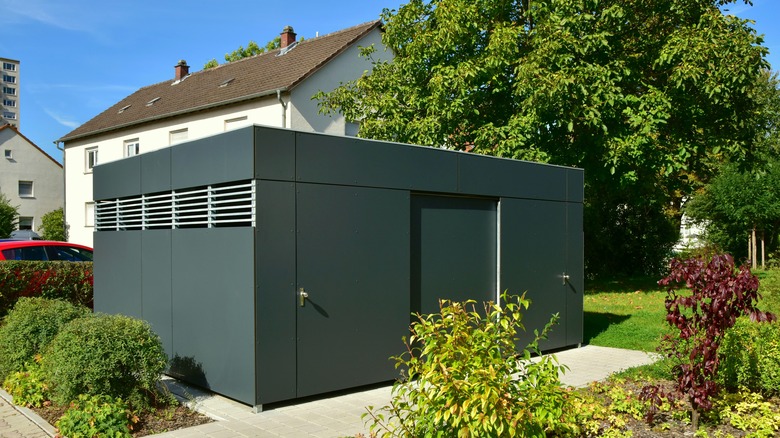 klikkipetra/Shutterstock
A boxy green shed as pictured here can remain unobtrusive among the surrounding landscape and provide a little escape right in your own backyard. However, we suggest keeping the doors open so that the space becomes an airy retreat.
7. Keep with tradition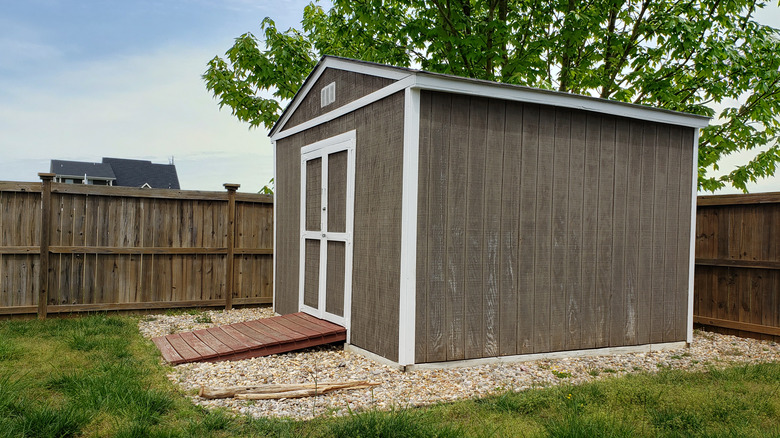 Ixepop/Shutterstock
This traditional shed has a classic look and can be used for storing items, a play area for your kids, or even a small studio or office. The natural wood with the white trim looks great, but we suggest designing a beautiful flower garden in the surrounding space to add a mix of bright summer colors.
8. A modern retreat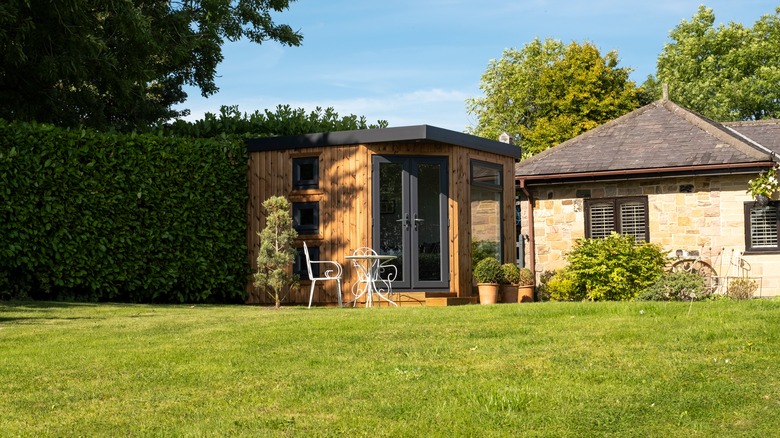 Simon Annable/Shutterstock
This traditional stone home is an absolute treasure, but it's the stylish shed that we can't help but fall in love with. It features a classicly rustic wood exterior but the geometry and matte-black trim make it modern. Add an inviting little sitting area, and you have a simple getaway only steps from your home!
9. Joyful jewel tone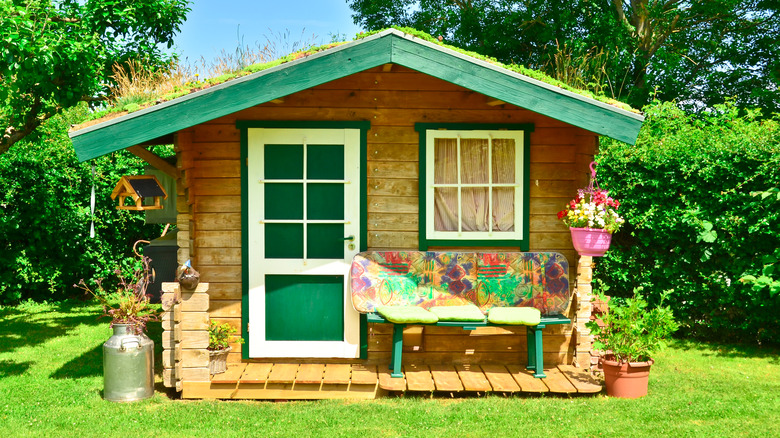 Brinja Schmidt/Shutterstock
This adorable she-shed is everything we would want in a backyard escape! The bright, emerald-colored trim is simple but impactful. We think we would spend time on that porch with a coffee watching the birds feed, or tending to our potted plants.
10. Prioritize the porch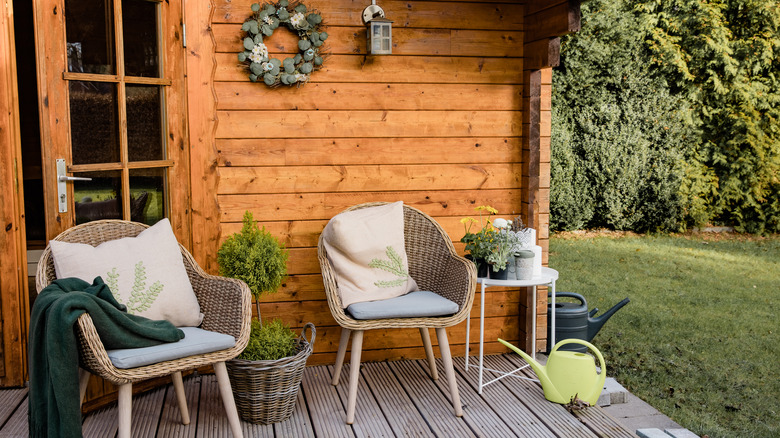 M Gl/Shutterstock
Just as you would decorate your porch at home, consider doing the same for your backyard retreat so you're enticed to spend time there. Add wicker chairs and pretty potted plants in matching basket-weave planters, and dress up the exterior walls with a decorative wreath.
11. Picturesque in pastel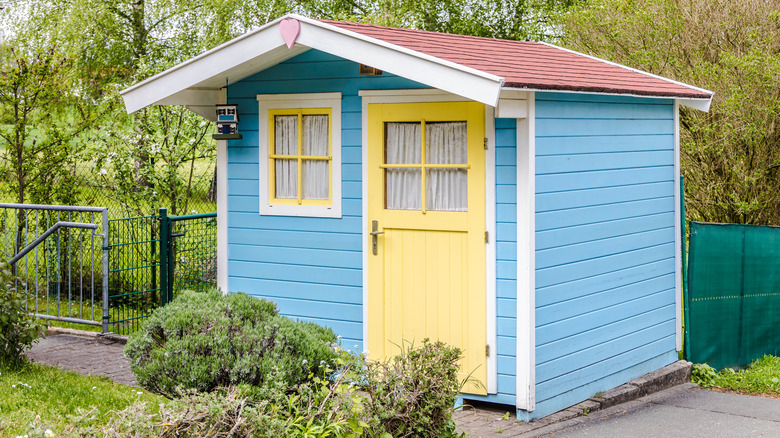 Birgit Reitz-Hofmann/Shutterstock
This summery shed with a light blue exterior paint job has a pretty yellow door and window trim that makes us feel like we are on vacation. No matter where you live, this color combination will make you feel like you're enjoying a beachside getaway.
12. For the gardening enthusiast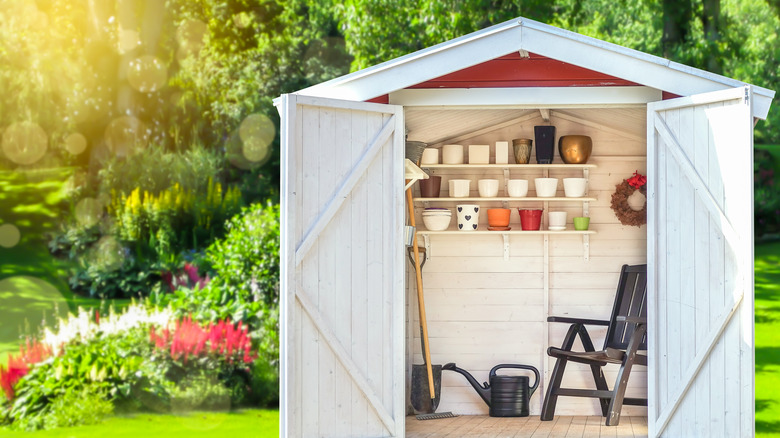 B.Forenius/Shutterstock
If you're an avid gardener, keeping all of your tools in one convenient space is essential. This adorable red and white shed provides a great set-up for keeping all of your necessary items stored away. From the open shelving for your various pots to a chair to take a quick break, this space is perfect
13. Sunshine in the English countryside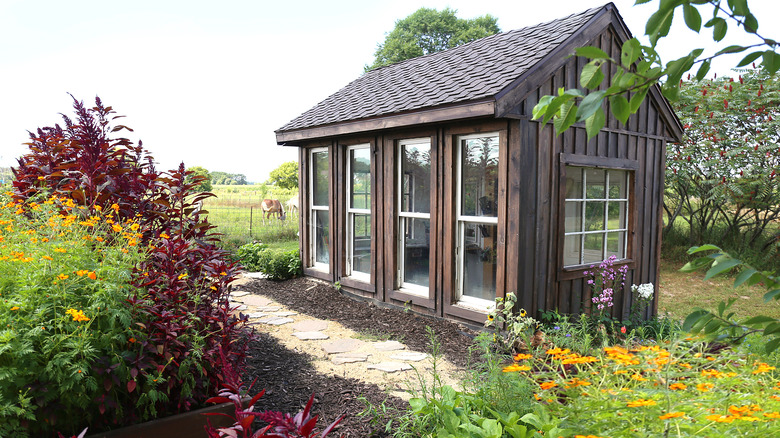 Christin Lola/Shutterstock
The sweet, greenhouse-like shed has large windows where plenty of natural light pours through. Here, you can admire the lush garden surrounding you while you nurture seedlings or just lounge in the space.
14. Sample sage green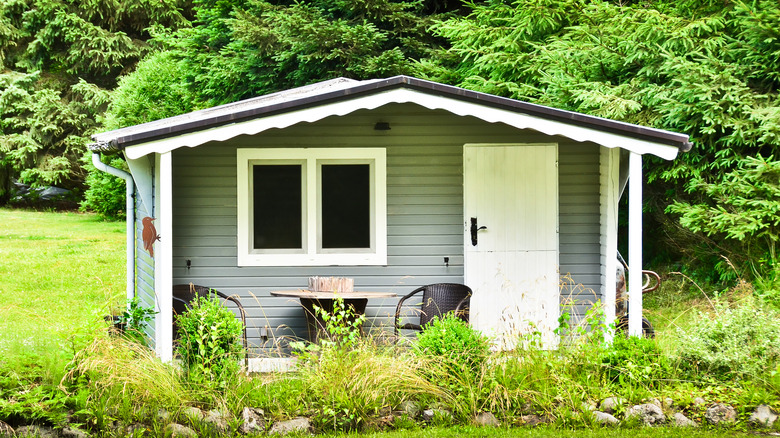 Brinja Schmidt/Shutterstock
You may want to think about painting your shed's exterior sage green, which MyDomaine points out is the color of the moment and can work as a neutral shade. Interior Designer Emma Beryl tells that outlet that the color is popular for the serene feeling it emits, perfect for a backyard escape.
15. Use reclaimed materials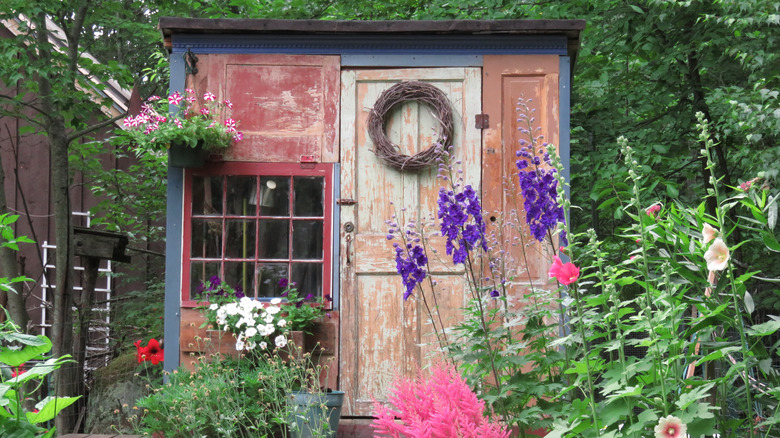 Lisa Kolosey/Shutterstock
Worried that creating a she-shed will be too expensive? You'd be surprised to learn what you can accomplish if you think outside the box. This homeowner created a relaxed, bohemian vibe by sourcing mismatched windows and doors for the shed's exterior. To further the effect, plant various flowers around the structure.
16. A cabin-like rustic retreat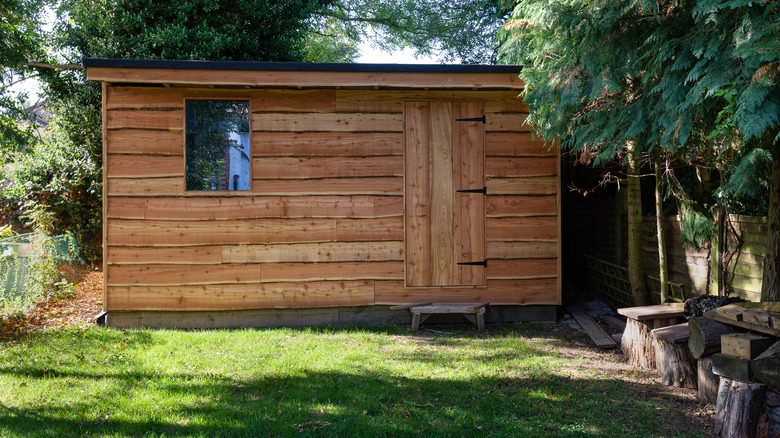 Lucy M Ryan/Shutterstock
This rustic retreat reminds us of a cabin; only you won't have to travel very far to enjoy it! If lots of trees surround your home, you may forget you're in your backyard!
17. A shed-sized castle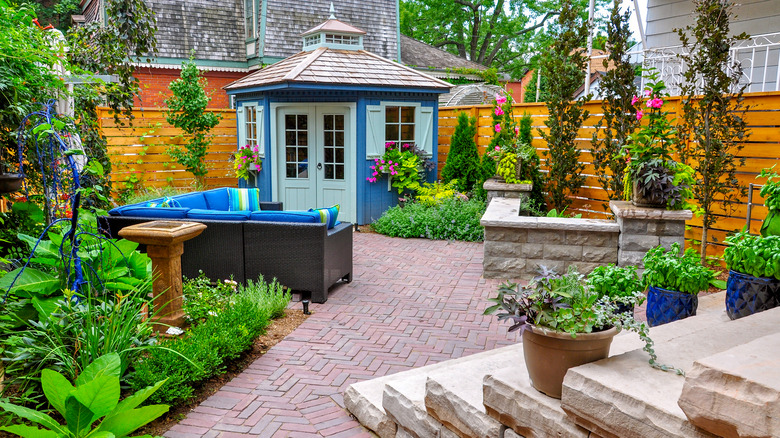 Joanne Dale/Shutterstock
This modern she-shed is fit for the queen in your life! We can't get enough of the design of this bright blue 'she shed' with adorable robin's egg shutters and door. When we aren't quietly enjoying our oasis, we'd be taking advantage of the garden with ample seating surrounded by lush landscaping.
18. Monochrome mini-escape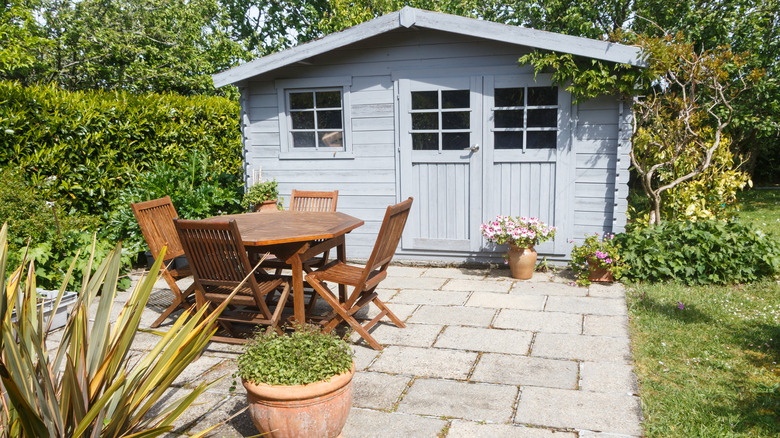 aurelie le moigne/Shutterstock
This wooden shed looks like a traditional structure, but the monochromatic gray color scheme makes it decidedly more modern. Painted in a beautiful light gray hue, it provides a relaxing backdrop for however you'd like you use your backyard space.
19. A cobalt blue hideout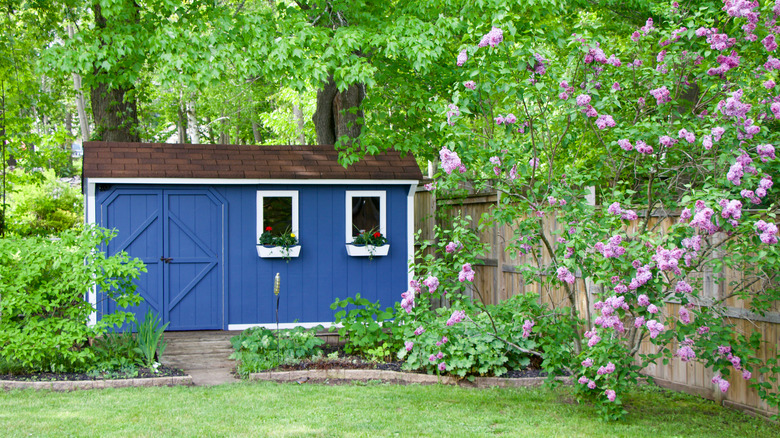 Lynda McFaul/Shutterstock
If you want to go bold, consider painting your shed in a cobalt blue color — it's all the rage! According to Houzz, designers love the vivid hue, explaining that it evokes a "summer vibe," which is something we can get behind.
20. Create comfortable seating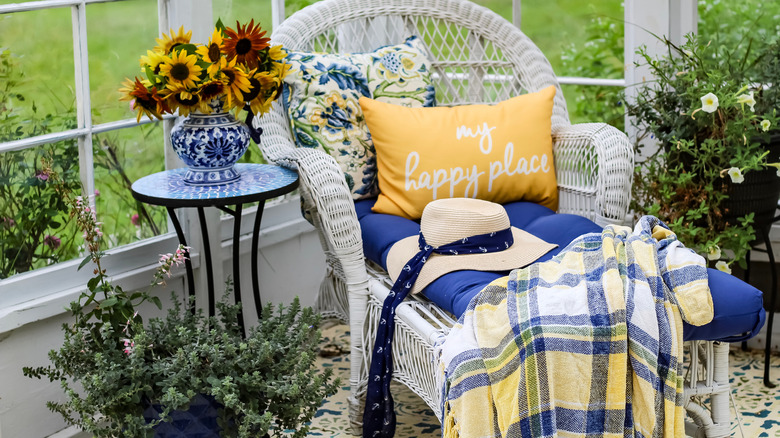 ButtermilkgirlVirginia/Shutterstock
One must-have for a shed has to be a comfortable seating area. This white wicker chaise lounge is the perfect option for creating a relaxing space. Add accessories such as a "my happy place" pillow in bright yellow, a comfy yellow and blue patterned throw blanket, and a side table with pretty flowers.
21. A 'she-shed' with sweet details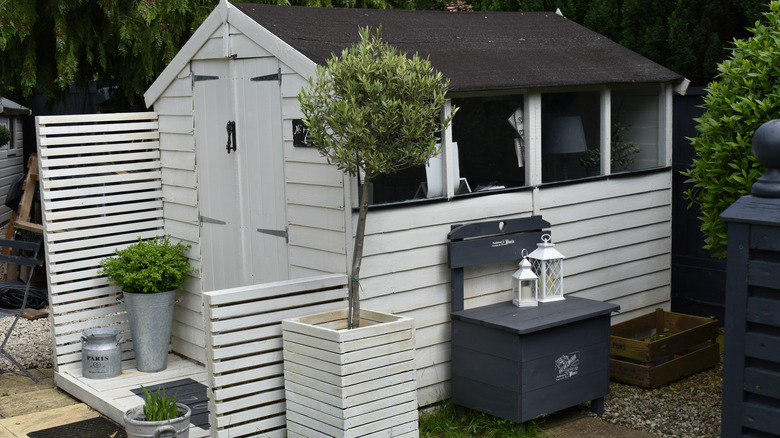 Neil Bailey/Shutterstock
This all-white she-shed has the more formal appearance of a tiny home. Details like the curated potted plants and the adorable matching address sign and welcome mat make it stand out. With this as inspiration, you'll have an ideal retreat in no time
22. Accessorize with antiques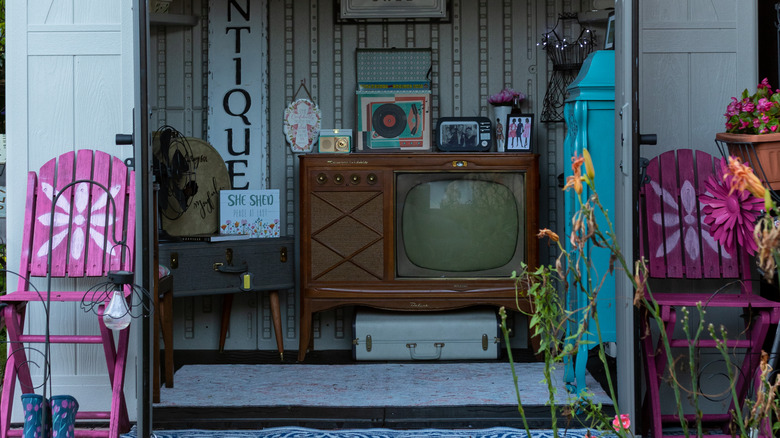 Lonnie H. Chambers Jr/Shutterstock
This adorable backyard shed has a large antique sign and several vintage pieces, including the old-school oversized TV and bright teal dresser. The many unique knick-knacks and artwork also lend a personal feel. 
23. Greenhouse getaway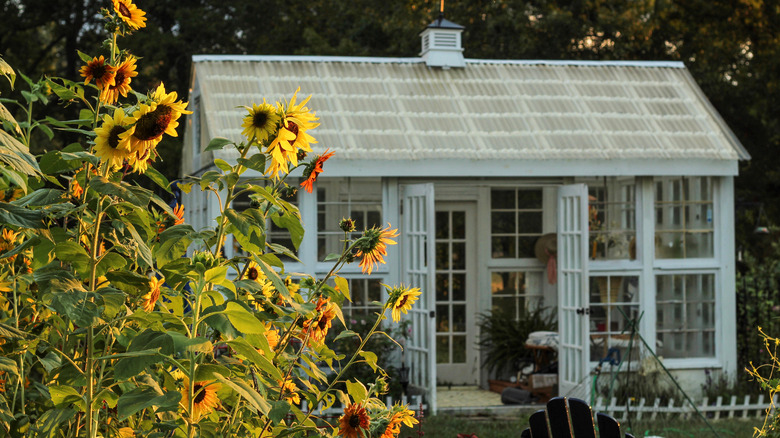 ButtermilkgirlVirginia/Shutterstock
This unique but simple structure reminds us of a schoolhouse. With walls primarily made up of windows, this backyard greenhouse is the perfect spot to grow plants. We suggest adding comfortable seating to enjoy your plants with tea and a good book.
24. Fine farmhouse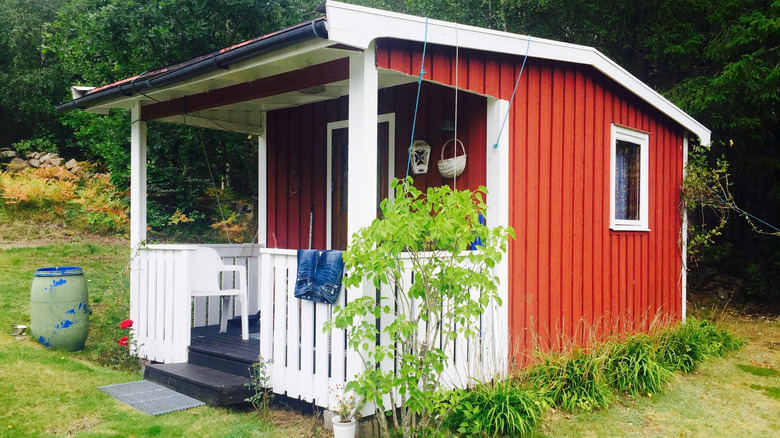 Anna K Majer/Shutterstock
We love this small, bright orange shed and we suggest using this tone if you want to make a style statement! It looks like it would fit right into a farm side landscape, and has a decent-sized porch with room for you to sit back below hanging planters and watch the fields.
25. An all-natural addition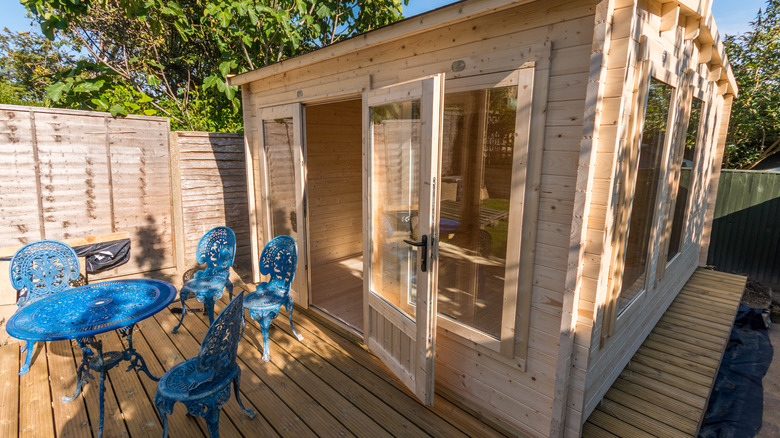 sixpixx/Shutterstock
This light wood option features natural wood and is surrounded by lush trees and shrubs. A small pond right in front of the shed would be excellent for a Koi fish pond, and bright blue seating that brings a pop of color to the space.
26. Create a color pop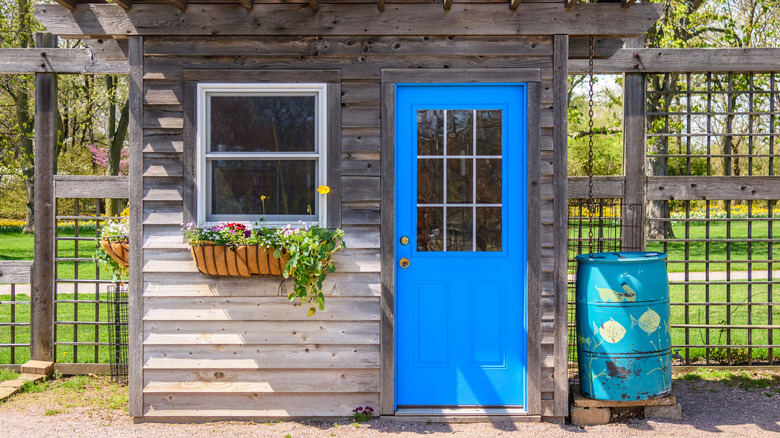 Kristen Prahl/Shutterstock
A simple shed made of natural wood can be brought to life with a pop of color. This homeowner used bright blue as their color of choice for the door, adding a sense of excitement. We also love the window boxes filled with beautiful flowers — a feature that would be easy to emulate.
27. If your hobby is taking baths ...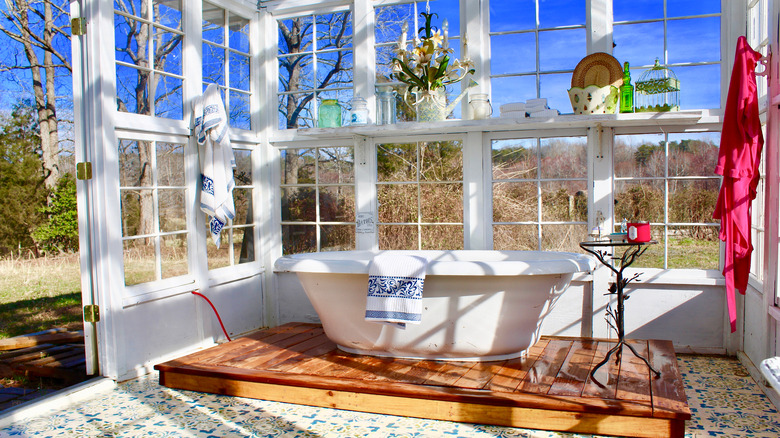 ButtermilkgirlVirginia/Shutterstock
Consider adding a freestanding bathtub to your 'she-shed' if you want to create a personal spa! This luxe retreat has ample shelving for candles, towers, and more and is one of the best and most creative ideas we've come across thus far.
28. Luxurious landscaping
Christin Lola/Shutterstock
This beautiful backyard space has gorgeous landscaping. The towering sunflowers and lush, low shrubs indicate that this 'she shed' is likely used for gardening, making it easy and enjoyable to create such an enchanting environment.
29. Painted trim details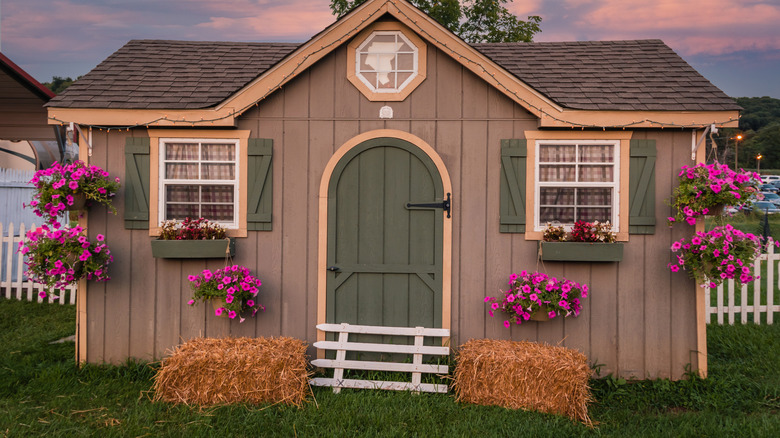 Rabbitti/Shutterstock
This earth-toned shed rivals any home if you ask us. It has an array of trim details in beige tones and sage green, and the bright pink petunias in hanging baskets provide such fun contrast!
30. Showcase trinkets with shelving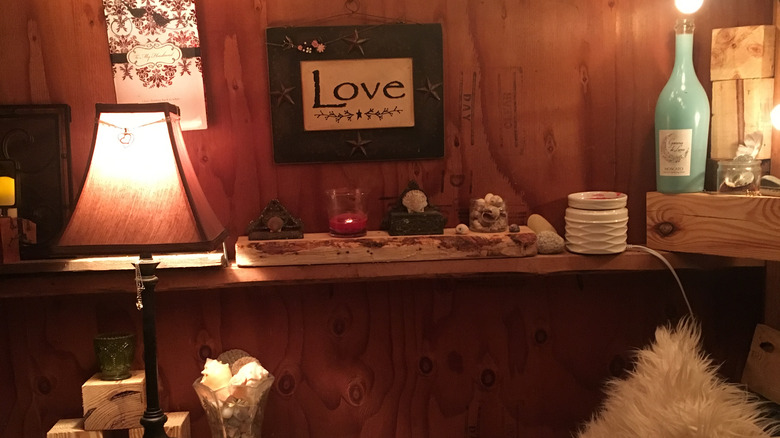 Marie Christiane/Shutterstock
Your whimsical shed may be tiny, but one way to make it feel personal is to add ample shelving for all of your favorite things. Display anything from candles to shells collected on the beach from your last vacation!
31. A rustic-modern balance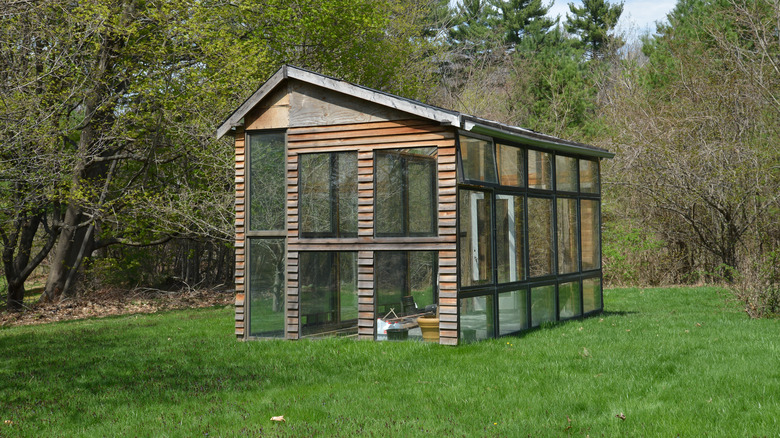 Joe M Adler/Shutterstock
This shed is both modern and rustic, mixing reclaimed wood with sleeker glass and steel to create a comfortable, light-filled backyard retreat. Due to the many windows, you'll really experience the natural vibe of your wooded surroundings.
32. Construct your happy place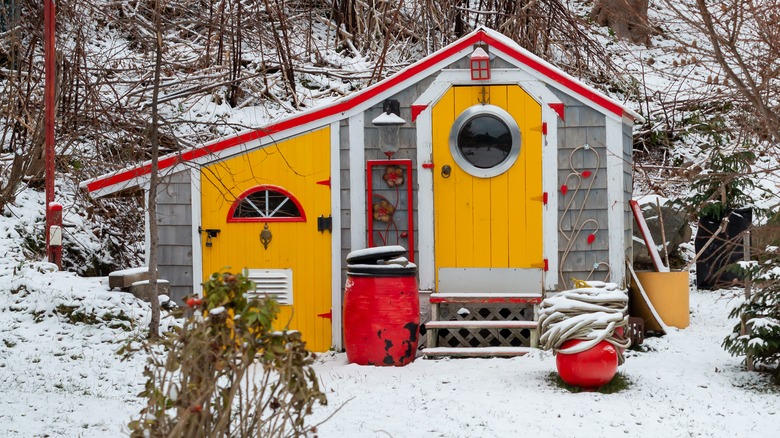 Dolores M. Harvey/Shutterstock
Looking at this shed makes us completely joyful, even in the dead of winter. The basic, weathered-gray shingles are punctuated with bright yellow painted doors and red trim that looks totally dynamic as a pairing! Set against the white snow, it's absolutely breathtaking!
33. Add a unique chandelier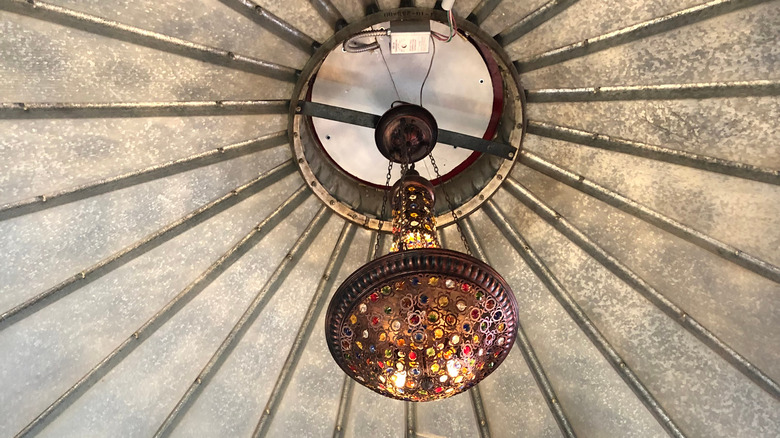 dr1608r/Shutterstock
This yurt-style shed is dressed up with a colorful, eclectic chandelier. While you could choose any type of lighting, glam or not, we love the different colors found in this option, particularly the jewel tones that cast an opulent glow. 
34. Don't forget the flower boxes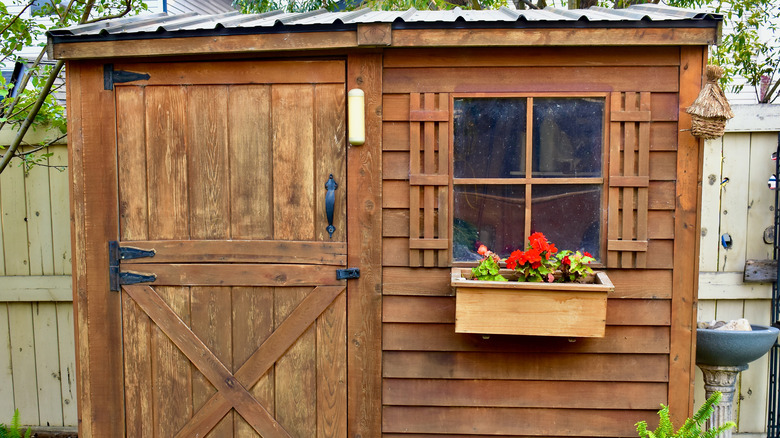 Klem Mitch/Shutterstock
As we pointed out, adding flower boxes to your shed can elevate it to make it a more elegant and enticing space. We suggest trying different flowers each season or adding complimentary potted plants, too. 
35. Versatile venting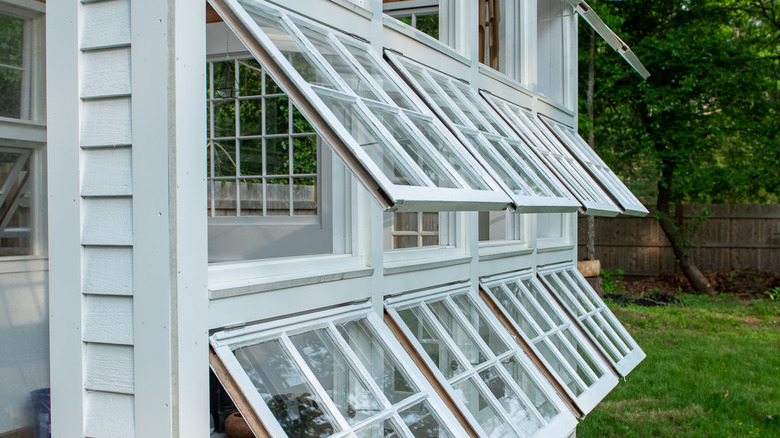 Liz Tracy Photography/Shutterstock
This 'she-shed' gets a ton of airflow thanks to ample windows that can entirely open the space up. Designed to provide a constant, pleasant breeze, this spot would make an ideal getaway on a hot summer day.