The Least Expensive IKEA Item With The Best Reviews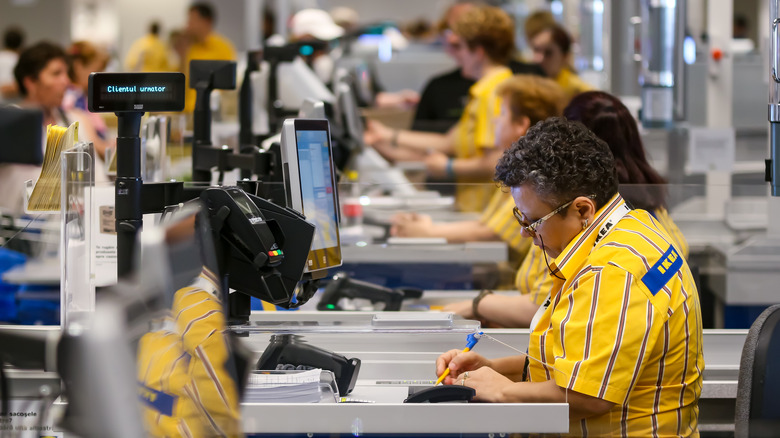 LCV/Shutterstock
If there's ever the promise of a budget experience at a reputable retailer where you can find high-quality items, you're likely talking about IKEA. This billion dollar furniture and home goods store has been around since 1943, making top-tier products available at the most convenient prices, as noted by Britannica.
According to a Statista report, IKEA generated approximately $42.4 billion in revenue in 2020, which was lower compared to its 2019 annual revenue of approximately $46.2 billion. Still, these large numbers may make one curious about the ingredients behind IKEA's success. Well, CNBC news has disclosed everything that makes IKEA a huge success, citing that the store's DIY assembly gets customers committed, IKEA is future-inclined, and they offer quality furniture and food at the lowest prices.
So, in the spirit of finding the best item with the lowest price at IKEA, we at House Digest have done the window shopping for you and found one product that may interest you. See it below.
The Pruta food container set of 17
Yes, the Pruta set of 17 food containers is the least expensive IKEA item with the best reviews. This item landed in the number six position on Gear Patrol's list of the top 50 best things to buy from IKEA in 2022. This set goes for $6.99 at the time of writing this article. As found on the listing page on IKEA, each featherweight see-through plastic container is made of polypropylene, which is freezer-safe, dishwasher-safe, and can be used to cook at a temperature below 212 degrees Fahrenheit.
The set also has a 4.5-star rating on IKEA with over 440 reviews, most of which are positive from happy buyers. On the review page, one of the buyers commented, "Love these containers. Had one set from 10+ years ago, still holding up well with daily use to hold fruits, snacks for kids, and random pantry stuff. Now getting a second set to organize prepared (minced, marinated) meat portions in the freezer, makes searching for the right thing so much easier, especially in the chest freezer. Very versatile, highly recommend!"
Even with all the nice stuff written about the stackable Pruta food container set, IKEA warned that the containers are not spill-proof and may leak whatever liquid you put in them. Buyers beware!