How To Choose The Right Color For Your Baby's Nursery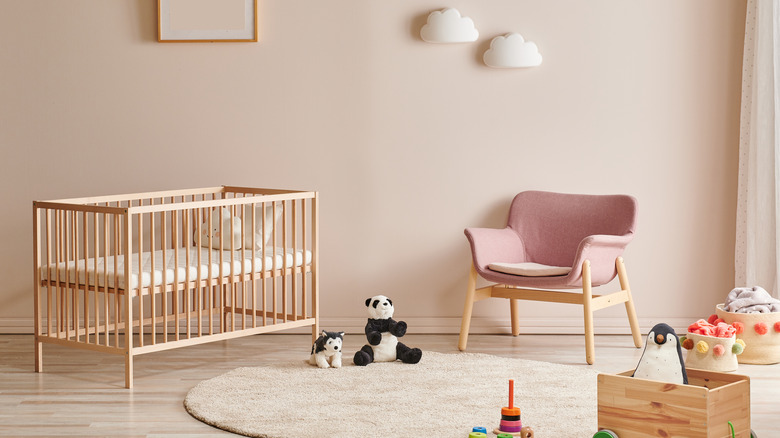 united photo studio/Shutterstock
Designing a nursery for your first (or second, or third) baby can be a fun and challenging experience. What do you want the theme for the room to be? Do you want it to feel like a baby's room or something that can grow with your child? While the baby might be spending the first few months in your room to get used to this thing called life, eventually, the move to the nursery will happen.
One of the first questions to ask is what color (if any) you want to have in the room. Whether it's painting one wall, a decal, or even stick-on wallpaper, we're here to help you solve the problem of how to choose the right shade for your baby's nursery. Nursery Design Studio says that the trick to an outstanding room is to strike the perfect balance between colors, style, and practicability. But, of course, it may not be as simple as it sounds. So let's get into it and hopefully leave you with some inspiration and a trip to the hardware store to pick up some paint samples.
Best colors to pick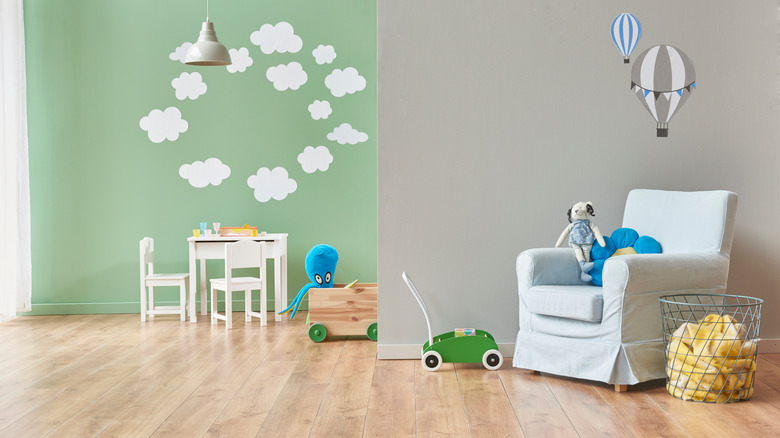 united photo studio/Shutterstock
Color plays a huge role in mood, experience, and energy, so it's no surprise how big of a deal it is to choose a color for your baby's nursery. While newborns will only see shades of gray, black, and white (per WebMD), they develop quickly (as we all know). Then, as they get older and hit developmental milestones, the colors they see can make an impact on their sleep and learning.
While you can keep the nursery white, playing around with different colors can definitely impact your child and add a new look to the room. According to Medley, green is one of the best hues because it promotes a feeling of calm, serenity, and well-being. It's also a good color for a gender-neutral nursery instead of the popular pink and blue. Another pick is pale yellow as it evokes feelings of warmth and energy, Color Meanings says. Just be sure to use toned-down shades of bold, bright colors, and not go overboard as they could have the opposite effect.
Create a coherent room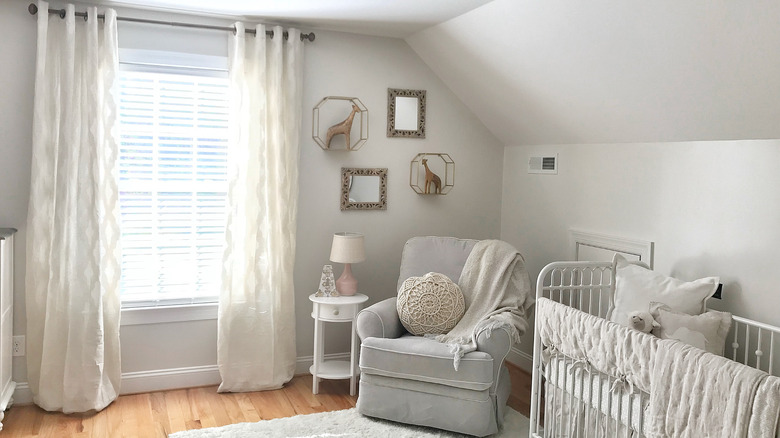 ocwarfford/Shutterstock
When thinking of color for the nursery, a pretty important consideration to factor in is actually the room itself. Ecos Paints suggests paying attention to the natural light in the space. For example, lavender and pale yellow hues look better in natural light, while other shades can appear washed out and dull. Make sure you test out the color before painting the wall so you can get the results you want.
Also, think about the type of environment and theme you would like to have in the nursery. For example, do you want a room that promotes learning and exploration or a restful one? If the décor includes prints of the alphabet or flying into space, that could boost energy and stimulation. On the other hand, if the decoration contains fluffy clouds above and muted, soft blues, the theme could be a calm, serene and peaceful space to rest. Don't hesitate to test and play with the hues to find the perfect one.