Use This IKEA Hack To Add A Hidden Laundry Basket In Your Dresser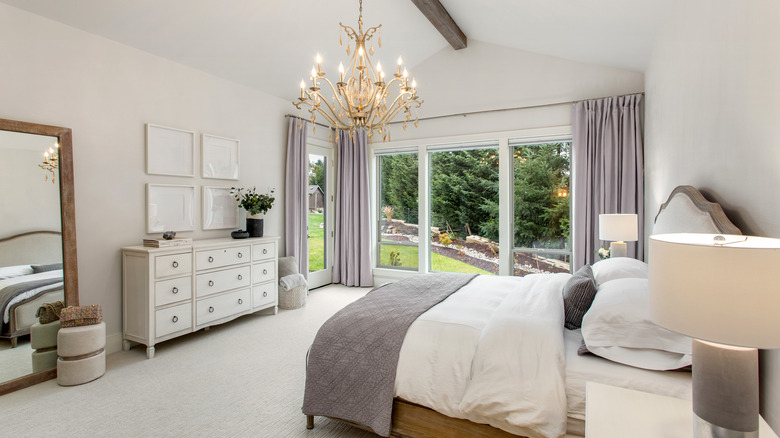 Breadmaker/Shutterstock
Are you one of those people who can never get enough of IKEA? The Swedish furniture company is known for its simple design elements and affordable prices. As ideal as that is, particularly for first apartment dwellers, its bare-bones style can leave you wishing their much sought-after items had a few additional bells and whistles. Maybe what you have been craving is the perfect place to store your dirty clothes until laundry day. 
Traditional laundry hampers are clunky things that often eat up a fair amount of bathroom or closet floor space. They are handy and flexible since you can move them anywhere, but they are usually not very pretty. If you want a more discreet solution or one that is more aesthetically pleasing, consider this hack for building a hidden laundry basket into your dresser. IKEA Hackers wrestled with the same considerations and came up with a clever idea: build a hamper right into a dresser. The project requires a few basic tools, an inquisitive mind, some sweat equity, and of course, time.
Examine your dresser options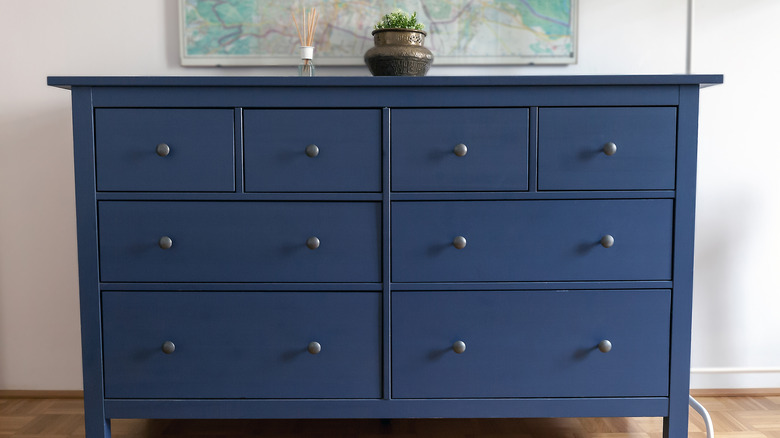 Zuzha/Shutterstock
The proposed dresser needs to be sturdy (since you'll be taking a saw to it) and wide enough to accommodate a built-in hamper, while still allowing storage space. You might already have one, but if not, New York Magazine's The Strategist did the shopping for you and found almost two dozen dressers affordably priced at under $300. Included in the list are mid-century modern styles, ones with legs and some without, and dressers in all colors and materials.
Since you will need to cut the drawers, you may not want to go with a top-of-the-line piece of furniture on your first try. The hamper-hidden-in-a-dresser project is ideal for a flea market search or a little quality dumpster diving. Your first thought might be to head to a local high-net-worth neighborhood the night before trash pickup, but according to Dumpster Dive 360, there are numerous places to search that may not have occurred to you, including apartment complexes and colleges, where people moving out might leave gently used furniture behind.
Go the distance with a laundry sorter
Pekpicts/Shutterstock
Why build just a single hamper when you can repeat the process and create a laundry sorting system? If you can spare the space, having two, three, or even four hampers will make laundry sorting a breeze. It comes with the trade-off that multiplying hampers often necessitates added tool-wrangling skills. A Butterfly House offers a word of caution, noting that the multiple hamper project is not for beginners. If you're comfortable building things, however, this project could result in a household helper that becomes one of your favorite items of furniture.
For a style that makes use of store-bought hampers hidden inside the cabinetry of a dresser, check out the design by Checking in with Chelsea. It simplifies the project slightly, which can be helpful if you aren't sure your furniture-altering skills are up to the task. More importantly, the plastic hampers come equipped with ventilation holes, which is a good thing if you often toss sweaty workout gear into the laundry.