10 Outdoor Kitchen Islands Perfect For Creating An At-Home Summer Paradise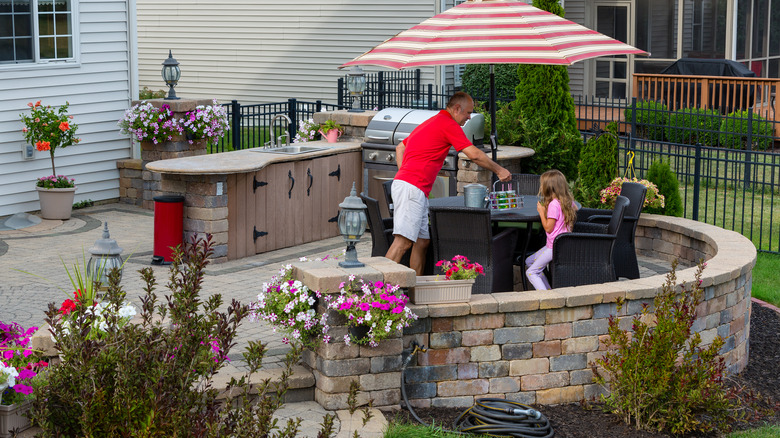 Ozgur Coskun/Shutterstock
Under good weather, an outdoor cooking experience is something everyone should consider at some point in their lives. Think about entertaining your friends in your backyard decked-out kitchen space over the weekend. It is worth mentioning that an outdoor kitchen island is an important part of an outdoor kitchen that you cannot afford to ignore. Like an indoor island, the outdoor kitchen island gives you the extra working surface for slicing and dicing, accommodates different accessories, or serves as a place to sit and savor your meals while enjoying the outdoors.
According to Arch Daily, different outdoor kitchen islands serve different purposes, and therefore, you should carefully consider what you want to do with your island before installation. What's more, you can customize it to match your backyard for extra aesthetics. To that end, here are a couple of ideas that should help you install a functional kitchen island ideal for your needs.
1. Outdoor granite countertop
Granite countertops are common for indoor kitchen islands; however, you can bring the same charm and style right to your outdoor space. This particular outdoor kitchen island has enough countertop space to accommodate two cooks simultaneously. It also includes a grill for your BBQ Sundays. Also, notice how the island wall color pattern matches the house's walls but has a different color combination to make this outdoor cooking spot stand out? It's also built under a roofed patio; you don't have to worry about rain or too much sunshine.
2. Multipurpose island
Looking for an outdoor kitchen island that works just a little better than your average island? Then consider this particular design. It is definitely not the biggest island out there but certainly serves more than one function. It features a multifunctional BBQ grill with an extra space where you can arrange up to four chairs for ample sitting. The angled design of this particular island gives the much-needed separation between the grill and sitting area. Such a small multifunctional island is just perfect for homes with limited outdoor space.
3. Two-level outdoor island
A two-level island is a brilliant idea for creating two separate surfaces for food preparation and a dining section on a single island. The lower level is exclusively for cutting and dicing, while the top tier is for serving drinks or meals. Put a couple of bar stools on the other side, and you'll immediately convert this island into a dining area. This outdoor kitchen features a stainless steel BBQ grill and a separate burner for cooking. The unfinished stone appearance on the side of the island walls matches the patio seamlessly.
4. The epicenter
Even the smallest homes deserve an outdoor kitchen island! This particular example shows a small and hardworking outdoor island installed right on the front porch. This self-contained kitchen features an inbuilt BBQ grill and a sink for extra convenience despite the small size. The exterior stone-built design matches the exterior finish of the house as well. The trash can is placed in the right spot to minimize your trips back and forth when disposing of food waste. However, this design doesn't offer plenty of countertop space compared to other outdoor kitchen islands.
5. Curved multifunctional island
Are you searching for an all-in-one outdoor kitchen island? This design should work for you. In this example, the island with a curved top features an inbuilt BBQ grill, a sink, and an extra surface for more than two people to prepare meals simultaneously. What's more, the rounded edge of the island offers an extension that allows you to get two barstools and make it a dining area as well. Finally, because of the size of this particular island, you can also install extra storage right under the working surface.
6. L-shaped outdoor island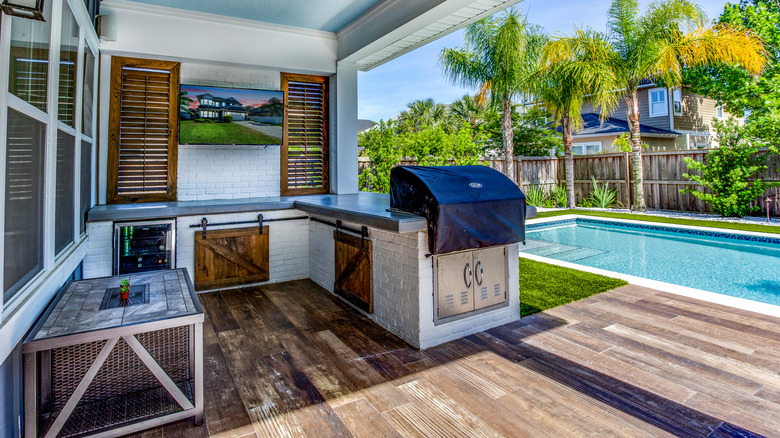 Pipas Imagery/Shutterstock
An L-shaped outdoor kitchen island is a good idea, especially for an outdoor kitchen area built on a patio. Besides fitting right into rectangular-shaped patio areas, an L-shaped outdoor island offers a lot of space that accommodates plenty of countertop appliances. This particular example features a stainless steel BBQ grill, a sink, and a great deal of extra storage right below the working surface. In addition, the wooden theme in this island breaks the brilliant white monotonous color.
7. U-Shaped outdoor island
If you need a large outdoor countertop surface that fits all your appliances, then a U-shaped island is just what you are looking for. This outdoor island features a custom stone structure with an inbuilt stainless steel BBQ grill for extra convenience. The U-shaped design gives you the flexibility of movement on the different working surfaces. In addition, it is big enough to provide room for more than one chef whenever necessary.
8. Makeshift outdoor island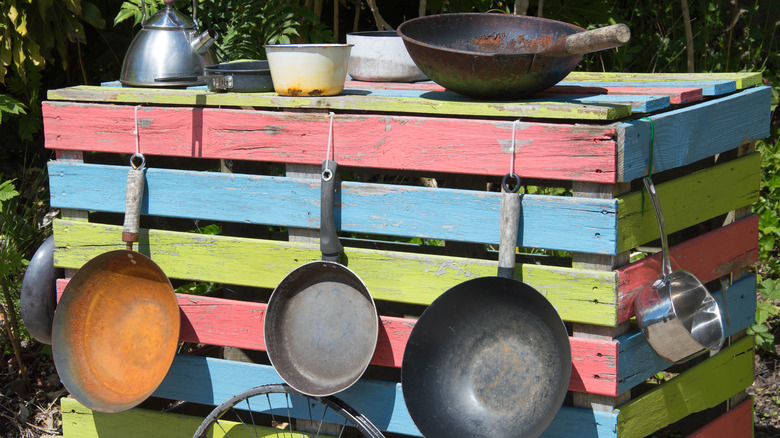 Michael J P/Shutterstock
What do you do when you don't have money to splurge on an expensive outdoor kitchen island? Go ahead and improvise one! With a little creativity and open-mindedness, you can easily convert a wooden pallet into a unique outdoor kitchen island that you can use whenever you host a birthday party. You can also move it around to an ideal spot around your home and take it back to the garage once the party is over.
9. Brick island
Carve out an outdoor kitchen island from a brick structure with extra storage space. The brick design will look cool in any backyard. This particular outdoor kitchen structure is quite simple, featuring a sink and enough space for preparing ingredients. The countertop granite surface and the backsplash tiles are effortless to clean. A knife holder placed strategically on the countertop is enough testament that this outdoor island is ready for chopping and slicing. Extra storage space on an outdoor kitchen space is a plus for function and convenience.
10. DIY island in nature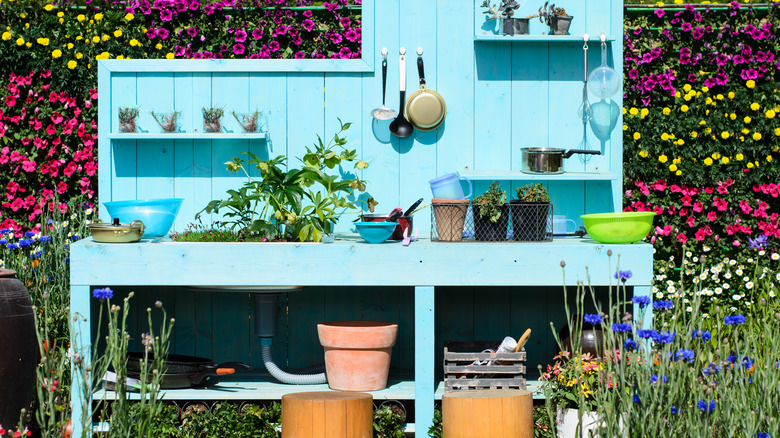 TippaPatt/Shutterstock
How about a DIY outdoor island right in the woods? The example above is a unique and functional kitchen island that you can implement in your backyard. It is an inexpensive design that you can make yourself with salvage wood. The open shelving design allows for extra storage and a plumbing system for a sink. In addition, the island wall has small shelves and pegs where you can hang knives and other smaller kitchenware without taking too much space from the countertop.