10 Ways To Incorporate Abstract Art In Your Home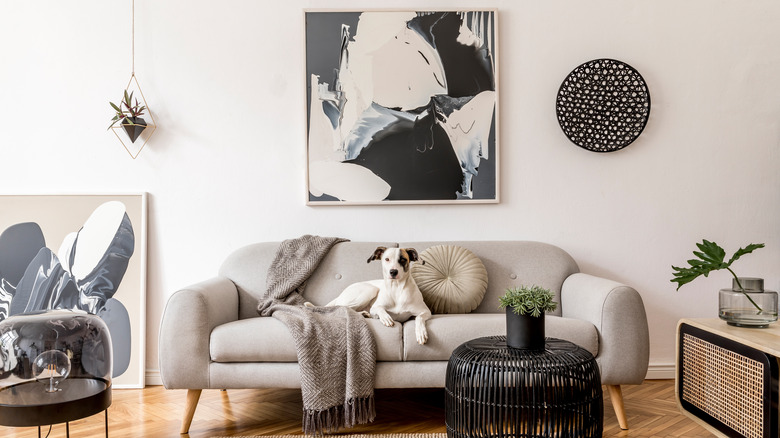 Followtheflow/Shutterstock
You will be surprised how even the smallest details can give your home a much-needed makeover. One of these small home improvements is incorporating abstract art. Unlike realistic art, which gives a story of reality, abstract art, on the other hand, achieves the opposite. Abstract art leaves some room for imagination and interpretation from different perspectives, according to Art Is Fun. There are no rules when it comes to decorating your home, in fact, the best thing to do is not overthink the whole process. 
While there are plenty of other ways of decorating your home, incorporating abstract art remains one of the few ways of giving your home some personality. The freestyle and DIY nature of abstract art make it somewhat overwhelming to incorporate into home décor, especially if it is your first time. So how do you introduce abstract art in your home without making the interior décor feel smaller and insignificant? Here are ideas for incorporating abstract art right at home. Remember, decorations have a lot of influence on the tone of your home, and abstract art will for sure transform any room into a home.
Bring in the neutrals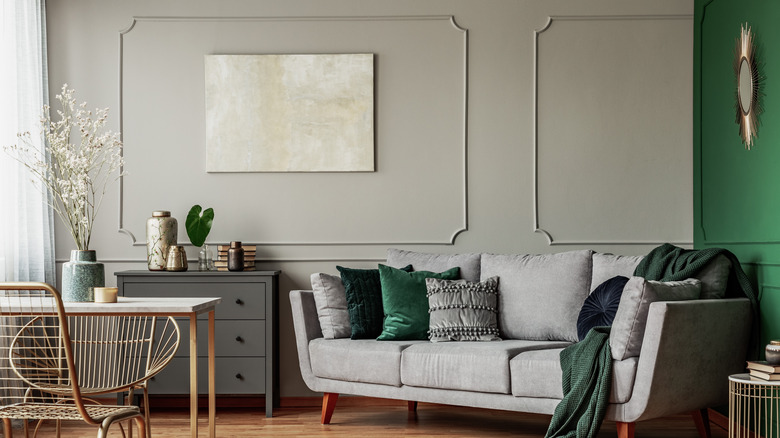 Photographee.eu/Shutterstock
Contrary to popular beliefs, abstract art doesn't need to have plenty of colors and shapes, in fact, the easiest way to incorporate abstract art is going for elegant neutral tones. This particular emerald green abstract art brings some attention to the otherwise plain and boring wall. The fact that it is placed right at the center of the frame on the wall gives this room a new point of focus. You don't have to go for art with bright colors, alternatively, look for common color tones that you can match your art with.
Match with the existing color palette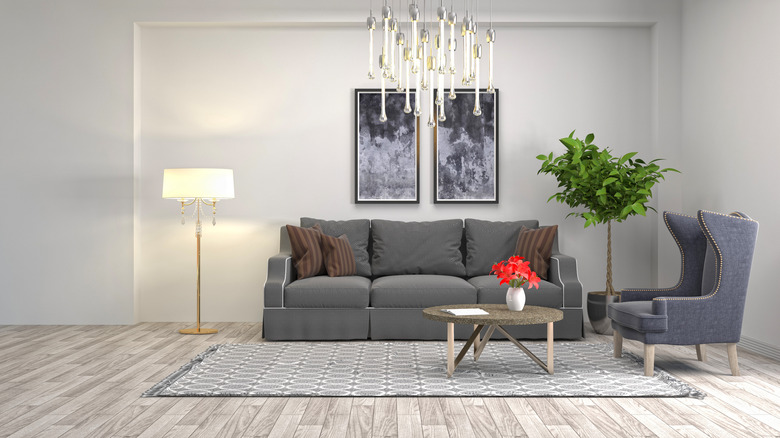 Interior Design/Shutterstock
One way of incorporating abstract art into your home in a subtle way without taking too much attention is to use the existing color palette in that given room. The image above is a perfect example of how you can achieve this. The dominant gray color of the room's furniture is also the main color in the pieces of art. This goes a long way in achieving a cohesive and elegant look in your home.
Frame for attention
How do you make subtle abstract pieces stand out on a wall? Consider putting them on a frame. Often, abstract art doesn't come with frames giving you the luxury of choice when it comes to frame colors and designs. In this particular example, the four pieces of art are of the same color tone as the wall, and the bold black and white frames bring a distinct separation between the art pieces. The dark frames also contrast beautifully against the wall when mounted.
Multiple wall art
If you have plenty of wall space in your living room, install more than one piece of abstract wall art. Bigger does not mean better, and, sometimes, having more than one art hang on the wall creates a great display that doesn't compete with the other interior decor. Subtle wall color is great, especially when dealing with art with no frames. The color differences allow the pieces of art to stand out on their own without disappearing in the background. When mounting on the wall, ensure that the art pieces are horizontally on the same level.
Go big or go home
In some scenarios, bigger is better! When you have a large unused space on the living room wall, installing a large piece of abstract art adds drama and also attracts attention to that particular wall. When dealing with a large statement piece, it is important that you limit the number of other decorations. The whole point of oversized abstract wall art is to draw attention wherever you want. Plenty of other decorations will overstimulate the eyes and weigh down the presence of the art.
Place it down
Who said art must be hung up on a wall? There are other ways you can display art in your home besides hanging it on the wall. One brilliant way of displaying art in such a fashion is placing it strategically leaning on the wall near a lamp and preferably close to a piece of furniture that you wish to draw attention to. The abstract art in this example is placed adjacent to a dull couch that needs some attention. When the lamp is lit, then the entire focus shifts toward that side of the living room.
Go minimalistic
When thinking of introducing abstract art in your home, it is necessary that you give consideration to the home design plan. A minimalistic living room approach should also be accompanied by a rather subtle piece of art that complements the overall design. While abstract art is known for the bright colors and unusual patterns, for a minimalistic design, consider color coordination with the interior decor. The example above shows how to seamlessly incorporate abstract art in a minimalistic living room.
Fill up the space
Pick a designated wall and fill it up using one extensive piece. No doubt, abstract art is popular for its unrecognizable shapes and patterns. They look even more impressive when drawn on a huge canvas. The piece of art in this bedroom is the highlight of the space. The dark tones of the abstract art contrast well against a bright wall, attracting attention to that specific side of the bedroom. It is also mounted on a rectangular frame on the wall making the setup look even more elegant.
Make your own rules
When it comes to abstract art, the sooner you realize that your interior decor need not match your art, the easier it will be for you to install. Heck, in some scenarios, you want your abstract art to be the stark opposite of your home decor just to breathe life into the space. One rule of thumb you should always remember is that abstract art is made to stand out regardless of your home's color palette. So get comfortable with having unusual patterns and colors in your home.
Get creative with the installation
It is one thing to have a good piece of abstract art, and it is a totally different thing to install it correctly. While the conventional installation on a plain wall works most of the time, you can get creative and make it even more dramatic. In this particular example, the wall painting is installed right at the top of a rustic floating shelf. Finding ways of combining your abstract wall painting together with other home furnishes unifies the space in an elegant fashion.