The Least Expensive Home Decor Item At Walmart With The Best Reviews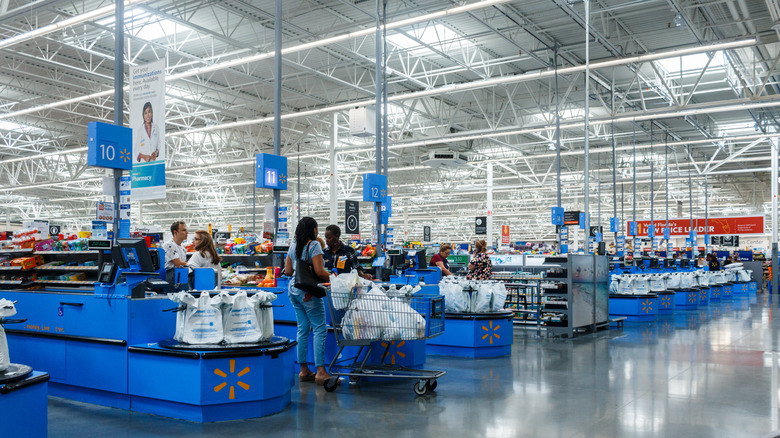 Chekyravaa/Shutterstock
We may receive a commission on purchases made from links.
Most choose to shop at Walmart for convenience. After just one stop, you'll have everything you need. Need to go grocery shopping but also get pool floaties and grill equipment for a cookout? Head to Walmart. No matter what you're searching for, Walmart's bound to have it.
However, while many head to Walmart for the seemingly random things they need, some may overlook the home decor section. It may be surprising to discover that the retail giant has an expansive selection. In fact, House Beautiful names Walmart as one of the best places to find cheap home decor. They have gorgeous baskets, a wide selection of candles, and cozy throw pillows. They also have bigger pieces, like rugs, lighting, and furniture — and, of course, all their items are reasonably priced. When checking out decor reviews on Walmart's website, one piece stands out — it's very inexpensive and also extremely popular, with almost 2,000 reviews and a 4.6-star rating.
Walmart's inexpensive and highly rated item
One of Walmart's most highly rated and inexpensive items is the Mainstays Textured Solid Curtain. This curtain comes in three sizes that range in price from $4.88 to $6.88. It comes in a variety of colors as well. The reviews describe the curtain as light and airy. One reviewer says that they were pleasantly surprised with the look of these curtains, especially since they are so inexpensive.
Curtains are a great way to elevate your home decor. While they provide privacy and help cut energy costs, they can also make a room look cozier and more inviting. Julie Williams Design says that curtains can accentuate the architectural design of windows and make them look larger. They can also add a splash of color to an otherwise monochromatic room. If this is your aim, try Mainstays Textured Curtains in blush, red, or navy. However, if you're going for a more minimalist look, they also come in neutral colors.