According To Unsellable Houses, This Is The One Thing Young Homebuyers Can't Resist
Preparing to sell your home? While housing markets are generally still booming, there always seems to be that one house that just won't sell — and eventually starts to raise eyebrows. If left for too long, the house may have to be removed from the market and relisted (doubling your marketing fees) just so that potential buyers won't immediately be suspicious, says Zillow. As younger people begin to take over the housing market, another strategy for sale might be emerging — catering to their tastes.
If you're not on social media (which seems to be filled with ever-changing trends), the task can seem daunting. Beyond tossing the china cabinet, what exactly can you do to make your home more attractive to young buyers? Fortunately, the secret is simpler than you might assume. In a recent episode of HGTV's "Unsellable Houses," twin hosts Lyndsay Lamb and Leslie Davis reveal the key to young homebuyers' hearts: bright colors and patterns, according to Realtor.
Bright colors catch young eyes — and hearts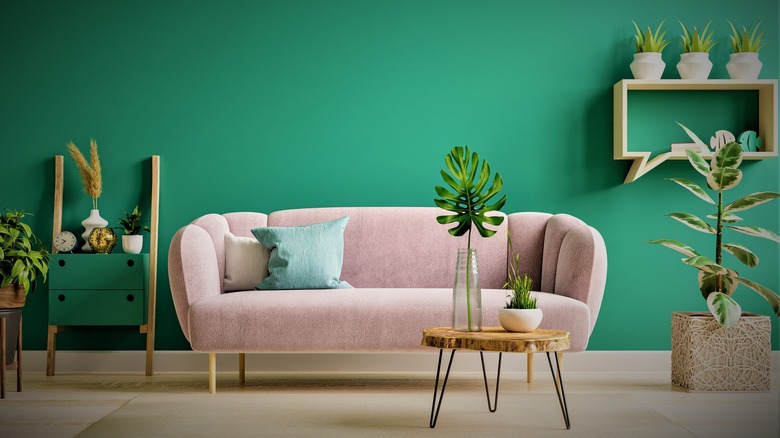 fazilran1234/Shutterstock
As the sisters update a home on their show, they prove again and again that color can look stunning — and capture the hearts of young homebuyers. Starting off tame, they renovate a kitchen to fill it with sage green, according to Realtor — one of the trendiest decor colors at the moment (via CBC). But soon, the sisters get more daring.
Colorful patterned wallpapers — always in a muted, social media-worthy color palette — begin to fill the home and provide a fun touch. The home office is coated in wallpaper depicting green monstera leaves, a "cool backdrop" for remote workers that features one of the most trendy plants, says Trillium Living. But the most shocking inclusion? A wallpaper with a pink splatter pattern on the laundry room ceiling, providing a "​​really fun entry" to the home through the garage. While the home is far from minimalist, it's exactly the type of eclectic, colorful design that appeals to younger generations.
Is social media behind the trend?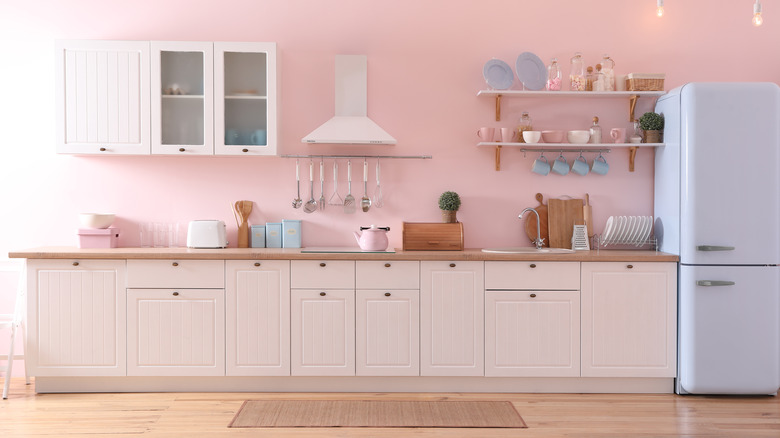 New Africa/Shutterstock
In the episode, Lyndsay Lamb comments on how some of the choices are very social media-worthy, adding that they will make great backgrounds for pictures and videos, according to Realtor. A few of the choices even seem to resemble a toned-down version of pop-up Instagram museums, which are essentially pop-up experiences filled with a collection of brightly colored backgrounds for social media pictures (and often feature an exorbitant price tag), says Museum Next.
Even if young people aren't buying brightly colored homes for the explicit purpose of getting that perfect Instagram shot, social media may still have influenced this new design trend. According to Review 42, 16- to 24-year-olds spend over three hours on social media per day. Since brightly colored decor tends to make for a better photo op, young people are more likely to be inundated with vibrant design choices online — which may translate to their real-life preferences.