Emily Henderson's Design Tips To Help You Maximize Your Small Space
Chris Weeks/Getty Images
Emily Henderson is the real deal. Not only has she been a highly in-demand photo shoot stylist for renowned interior design publications and stores, but she also starred in HGTV's hit show "Secrets From a Stylist," per HGTV. On her Instagram, she states that she is also a New York Times best selling author of "Styled: Secrets for Arranging Rooms, from Tabletops to Bookshelves," and has almost one million followers. She is known for frequently providing design advice and tips, as well as constantly updating her followers on the newest design trends.
In an Instagram live chat with Jean Brownhill — founder of Sweeten Stories — Henderson provides plenty of advice to viewers, including how to efficiently design a small space, according to Sweeten Homes. She also discusses different uses of furniture, and which popular design trends can actually harm the overall look of your space. So if you've been looking to redesign a small room, take a look at what Henderson believes are helpful tips.
Choosing functional furniture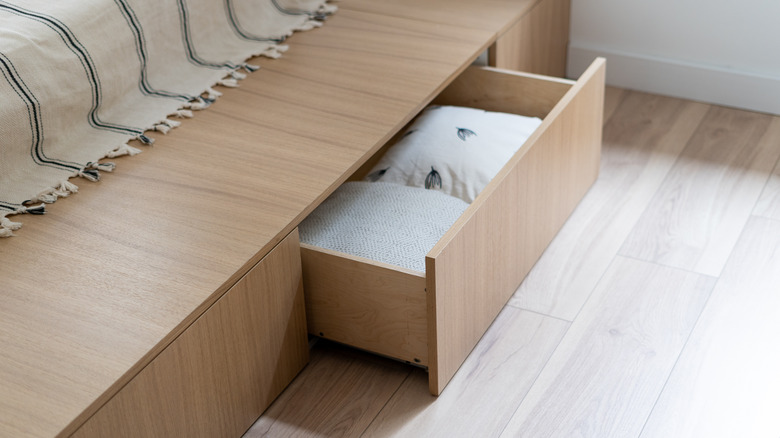 brizmaker/Shutterstock
First thing's first, you have to have the right furniture pieces. Emily Henderson says to avoid choosing too many furniture pieces, as it can make the room not only feel smaller, but also a bit chaotic, according to Sweeten Homes. She also believes the furniture chosen should have more than one functionality, like an ottoman with storage and sideboards with cabinets. This way, your small room will feel more open and be easier to walk through.
There are plenty of ways to choose furniture that will go along with the desired functionality and design of your space. For those who may not have space for an ottoman — or even a coffee table — they can use a sofa with storage to keep throw blankets and board games accessible by simply lifting the seat up. Putting a bench by a window can also serve multiple purposes, such as providing extra seating, as well as space for books and other items below if you have built-in storage.
Painting styles with negative effects
Emily Henderson also believes that some design trends can actually be detrimental to a small room, according to Sweeten Homes. For example, focal rooms are a popular design trend homeowners have been loving as they can add interest to a room by drawing your eye to something beautiful, such as a fireplace or creative paneling. However, Henderson says focal points can actually make a space feel smaller as they can divide the room. She believes focal points should be used for rooms with interesting design effects, and should be avoided in rooms with four simple walls, as they can cause an unpleasant divide.
Contrast is also something Henderson believes should be limited or kept out of a small room. Lighter colors are able to reflect light and create a more open space that feels larger and fresh, according to MyMove. Darker colors typically absorb light, which in turn makes your room feel smaller. So if you have mostly light-colored walls with a dark wall to contrast as your focal point, it can actually cause more damage than good.