These Are The House Styles That Everyone's Loving In 2022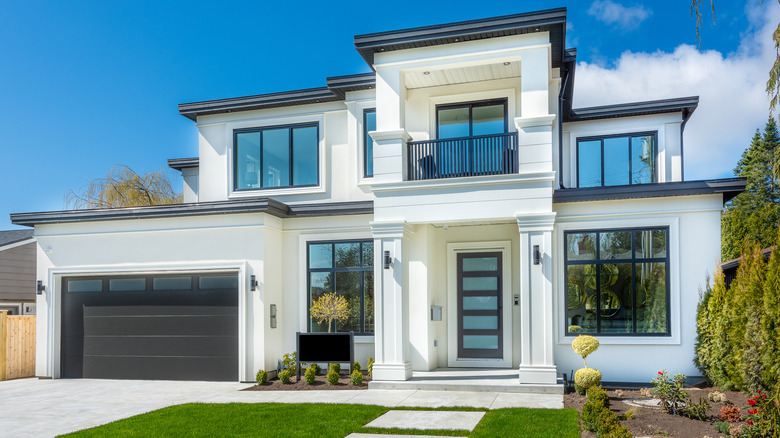 Sheila Say/Shutterstock
Where you live can often determine the kind of architecture you see around you. This is often because of the history of architecture and the kind of homes that were best suited for the area. Historic New England points to high-pitched roofs as common in regions with lots of snow. Or, conversely, low one-floor dwellings in hotter climates because heat rises.
But in the modern-day, architecture is no longer restricted to the region. You'll find homes of all styles in many places across the country. And homeowners certainly have their favorites. From the unique character and charm of older styles to the clean lines of newer architecture, homes are often an expression of not only our taste but ourselves.
Yet regardless of personal taste, there are home styles that never lose their popularity over the years. Whether you're buying a home or just like looking to see what's for sale, these are the house styles that seem to be the most sought after.
Craftsman homes
Architect Gustav Stickley is credited with creating the craftsman house in the 1900s. The style has remained popular for its charming appearance, like low-pitched roofs and covered porches. Originally, they were popular on the west coast in cities like Portland, Oregon; Oakland, California; and Seattle, Washington. But they've crossed the country to become popular throughout, with even newly built homes reflecting the classic style. Inside, Craftsman homes are loved for their use of thick wood in trims, ceiling beams, and built-in shelving.
Intricate Victorians
Victorian homes might be one of the most recognizable and unique architectural styles. They're highly decorative with turrets, arches, wrap-around porches, and bay windows. Victorians also feature lots of molding and wood trim, intricate woodwork, and stained-glass windows. They're often painted in bright colors that make their intricate details stand out. Victorian homes are popular throughout the United States, from Boston to San Francisco.
Mid-century modern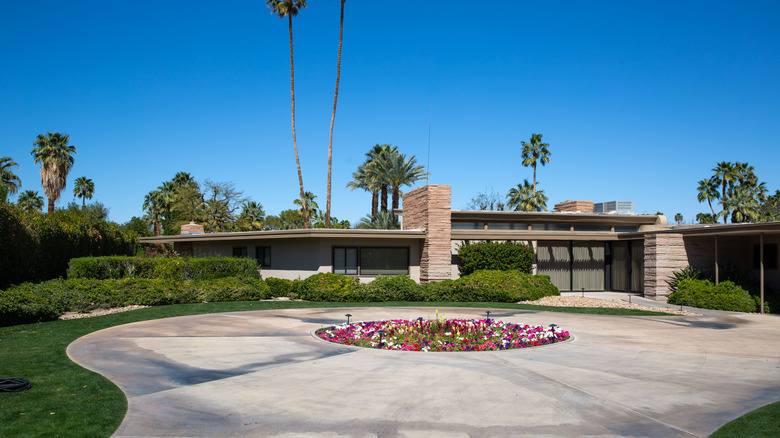 George Rose/Getty Images
Dating back to after World War II, mid-century modern is part of the modernist movement of the 1970s. This style features minimalistic, clean lines in both interior and exterior architectural details. Inside features open floor plans and large windows to let in light and incorporate nature. Mid-century modern homes often mix the use of natural elements like wood and stone with manufactured materials like steel and plastic.
Classic Colonials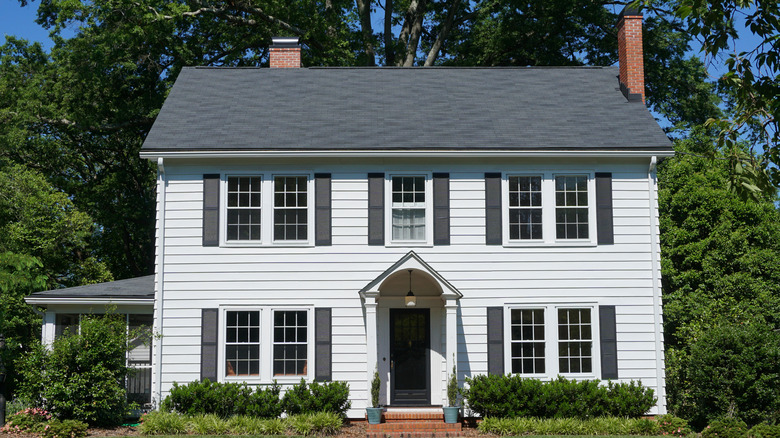 PT Hamilton/Shutterstock
Colonials are one of the oldest home styles in America. And it's their classic architecture that has kept in popularity since the 1870s. They're still found most often in the Eastern part United States, particularly in the Northeast. The symmetrical exterior is probably what colonial homes are best known for. But their decorative character, brick exterior, and fireplaces evoke an old-world charm that many homeowners love.
Mediterranean homes
In warmer climates and on the coast, you'll also find Mediterranean-styled homes. This style became popular during the 1920s and 30s in Southern California and was influenced by homes in the Mediterranean region. These homes have a stucco or adobe exterior, vaulted ceilings, arched doorways, and red-tiled roofs. Mediterranean homes also have central courtyards that feature a garden, patio, or fountain that allow homeowners to enjoy the outdoors in areas like California and Florida.
Farmhouse homes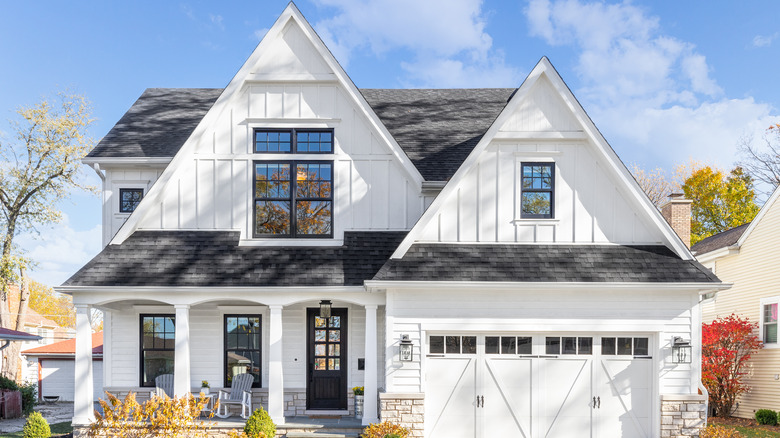 Hendrickson Photography/Shutterstock
Farmhouses were originally built for practicality to house American farmers and their families. The style has prevailed since the early 1700s, yet it's the simplistic charm that has kept this style popular into the 21st century. Many modern farmhouses still include features and details from the original design. Wraparound porches, large fireplaces, and wood siding are all traditional details that prevail into modern-day designs.
Cozy Cape Cods
Susan Law Cain/Shutterstock
The charming Cape Cod dates back to the 1670s and was a design that was brought over from England in the early days of the country. Much like their design cousin, the Colonial home, Cape Cods were–and still are–popular house styles in the Northeastern United States, particularly in New England. Cape Cods feature high-pitched roofs with dormers. You may also see covered front porches and additions to the main structure. But the classic Cape Cod is well-loved for its cozy interior and charming exterior reminiscent of Early America.
Sleek Modern
Modern homes are meant to embrace minimalism and stray away from the decorative styles of more traditional architectural styles. You'll often find modern homes with asymmetrical exteriors and flat roofs. As for color schemes, modern homes tend to be more neutral, with a simple black and white being one of the most common palettes. Modern homes will also often use unique materials like wood and metal as accents. Modern homes can be found throughout the country, but they're most common in large cities like Denver, Colorado, and Los Angeles, California.
Twining townhouses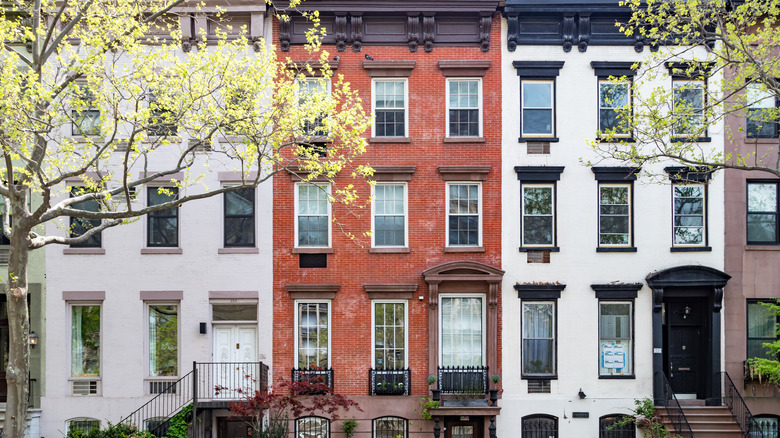 Walk through any major city, and you'll often see rows of townhouses lining the streets. Many townhouses are old structures made to densely house growing metropolitan populations. Townhouses can come in many styles, with modern townhouses now being built in major cities. But the traditional architecture like Victorian, Italianate, Federal, and Greek Revival styles hold the old-world charm. Townhouses are often long and narrow, with open layouts and two or three floors. In more modern homes, you may find a rooftop deck that allows homeowners to enjoy city views.
Cottage Homes
Emblematic of the English countryside, cottage-style homes are warm and cozy. Traditionally made with stone and a thatched roof, current cottages use more updated materials but retain most of the charm of the original homes. Cottages in America rose to popularity in the 1920s and 30s and offered a storybook charm to many suburban neighborhoods. Details you'll often find in these homes include steep roofs, arched doorways, and window shutters.
Ranch Homes
First becoming popular in 1960, the ranch house has never stopped gaining momentum. Ranch homes are known for featuring a one-floor, open layout design. They're common in suburban neighborhoods, where they often have a yard, sliding glass doors, and large windows to create an indoor-outdoor living style. Across the country, they're a favorite home style for first-time homeowners, as well as older homeowners who want to age in place.
English Tudor Homes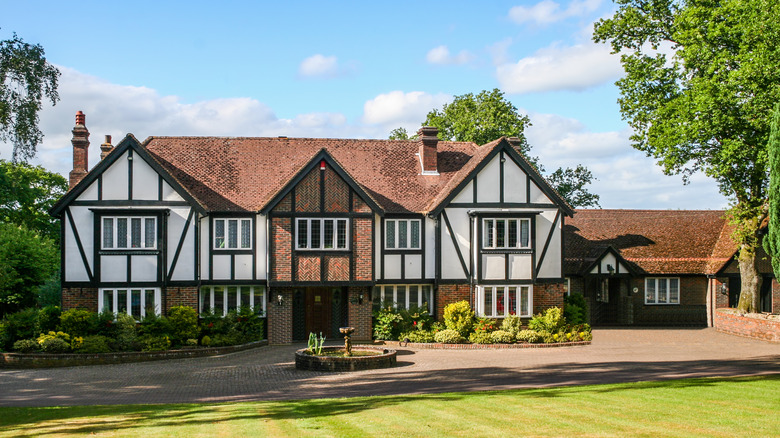 Lucy Clark/Shutterstock
As the name implies, the Tudor home rose to popularity during the Tudor reign in England in the 15th century. This was another style loved enough in England that it was brought over to America. Tudors are easily identifiable by the brick, stone, and stucco-faced and decorative striped timbering on the top of the exterior. Traditionally known for their neutral facade of brown, white, and black, many modern homeowners like to update these homes by painting them bright colors. The classic Tudor homes are popular in the Northeastern and Midwest United States.
Contemporary delights
Contemporary and modern are often used interchangeably, but contemporary really means the current style. So, of course, contemporary-style homes are one of the current most popular styles. The cool thing about contemporary homes is that they often pull from different styles to create a unique style that is emblematic of the current time period. Current contemporary homes have large windows to let in natural light, clean and geometric shapes, and open floor plans. Using eco-friendly building materials and interesting textures.