The Ultimate Guide To English Regency Decor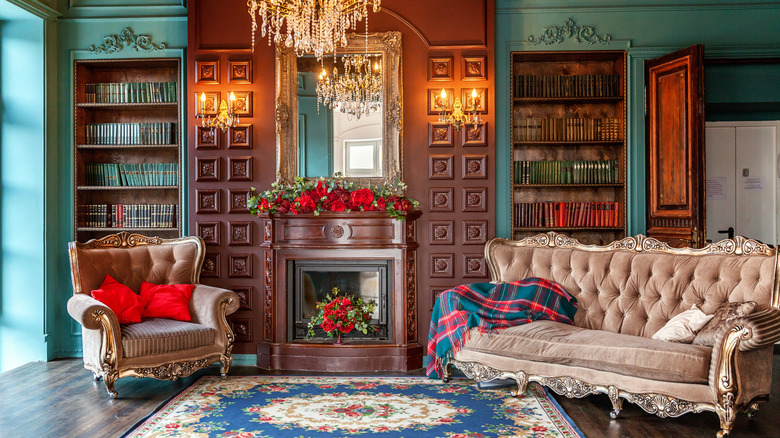 Julia Zavalishina/Shutterstock
A true minimalist is certain to feel overwhelmed in a home designed in English Regency style. Regency is a lifestyle full of all that sparkles and shines. The bigger, the better, and the more, the merrier. It has definite Bridgerton vibes. The furnishings, colors, and décor all stem from the 19th century in England and have stood the test of time ever since. According to Louise Booyens, the English Regency period was from 1811 to 1820, but the term is also used to refer to the time period up to 1837. It was a time in England when people sought a more informal or relaxed way of life. 
When looking at what English Regency interiors consist of, it's hard to imagine that it was considered a casual atmosphere. By today's standards, it's quite formal. Still, using this ultimate guide to English Regency décor, you'll find ways to incorporate this beautiful concept into your home while still living a laid-back lifestyle in today's world. You'll simply be surrounded by luxury and elegance while doing so.
What is Regency decor?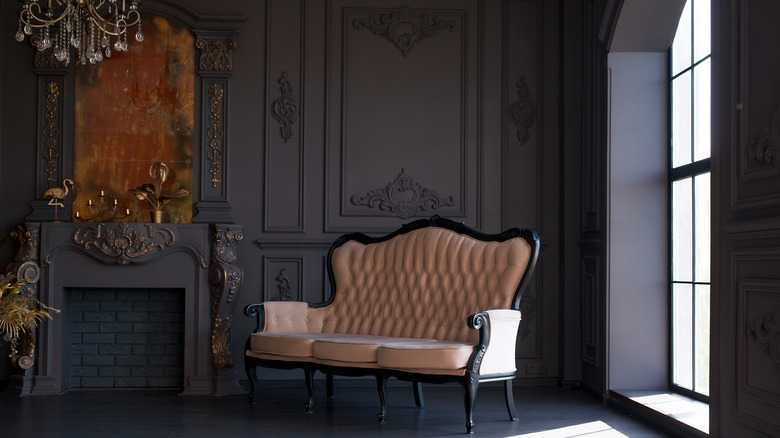 Sergiophoto/Shutterstock
Regency's formal décor has recently made headlines and piqued interior designers' interest thanks to the series "Bridgerton," which takes place in England around 1813. The show depicts the lavish antics of wealthy aristocrats consumed with soirees, courtships, and proper etiquette. Thankfully, in 2022, you don't have to be a high society nobleman or dress in a fitted bodice (torture, right?) to enjoy the extravagant details of this decadent style. 
To best understand regency décor, picture a living room painted in dark blue, the fireplace is lit, and the floral cushioned, mahogany furniture is gathered near it for the sake of conversation. The dark wood floor is decorated with a stunning Eastern rug, and the curtains are adorned with layers of heavy materials, such as velvet with gold tassels. 
According to LuxLife Magazine, the English Regency style was heavily influenced by King George IV, known for his excessive personality and ostentatious taste. It may have once been excessive, but in the 21st century, homeowners and designers are finding ways to incorporate some richness and grandeur into any type of home without going overboard. 
Can any home have an English Regency interior?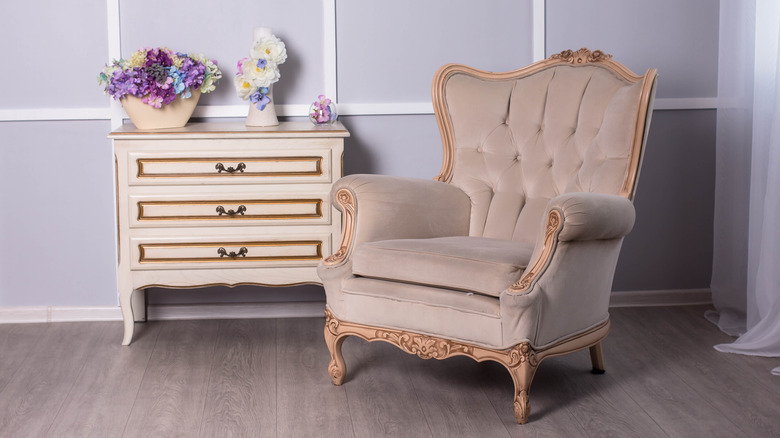 Ariadna Nevskaya/Shutterstock
What if you live in a small, suburban ranch home but long for dark mahogany furniture with intricate details? No worries — it's your home, and you can design it however you like. 
According to Shondaland, you don't have to decorate your home top to bottom in English Regency to enjoy the style. Instead, choose a few elements you love the best and incorporate those into your home. That's great advice since many homes are full of kids looking for their sports equipment, coffee spilling on the way to the car for the morning commute, and dinner at the kitchen breakfast bar before running out the door for someone's game. 
We must live in our reality but can still create an atmosphere we love being in, even if it all has to work around PB&J sandwiches and piles of laundry. So, skip the velvet curtains but enjoy the carved wooden legs on the rare couch you found. Or wallpaper one wall of the living room and paint the rest. You can also test out the style in something as non-commital as table linens before upgrading to bigger pieces. "Table linens are an easy way to feel out a trend without the commitment of a hefty price tag or taking up a lot of space," interior designer Imane Fiocchi told the publication. "Dress up your table like the Bridgertons by layering light pinks, grays, blues, and purples. Plates or serve-ware with silver detailing or trim adds an element of Regency refinement as well."
Choosing the right furniture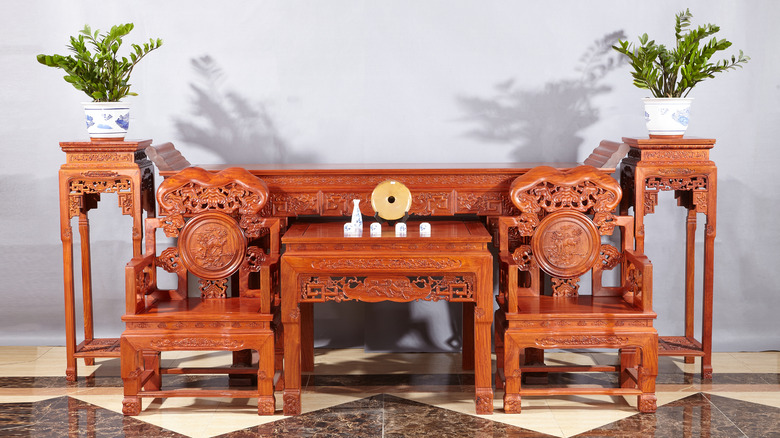 Jiao2020/Shutterstock
The furniture from the English Regency era and in today's regency design is a large part of what makes the style unique compared to other home designs today. There's nothing simple about it. Four poster beds that steal the show in a bedroom, chaise lounges in the living room, and grand dining room sets are unique to the English Regency era. According to Carrocel Interiors, you'll recognize English Regency style furniture by the following characteristics: the use of mahogany and rosewood, paw-shaped feet, nature-inspired carvings, brass inlays, and concave-shaped chair legs. You'll notice scrolling and other carvings as well, often on headboards, tables, and the backs of chairs. 
"The Regency style has some key elements: elegant furniture, stripes in fabric and wall coverings, as well as in clothing," "Bridgerton" production designer Will Hughes-Jones told Shondaland. "The use of an eclectic mix of revival styles from the Gothic to the Greek. Stucco work and columns exemplify the style; delicate wrought ironwork, paneling, and a relaxed application of ornamentation through the architecture define this period."
When out antiquing, you'll still find many pieces that have these characteristics, and that's because they're so well-made that they last for centuries. Today, if you aren't in the mood to hunt down furniture that's hundreds of years old, you can also buy reproductions that look like they escaped from the 1800s.
Use crystal chandeliers freely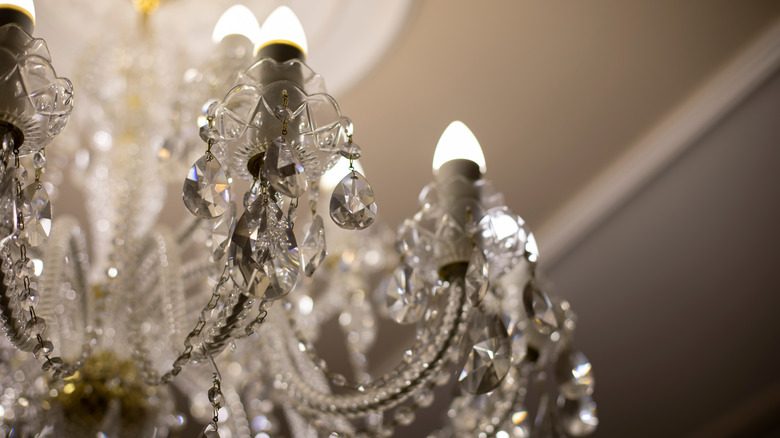 Oleg Kopyov/Shutterstock
Now we have the attention of not only Regency fans, but lovers of shabby chic styles as well. Crystal chandeliers are the epitome of elegance and suit those willing to make a statement even if it's not what everyone else is doing. 
When creating a feeling of English Regency in your home, hang these glistening beauties freely. It may initially seem intimidating to hang something so opulent in your home. After all, your neighbors just hang simple lights flush with the ceiling. However, your home is your castle, and you deserve to live like royalty (or at least add a little sparkle to your life). 
The Enchanted Home points out that we don't need to restrict crystal chandeliers to traditional areas like living rooms, but should add them anywhere we please. You can find them in many sizes, from a tiny chandelier for your powder room to a grandiose one for your vaulted ceiling in the primary bedroom. They're a great start as a focal point when pulling together an English Regency room. 
The colors of English Regency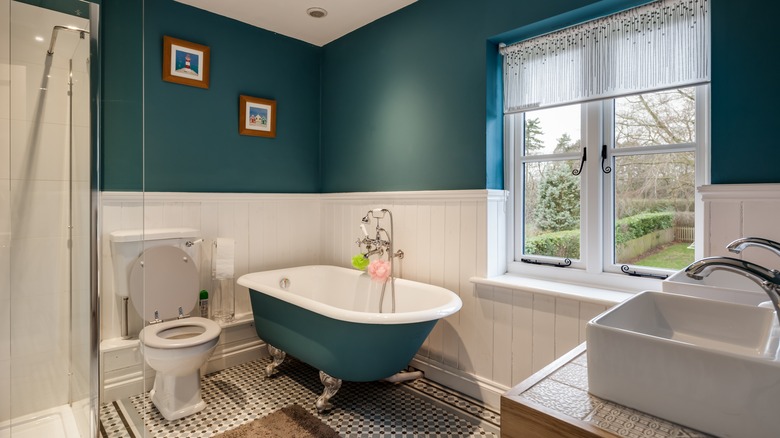 Mike Higginson/Shutterstock
The color of the walls in a room is your canvas for the rest of the décor. Choose the appropriate color scheme for your Regency design before doing anything else. According to Little Greene, the colors of the English Regency period were vibrant and bold, with typical hues being Celestial Blue, Pea Green, Yellow-Pink, and Blue Verditer. Choose similar colors when creating a Regency atmosphere in your own home. 
The rich colors aren't only found on the walls. In times past and modern English Regency design, you'll notice that the same colors are in upholstery and other fabrics used within the room, such as furniture, window treatments, and floor rugs. However, it isn't necessary to find the exact colors listed — using a rich, bold color palette is the goal, and any such color will do. When painting, use a satin finish rather than something glossy since it creates a classic look that still wipes clean.
Make a statement with mirrors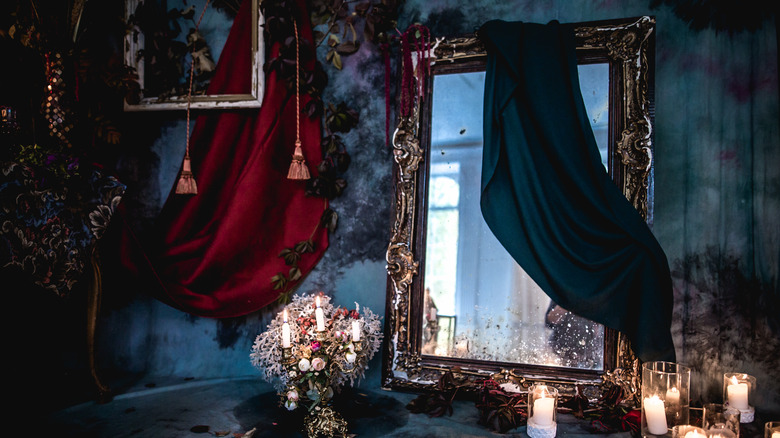 Alena Gan/Shutterstock
When the Regency period first came to be in the 1800s, mirrors became a regular part of decorating the home, reflecting light that shone through the windows. Not only did this increase the light in the room, but it was also part of a movement that allowed more nature into the home. 
In your own English Regency style home or room, choose one large mirror on a wall, framed in an ornate, gold frame. Or instead, cluster many small mirrors together as a gallery wall. According to Oka, mirrors placed beside or opposite a window encourage more natural light cast around a room, and the bigger the mirror, the larger the space feels. 
Mirrors can also reflect light from other light sources, such as your crystal chandelier or whatever lighting you have in the room. They also serve as artistic expressions and can hold their own as decorative pieces. Lean a large mirror against a wall or in a corner, add a few to wall shelves, or let them sit on easels.
How to incorporate chinoiserie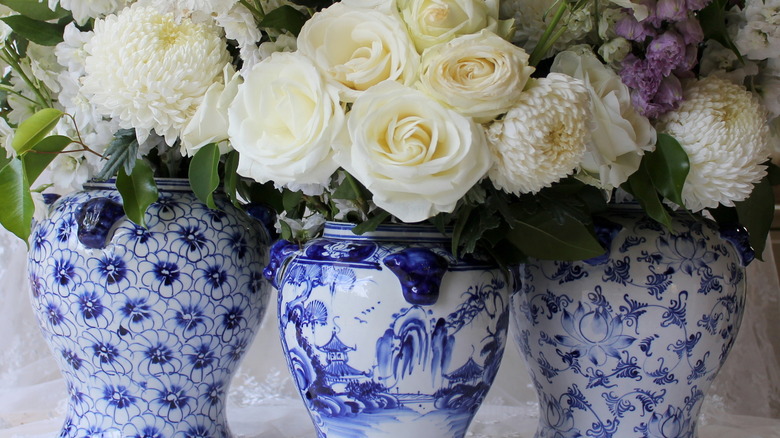 Alison Henley/Shutterstock
Chinoiserie is the art of using Chinese techniques in western design, especially in painted pottery, ceramics, and glass. For example, think of a set of dishes with a painted Chinese dragon motif. According to One King's Lane, the word "chinoiserie" comes from the French word "chinois," meaning Chinese, and reminds us of the fact that chinoiserie isn't an Asian technique, but rather a European interpretation of Asian arts. 
During the English Regency period, Europeans were fascinated by Asian culture, which is what led to chinoiserie. No matter how it got to us, it's still revered today and still just as beautiful. The most common way to incorporate chinoiserie into your modern English Regency home is through dishes, decorative plates, bowls, and flower vases. Blue and white is the classic form, but chinoiserie design is found in many colors. Scatter these gems along your fireplace mantel, on the kitchen counter, or use as stunning place settings.
The classic Regency striped wallpaper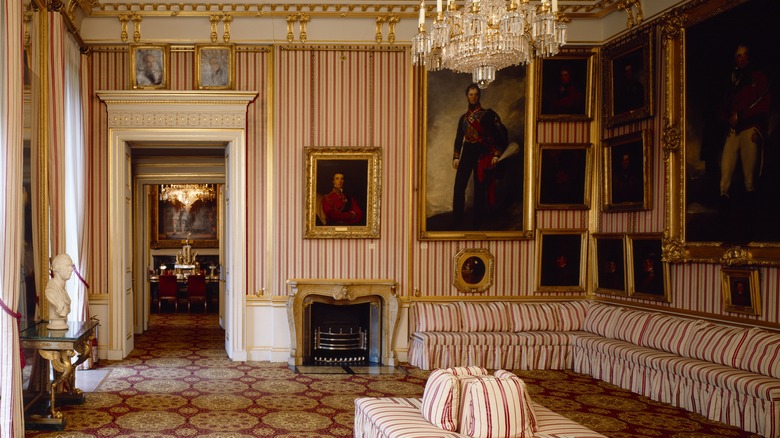 Heritage Images/Getty Images
Wallpaper is back, but for English Regency style, it never left. Try an accent wall or an entire room using the classic Regency striped wallpaper. According to LuxLife Magazine, golds, greens, and reds were most common during the English Regency age, but today, feel free to use whatever color you like, as long as it's classic and rich. The lines of the Regency stripe are always vertical, never horizontal. The vertical stripes are an excellent way to elongate a room and instantly give it the elegance it deserves. 
Have fun with stripes and try a unique twist like wallpapering the entire room and matching the curtains with the same lines. It's a fun look only the English Regency design can get away with. If you don't want stripes galore, paper just around the fireplace, or try the wallpaper out in a small powder room. 
Use an Egyptian flare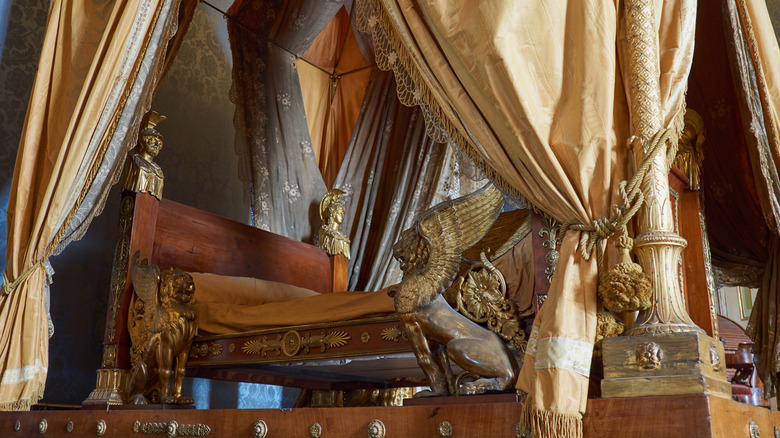 Urban Napflin/Shutterstock
Not only did Chinese art influence English Regency, but Egyptian design did as well. You can incorporate a bit of Egyptian into your home with gold accents and geometric lines. If you aren't sure where to start with some Egyptian techniques, choose a few gold pieces and go from there. 
Gold accents such as vases, artwork, or even furniture pieces are chic and bold. Gold can be a bit harsh, so you'll need to soften it up a bit. According to Upgraded Home, use a nice neutral English Regency color to balance the stark gold pieces. They recommend a blueish-gray tone, but you could try something similar, such as a deep red or brown. Stay away from yellows as they aren't a good contrast with the gold. 
Egyptian style that's incorporated into English Regency is all about decadence. This includes gold hues mixed with deep colors, artwork and statues on tables, and chaise lounges draped in velvet, used simply for relaxing. All that's needed is a little touch here and there to pick up that Egyptian flare.
Fresh flowers whenever possible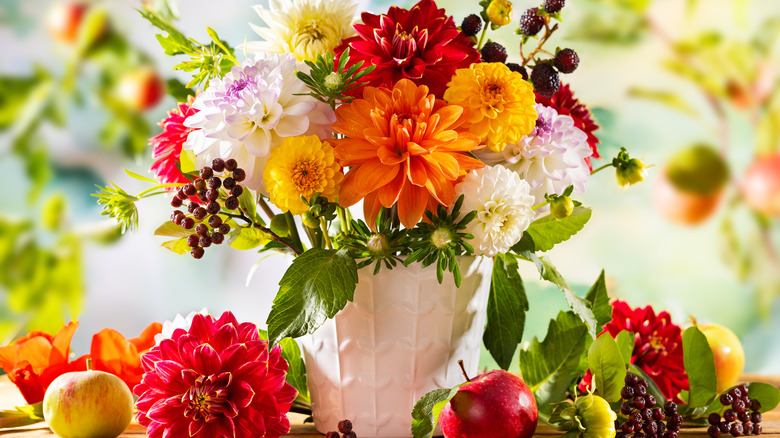 Kolpakova Svetlana/Shutterstock
Florals are a significant part of English Regency design, and faux flowers are unacceptable. When the season arrives, place flowers everywhere, and use a variety of vases. You'll notice in images of old English Regency that flowers were used in abundance. It's an easy and quick way to get your English Regency décor going, and besides, who doesn't love fresh flowers? 
Fresh flowers do more than pull our home's décor together. According to 1-800-Flowers, flowers can cultivate our mood and mindset. A soft-colored bouquet in the bedroom brings a sense of calm, and a bright bouquet may trigger lively conversation in the dining room. For use in your English regency space, fill your chinoiserie vases with large and small bouquets and place them on end tables, mantels, dining tables, and shelves. Inexpensive bouquets from the grocery store work just fine and can be divided into multiple small vases. Bring nature in and enjoy the beauty of flowers in every room.
Lavishly covered windows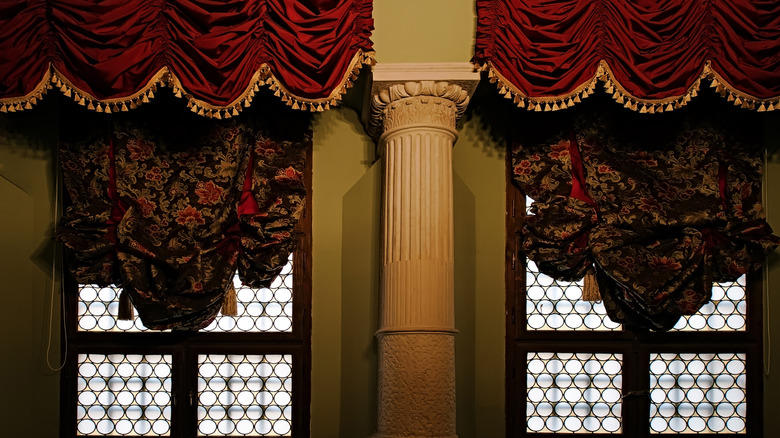 Havoc/Shutterstock
Because homeowners and designers wanted homes to incorporate nature during the English Regency period, they began seeing windows as a thing of beauty. Large windows were very important because they allowed more light in, and were often framed in window treatments or valances. Choose from the English regency color palette when covering the windows. Blues, golds, reds, and even pastels work well and make a lovely contrast to dark walls. 
A common look that pulls a room together well is a floor-length drape with a scarf valance at the top. Either way, feel free to go overboard with your English Regency-style window coverings. Tassels, velvet, and even silk are all acceptable. However, if you have beautiful windows and prefer the natural light all day long, it's also okay to leave the windows uncovered. 
According to Modernize, a helpful tip in making small windows look bigger is to give the illusion of an elongated frame by using floor-length drapes hung near the ceiling. This will help you create the large windows needed for English regency decor, even if you don't have them. 
Elaborate rugs, tile, and parquet flooring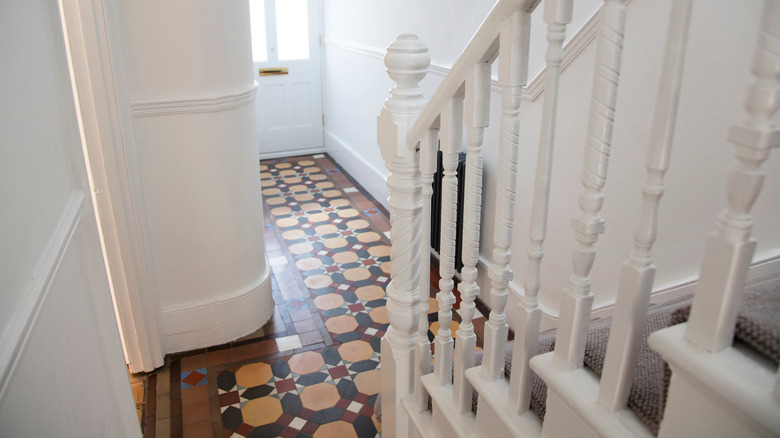 Ink Drop/Shutterstock
What's underfoot? Preferably parquet wood designs, tiles, and large rugs with intricate details. The rugs (also called carpets) of the English Regency period were ornate and, most often, Asian. Today, use any rug you like but stick with somewhat feminine designs, such as floral patterns and scrollwork, to meet the needs of your English Regency style. 
According to The Regency Redingote, in the 17th century, rugs were designed to mirror the intricate design on a ceiling. Ceilings often had carvings or paintings on them. It was a beautiful art but sadly, the era of such detailed ceilings ended by the 18th century. You can imagine the stunning effect of a rug and ceiling mirroring each other. Today, we don't have much time for such things, so just do what you can to get a rug laid down on your wood floors. Speaking of wood, a parquet-style floor is perfect when mimicking English Regency design. Also, small black and white patterned tiles in areas such as bathrooms and entryways are perfect for Regency spaces.
A properly dressed table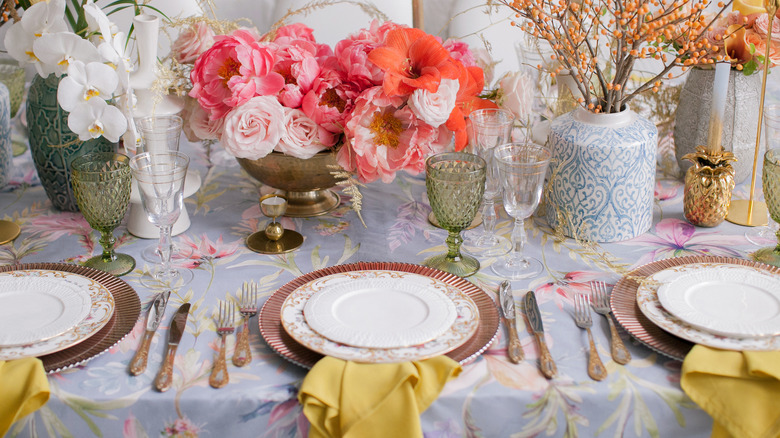 Kastaprav/Shutterstock
Once your home is oozing English Regency style, don't forget the little details, such as a perfectly dressed dining table. It's time to use that beautiful china you've kept packed in boxes. As we've discussed, English Regency was and is all about opulence and grandeur. It includes a certain lifestyle, which of course, doesn't have to be lived out today. Even so, the elite lifestyle is where it all stems from. According to Veranda, the English Regency timeframe brought about the idea of host-provided place settings. Before that, guests were expected to bring their own items, such as cutlery. During this time, water and wine glasses for each guest became commonplace.
When preparing a table for guests, paper plates won't do. Instead, layer each place setting to create an opulent feel — forks on the left and knives on the right, please. Enjoy the indulgence of linen napkins and crystal water goblets. Your table will be so lovely you may want to leave it set as part of your décor. And of course, don't forget a giant bouquet of flowers billowing out of a chinoiserie vase right in the middle of the table. To top off your beautiful table, add some candles for ambiance, paying tribute to the elegant era that brought beauty to the dining room table.
Achieving Regency design on a budget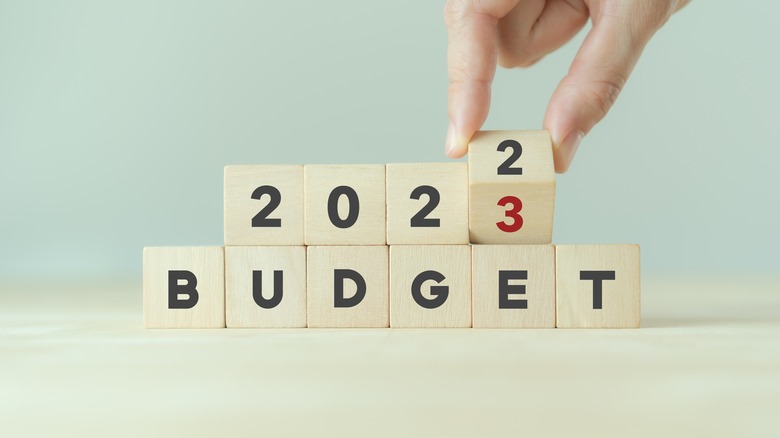 3rdtimeluckystudio/Shutterstock
Let's face it — after discussing Regency style, it sounds like it would cost a fortune with so many opulent details. Truthfully, it can, but it doesn't have to. If English Regency makes your heart go pitter-patter, you're in luck. You've chosen a design that can be hunted down at flea markets and thrift stores. (Yay you!) Furniture, vases, dishes, and décor galore is just sitting there, waiting for a place to call home. If you're a flea market pro, you've got this. If not, Style By Emily Henderson has some advice for you. First, go early and have a list to spot what you need easily. Also, look at the silhouette of furniture rather than the color or upholstery since those things are easy to change. And if you want the best deals, consider coming back to the market at the end of the day to pick up deep discounts. 
Other ways to stay within your budget are to paint walls yourself and check your local garage sale sites online for things. Sometimes people are moving and just want someone to come to pick up an item like a large rug for free. If you see a chandelier you love, but it isn't the right color, you can spray paint it if the price is worth it. You can also add faux crystals to any chandelier to give it more "regency." Have fun and make your home a place of elegance and grandeur on a dime.