30 Mudroom Ideas That Will Help You Transform Your Space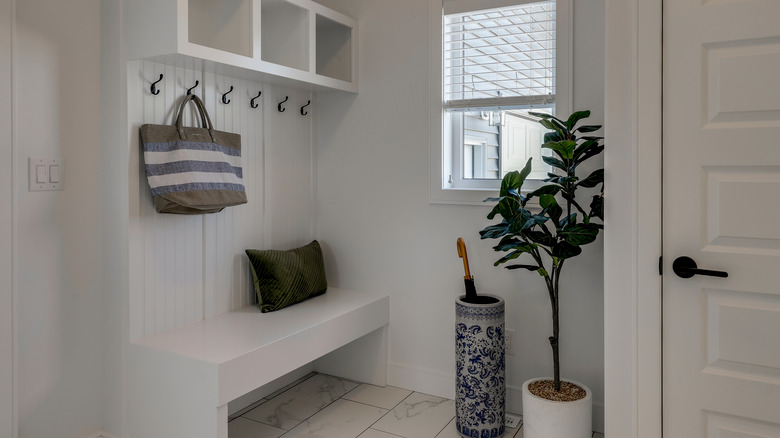 Scott Prokop/Shutterstock
It is no news that the mudroom is among the high-traffic areas in our homes. These spaces that play important organizational roles in our houses are often forgotten. However, just like any other room in our houses, it is necessary to design the mudroom accordingly in order to get the most out of them. Heck, they are the first landing spot that stores the dirty outdoor outfits that you would not want to walk in the house with. While not every home has the luxury of a fully-fledged mudroom, there are plenty of creative ways you can create room for outdoor outfits, says E Interiors. 
What's more, it is also worth mentioning that there is no perfect mudroom. Some people may need a small space with a little storage space to hold a few outdoor items, while others need a dedicated room with plenty of space and cabinets for other conveniences. Either way, the mudroom in your home doesn't have to be boring. Here are some great ideas on how to transform this space.
1. Consider a sitting area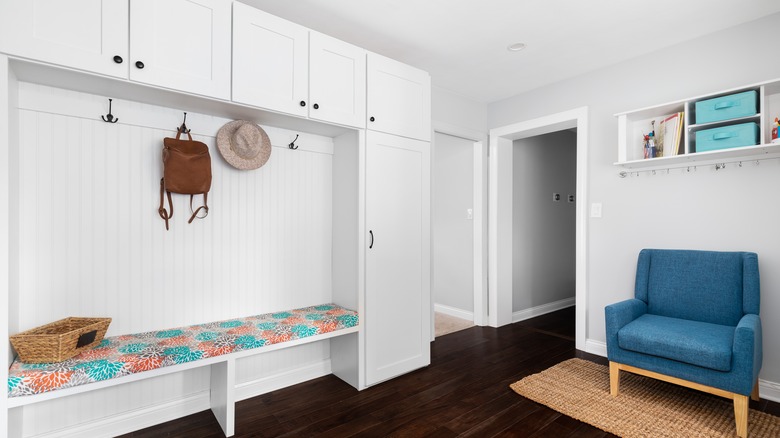 Hendrickson Photography/Shutterstock
While a mudroom might not be the designated sitting area in your house, incorporating a comfortable seating area is something to consider. Think about the many times you come home with plenty of luggage; you need a comfortable landing pad where you can sit and offload. A comfortable sitting spot in your mudroom will help you achieve exactly that. This is also a perfect opportunity to introduce texture and color to achieve a sophisticated look similar to the image above.
2. Incorporate drawers and cabinets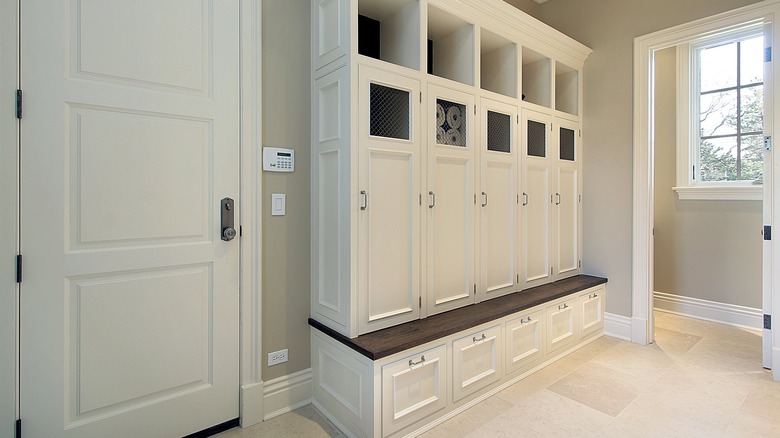 pics721/Shutterstock
Shoe cubes are more common in mudrooms than drawers. However, drawers offer cleaner and discrete organization spaces making your mudroom look clutter-free. When installing cabinets and drawers, it is important to consider functionality. Longer cabinets will be ideal for your long coats and scarves, while deep drawers will offer ample storage opportunities for shoes and other larger items that need to be tucked away. You can also include open storage for storing the items that need easy retrieval, for instance, umbrellas or yoga mats.
3. Contrast is king
Do you want your mudroom to have an elegant interior? Go ahead and include contrasting colors. Look how beautiful the white cabinet and drawers in this mudroom appear against the unique shade of brown on the wall. In addition, the wooden sitting ledge that goes around the room creates a nice separation between the upper and lower deck of the cabinetry. Notice how the choice of color in this particular room remains strictly between white and shades of brown?
4. Don't forget about style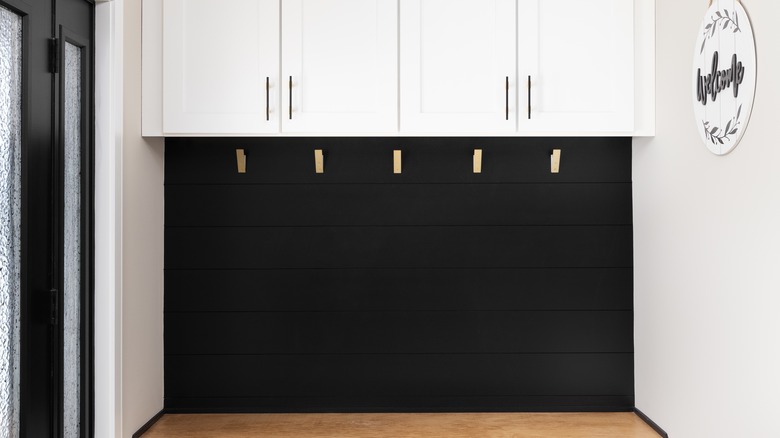 Hendrickson Photography/Shutterstock
Since a mudroom is for organization and storage, this is not reason enough for you to neglect this space by any means. The color choice in this small but modern mudroom is simple and elegant. The dark wall background brings attention to the cabinet side of the room and also contrasts nicely against the white. The wall art and brass hooks all add a touch of sophistication to this room. It is also quite impressive to see how the wooden sitting ledge introduces some warmth to the overall design.
5. Bring in repurposed furniture
Hendrickson Photography/Shutterstock
One brilliant way of amping up the design and functionality of your mudroom is introducing repurposed furniture to the space. Bring in the idle cabinet from the garage and use it as extra storage in your mudroom. Give it a fresh coat of paint or even install new hardware for the drawers, anything to make it more appealing and fit into the existing decor. Other than storage, the flat surface on the furniture can be a great spot for placing other accessories that give your mudroom some personality.
6. In comes the bloom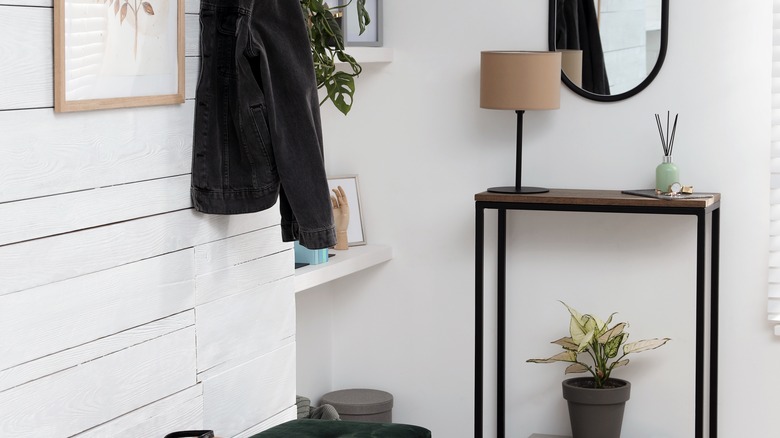 New Africa/Shutterstock
Show your love for plants by finding strategic locations in the mudroom area for them. Introducing green plants in an overly white interior puts emphasis on the green color, which is exactly what you want. It will be particularly advantageous to your plants if your mudroom has direct proximity to sunlight. Remember to keep the indoor plants to a minimum, especially if you have a relatively smaller mudroom, as in the example above. You want to keep the space classy and not overrun by too much greenery.
7. Introduce rustic
A rustic design brings a warm, inviting tone to every room, and your mudroom is no different. This is especially true if your mud room has bright wall colors with no other contrasting colors. In this example, the rustic features remain consistent thanks to the major features in the mudroom. The floating wooden bench, brown cubbies, and the basket all work together to bring out the rustic design. Including a throw pillow on the bench is for extra decoration that adds comfort to the sitting area.
8. Pillow patterns
Every room with a sitting area in your home deserves to have some throw pillows. They are among the most inexpensive design elements you can have in your home. Introducing throw pillows with different colors and patterns brings a huge difference to an otherwise white sterile mudroom. There are no rules when decorating a space with throw pillows; you have the option of arranging only a few pillows or covering the entire bench with pillows. The throw pillows in the example above give a nice graphic visual effect to the mudroom.
9. Less is more
Quality over quantity wins any day, especially for a minimalistic approach to design. You don't have to incorporate too much into your minimalist mudroom space. Select only a few must-haves for your mudroom needs and max out on design and class. The mudroom in this example features a sitting area that doubles up as storage spaces, wall hooks, and additional open shelves high up on the roof. While this arrangement is simple, it is both functional and stylish.
10. Show some personality
Since some mudrooms are out of sight, it is easy to neglect and forget about styling such spaces. Feel free to bring some personality and other aspects of your home decor into the mudroom. Extend the predominant wooden features into the mudroom, as demonstrated in the example above. The wooden floating bench, a mirror with a wooden frame, and the mini-open shelf on the wall make the design intentions very clear.
11. Carve out a corner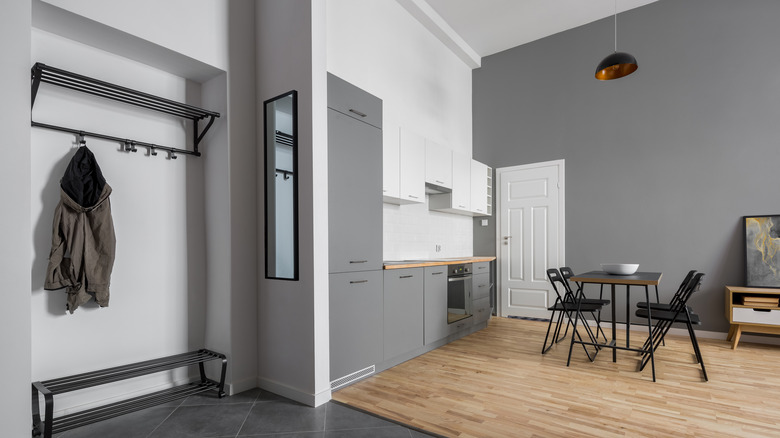 Dariusz Jarzabek/Shutterstock
Wondering what to do with an alcove on your wall? Convert it into a small and simple mudroom. Not every home can afford a lot of space for a fully-fledged mudroom; therefore, it is essential to make good use of every square inch in your home. In this example, the mudroom is tucked right into a space on a wall. The design is quite simple, featuring only the essential metallic hooks and a matching metallic seat. The narrow mirror on the wall serves as a styling detail.
12. Include open shelving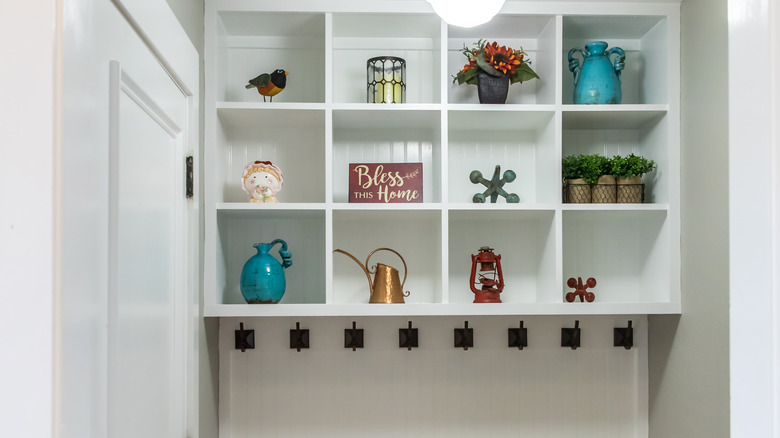 Ursula Page/Shutterstock
Storage space is never enough, and you should not miss out on the opportunity of adding an extra storage area in your mudroom. You should not limit your mudroom to storing outdoor outfits and dirty boots only; instead, install open shelves and display your ornamental pieces right there. Accessories add personality and style to any room, and the mudroom in your home is a great place to experiment with different ornamental pieces.
13. Locker room inspiration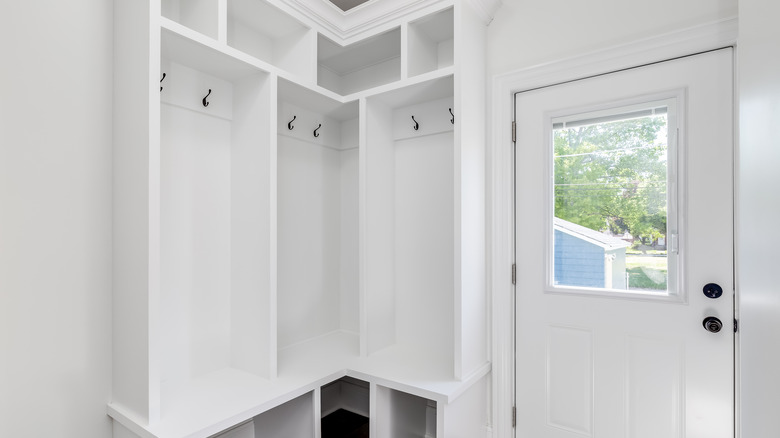 Hendrickson Photography/Shutterstock
Take inspiration from the sports locker room and use the corner behind your front or back door to install a mini locker room with open shelving. One major perk of such an arrangement is that every member of the family gets to have a personal space for hanging coats and tucking shoes away. While in this example, there are only three compartments enough for a family of three, you have the option of adding more storage spaces depending on your family size.
14. Refreshing colors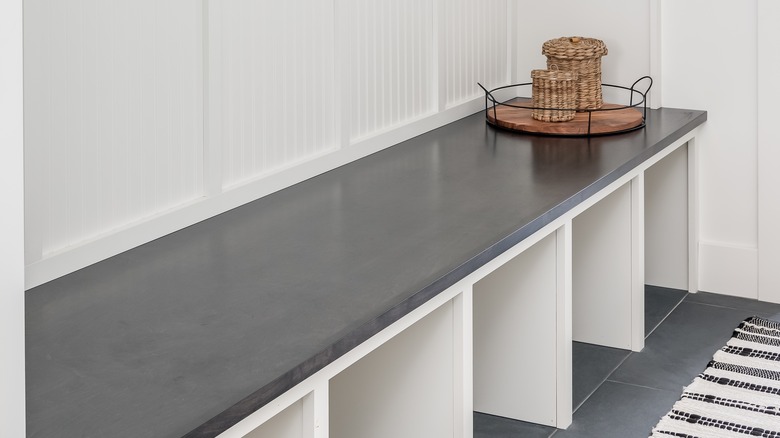 Fio Creative/Shutterstock
A mudroom is purposely for bringing organization to your home and, in turn, also helps in reducing stress. This particular example will help you achieve all that, thanks to the plenty of storage and a refreshing color palette. There is enough space underneath the bench for hiding shoes from plain sight, or you could add in some baskets to hold smaller items. The grey color for the bench was used deliberately to match nicely with the floor.
15. Make it stand out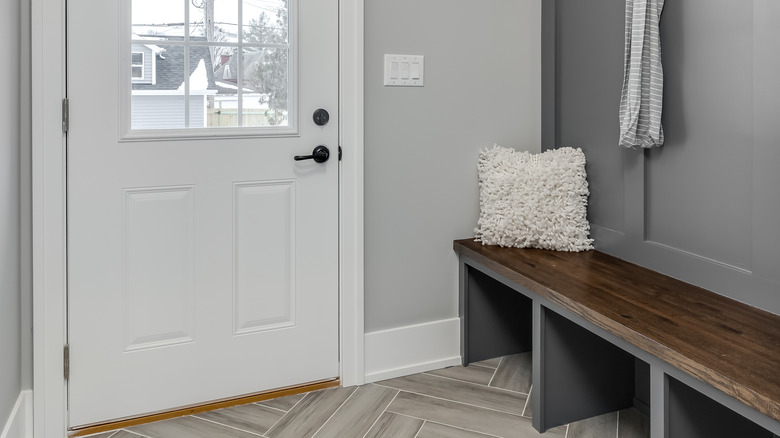 Hendrickson Photography/Shutterstock
If you are among the many homeowners who don't have extra rooms for an enclosed mudroom, then you have no option but to make it stylish. Chances are, your mudroom will be in plain sight, and therefore, you should take this opportunity to make it stand out and make a statement for any guest. One idea is using an accent color that is going to draw attention to your mudroom. This mudroom installed right by the doorway features an elegant coat of grey that looks amazing on a bright wall.
16. Keep up with the seasons
A ladder in a mudroom brings much-needed drama and extra functionality to the space. In this example, the sliding functional ladder makes those hard-to-reach places accessible. You will be able to organize the out-of-season outfits and store them away when not in use. Go ahead and include throw pillows and brown baskets at the top and bottom shelves for added visual appeal.
17. An elegant hardworking combo
What do you do when you don't have an extra room for a mudroom? Create a space for inbuilt cabinetry and shelves right in the laundry room. This multifunctional utility room is not just any other room; it embodies the perfect balance between hard work and elegance. The choice of color and patterns for the floor makes this room look clean, stylish, and organized. There is plenty of storage for outdoor outfits and also extra linen and clothes. Use the throw pillows for comfort when having a seat on the bench.
18. Grab and go
No mudroom? No problem! A simple solution to this is to install a coat rack on a wall in the entryway where you can hang your outdoor coats. The entryway wall has a lot of idle space that you can make good use of. Bring in a wooden crate (or more than one, if you have the space) and place it anywhere on the wall to serve as a seat and as open storage for shoes. As the name suggests, grab-and-go makeshift mudrooms offer easy storage and retrieval of outfits.
19. DIY a personal space
New Africa/Shutterstock
If you can't afford an inbuilt mudroom, then by all means DIY one for your home. The beauty of such spaces is that you can customize them to fit your unique needs. This example shows a creative idea of how to install a mini DIY mudroom. This small and intimate space features a coat rack, a wooden coat stand, and a piece of reclaimed furniture that also moonlights as a shoe rack. Notice the flat top on the coat rack? This small ledge can function as a shelf for displaying small items and accessories.
20. Make it child friendly
You need to carefully consider the design of your mudroom space especially if you have young children. In an effort to teach and encourage your kids about keeping spaces organized, you need to create a space that is accessible to them. It is easier for a child to hang a school bag on a hook than to open a shelf and put it in. Install low-hanging hooks and open spaces on the floor ideal for keeping wet shoes away from sight as demonstrated in the example above.
21. Get unconventional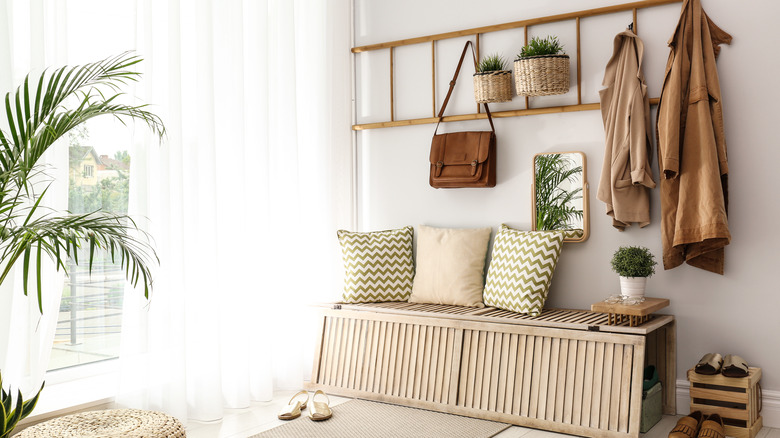 New Africa/Shutterstock
Although often neglected, mudrooms remain among the few places that give homeowners the room to get creative and experiment. Because it is the first landing spot in the house, it can also be a space to showcase your personality to your guests. This boho-inspired mudroom features the creative use of unconventional items like the ladder hanging on the wall as a coat mount. The wooden bench has a hidden compartment for hiding wet outdoor shoes. For additional style, include throw pillows and a mat to make the space accommodating.
22. Show off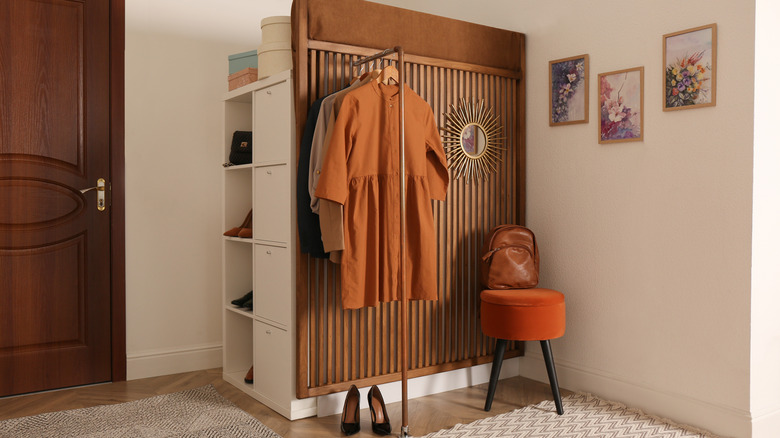 New Africa/Shutterstock
While closed cabinets and drawers are perfect for keeping things organized, open shelving, on the other hand, gives you the luxury of displaying your prized possessions. The open display on this modern mudroom features a separate space for storing shoes and an open rack for your long outdoor coats. The stylish stool at the corner is just the ideal landing spot.
23. Wicker storage baskets
Jason Finn/Shutterstock
Essentially, there are two options when it comes to mudroom cubies; drawers or open storage compartments. Another good option that is not as popular is including wicker baskets. These stylish baskets not only provide closed storage for different items in the mudroom but also doubles up as design accessories. It is worth mentioning that you should consider the size of your open shelves and only buy wicker baskets of the same size.
24. Tiny mudroom nook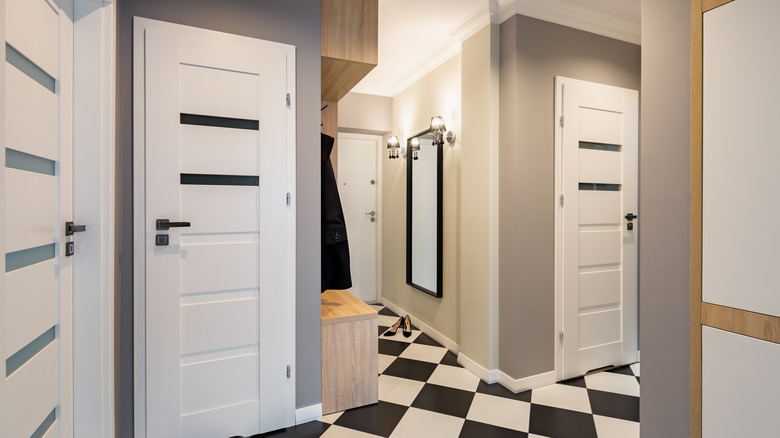 Dariusz Jarzabek/Shutterstock
With a little creativity, it is possible to convert even the tiniest of spaces into a functional landing pad in your home. In this example, the mini nook is created virtually out of thin air. A wooden inbuilt cabinet with a space carved right at the corner creates an alcove for hanging outdoor coats and also serves as a sitting bench. This standalone mudroom is ideal for households with limited floor space and with a few people.
25. Mudroom with a view
Installing a mudroom near a big window means two things. First, you will have plenty of natural light, which is essential for a mudroom. Secondly, this space will also serve as a sitting spot for relaxing and unwinding. A nice landing pad with an amazing view right out the window makes coming home after a long day's work a delight. Be sure to install a lamp to light up the place at night and a running rug to make the space feel more like a room and not a hallway.
26. Make it practical
A mudroom is a high-traffic area in our homes. They are the first place everyone stops before getting out or coming into the house. Therefore, it is necessary to carefully consider the materials you choose for this particular space. Go for flooring materials that are easy to clean and also stain resistant. Be sure to install darker colors that won't stain very easily.
27. Organized entryway
The several types of cabinetry in this entryway mudroom offer plenty of room to tuck away outdoor outfits. The ripple effect is a decluttered and organized entryway that gives room for including other beautiful design elements like the throw pillows and a pot plant. It doesn't stop there, though; notice how the rustic sitting bench matches with the wicker baskets in a seamless fashion?
28. No built-in furniture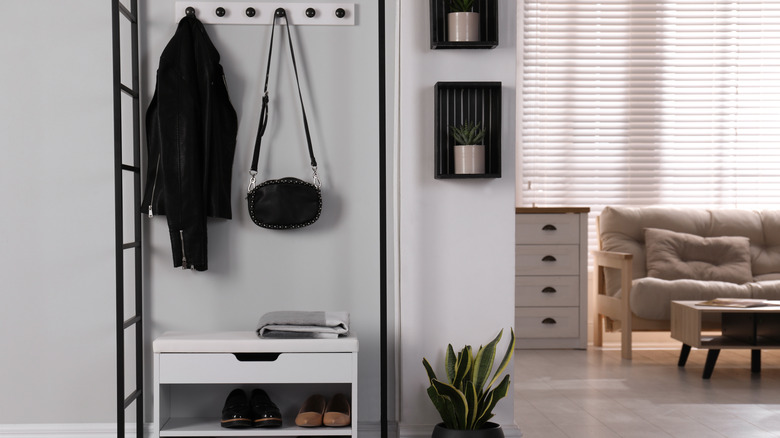 New Africa/Shutterstock
Built-in furniture is nice, but it is not necessary to create a mudroom that is customized for your needs. Get creative by bringing in a small repurposed cabinet with plenty of open storage, installing wall hooks for your coats, and throwing down a fluffy rug for texture and comfort. The black metallic frame brings everything together, giving some structure and contrast to an otherwise plain white wall. Use dark pots for your indoor plants that complement the metallic frame.
29. Labeled bins
Children love personal space exclusive to each one of them. One brilliant way of encouraging organization at home is to provide dedicated cubbies and labeled basket storage for each child. Open storage is ideal for children because they are more accessible than closed cabinets. The top shelves in this example are ideal for keeping away out-of-season outfits, while the labeled wicker baskets at the bottom offer easy retrieval for frequently used items.
30. Discrete storage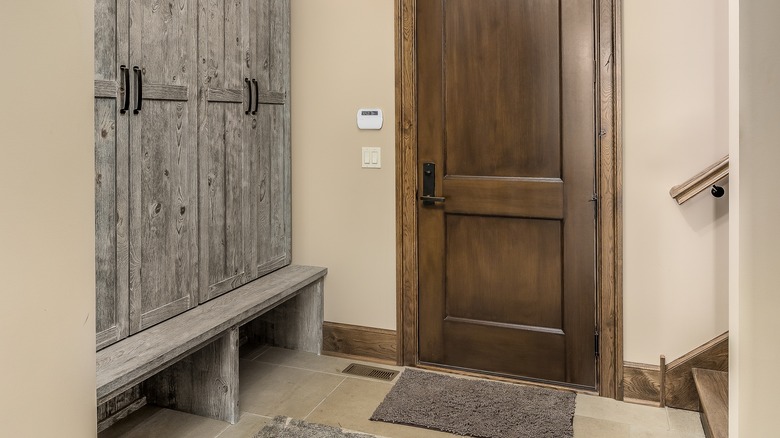 Hendrickson Photography/Shutterstock
The ultimate organization plan that will leave the mudroom at your entry doorway clutter-free is installing closed-off cabinetry. Also, it is a discrete storage option that locks everything away from sight. This particular mudroom features a set of closed cabinets with open storage underfoot for sliding outdoor boots away from the hallway. The choice of color is quite unique and interesting, nonetheless, it matches well with the rug, especially under the bright light of the room.