Why Buying Plants At Home Depot Is A Worthy Investment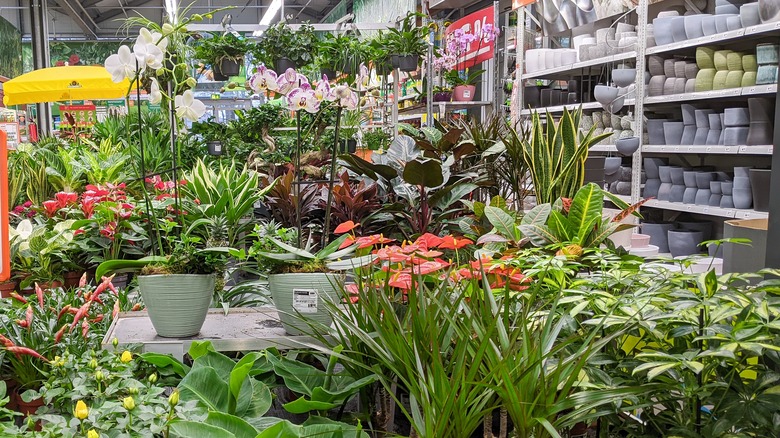 B7 Photography/Shutterstock
The Home Depot is known for being one of the key players and big names in the home improvement store chain market and is currently the largest in the business -– with 2,285 locations throughout North America, as reported by StorageCafe.
According to the official website of The Home Depot corporate office, the home improvement retail giant has had a customer "bill of rights" policy implemented since its inception in 1978. The policy is meant to act as a promise to customers that they will always be able to expect the best quality and price of products, as well as the widest selection of product offerings when shopping at The Home Depot.
And while The Home Depot might be considered the "go-to" retail destination for all things home improvement such as power tools, paint, lumber, and more, it is also a hidden gem shopping destination for self-designated "plant parents" who are looking to add to their houseplant collection.
They have a large variety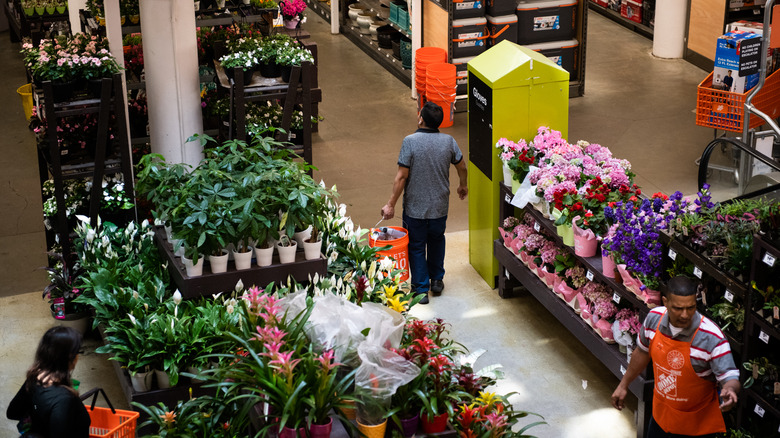 Bloomberg/Getty Images
The Home Depot's customer "bill of rights" promises the widest array of products, and this policy applies to their houseplant selection as well. In fact, DIY blogger Mandi from Vintage Revivals says The Home Depot is her absolute favorite place to buy houseplants, thanks in part to their large selection of plant varieties to choose from.
In order to guarantee you are shopping the biggest selection of houseplants possible, Mandi recommends going to The Home Depot on shipment day when fresh plants are restocked so you can get first dibs on all the new inventory before anyone else has a chance to heavily shop it. Shipment for houseplants is usually scheduled on the same day every week, though it varies by location, so ask a store associate at your local store if they know when their weekly shipment day is. Getting first dibs on a new plant shipment gives you the opportunity to not only be the first to check out a new plant variety but also gives you the opportunity to choose the healthiest plant. Mandi notes that sometimes plants can be damaged during the shipping process, so you might have to weed through several plants before finding one worthy of taking home. Mandi recommends selecting plants that have both mature leaves as well as new leaves, which is a good sign of a healthy and established root system and that the plant isn't too stressed from its long journey to produce new growth.
Shopping in store and online is quick and easy
IgorGolovniov/Shutterstock
The Home Depot offers a houseplant shopping experience that you are unlikely to find anywhere else, thanks to the ease of their online shopping experience and their (super cool) upgraded app features.
The home improvement retailer offers an easy and expedited online shopping experience that allows shoppers to place an order online and pick it up at their local store the same day. And while many retailers have restrictions on which products qualify for in-store pick up, Mandi notes via Vintage Revivals that this isn't the case with The Home Depot and that shoppers can take advantage of their in-store pickup services when buying houseplants. She also adds that shoppers can even get plants delivered directly to their house if they prefer and that shipping times are often quick enough for next-day delivery.
Mandi also writes that the app for The Home Depot app allows shoppers to shop for any item in the store using an image search – and yes, this feature works for plants too! All you have to do is upload a photo of a specific plant you are looking for (which is especially handy if you don't know the name of it), and the app will tell you if it is in stock.