Tarek El Moussa Reveals The One Paint Color You Should Avoid In Your Space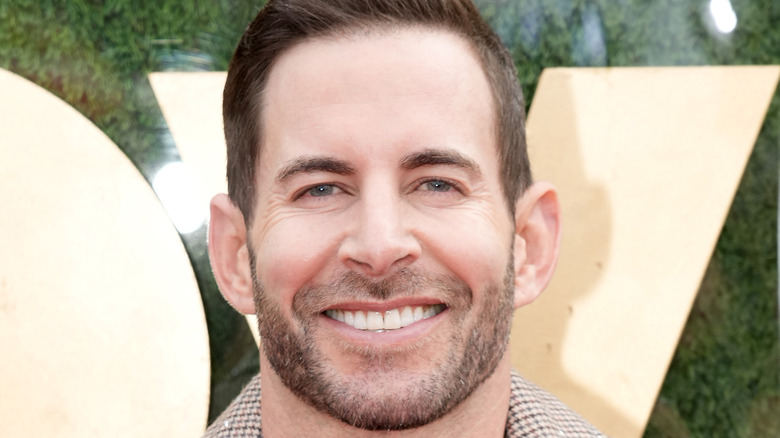 Jeff Kravitz/Getty Images
Professional house flipper Tarek El Moussa knows the ups and downs of the home renovation business. With nearly 20 years of experience in the real estate market, along with the success of HGTV shows like "Flip or Flop" (2013 to 2022), he has the expertise to help fellow house flippers. El Moussa has said that when the foundation, roof, and structure are secured, the color and design of the home can come better into focus. On Season 1, Episode 8 of the popular TV host's latest show, "Flipping 101 with Tarek El Moussa," he explores various color choices for the exterior and interior of a mom and son house flipping team in Long Beach, California (via Realtor). While Najia and Junes face some challenges working with each other on their project, El Moussa helps them reinstate their determination on the house to accomplish the work.
The main concern for the flippers is to update the home, including establishing perfect function and style for the buying market. According to HGTV, the mom-son duo paid $525,000 for the three-bedroom, two-bathroom home with a goal to sell it around $699,000. With about 1,700 square feet, the one-story home features many spacious rooms with great potential and a master bedroom with a fireplace. With a little help from El Moussa, the right color choices are proven in a variety of spaces, as they sold it for $725,000 (a profit of $72,000). Keep reading to uncover which color you can leave out!
Avoid Millennial Pink in the kitchen
Think pink — but not in the kitchen. Although Millennial Pink may continue to be popular among people born between 1981 and 1996, it might not be the best choice for your kitchen and living areas. Millennial Pink refers to a range of pink hues that incorporate shades like blush, bubble gum, or dusty rose, among others that are youthful, wearable, and fit for everyone, per Mental Floss. 
Najia and Junes decide to improve the kitchen and dining space by getting rid of their bright flushed wall color, including the wall itself, while finishing the kitchen with luxurious white cabinets and countertops, including black motifs on the backsplash. Simple touches like industrial hanging lights and sophisticated gray and black stools seated at the peninsula are an improvement. Tarek El Moussa is on board with this style which showcases the kitchen with an encompassing modern look that flows well into the adjoining dining room and beyond.
With an accomplished open concept, the kitchen complements the chic dining and living areas. According to Archify Now, merging a family room with your kitchen offers so many benefits like a bigger, brighter space for everyone to live and socialize in. The living and sitting areas are posh yet minimal and feature neutral tones with black and white, excluding any hues of garish color. These spaces also feature contemporary recessed lighting, ladders that pose as magazine shelves, and white plush furniture.
The best colors to set the mood inside and out
Start with curb appeal. The exterior of Najia and Junes' house is homey but needed some updating. They opened the front patio space by removing the trees along with replacing the old front door to a fresher wood-toned type. Tarek El Moussa would agree that painting the façade white with a black trim also gives the home a modern yet rustic appeal. After restructuring a more functional open floor plan, the pair created a spacious living room, which potential buyers loved along with the classic white and black color scheme, per Realtor.
The master bedroom was transformed into a serene space with a natural, earthy setting, including a muted Moroccan-style geometric tile for the fireplace along with light wood like flooring and additional gray, white, and black tones. Although the master doesn't include an ensuite, El Moussa, along with Najia and Junes, design a plan to combine the laundry room and small common bathroom into a complete master oasis. After sealing off an entryway from the kitchen to the former laundry area, the team builds a large master bathroom with congruent black tile on the floor and shower. According to Fireclay Tile, bathrooms that feature black finishes may never go out of style, as they are both a bold and elegant choice. Along with the contrasting white standing tub and dual-sink vanity, El Moussa is on board with how this contrast provides depth and drama to the room.