Page Turner's Best Recommendations For New House Flippers
Real estate agent and seasoned flipper Page Turner is joining HGTV with her new show "Fix My Flip." Based in her hometown of Los Angeles, Turner will be helping new flippers who are stuck with their unfinished flips. To do this, she will be giving her design input and even investing her own money into the new flippers' properties. She's flipped over 100 homes and knows just what a house needs to be flipped successfully.
In an interview with Heavy, Turner recommends that first-time flippers find themselves a mentor. Mentors are key to successfully flipping houses. They've gone through the ups and downs and can steer you in the right direction. A mentor can be a seasoned flipper or even your contractor. What's important is that they will be able to help create a renovation plan and a budget. In "Fix My Flip," Turner will be that mentor, but if you can't find a mentor, she has some recommendations to successfully flip houses.
Pad your budget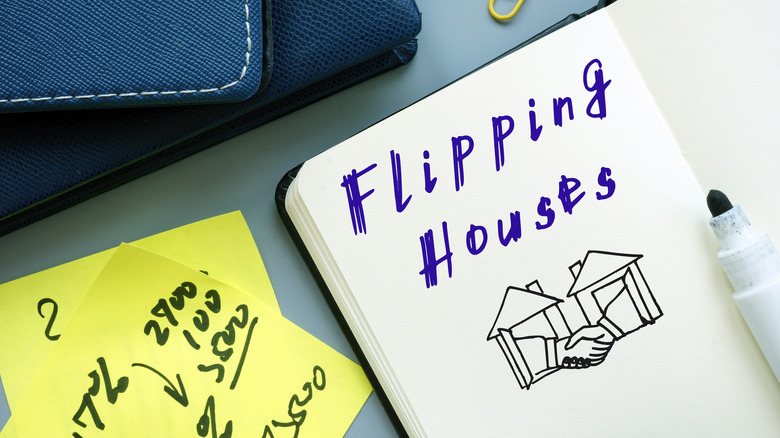 Yuriy K/Shutterstock
Page Turner wants every new flipper to know that flipping houses is its own business. If they are going to be flippers they need to be all in because they can't be successful if they see it as a side hustle. Via Heavy, Turner said, "This is something you have to give your life to and your passion to and then it will work out for you."
Another recommendation from Turner is that the budget should be padded. Flips can have unexpected setbacks during the renovation that will eat into the budget. To prevent any extra costs from making it impossible to finish the flip the budget should include an extra amount, aside from the projected costs. Turner recommends setting aside an extra 5% to 10% of the budget for the unknown. But, she also believes that flippers need to know when to call it quits and sell the property as-is. Sometimes it's best to stop investing money into a home, get it back on the market, and move onto the next project.