Bryan Baeumler's Tips For Remodeling Your Kitchen
Bryan Baeumler is no stranger to remodeling shows as he's hosted several, such as "Home to Win," "House of Brian," "Disaster DIY," and more, according to his official website. Currently, new episodes of "Renovation Island" are airing in the U.S. this summer, according to CheatSheet. In this show, Bryan and his wife, Sarah Baeumler, pick up everything to move to the Bahamas on an underdeveloped island. There, they work to remodel a broken-down beachfront resort. With all the remodeling experience he has, he has some tips for homeowners who currently want to renovate.
Those of you who are renovating their kitchen will be pleased with the tips he has provided to make it simple, according to Reader's Digest Canada. FirstEquity Funding says kitchens — as well as bathrooms — are the most difficult rooms to renovate. It typically is expensive and very laborious. If you're not even sure where to start, take a look at some of the potentially helpful tips that Bryan Baeumler has to offer.
Functionality meets design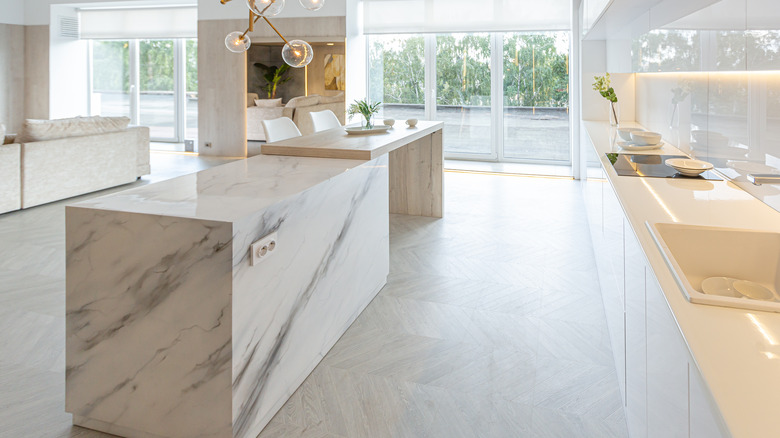 Pinkystock/Shutterstock
Bryan Baeumler advises creating an open floor plan, according to Reader's Digest Canada. When divided from the rest of the home, the kitchen can end up feeling small and congested. Creating an open concept doesn't only create the feeling of a larger space but can also expand functionality. Baeumler provides a great example of a kitchen designed with two kitchen islands. One island was used for meal prep, and stools were added to the other island to create a dining area, which can also serve as an area to entertain guests.
Kitchen renovations in the past used to follow the typical triangle layout; the space between the fridge, sink, and stove was always the same. Now it's more ideal to design your kitchen based on the activity. If you're an expert chef, a triangle shape will work for you. But those who are average cooks can create a layout based on where you prefer appliances to be.
Design tactics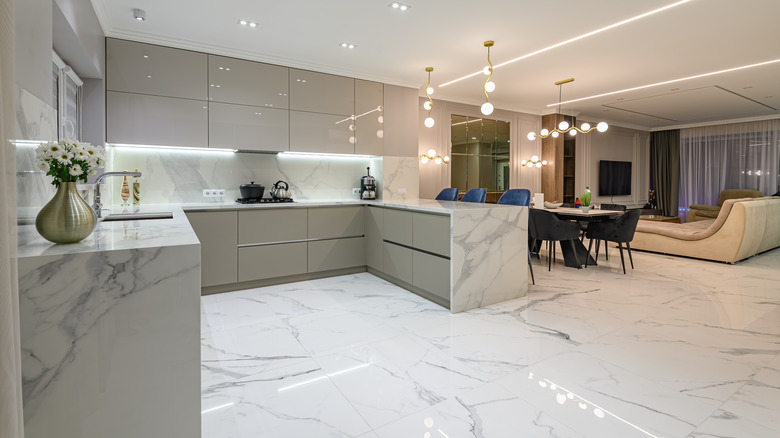 Serghei Starus/Shutterstock
Custom cabinetry might look nice, but it's definitely costly to fill your kitchen, according to Reader's Digest Canada. Instead of splurging your budget on custom cabinetry, Bryan Baeumler advises using prefabricated cabinets from Ikea — specifically from the Sektion and Bodbyn kitchen cabinet collection. He says you can install it in format to create the look of a high-end kitchen. Ensure to also use molding and trim work to successfully execute this design.
Baeumler also believes an all-white kitchen is the best way to go. He believes it's best as it's easy to identify spills and other marks that need to quickly be cleaned. Sarah Baeumler says your kitchen needs to be well maintained in order for the quality to last. Marble also says that designing an all-white kitchen creates a timeless design that won't have to be remodeled for years. If you're planning on selling your home after the remodel, white cabinets may be best to increase the value of your home.