Decorative Items You Never Thought You'd Find At Home Depot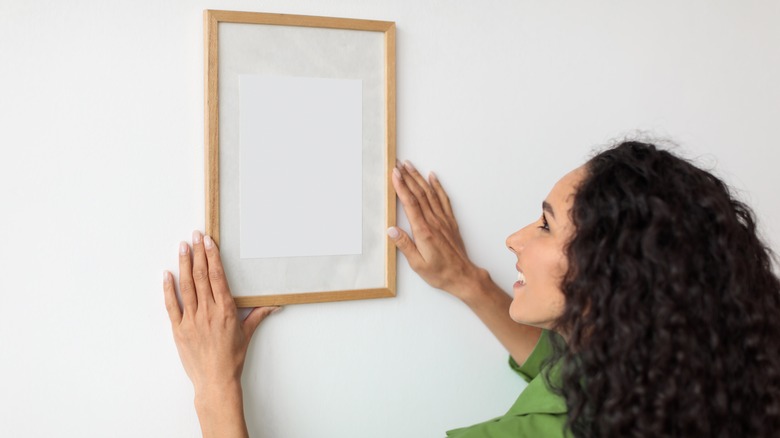 Prostock-studio/Shutterstock
The Home Depot has long been known for its selection of home improvement items. Whether you're renovating a house or simply replacing a lightbulb, this store has what you need for virtually any home improvement project. But did you know that there's more to purchase outside of nails, paint, and wood? Home Depot is also a destination for decorative items for your home, garden, and office. 
Decorative items at Home Depot vary with the seasons, but at season-appropriate times of year, you can find Christmas decorations, backyard embellishments, artwork and decals, and more. And while it can be tempting to shop online for your home décor, there is something special about being able to walk the aisles and see items in-person prior to purchasing (via HuffPost). It also gives you a much better idea of what will work in your home in terms of size and coloring. So next time you need new decorations for your home, consider checking out Home Depot — you might find something surprising. 
Home Depot carries decorative mirrors and creative lighting
According to Reader's Digest, Home Depot acquired The Company Store in 2018. Through this acquisition, this home improvement store was able to greatly expand both its home furnishings and decorative options. Trendy mirrors are one of the items you'll find throughout the store at any give time of year. 
Home Depot employs nine interior designers whose job is to follow the latest in home design trends and to find appropriate inventory for your local Home Depot store. From small, trendy wooden starburst mirrors to floor-to-ceiling pieces, the mirror variety at Home Depot can be quite large. You can find mirrors in various locations throughout the store — check the bathroom and furniture sections, as well as seasonal aisles. Additionally, according to Best Life, Home Depot plays host to Ellen DeGeneres' Generation Lighting collection. It features burnished brass chandeliers and other lighting features that are a contemporary addition to your dining room or den.
Outside of lights created by famous folks, Home Depot has everything from simple pendant lighting to elaborate crystal chandeliers; there are lighting options for a variety of price ranges and style preferences. Home Depot also has a variety of lighted ceiling fans, which can add comfort to a home as well as change up the look and style.
Planters and outdoor décor galore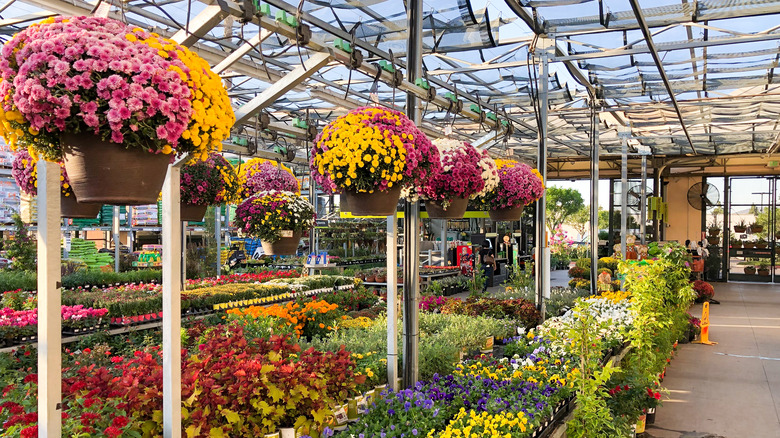 Unwind/Shutterstock
Home Depot's garden section is usually pretty well-stocked, with rows and rows of flowers and greenery to explore, according to Back to the Roots. However, they also have plenty of decorative planters and yard embellishments that are fun to incorporate into any garden; Home Depot carries both planters and accessories, including everything from small and delicate gold-hued miniature planters to massive terracotta pots. 
You'll also found Adirondack chairs, deck boxes, fountains, statues, windmills, and more. In the summer, you'll find flamingos, peacocks, and frog décor that can help you create a colorful and whimsical yard, while the winter months bring plenty of outdoor holiday decorations. Or, design a Zen garden space with soothing stone fountains and gazing globes, or go a bit more wild with primary colored metal snails and bright plastic chairs. Depending on your sensibilities, you can create an outdoor space that suits your aesthetics.