How To Get The Home Depot Sale Price Even If You Missed The Sale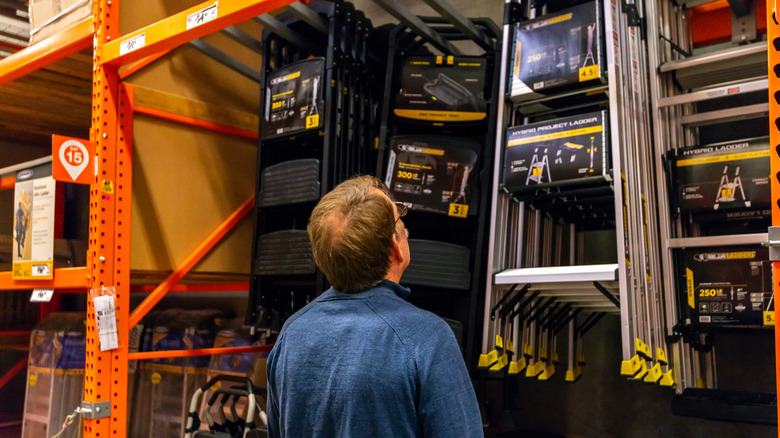 Manuela Durson/Shutterstock
Home Depot is a gargantuan box store chain with numerous little cubbyholes that can provide you with savings — if you know where to look. And to prove the point, let's save you $50 before we go any further. According to Insider, Home Depot authorizes certain employees to discount a wide variety of items by $50 if you simply make the request, so long as there's a reason behind your asking. And the employees don't even have to clear it with their bosses when they grant your wish. The offer doesn't apply to everything all the time, but as the saying goes, there's no harm in asking.
What's also important to know is that while Home Depot is a chain, they grant a lot of leeway to their individual stores. To that end, because each one has some degree of autonomy, you might find one store more customer-friendly than another; it's in your best interests to find out where you get the most love. Here's what to do at Home Depot if you missed the big event.
How to save at Home Depot after a sale ends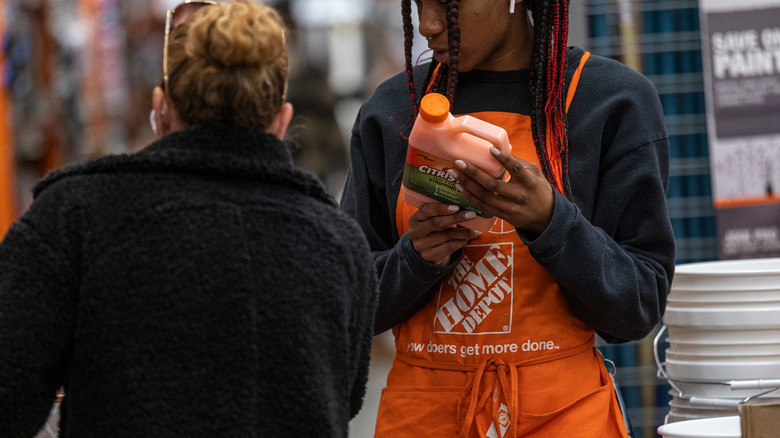 Bloomberg/Getty Images
When it comes to saving money, you should always begin before you head to Home Depot by shopping online — with their competitors, as per Home Depot's website. If you find a lower price elsewhere, chances are the store will not only match the item's advertised price (you must provide proof), but beat that price by 10%. You can have the price matched from the comfort of your easy chair, but in order to get that extra 10%, you must appear in person to make your request.
If the price on your item goes lower, you can bring a receipt within 30 days and get the difference back. Be advised, though, that just because your item has gone off-sale doesn't mean they won't honor a coupon to the contrary. You can also check their 11% Rebate Portal, which offers exactly that: 11% returned to you.
Is the item something that you feel brand loyalty for? If not, you could be paying more for a distinction without a difference. Maybe one corn flake doesn't stay crunchy in milk as long as another, but sometimes a garden hose is just a garden hose. And if you see something that looks perfectly fine inside packaging that looks opened or crumpled at the edges, you can mention that and get a markdown as well. Home Depot will often give a 10% discount and let you examine the contents to make sure your item is satisfactory.
Other Home Depot price hacks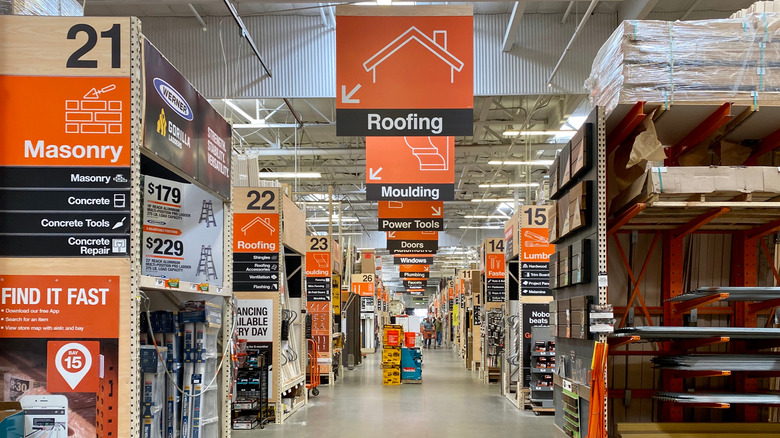 ZikG/Shutterstock
Clark.com reminds you to clip those coupons and take those screenshots, as doing can keep cash in your pocket while shopping at Home Depot. Additionally, being on the Home Depot mailing list will also quickly save you money, since they regularly send out coupons electronically. Likewise, singing up for their text program earns you an instant $5, along with a promise that they'll text you no more than 10 times a month.
Here's another deep hack: You can look at a Home Depot price tag and tell if the price is as low as it's ever going to go. Price tags that end in .06 are already in clearance, but they'll also be lowered in another six weeks. Tags that ending in .03 will drop by a mere three cents if it's still on the shelves in six weeks.
Use the Home Depot page Special & Offers to scope out what you could be missing while wandering the store aisles aimlessly. This page will not only help you sharpen your focus, but also save you money and help stave off impulse buying. You can also use the filter on the page's left side to scroll down to  find their saving by percentage off feature. Savings there can sometimes be as much as nearly half off.